WEEK TWENTY-SIX (june 27-july3)
It took much longer than it should have but finally, with the last piece of the puzzle in hand – the curator's essay – the complete twentyONE+ website is live. Something that looks so effortless thanks to Milton's design, was the culmination of eighteen months teamwork and a mighty editing slog in the last month. As I write this the exhibition has a few more days to run – after it closes the website will live on and celebrate this stage in the history of WAFTA, this stage of the development of the chosen artists.
I worked on my Pinterest page for twentyONE+ this week, which was a pleasant diversion after the aforesaid slog. I don't do twitter, instagram, facebook or many of the current avenues for promotion and connection. I do love Pinterest though – mostly as a platform for recording good things from the web, (it is a very efficient scrapbook), but I now blatently get my 'work/business' out there – Stargazey, SalvageSelvedge, and now twentyONE+ – they all need a worldwide audience.
So that was the work side of the week, it took up the majority of available time.
Creative pursuits have pretty well been written off for the next few weeks as I finish the twentyONE+ reports and prepare for both my Studio Sale and a gentle return to teaching. I am finding that the zinging brain that accompanies just about any making/creative has gone AWOL and I am quite bereft.
I am pining for the mental stimulation that it brings me. The excited hope for the future. Both missing at the moment.
Even writing about my week, which usually gives me a little filup, now leaves me hungry to be back 'living' in my space – physical yes, but mostly mentally.
I'm counting down. Only a few more weeks before I reinvent my live anew – post twentyONE+.
There was a tiny bit of stitching – last weeks upholstery samples cushion was finished, and the still very hairy dog ensconced. I made it big and fluffy and it is well used already.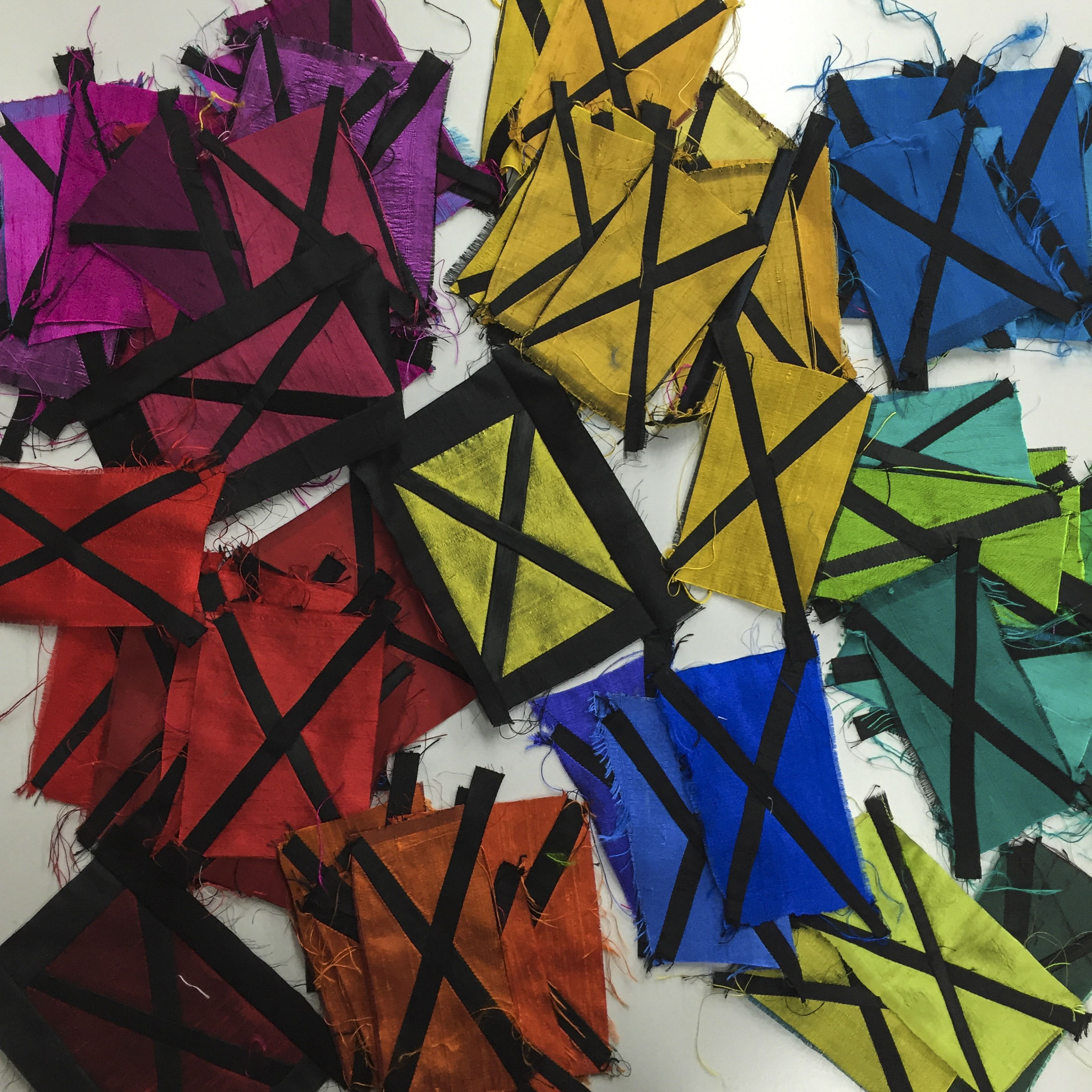 Still, despite not having the time or headspace I live in hope of creating…anything!
High on my list of home tasks is a set of cushions that are in need a re-cover.
In my toss out and get ready for my studio sale on July 16, I go back and question my decision….would a box of blocks, from the sale pile, leftover from the quilt below, be up for the task?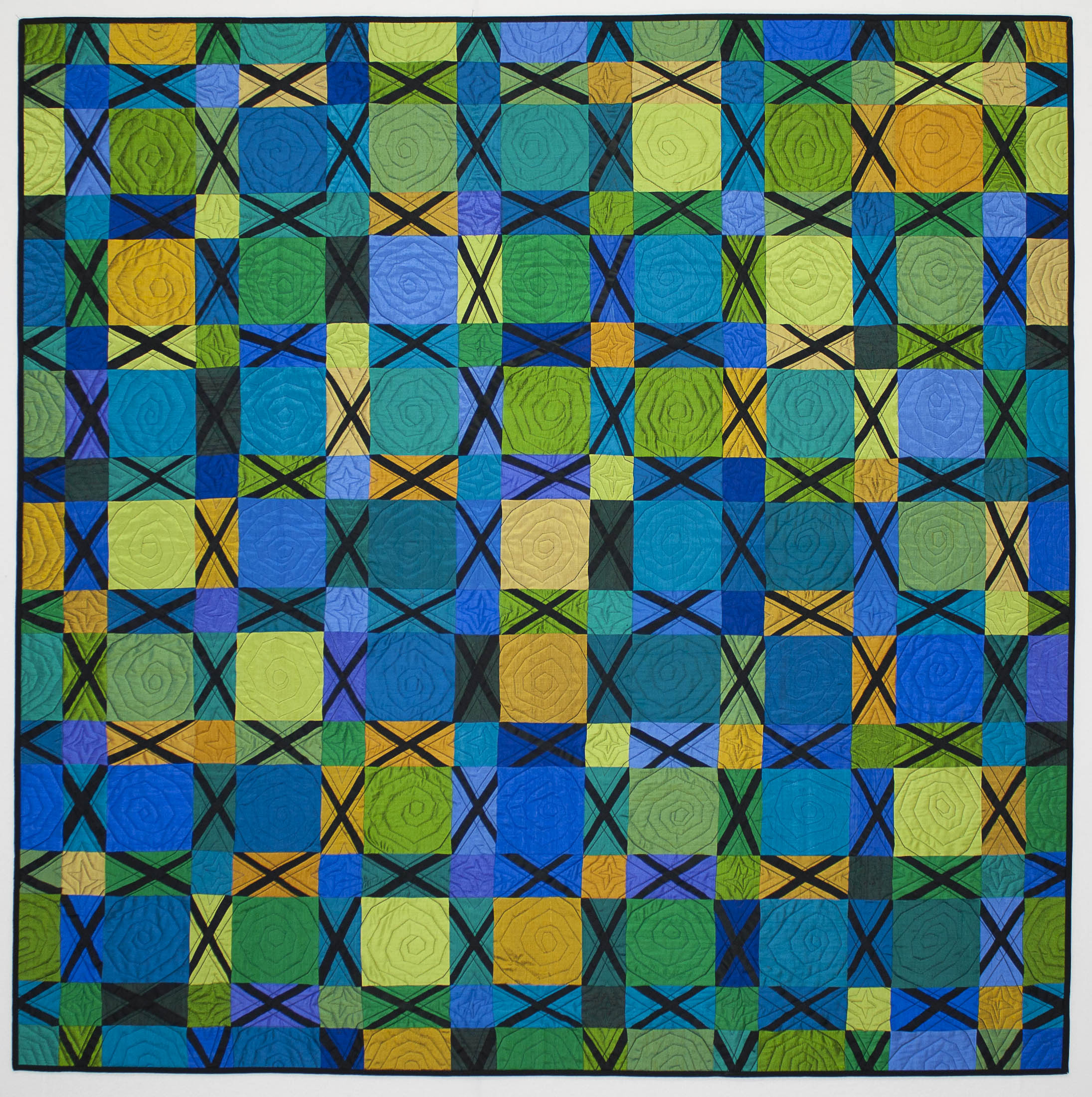 I have re-arranged and fiddled with the mess of blocks all week….and they are still limbo land cushions, partly because there has been no time available to re-arrange seriously or to stitch.
They will be fine if I go ahead with them and will be comparatively quick and easy.
They will not be the perfect brand-spanking-new solution that I initially invisiged but they will do for now….they will suffice.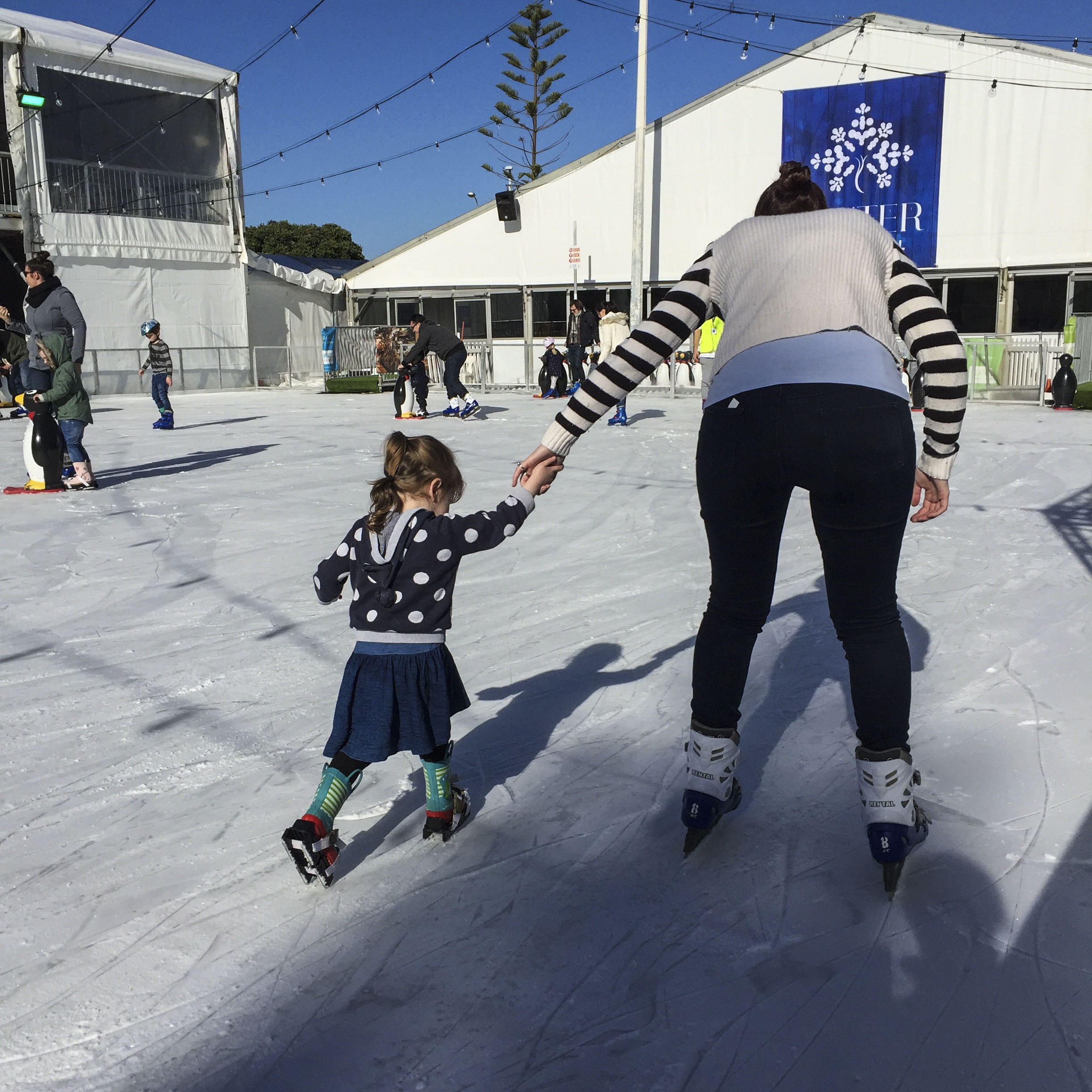 My Fridays with Esther have changed. Occasionally I will still have an Esther morning, or we four gals will sally forth to places of our choosing to pass the time. As well as outings it is likely that I will get a call to have the cuppa ready so the girls can get out of the house.
This week the plan was to get to the Fremantle Esplanade to introduce Esther to the ice. Mum and Esther donned skates and grabbed a penguin. I cuddled Flick to sleep on the sidelines, a first for her as mum usually needs to ease her to the land of nod.  Whilst perfoming this proud task I was also trying to take some shots one-handed.
Great fun on a lovely quiet sunny morning before the school holidays hit.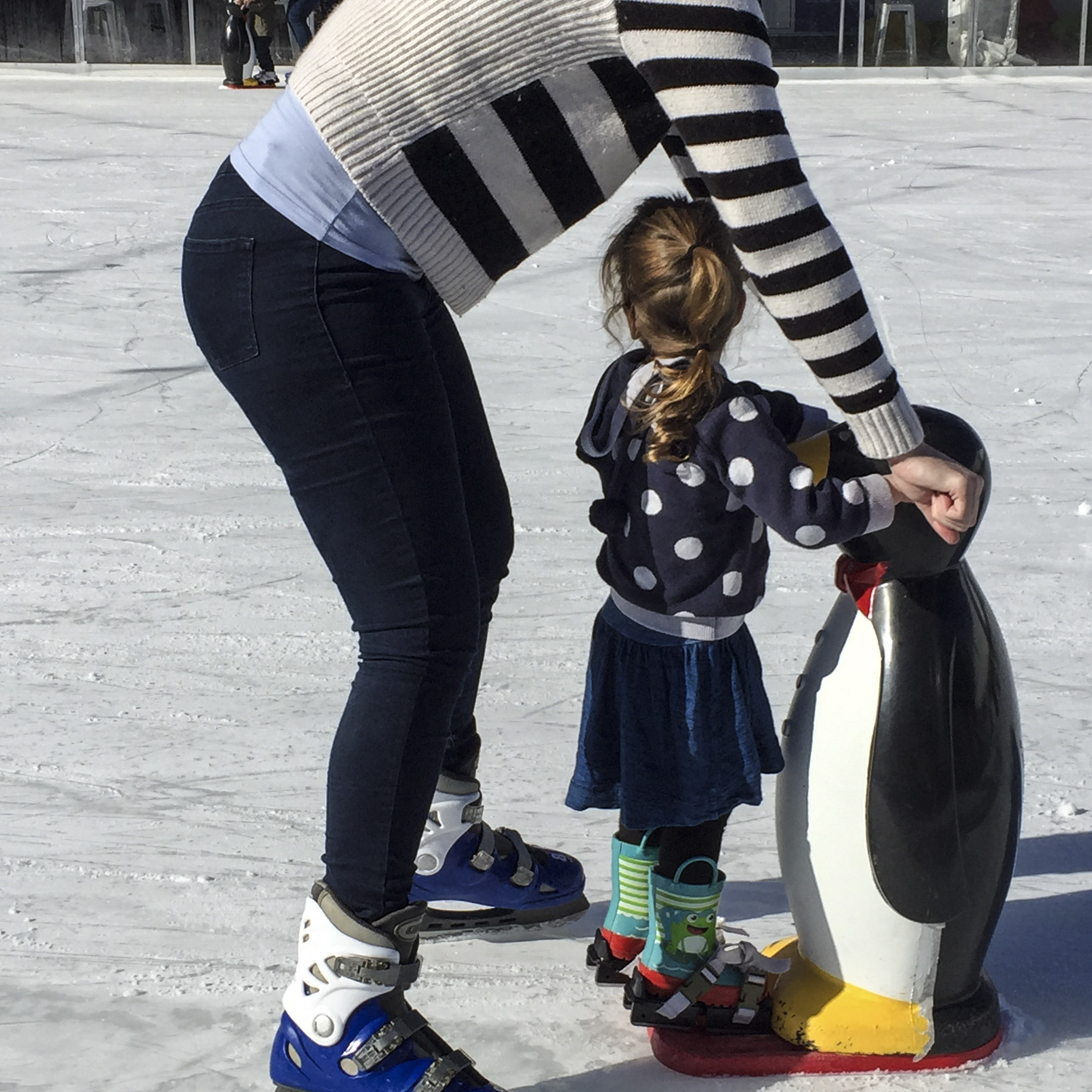 Alas, the morning was marred by leaving bunny on the train home.
We thought that was that and bunny #2 or #3 would have to step up….
NO!!!! No bunny, no sleep.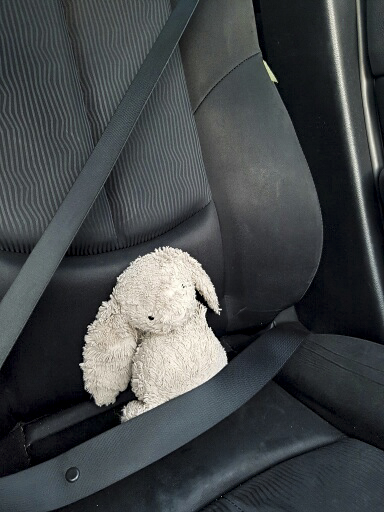 Luckily Esther's dad is very pro-active and with a call to Transperth, logging 'bunny' missing on their website, he later received word that bunny traveled all the way to Midland and back before being handed in.
Bunny arrived home safely you will be pleased to know.
The household slept that night.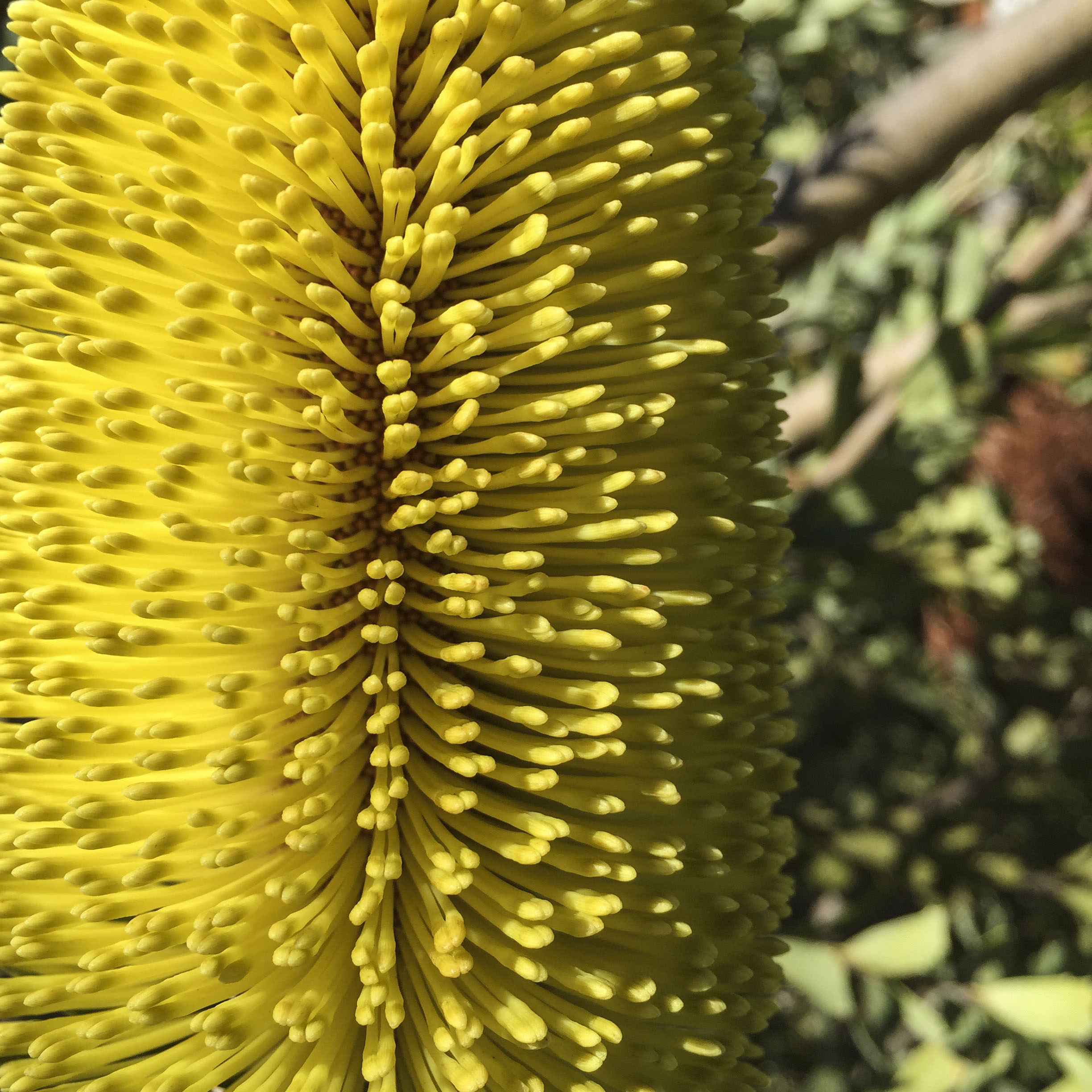 We have been so busy on weekends lately that getting to our little house has been very difficult. Once there though, the trials and the busy-ness of the week are simply forgotten.
It is VERY cold despite the full sun, but the cloudless skies and the bare trees are so beautiful. Hauntingly sparse yet full of potential growth. I cannot help myself I continually need to record these colours, patterns and changes.
The garden is dormant and I get a rest from weeding.
The crisp and cloudless skies accentuate the colour on the few plants that are in flower.
And the yard is great for Riley – though he still sticks by me…inside or outside.
Voting 'absent' in the country was a lovely, very friendly experience…watching the evening count for the first time in my life was fascinating …up and down they went in turn. It all seemed a bit circus like, nodding heads and steeds rising up and down….
And on Sunday night a fuller family dinner was held with some of the bloke's QLD brother's family attending with the other Mullen grand-babies. Luckily not at our place for a change.
Eight little ones under two years and eight months! The pitter-patter is big part of the reason for my lack of acheivement of late.
Save
Save
Save
Save
Save
Save
Save
Save
Save
Save
Save
Save
Save
Save
Save
Save
Save
Save
Save
Save