WEEK FORTY-ONE (october 10-16)
The start of this week has me settling back into my usual quiet life….. cleaning, clearing, cooking, chores, childminding then optimistically planning to produce with artistic clarity.
I relive my days in Mongolia as I rewrite/transfer my written diary into my DayOne App. I don't have to do it, I could leave a gap in the calendar, but it was a great way to re-live and to sign off on that aspect of the trip. I left my ipad at home and this rewrite, although it took time, was a lovely justification for that decision.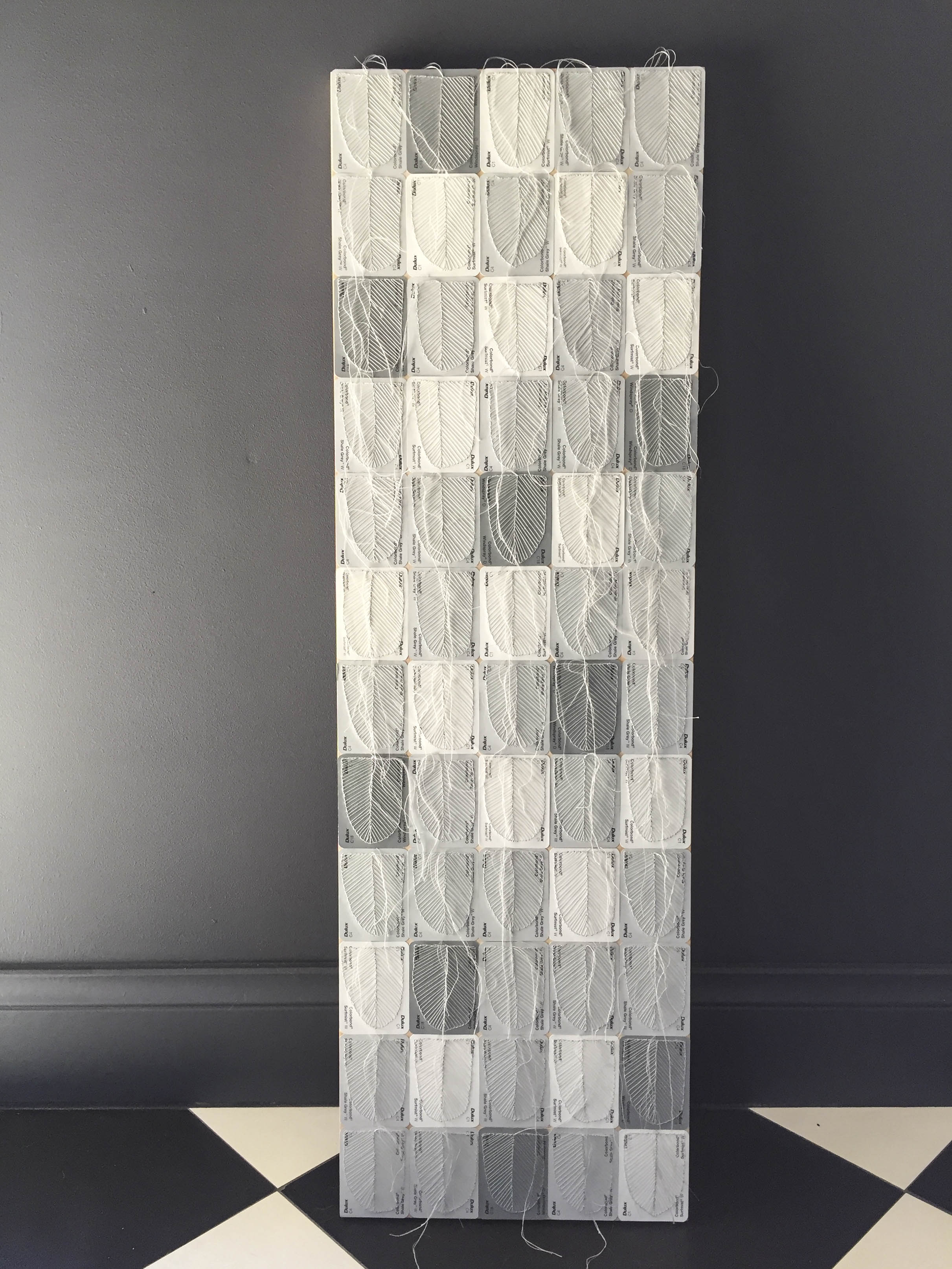 On Tuesday my priority was to get the grey feathers finally collaged.
It takes time. It is fiddly work.
I curse the mounting process but I LOVE the stitching.
After it has dried I tease out the threads and in a moment of distraction I pull an errant thread too hard. A rip. I will replace this paint chip – even though the tear is minimal – I can't not…. but I am out of that colour.
This mistake will hang over me until it is re-done. I can't sign off on it, name it or number it until I do.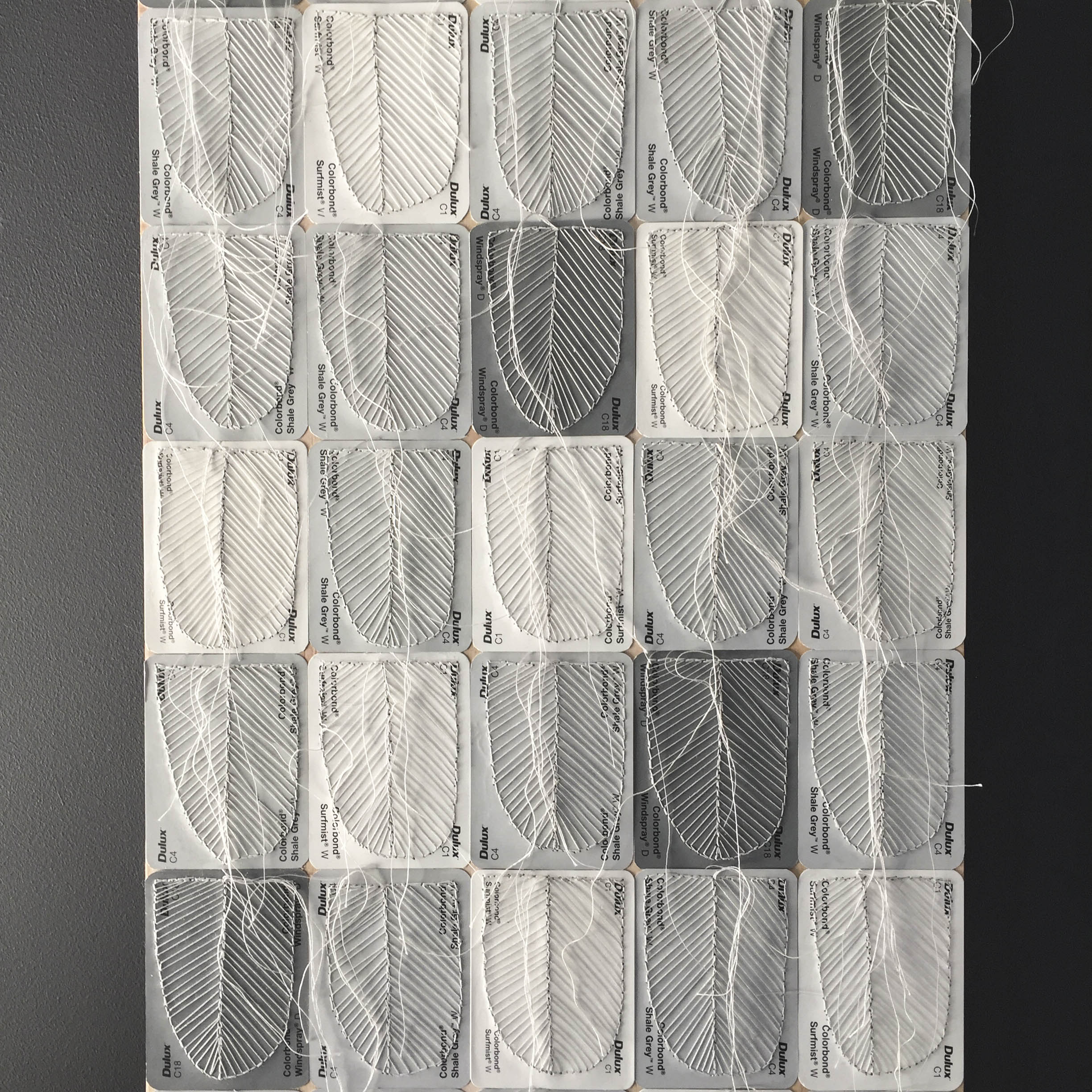 I still have one set of paint chip feathers waiting for a mount but meantime I need to move direction slightly and continue on/complete some other feathering variations.
The work-in-progress boxes are opened and spread.
The notebooks and sketches are leafed through.
Will I work with Laminex feathers, real feathers?
Will I start afresh or continue on?
I try to choose the next fork in this path but it is not easy.
I need to get back into the perfect head-space.
I need to have a clear vision.
What I need to do next are the works that I am itching for the most……show yourselves please!!!!
To ignore these quandaries I move my mind back again to Mongolia and start on the processing of my photos.
I have, for the first time, in museums and galleries where light is minimal, taken many photos on shutter priority mode.  I am apprehensive because when shooting they look almost totally black BUT the other option is a stack of blurry photos.
My crossed fingers are slowly pried apart and I feel my gamble has paid off.
Most are fine with the only downside being a certain graininess and the time needed to 'resuscitate' them.
Still ignoring, OR moving around my artworks-in-progress, I try to complete a few more 'bearded' paint-chip drawings….I'm not in the head space for that either so there are only a couple of decent hirsute fellas to go onto the board.
On Thursday I set off to Fremantle Art Centre to view the Print Awards.
As always there are some beautiful pieces, some challenging pieces, some why bothers?
I had planned to sit and think and write over a coffee whilst dissecting my thoughts….disappointingly I felt no need today.
Instead my noggin continues searching for THE pathway with the feathered pieces ….I think I am on my way but instead of sampling and diving in I again remove myself – this time upstairs to make a start on a task that I set myself to complete at the start of this year…
The Quilt & Textile Study group of W.A needs a website/blog to celebrate what we see and to clarify why textiles are so important locally.
I am the self-appointed workhorse.
I dive into the files and flounder.
We have no really clear record of our events, little reporting back and few photos.
The task is going to be more difficult than I thought.
I make a start and I have a finishing aim of the end of this month….I could be dreaming.
Still, it is as good a place as any to be procrastinating whilst Laminex/feathers continue to muck with my mind.
On Saturday, whilst my bloke and the dog head up the hill with the trailer and a task, I head down south to the Bunbury Regional Art Gallery to view the Australia Wide 5/ Ozquilt Exhibition. This juried selection of forty works measuring 40cm by 40cm will tour Australia for the next couple of years. I am a first time entrant as the format has never suited/inspired me. Still, I am happy to have had a piece selected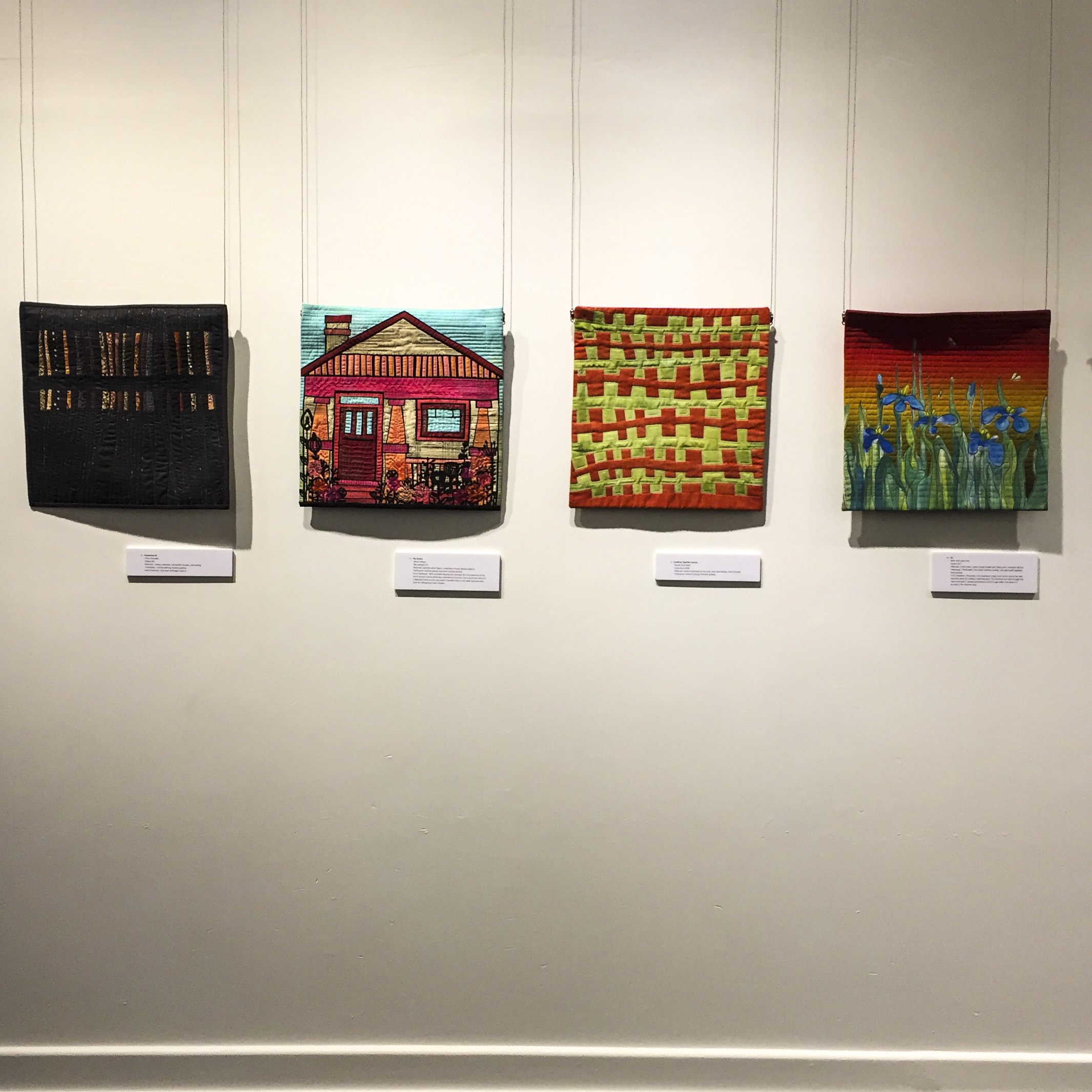 It was so worthwhile listening to OZquilt president Margery Goodall talk at length about the exhibition and the artists. The few artists present also talked about their work.
It was one of the best sessions I have attended of late…informative, generous and Margery showed great skill in making links and pushing the conversations forward into interesting ground. Long….. but not a chance of boredom.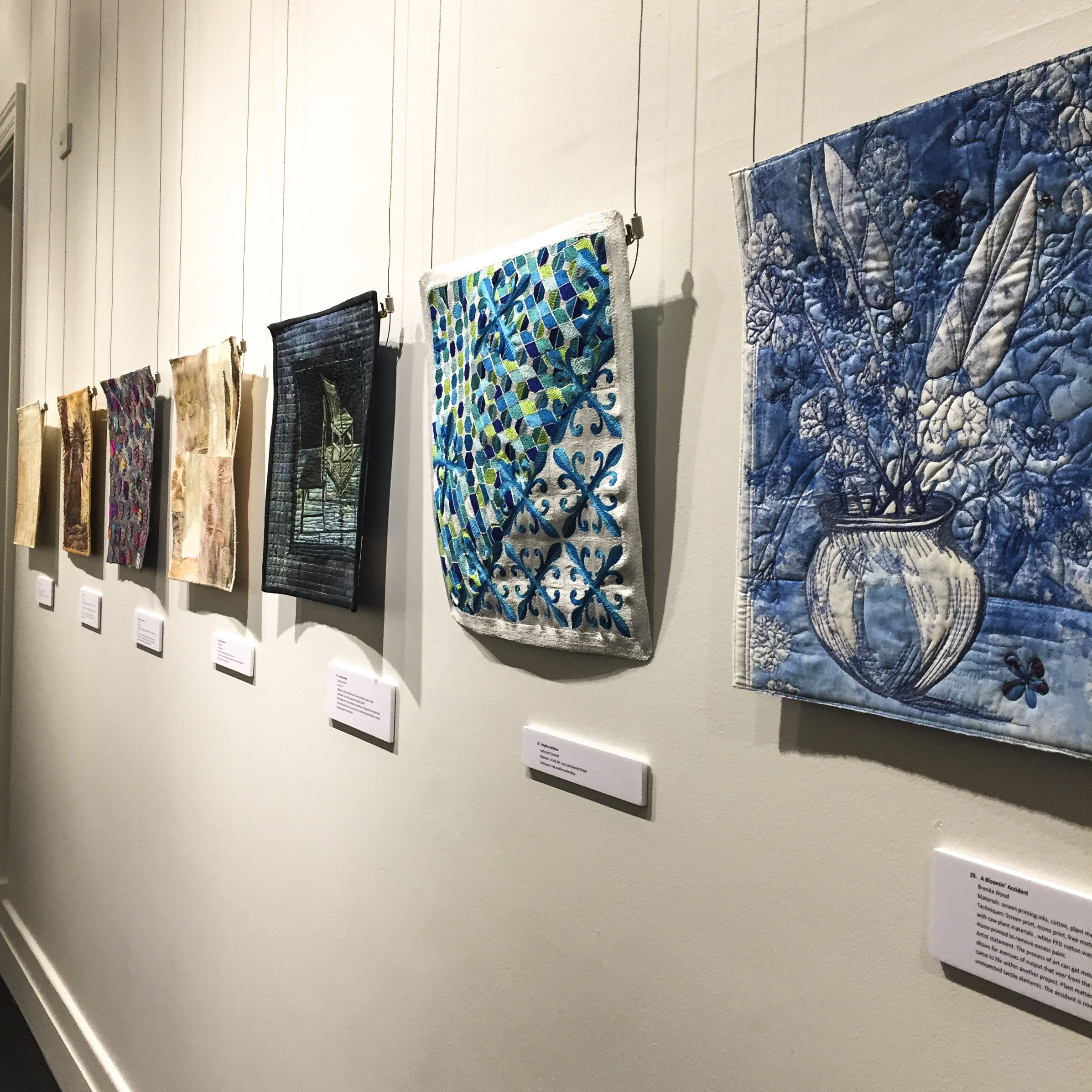 I whipped straight back home to Perth to get started on desserts for Sunday night dinner. It has been an age since I awoke in Perth on a Sunday morn and I decided that a 12 hour roast was needed. Unfortunately, with Sunday night meals starting at a child friendly 5pm, that meant that the marinated lamb shoulder was shoved in the oven at 5am.
Being home also gave me a chance to (over)fill my fridge with market veg and to gather in treats like freshly baked Turkish bread. My enthusiasm stretched to making two desserts as I couldn't decide which to do.
In between I cleaned and cleared and prepped.
A lovely long productive day.
Unsurprisingly I was in bed by 9.30.
Compared to being in Mongolia the week was not exciting but I am home and very happy to be here.
And I did move slowly forward.
Patience is required.
Clarity…on its way…..?
Save
Save