WEEK THIRTY ONE (july 31-august 6)
It was not a productive week for making art but it was still a busy and fruitful week.
K1P1#3 progresses slowly – the quilting is complete and I have about half of the rows cut out. Whilst this has been low priority this week it is also a very slow task cutting these tight curly rows out carefully.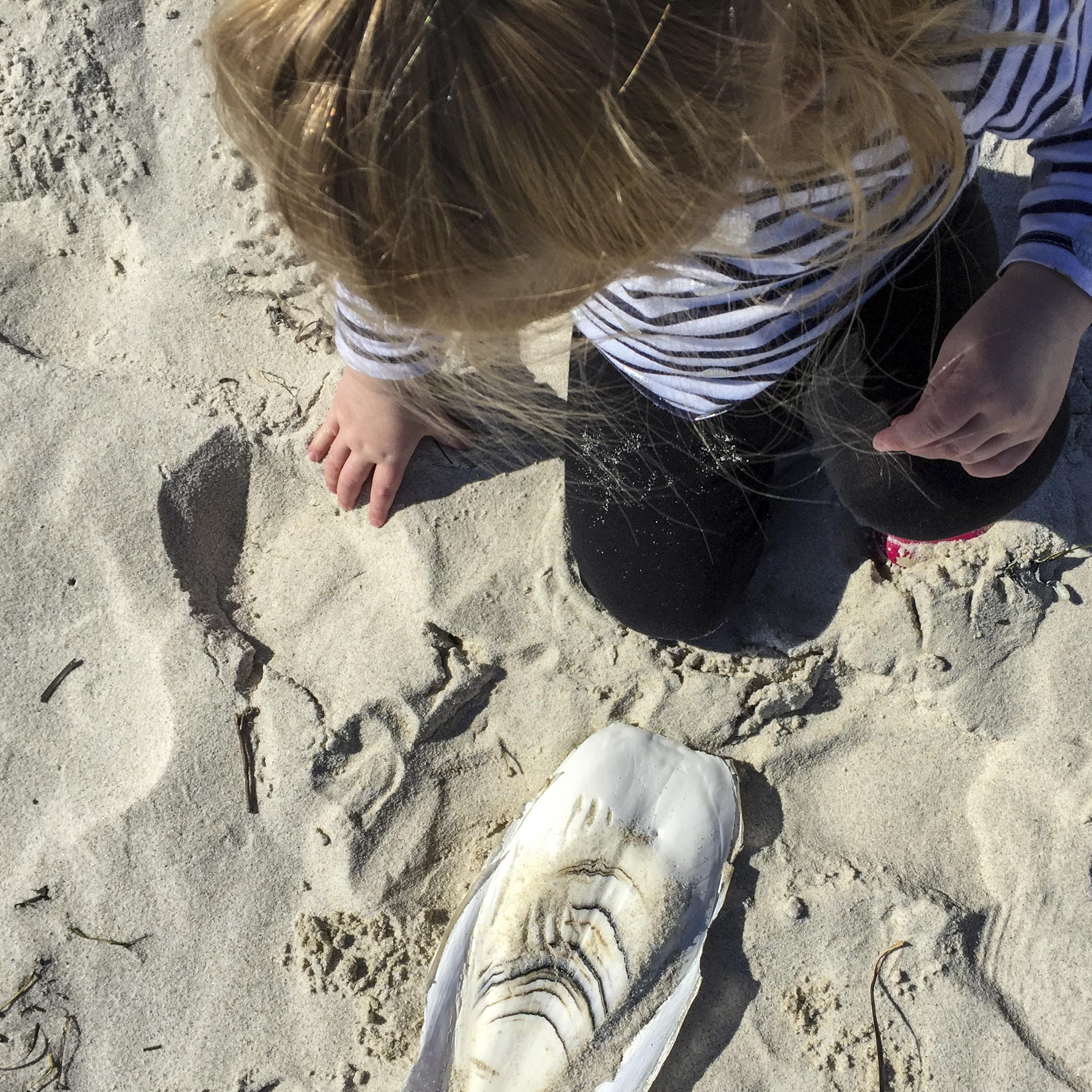 The week was productive in different ways.
Flick and I had a lovely day  in and out and about on Wednesday. The weather was winter sunny, for a change, and we took advantage of it.
I picked up recently exhibited K1P1#1 and bought it back home.
On the round trip back home we picked up a few much needed supplies along the way, then, with Flick still happy in the car, rather than return home straight away we celebrated the winter sun and warmth by stopping by at Leighton Beach.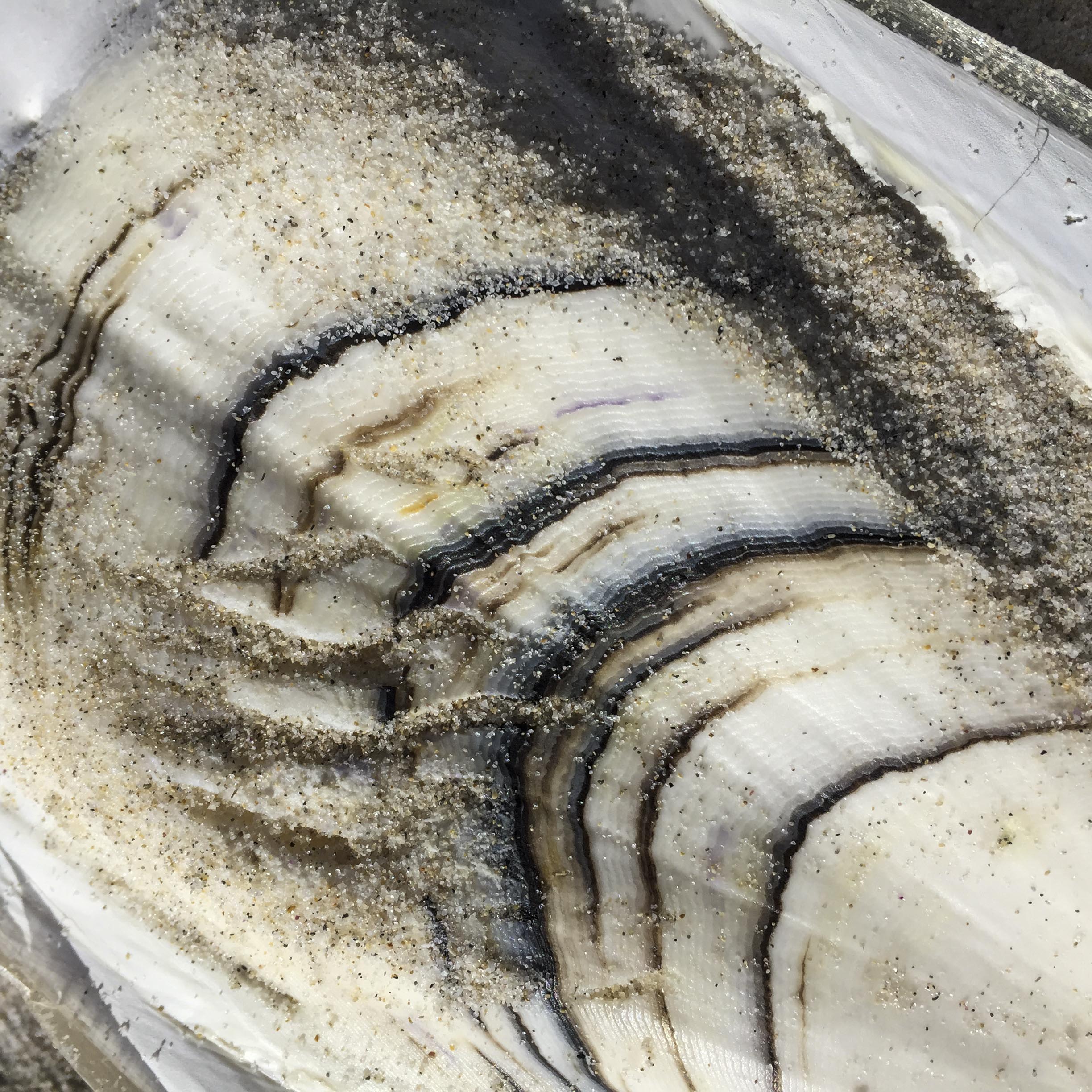 The winter tides have washed up a high fence/barrier of seaweed and where there is seaweed there are treasures…
We rummaged for cuttlefish and worn wood and shells and, and, and.
We made piles of stuff and of sand – let me correct that – I arranged the rows and sets of treasures and Flick rearranged my arrangements.
We both reveled in running and falling and as a consequence we bought a good amount of sand home.
I showed great control by not bringing back a basket full of cuttlefish and sponges.
I'm working hard at being frugal and in showing restraint.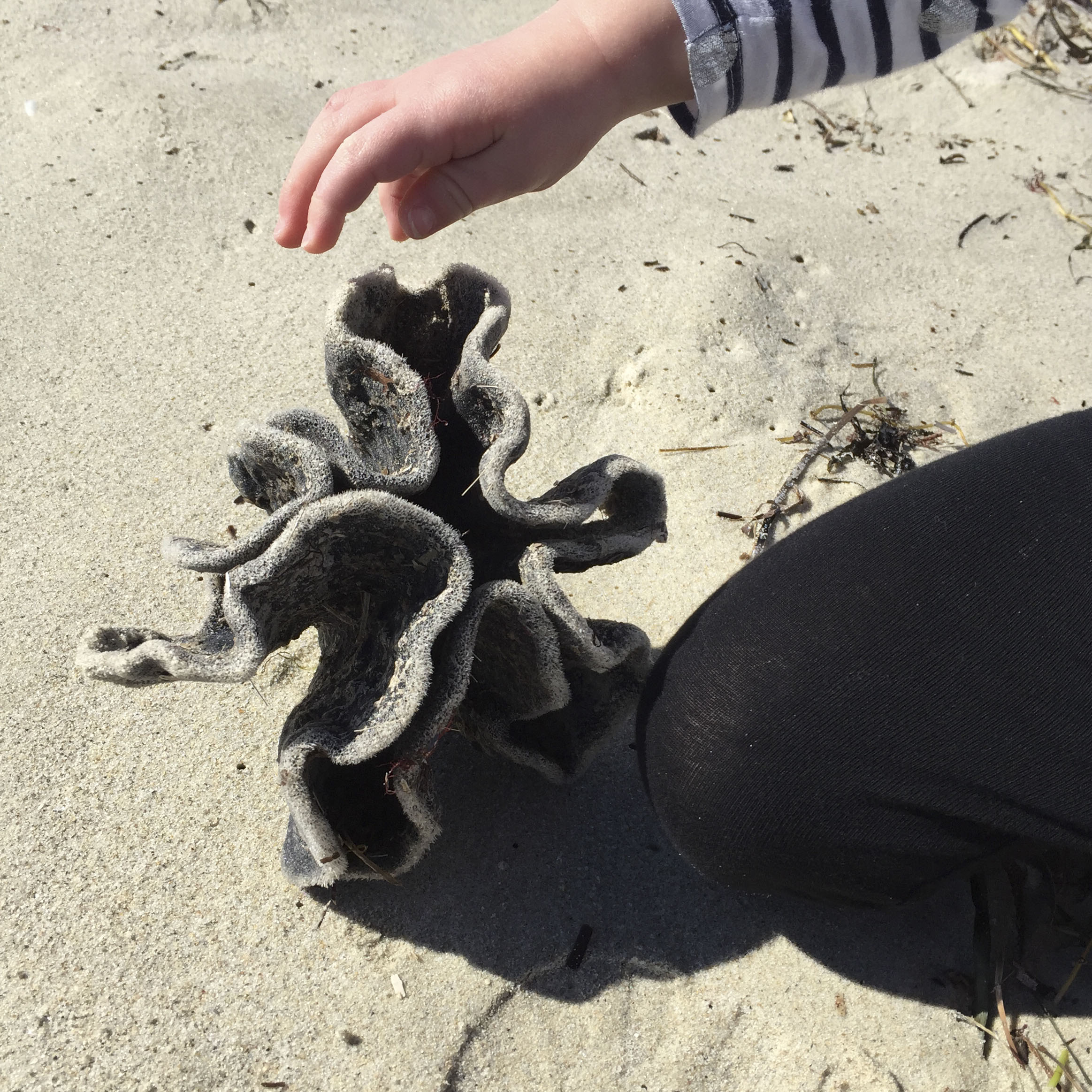 Thursday was class day. Those attending moved forward with no hiccups.  Sal's beautiful upholstery cast-off floor rug is now pieced. I reckon it is too good for their shack though. Lovely.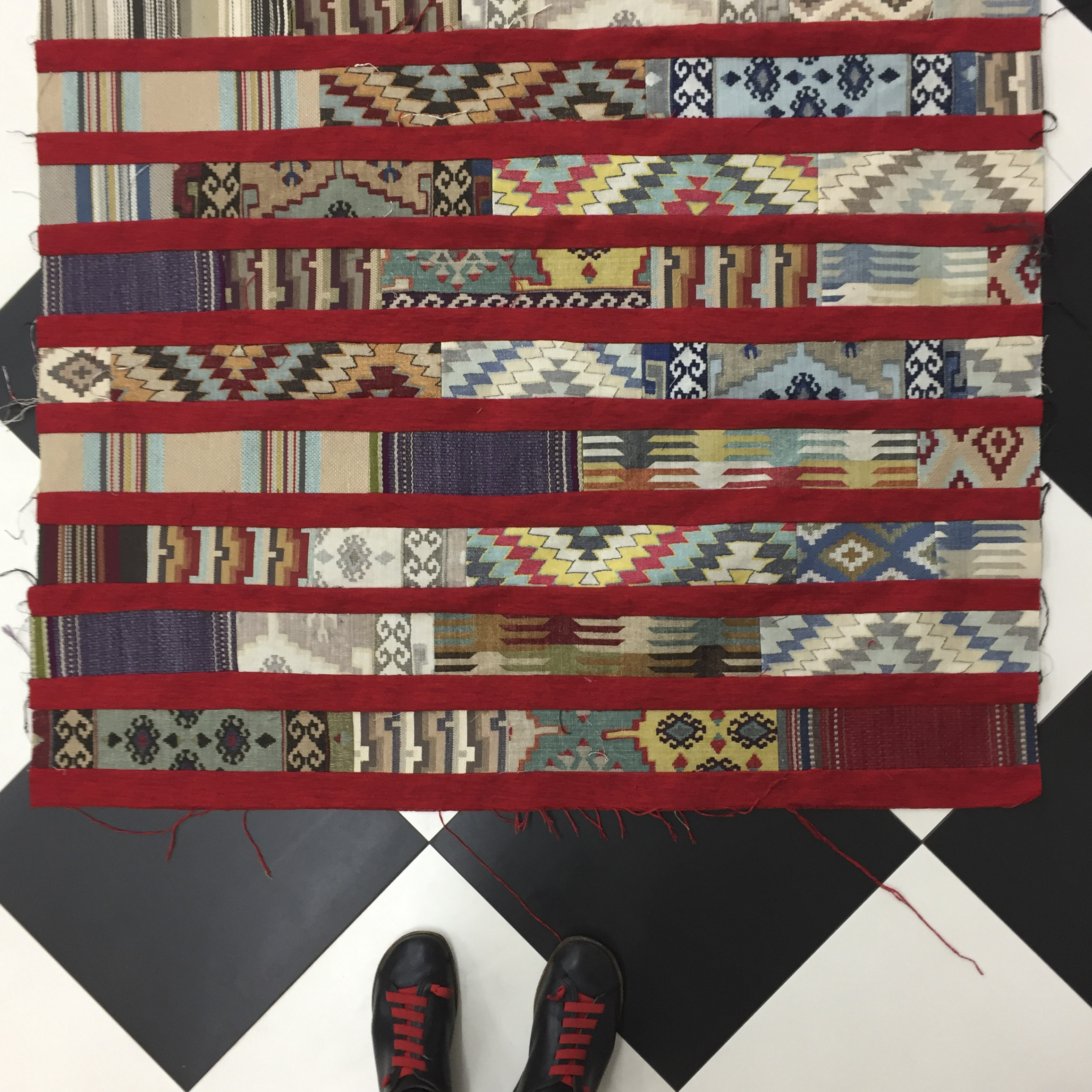 After Thursday/class day MY priority was to quickly clear the front end of the studio to prepare for a weekend of painting. We seem to have had many weekends where we are tied to home and can't escape to our little house but the upside is that the studio is getting revamped quicker than expected.
The bloke offered to help again and I needed both his height and his speed.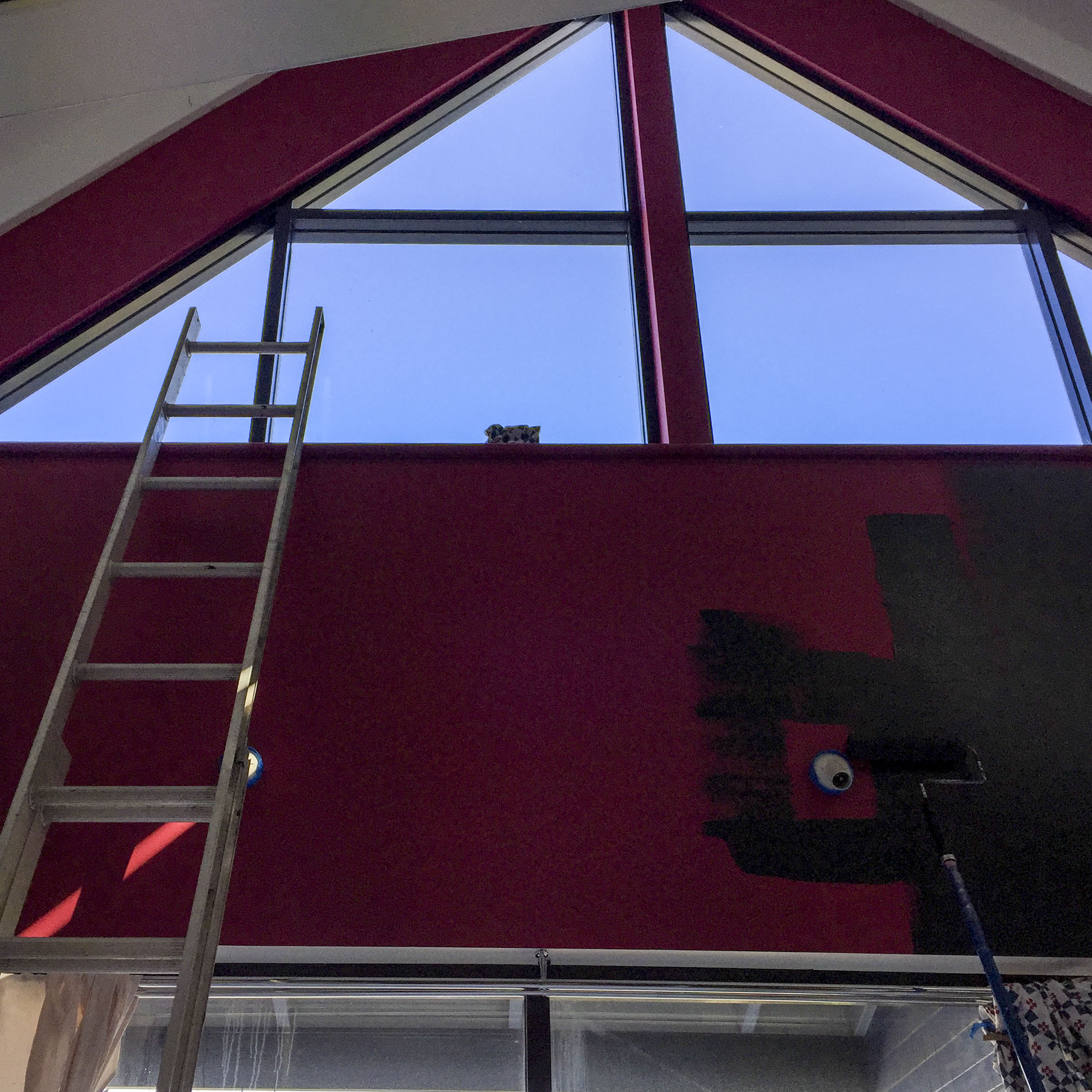 Charcoal paint was spread on the walls with his roller whilst I did the masking, the cutting in and I painted the 'blinds' backs black.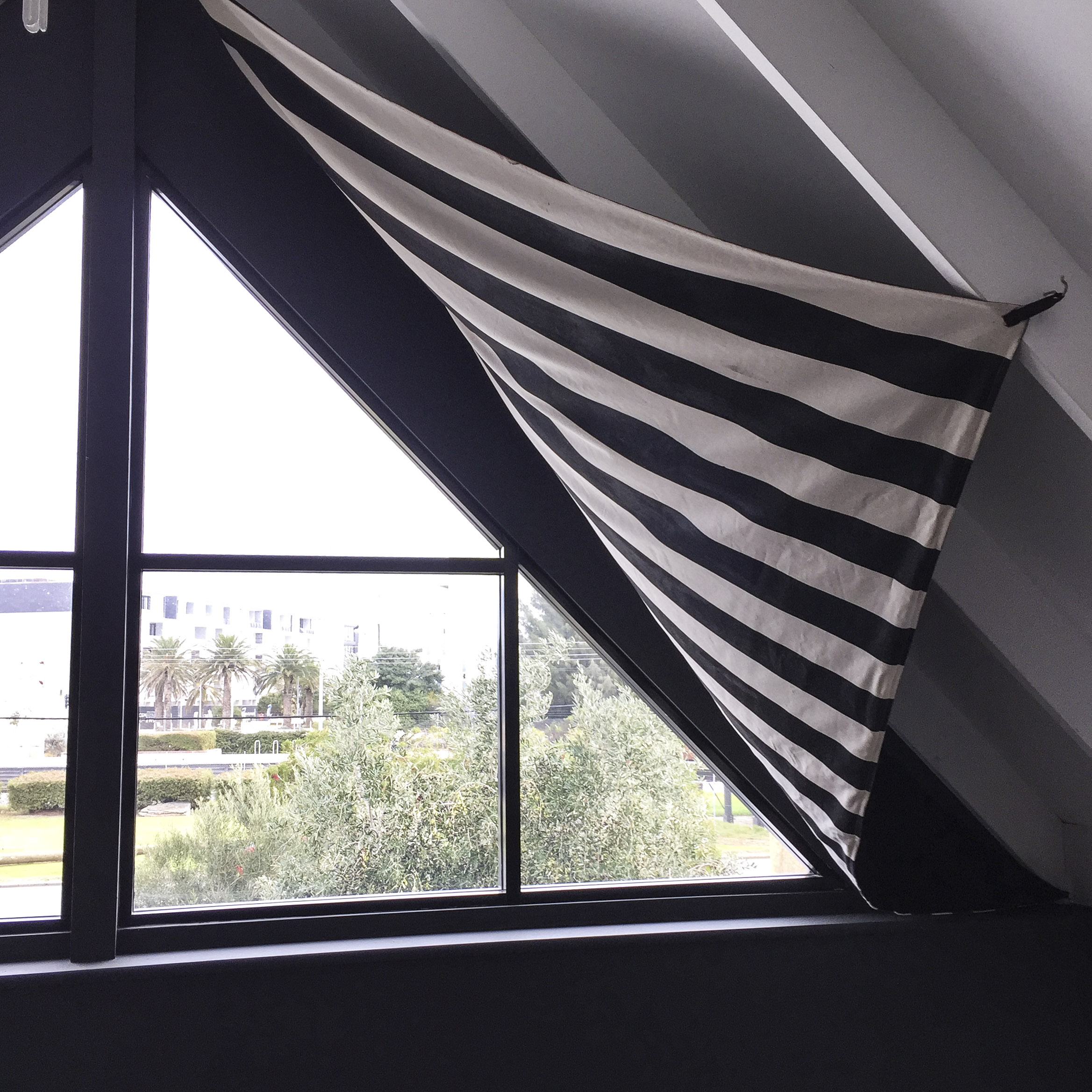 I made these 'sails/blinds' when we renovated about ten years ago. The large, high, triangular windows were needed to protect us from the western setting sun.
We tried to buy used sails. Impossible.
We tried to get someone to make coverings for us. Impossible.
I was, instead, forced to make them myself…from canvas, double sided.
The fronts were painted with wide black stripes and the backs were a red canvas-type fabric that disappeared against our red walls.
When one changes paint colours it is details like the backs of 'sails' that become daunting.
I have had to very carefully roller and paint the backs black.
Hours and hours taken on each sail using all six of my worktables placed together.
Not fun, not satisfying and unfortunately not perfect. I can discern hints of blackened red when they are closed.
Really it is not a big problem but I seek perfection/lack of visual distraction with things like this.
Do I want to spend another day or two giving each sail another coat of black. NO! So I'll avert my eyes and pretend that they are perfect.
Reading has been a bit slow of late but have I finished The Sellout by Paul Beatty. This is a hefty read. It was the Man Booker winner of 2016 and I placed it on my birthday/Xmas book list last year but it has lingered on the shelf for a long while.
I tried the first couple of pages a few times when looking for the 'next' read.
Finally I bit the bullet and got to it with the 'read it or lose it' mantra in my head.
I persevered, eventually I worked out what it was all about, and I loved it.
It tells the story of a disfunctional society on the outskirts of L.A. It is written from a 'black' perspective. The perspective, and culture are very foreign to me. Somehow I feel guilty even talking about it. This book, written by a VERY smart fella of colour, seems to be poking fun of and at the same time celebrating the traditions, diversity and originality of this world.
It is book about community, race, invisibility, and, and, and. It is a hefty read that turns into a wonderful read as my brain finally worked out the themes, and the tone, and the humour, and the cleverness of it all. Truly fascinating.
How many people could I recommend it to though? Not sure at all but I know I would like to read these laden pages again.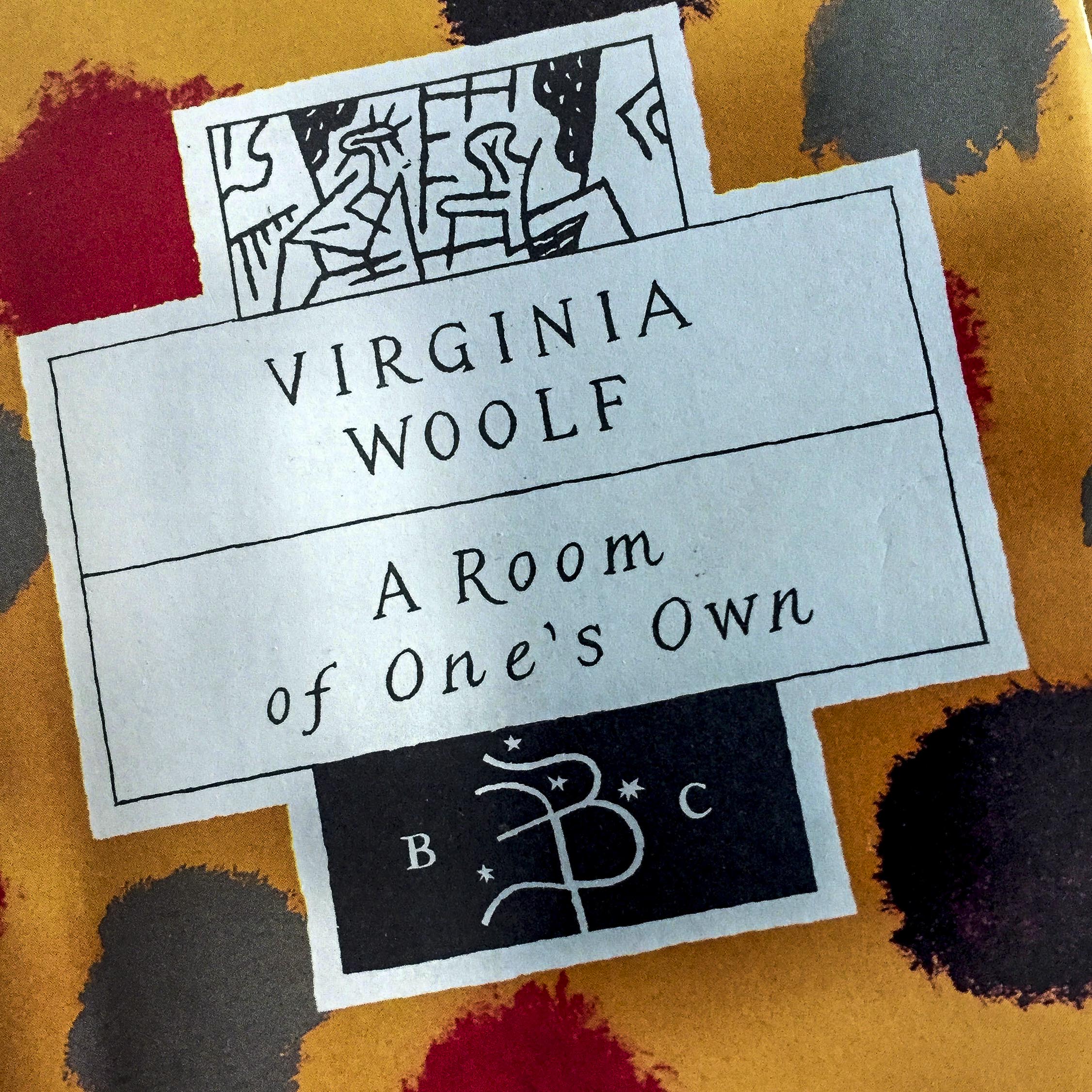 At the end of the week I changed tack completely and have started a lovely old re-read. Virginia Woolf's A Room of One's Own. My beautiful little Bloomsbury Classics edition is, unsurprisingly well loved. The basic premise is "a woman must have money and a room of her own if she is to write fiction" and it goes without saying that the words make art and write fiction are interchangeable. It should also go without saying that everyone needs a little helpful independence to develop their creativity.
Hear, hear Virginia!
Save
Save
Save
Save
Save
Save
Save
Save
Save
Save
Save