WEEK  THIRTY-TWO – (august 10-16)
The first pile of five….
contains books I bought on my last trip to Melbourne (WEEK TWENTY-FOUR).
I only allowed myself the luxury of perusing two bookstores.
The first was my favourite, THE HILL OF CONTENT, where I found four must-haves.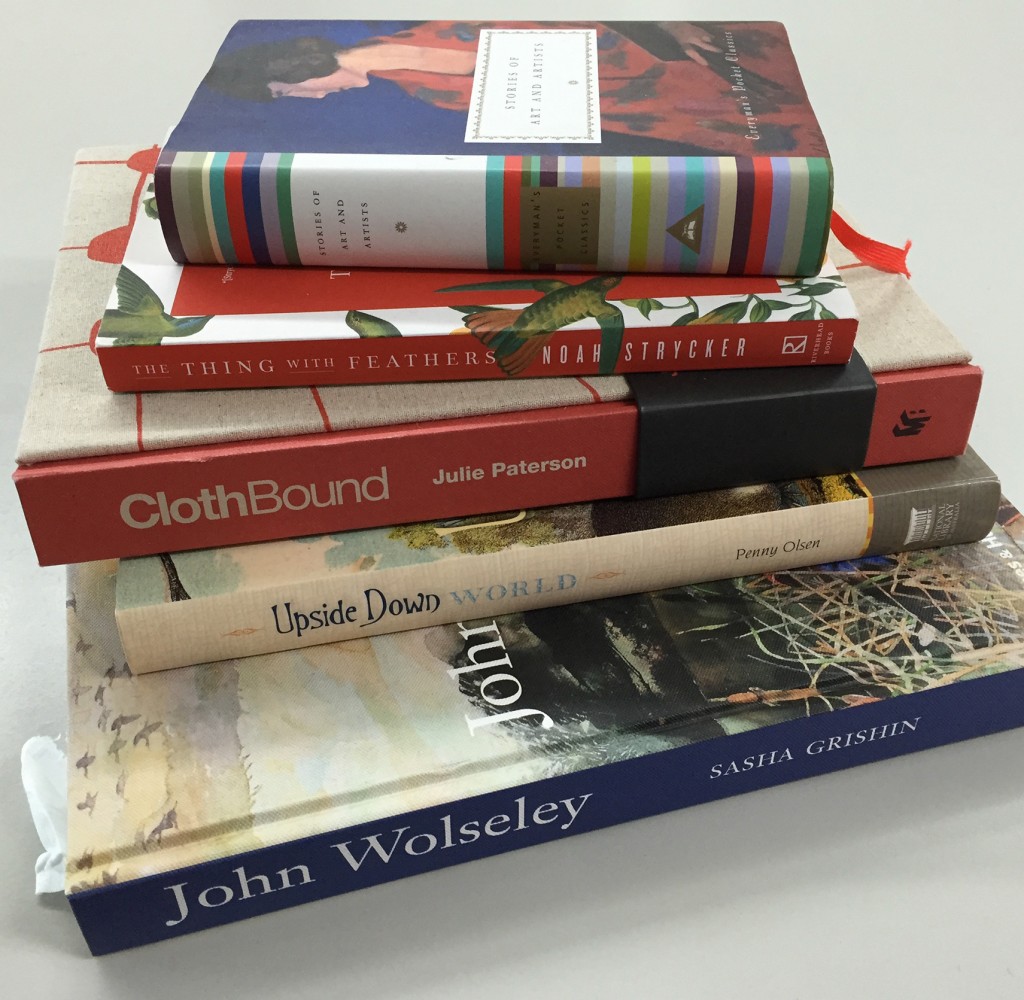 ClothBound by Julie Patterson was devoured on the homeward journey.
I have always valued Julie's work and I celebrate it's longevity and recognition.
I'm half way through Stories of Art & Artists – a beautiful little hardcopy compendium of short stories. Generally I find short stories unsatisfying, not so these. I delicately devour them in short bursts and find they leave me feeling satiated.
Upside Down World was read over many breakfasts. It contains words and pictures recorded by early visitors to Australia as they tried to make sense of our odd wildlife.
Of course it features 'Rara Avis' (rare bird) – our black swans.
The other 'swan' book in the pile – The Thing with Feathers – will go onto another pile to be read…whenever.
The fifth book, another that I am still delving into further day-by-day, over breakfast and coffee…..and sometimes with fresh lemon slice.
I  actually searched for this book at the NGV after I saw the John Wolseley exhibition.
I hoped it into existence.
The really essential component of this photo is the pencil…I am underlining and writing in the margins yet again.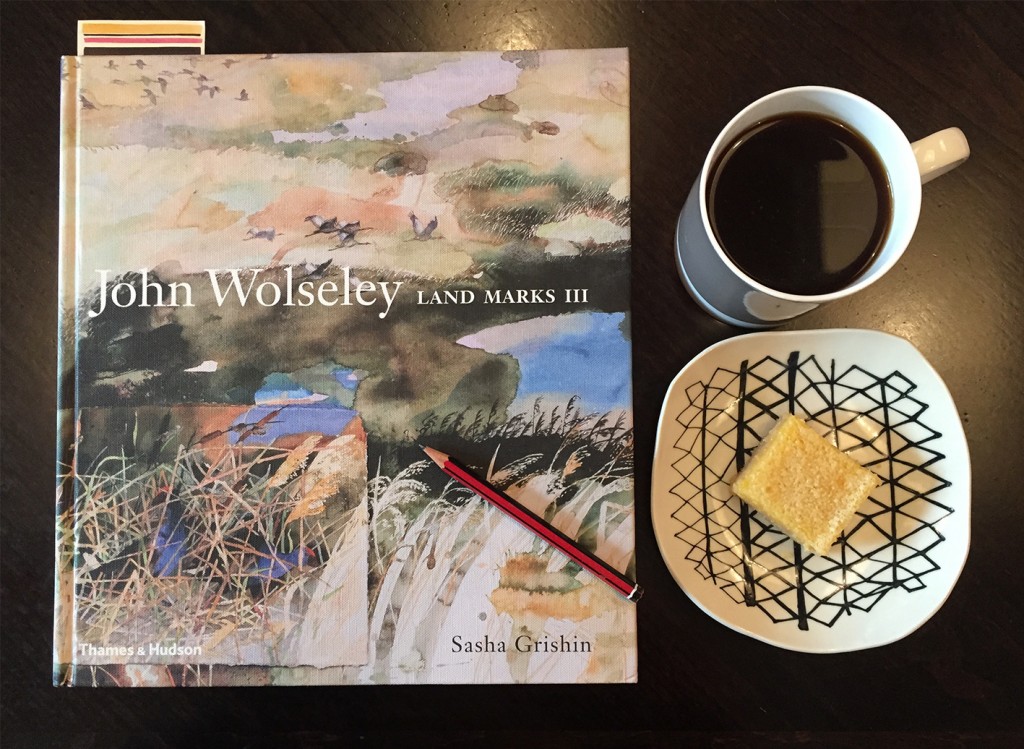 I probably saw the exhibition about three times…round and round… then a quick exit to grab a sketchbook so I could empty my brain in readiness for a refill…. before going around again.
If I am in this excited mode of viewing I need to capture my thoughts so that I can then move on to looking at the work in other ways.
I can only do this when I am on my own.
I took photos in the fourth round as, to me, that is a different form of looking.
Even though I don't consider that I am a landscape/ big view person but this work is big, expansive, little and micro.
His thinking seems to work like that too.
The works contain a myriad of styles and marks.
It is not precious in the making – it can't be with all that torn paper, glue, spoldges, imperfections and intuitive mark marking – all pieced together to make it a much more precious work of the moment.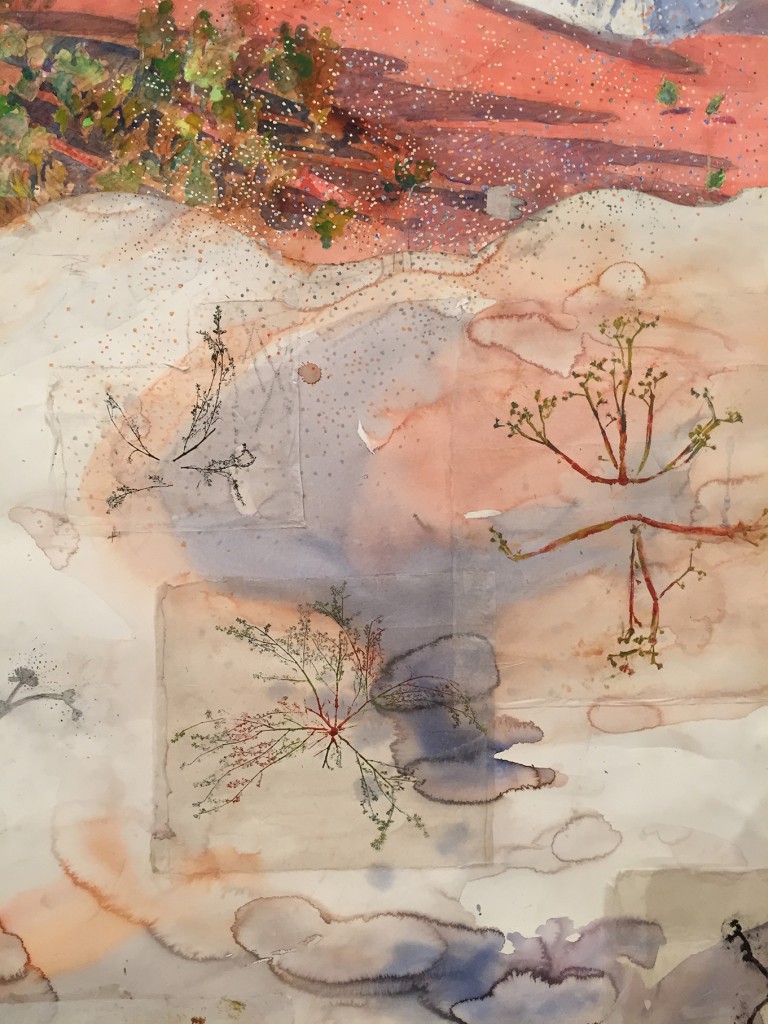 I loved the short film of him working…wallowing in mud and printing with 'organic matter' on the edge of the dam. I watched it twice, lapping up the ease he has with his environment, materials and body.
What absolute, enviable freedom.
The second pile of five….
was purchased on a visit to the PARA QUAD op shop/book shop in Shenton Park.
A-MAZe-ing!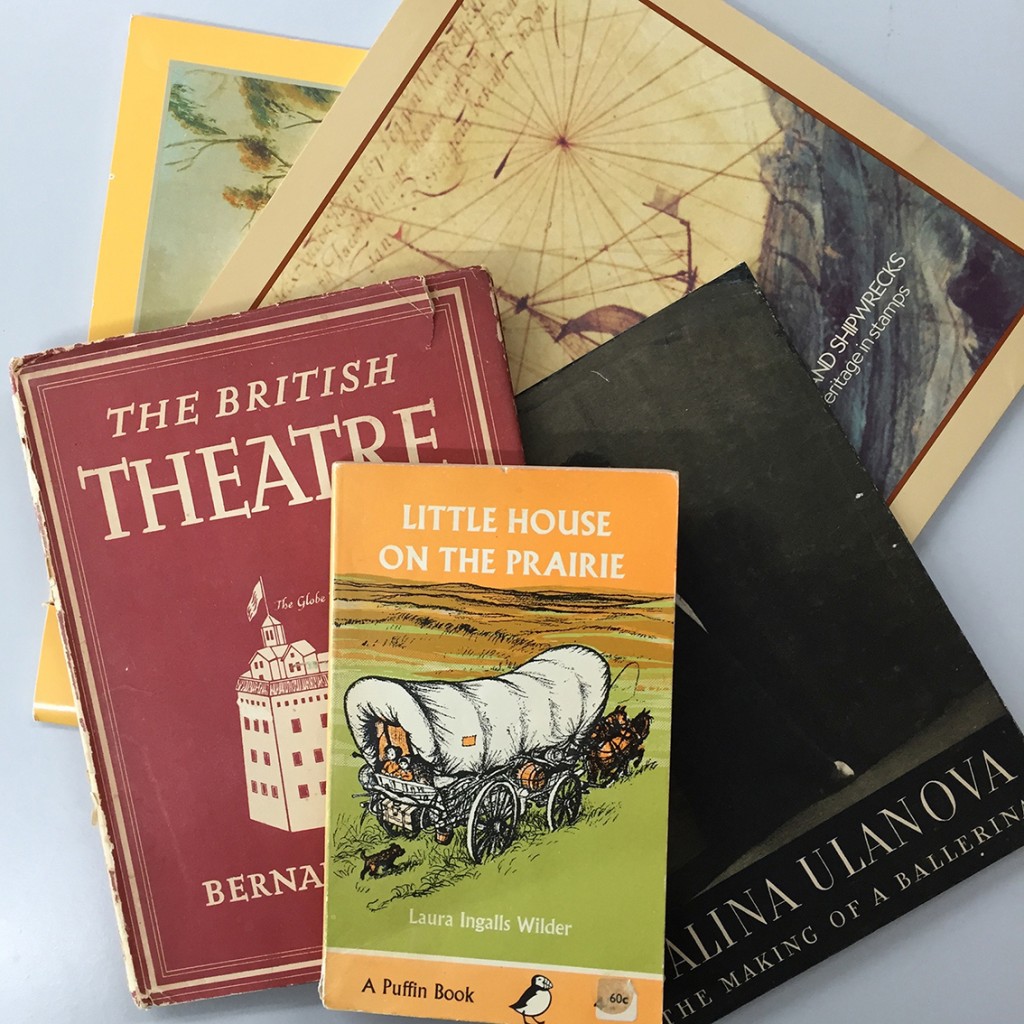 The only book bought to read, "Little House on the Prairie", was quickly demolished and I now understand the love for the book.
When I recently read 'Little House in the Big Woods" I was underwhelmed.
Now I realise where the love comes from. Beautiful.
The four other books have old photos that interest me and they have been added to the inspiration pile and duly photographed. I am very eager to play with the swan related photos in one of them  – either by manipulating them digitally or printing them out and then reworking the images.
I did want/desperately need a stitch binge this week but the reality was I was that I was in no way set up for it – organizational duties meant a week of research and emails out/in/out.
In between the emails I kept myself sort-of-sane by working through boxes of collected old napery and textile bits.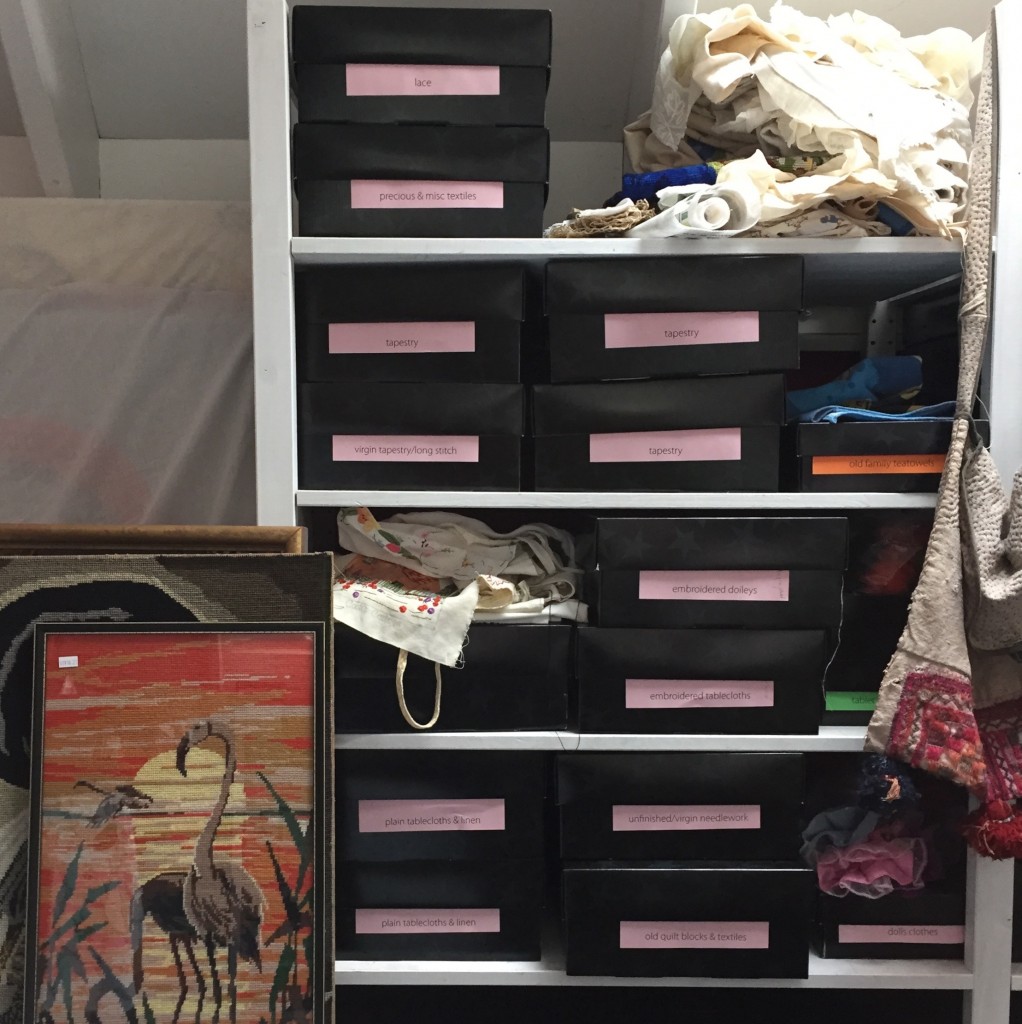 They needed to be sorted through, to search for embroidery details for proposed works – I only want details in specific colours at the moment but the sort still produced a very large pile.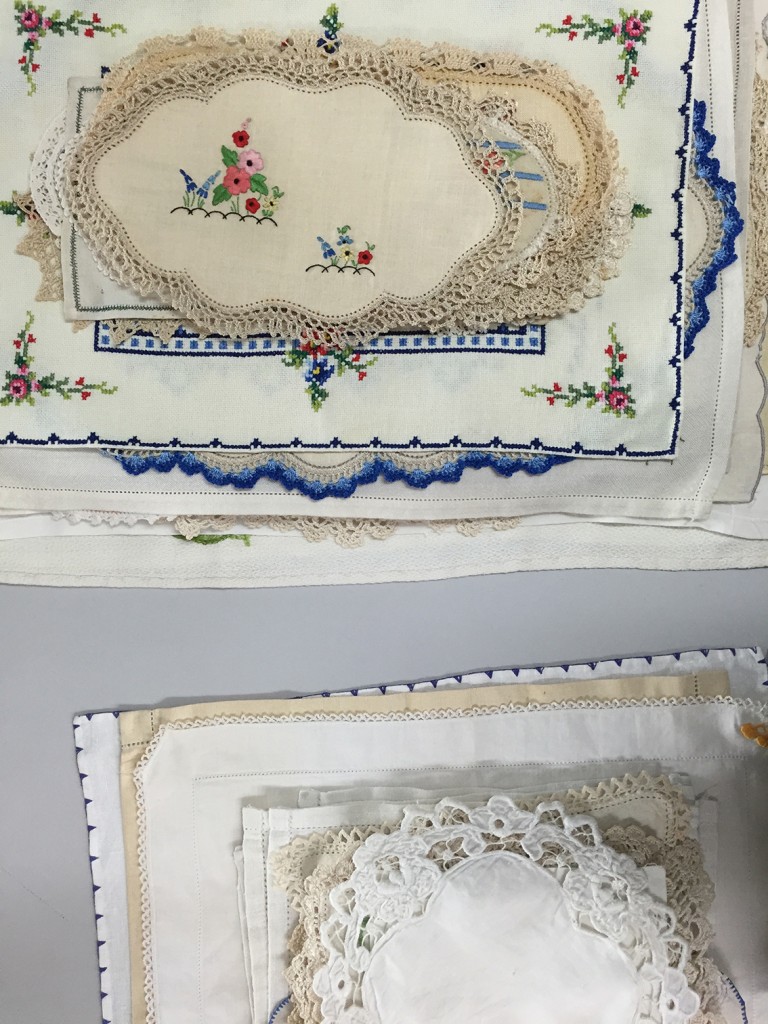 That large pile needed to be ironed then photographed – both a full shot and a detail.
I may use only the photos of the needlework.
I may cut some pieces out from the items…not sure…. BUT I did quickly photograph many. A total of 401 images on the first day and 322 on the second.
These were full shots and many details.
Why so many photos?
These photos are my insurance policy.
I use them, manipulated often only in size and colour, then print them on paper or fabric as needed.
I am also getting close to the day when I will cut the bulk of these textiles gems and make something… a functional quilt, or more artworks?
There will be some left in the boxes, the family ones if nothing else. I find it a bit sad that nowadays I rarely use the cloths and napery…they just don't suit my life or my decor like they used to. Perhaps I will remake the bits into a special tablecloth – the circle of the life of a doiley?
With all those photos in hand I seem to have been freed up, and, with another weekend spent at home rather than down south, I have ended the week with five works laid out to start in earnest.
Now ready and set to commit to stitch!