WEEK FIVE (february 1-7)
It was a very busy week. I achieved a lot, I explored a lot, I caught up with a lot of people, it was chokkas ….I just didn't get very much downstairs work done.
In fact it felt disastrous, though in reality it was just a reality/timetable check as much as anything.
January was 'my' time as much as was possible, and I had hoped that Feb would offer at least a modicum of similarity….I'm dreaming, I'm fooling myself yet again…
I need to recap some of the things I did work on if only to analyze how the week slipped and slithered by. All were on my Todoist list but not necessarily for this week;
TASK #1
For many years I have sent, out in various formats, occasional newsletters concerning  what is going on locally, to those who worked with me over many years.
Considering the time and commitment it takes I needed to assess the worth of continuing. After considerable (months) of thought I feel that, though hard to rationalise, it is still a worthwhile use of my time.
Mail Chimp is the obvious program to use and I have, over the last few weeks, tried to work out what I wanted both content and design wise.
My inbox fills with exhibition notifications, with textile/ art newsletters, and I keep my eye on various things that are worth passing on.
On Monday my deadline had come and I needed to send out the first missive – 'simply passing it on….' was sent.
I did have a hesitation as one item of interest concerned my studio lobby – it is generally filled with upholstery samples delivered regularly to me by my bloke who works alongside an interior design store. It was time to move some of it on and that would mean visitors and (lovely) interruptions and conversations….the only downside, as expected, was that this corrupted my delving into the past headspace that was needed for the tablecloth.
I stitched on and off for a few hours but it was a fits and starts sort of stitching week and I could not settle and enjoy it…poop to that.
I gave up and right now I think that it will be unlikely that I make my deadline for this project. Very disappointed.
TASK #2
Just as last year I needed to move on (upload) all of the remaining Stargazey patterns to Patternspot, this year one of my major priorities is about cleaning up and moving on stock from another business.
'Running With a Sandwich' was a lovely little side business I shared with a photographer mate Bewley Shaylor some years ago.
We had distributor and sold around Australia, and a little overseas, but our bottom line was that we liked/loved the creative side – boy we had fun playing with my bibs & bobs – but we were less pushy/keen on the business side… so we slowly wound it up.
The remaining stock has been sitting around maturing since and this is the year of moving it on – one way or another – and it is my task….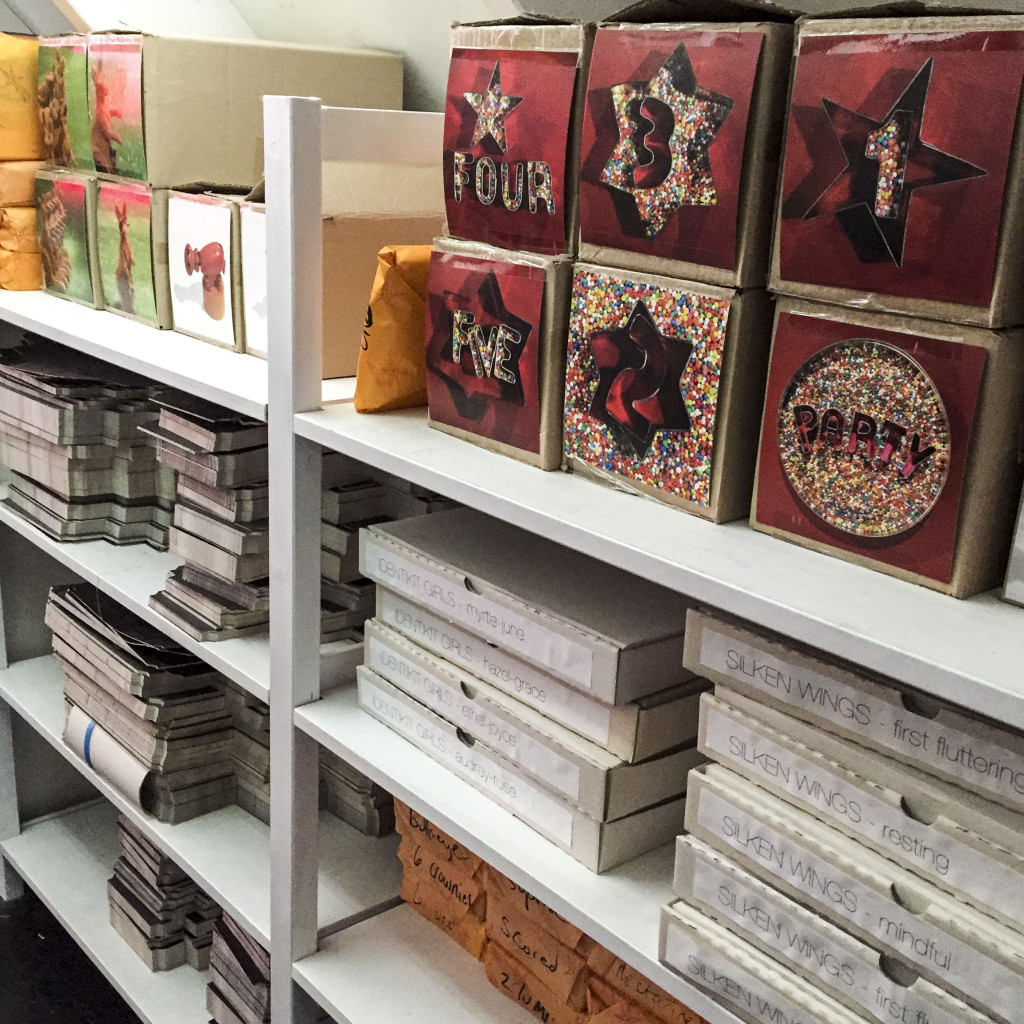 Again this is all about clearing my head and the space the stock takes up.
A little renumeration, however slight, wouldn't hurt the struggling artist's bank balance either.
This week has had me stocktake and make preparations to set up to sell again in some as yet undecided formats. That will be a task for later weeks.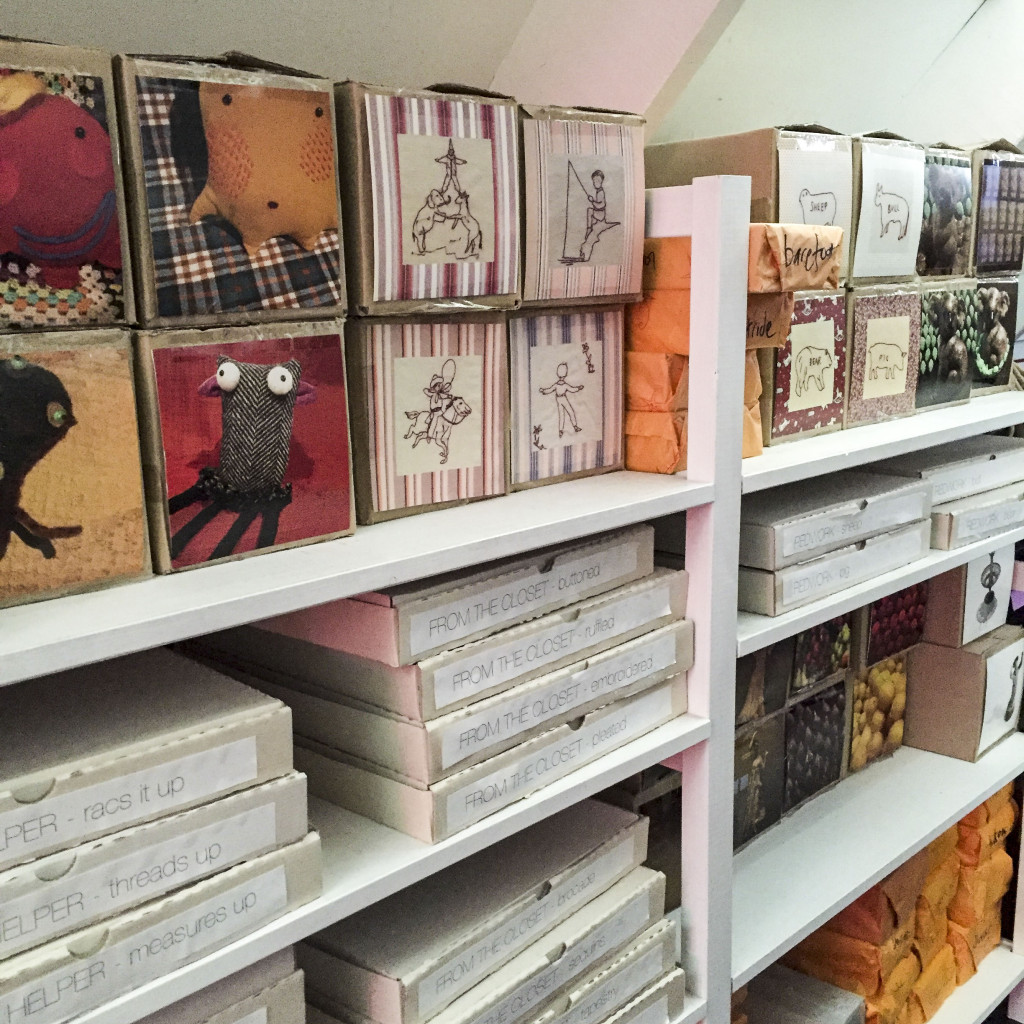 So I chose to make a start on RWAS cards instead of stitching because I couldn't settle to stitching – it didn't feel right.
BUT
As I folded and packaged cards I was moving onwards – I listened to some webinars on the SAQA website.
I joined SAQA and SDA only just over a year ago. In looking for a focus for making and exhibiting these two organisations, both USA based, were the best bet.
I have not done anything with my membership but merely lurked…reading the newsletters, looking at exhibition listings, reading the magazines.
I have renewed membership again on both but until I have a firm direction for my making I won't know whether this is a good path for me.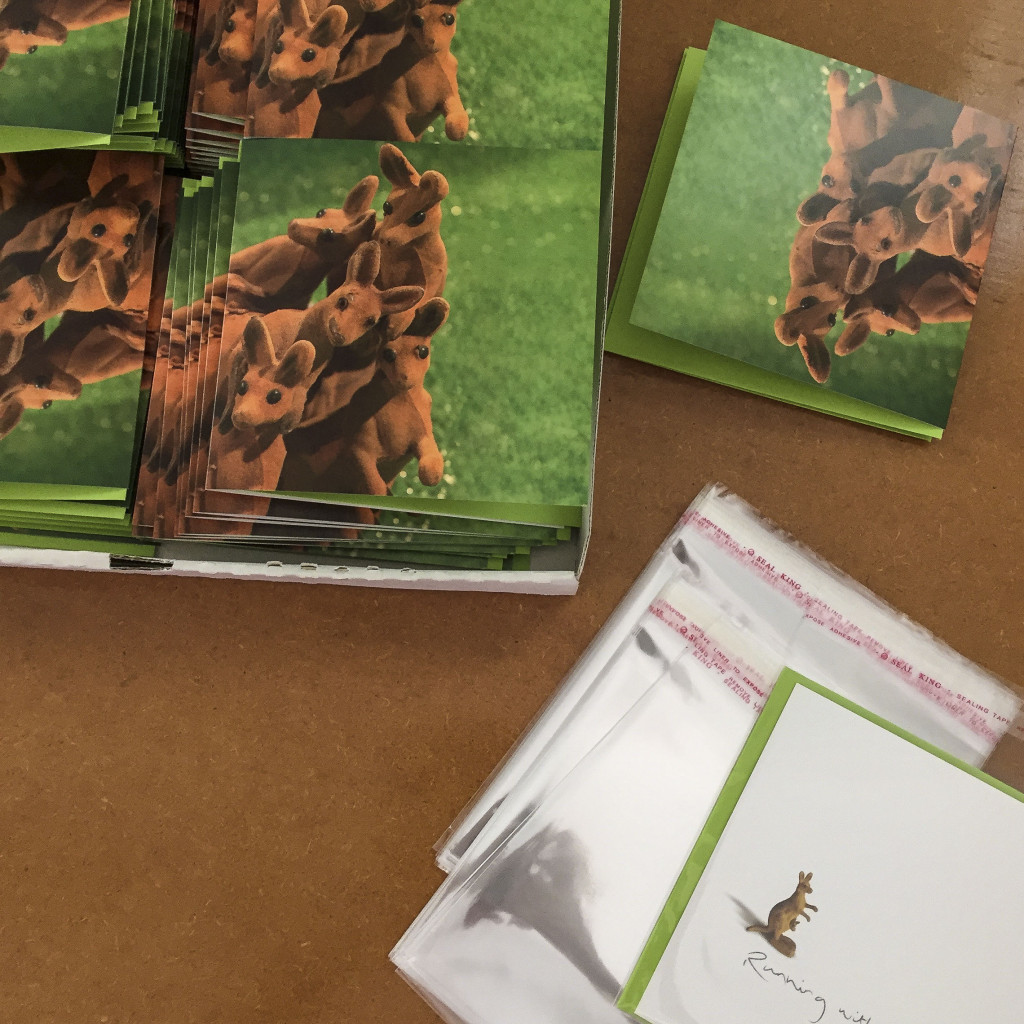 So the mindless folding and packaging was handy. I turned to the SAQA website to listen to and to watch some Webinars – a members only benefit. Whilst listening and half-watching for each hour I needed to be busy with my hands….perfect for the task at hand.
I do find listening to others talk about their work and their life and their process is always intriguing. I ended up viewing three Webinars over the course of a few days – not a waste of my time at all.
TASK #3
Was to book a trip to Mongolia.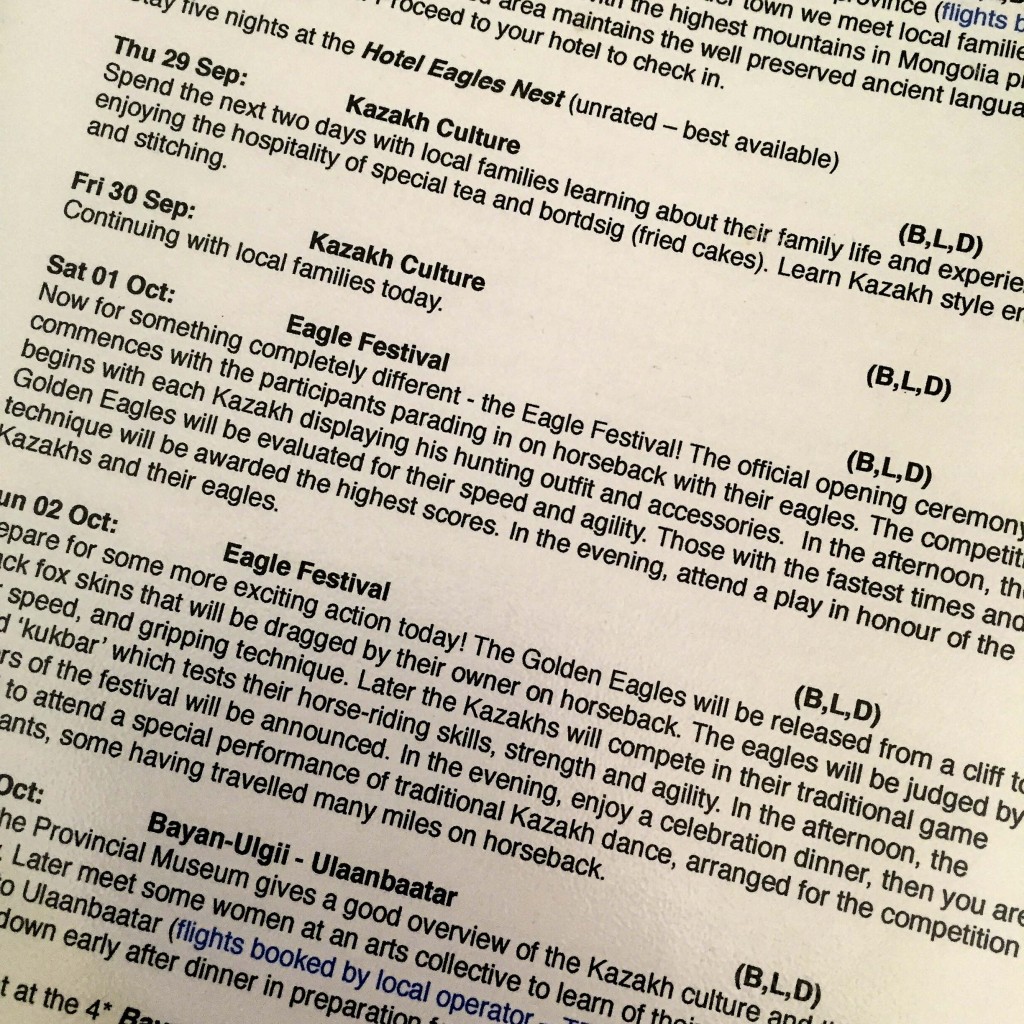 In September I will be off again joining a Textile Tour run by Interasia (Melbourne), and led by my wonderful friend Gabriella Verstraeten.
I have been to North India, to Uzbekistan & Kyrgystan, to Laos & Cambodia and now I am off to Mongolia.
I am VERY excited about this.
These tours take us to all sorts of place, we meet all sorts of people and we do all sorts of things.
We are tourists but we often eat with the locals, we pick up locals in our bus so that Gabs can interrogate:) them.
We see all the main sites and all we can that is textile related.
We deviate from our itinerary.
So for a couple of weeks in September I will be variously in museums/markets/temples/artist studios/gers/living with locals and attending the Altai Eagle Festival.
Soooooo excited!
THEN THE WEEKEND was sort of taskless but lots was seen and seen to….
In a more serious mode I quickly viewed the exhibition 'We're not dead yet' at the Moores Building in Fremantle. This exhibition centered around six female artists 'of a certain age' and was curated/formatted to take the viewer through the rooms in a house.
The work included was very diverse.
I attended the related symposium, a PIAF event, which looked at invisibility/women/ artists/age. Some of the speakers were great….others I felt offered up too much rhetoric.
The High Tea after, which would have given me a chance to catch up with some worthwhile acquantences, started too late for me, instead I took the train(s) from Fremantle to Mandurah so that my bloke could pick me up and drive me up the hill to our little house.
It was lovely…simple little thrills…..I love trains and I especially value the opportunity to view the world from different angles.
I'd happily repeat the journey.
In my very brief time there I picked a crop of nectarines that seemed to appear out of nowhere….whereas I had repeatedly counted and kept track of the tiny first crops of almonds and if we are lucky – quinces.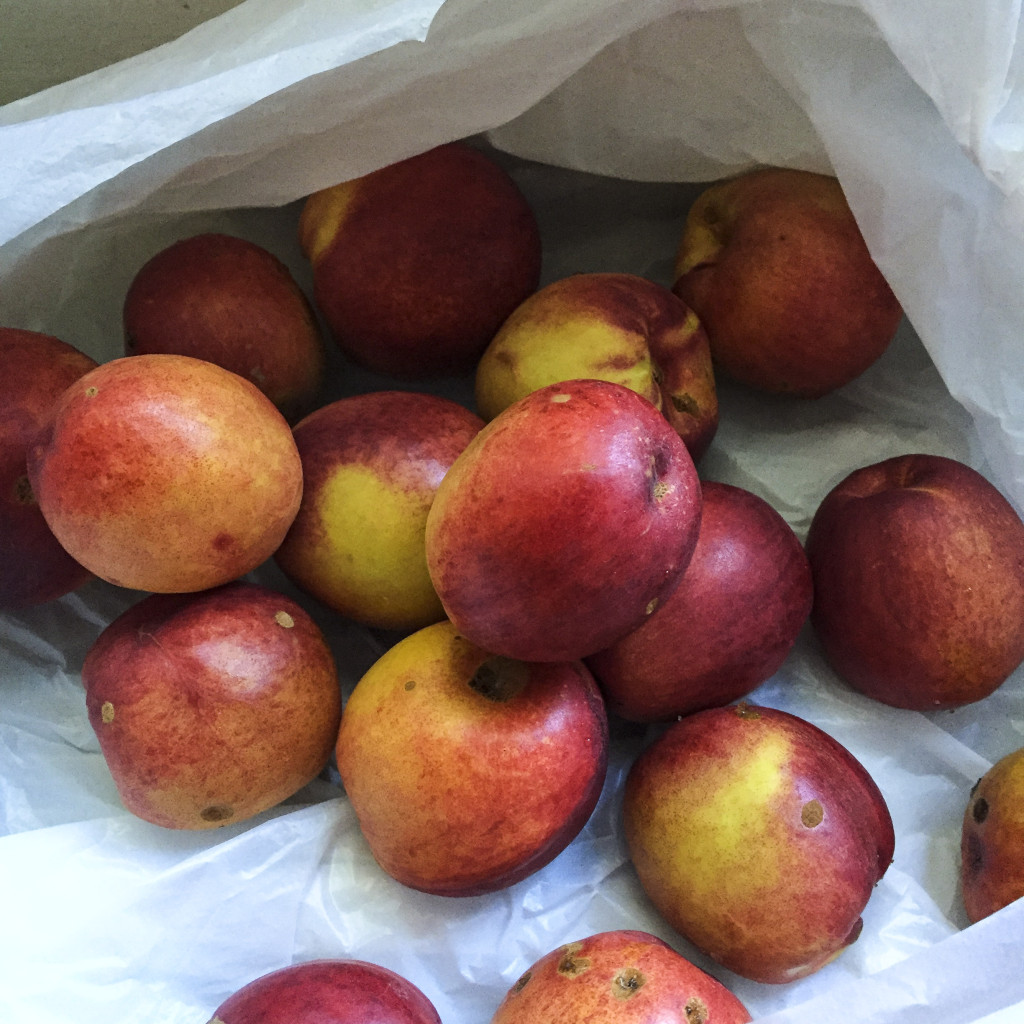 Our thoughts were that this unknown, flimsy, loose version of a tree must been a nut but  on our last visit we were sure we had a crop….of thriving nectarines!
It caught us by surprise so we netted the crop and have picked all of them.
They are not green grocer perfect but fresh and homegrown and tasty!
Another joy in our little part life down south and up the hill.