WEEK SIXTEEN (april 18-24)
Two things constantly vie for my attention of late – my growing family and twentyONE+.
My artwork and my myriad toDO list items merely bob around on the horizon occasionally coming close enough for me to touch.
For our tiny twentyONE+ team the weeks have been blurring together and racing by.
In the quickly diminishing weeks between jury selection and exhibition, we chase up and correspond, we make decisions and meet deadlines, and now by the end of WEEK SIXTEEN, 2016, perhaps only fleetingly, I feel like we can breathe….
There are still a heap of tasks lined up but perhaps, just perhaps, we can start to regain a semblance of normality.
Despite the time taken on this project I have no complaints – one of the most rewarding aspects of any membership happens when you accept a productive role within the Membership Group.
Over the years I have narrowed down where I am happy to help simply by assessing the task on how much it will challenge me and, by placing myself out of my comfort zone, how much I can grow.
I also relish the chance to work with and get to know the other like-minded worker ants – that does nourish me.
Of course there is also the knowledge of doing good – and I do like doing good.
WAFTA's first juried exhibition in yonks – the aforementioned/regularly mentioned twentyONE+ – is a very worthwhile challenge.
I feel a whole load of good will come from it.
It is worth every laden month, week, day and minute.
On Tuesday night I attended a RSA talk by Stephano Carboni, head of AGWA, about the AGWA. Honest and insightful. He is one clever fellow.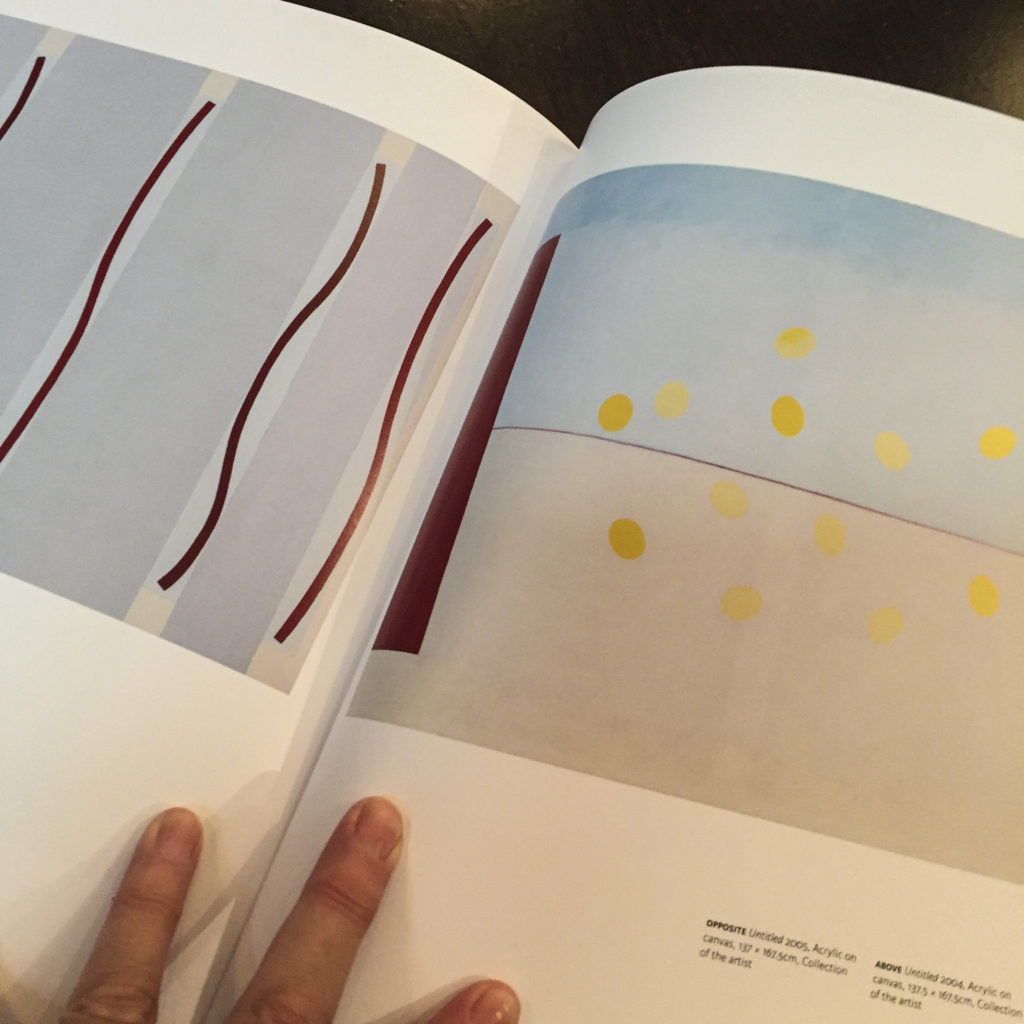 Thursday night I attended an opening/book launch at WA Art Collective to see Trevor Vickers lauded and to receive my copy of his new book.
Yonks ago I paid $100 to be a part of the team to bring this book into being.
I love crowd funding. I love the independence of it.
I happily hand over money to encourage this sort of self sufficiency.
The return – in this instance a copy of The BOOK, gives me that glow of 'do good' satisfaction.
Back to this week and it is only on Thursday arvo, that I start that much needed breathing….
I reneged on a trip scheduled for very early Friday morn to meet the 'dunny doctor' at out little house. It would have been interesting for sure, and as it is a weekender we have it on good advice that our effluent won't stink….and it didn't:)
I would have been fascinated by the carpet of tree roots that wound round and round, nest like, in the deep, dark concrete circle and which had to be shovelled out.
I probably would have had the camera shutter clickety-clicking….
Instead I stayed in Perth to have some Esther time and to 'get stuff done'.
A catch up on all sorts of things.
A catch up that I made no lists for initially, just went hither and thither in a glorious mess, until things were slowly made good.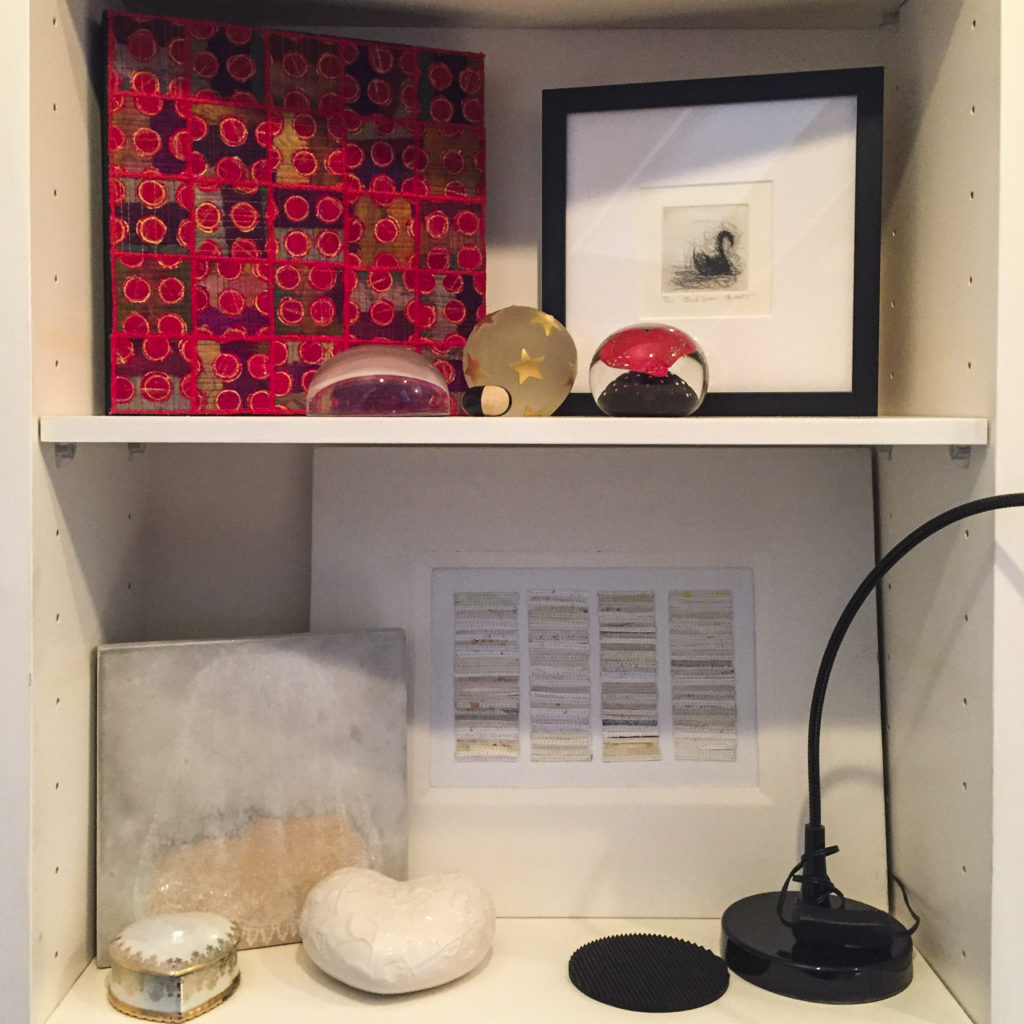 I rearranged, cleaned and cleared the bookshelves beside our bed. I have slowly acquired a few little artworks that fit these spaces and they needed curating:).
I vacuumed, mopped, dusted, cooked, and read the paper.
I walked and had a glass of solitary wine each night….luxurious.
One of the few things on my list was to complete the yellow feathers board…done on Saturday….finally.
By late Sunday arvo, after numerous complete back-to-the-start rearrangements I also have order in the grey feathers board. They are now ready to adhere.
It will be a relief to have this complete in the coming days as I desperately need to make a start on a new line of thinking with the OZQUILT Australia Wide 5 entries due in about a month. I am about a month behind on this already…
No pressure?
Another time in my week that I can now identify as a breathing space is my time with Esther. On Friday morn we repeated last week's adventure; train to Freo, morning tea at The Attic, had a run around at the Esplanade, purchased some wholesome goodies at the Freo Markets and then ambled off home.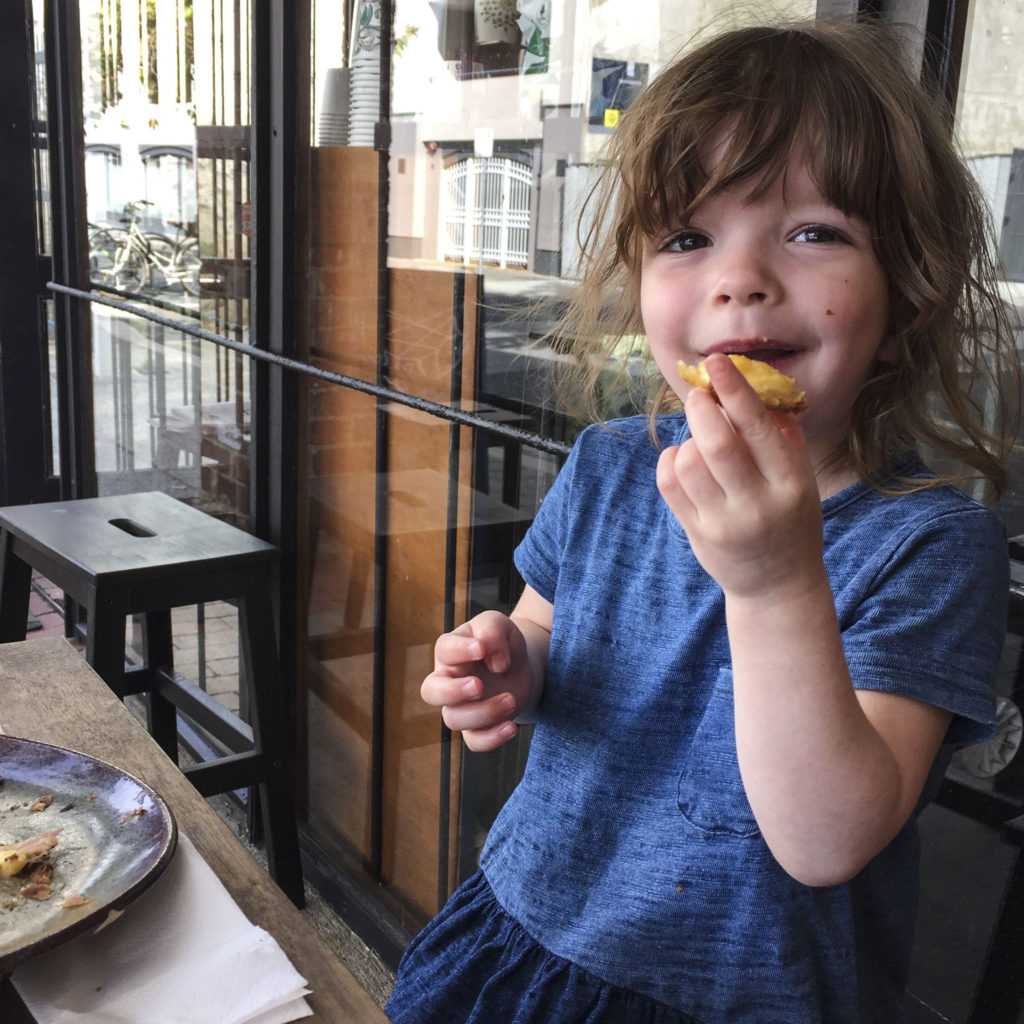 The difference this week was Esther's choice of morning tea (Portugese Custard Tarts that we didn't need to share) and missing both trains by about thirty seconds…..something that became Esther's BIG story of the day.
It was fine, we were in no hurry.
We relaxed.
We both enjoyed the breathing space.