WEEK THIRTY-SIX (september 5-11)
review#1
First thing Monday morn anniversary wishes arrived from my bloke, by text.
We don't do gifts, we are very low key. We like it that way.
Only once have I beaten the bloke on this greeting and that was memorable – our tenth wedding anniversary – and I presented him with a portrait/self portrait.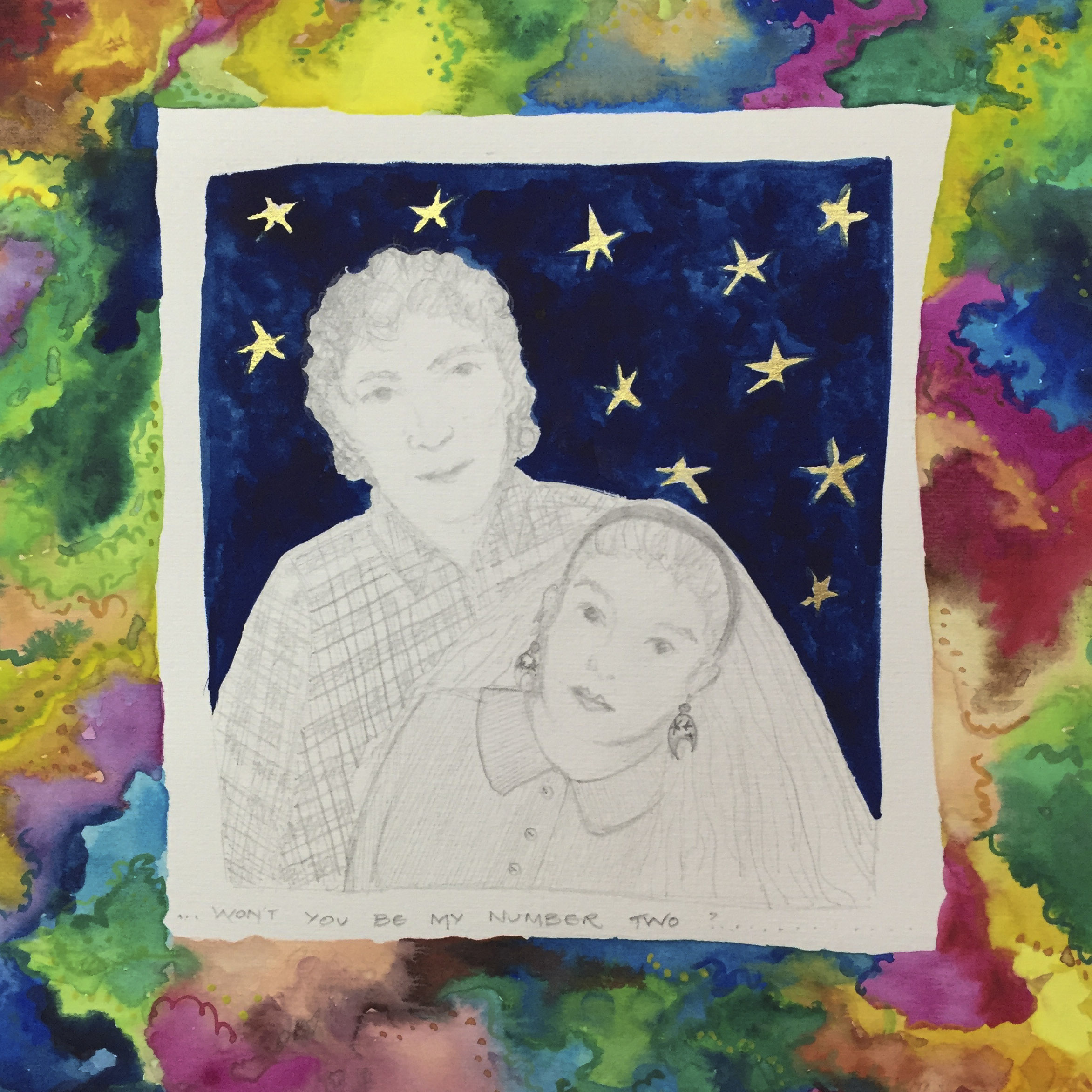 I had to hunt around to find it as I had taken it out of its frame and boxed it away a while ago.
We were young but we had done a lot together in ten years.
Viewing this drawing makes me want to draw much more…
It also shows me how much we have changed in the last twenty-five years – though our love of Joe Jackson continues.
review#2
A friend is looking to start a new small business placing textile pieces into interiors.
I have reviewed what I have available and have been sending photos and info her way in fits and starts.
A couple of things about this project that interest me/connect with me.
Firstly, much of my non 'Stargazey' work, which I have always classified as exhibition work, has been made in spare time to explore ideas and to test techniques.
Most of these works have not actually been exhibited but I have taught plenty of classes from them.
I also have many sample files but it it always the finished and framed/stretched/ hung pieces that best illustrate small ideas. As such, none of these works push the envelope artistically, only in technique, interpretation and presentation.
Secondly, I am a 'home' body in the best decorating sense.
I love living in my spaces that tell about my history, my life and my family and friends.
I love that it evolves…like life does.
I love being able to shuffle the artwork around occasionally, to lend it to our kids, to take it down to our little house and now to let the little ones….touch!!!!
The walls and shelves tell stories….
If I look at interior magazines or articles the connections for me will be made with with a sense of the person living there or the artworks on the wall.
Hopefully this new venture blossoms and rewards everyone involved.
review#3
One thing that this exercise has brought to my attention again is the jumble of systems I have cobbled together to record my artworks.
Historically I was lucky to take a photo let alone record size or date!
Over the years I have kept more details – as I was business orientated and recording/documenting was part of our system.
The info I have recorded lately is in an InDesign document – combined with photos of various sizes and requirements that are not consistent.
It sits on my computer or I print pages out.
Laborious and wasteful in all manner of ways and an easy way to make errors.
I have researched artwork documenting apps and systems a few times in the last year or so, waiting for the perfect system to suit what I need.
It needs to be cloud based so it will work on my computer/ipad & phone so any updates can be with me anywhere.
It needs to be well designed graphically, easy to use, and not too expensive.
Artwork Archive, ArtMoi, Tessera, Art Galleria and the like have been looked at again and again and I have almost committed to each of them in turn….. but not quite.
I'll keep looking but I need to make a decision soon. I have spent/wasted a lot of time this week copying and pasting and re-arranging and re-jigging…with frustration becoming the word of the week.
Meantime, I have more artworks out of storage and being hung slowly on the newly painted walls.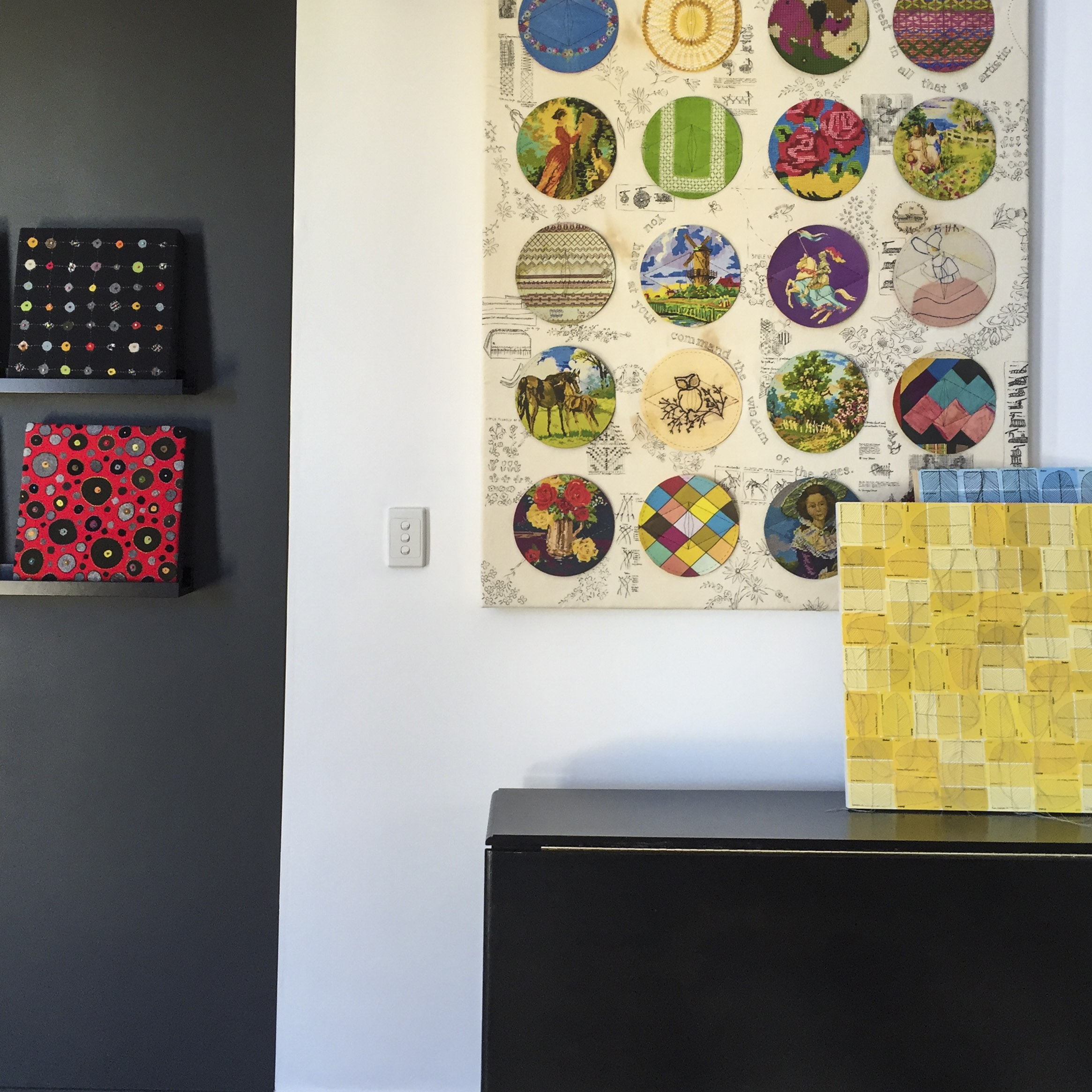 and
finally I have a new set of boards complete and ready for 'feathering'.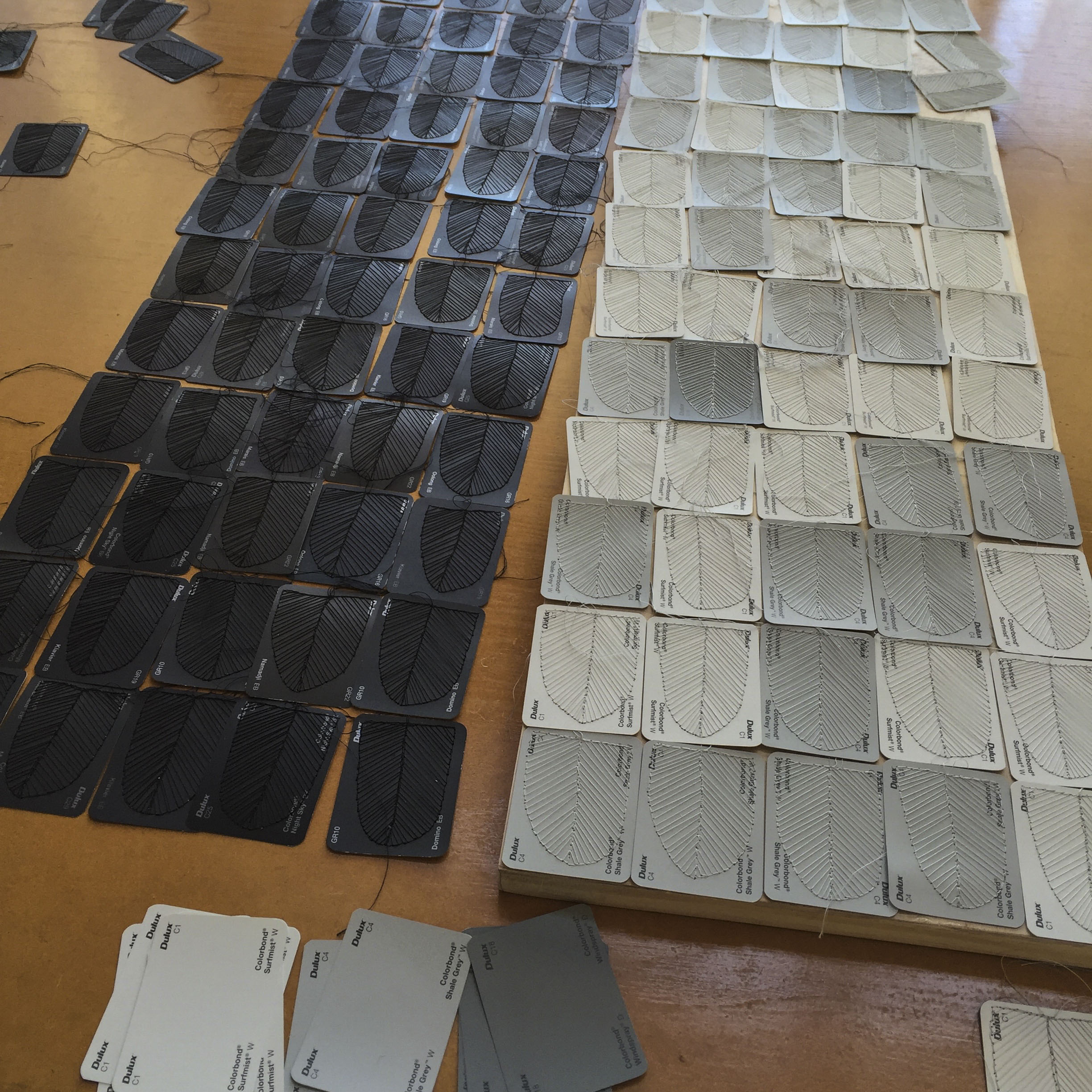 review#4
My de-winterfying continued with another foray into the city where I headed to AGWA to see Contintental Shift and Jula Tolonen – both gentle exhibitions that I will forget quickly.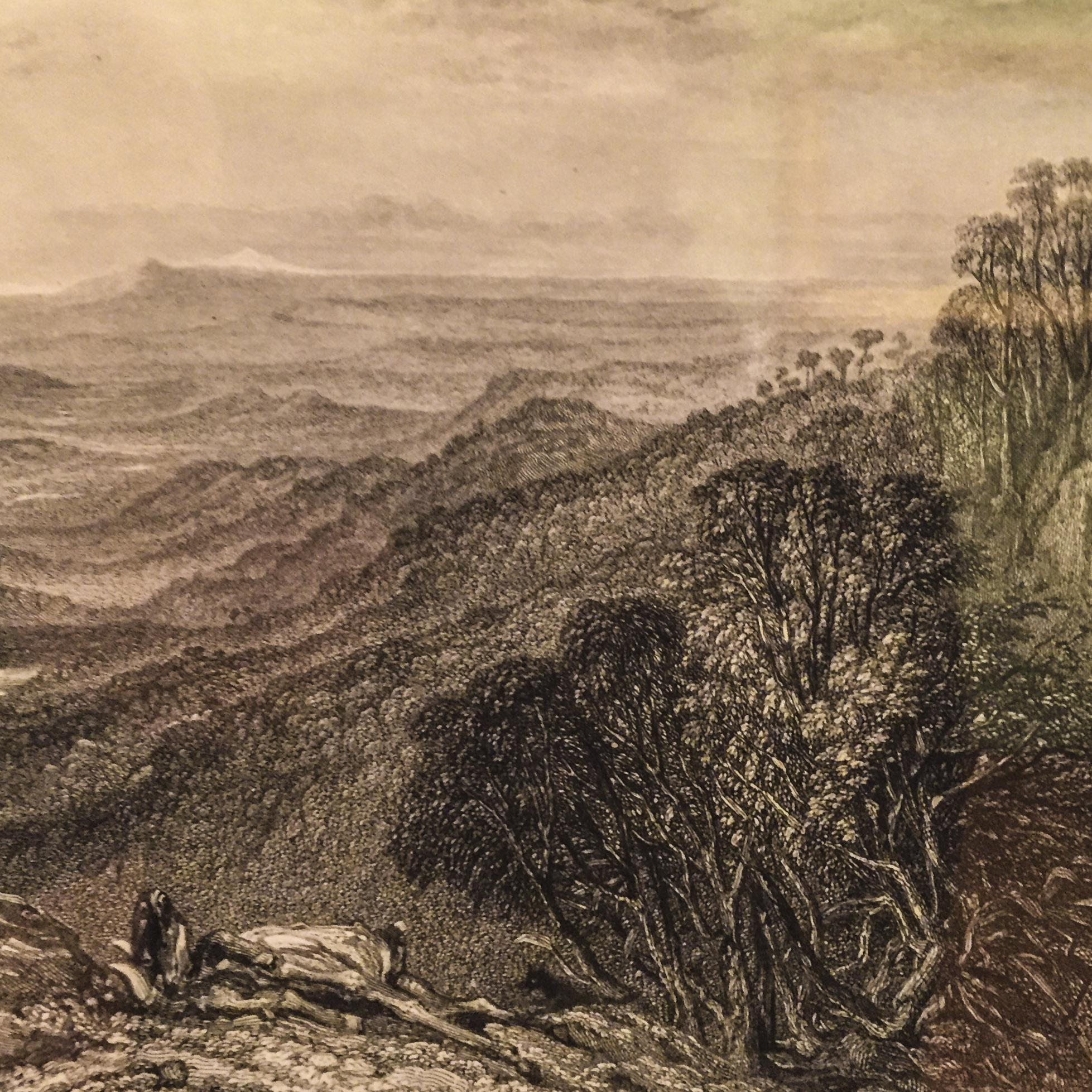 I did fly into the Gifts to the Fallen gallery and connected instantly with the feather works though.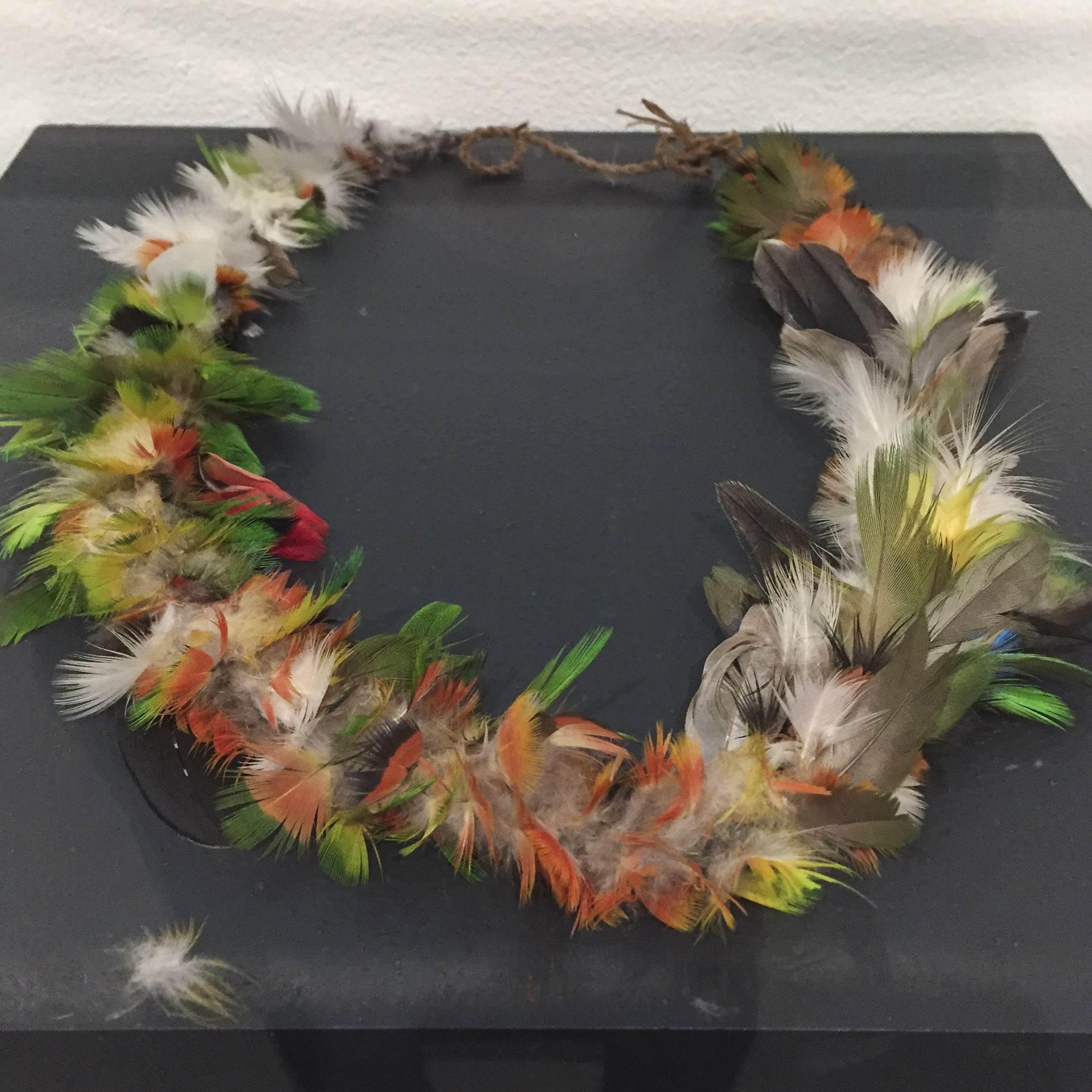 I'm itching to get my fingers stitching my REAL feather piles and boxes….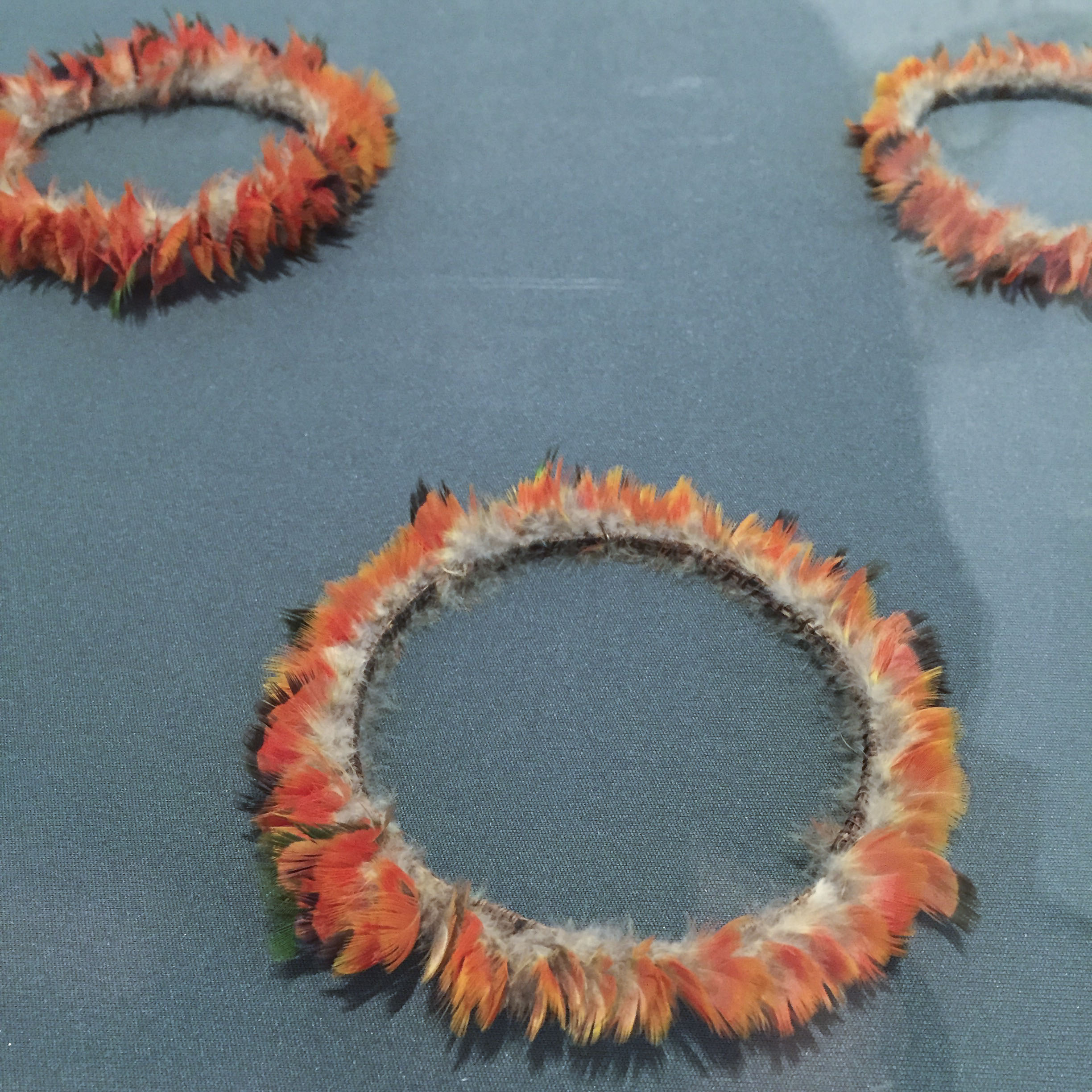 The rainbow lorikeet feathers that I picked up last week outside my front door await.
Save
Save
Save
Save