WEEK TWO – january 12-15
Lots of info to sort through. Lots of leads to follow…some have already sparked thoughts, some will lead to dead ends but that's ok. I tend to start a project covering all bases then discarding.
Whilst letting incoming info settle I have a look around the studio.
I have boxes and piles of materials and fabrics. Many are from years of collecting and building up workable amounts with quilts in mind. As I am in reinvention mode it also means that I am in discarding mode – trying to delete old ways of thinking and freeing up space to reinvent.
I spotted 2 boxes of 'tie innards'. This odd assortment of natural and synthetic fabrics, always tie shaped, were kept because  for some reason they needed to be….
This could be an easy in for my first swan based project as they are reminiscent of feather shapes. Many are cut on the bias and are naturally feathering on the edge. A cook up in some black dye is the answer and I'll see where I go from there.
Of course I then move to the 'tie' boxes – not reminiscent of black swans but instead peacocks and parrots. They in turn push me toward the offcuts of mens suiting …plenty of sombre darks there.
I have purchased a book called THE BLACK SWAN  by Nassim Nicholas Taleb, which whilst still on the reading pile, promises to fill me in on  'A black swan event– something that is deemed improbable yet causes massive consequences'.  In retrospect there are always pointers to why a black swan event happened. The book looks like it will be an interesting read but not quite yet…..
Meantime my thoughts went to those men in suits caught up in black swan events….tie innards, ties and suiting…fabric feathers, with spike quills stitched to a backing perhaps?
Next, a play with fabric on the wall.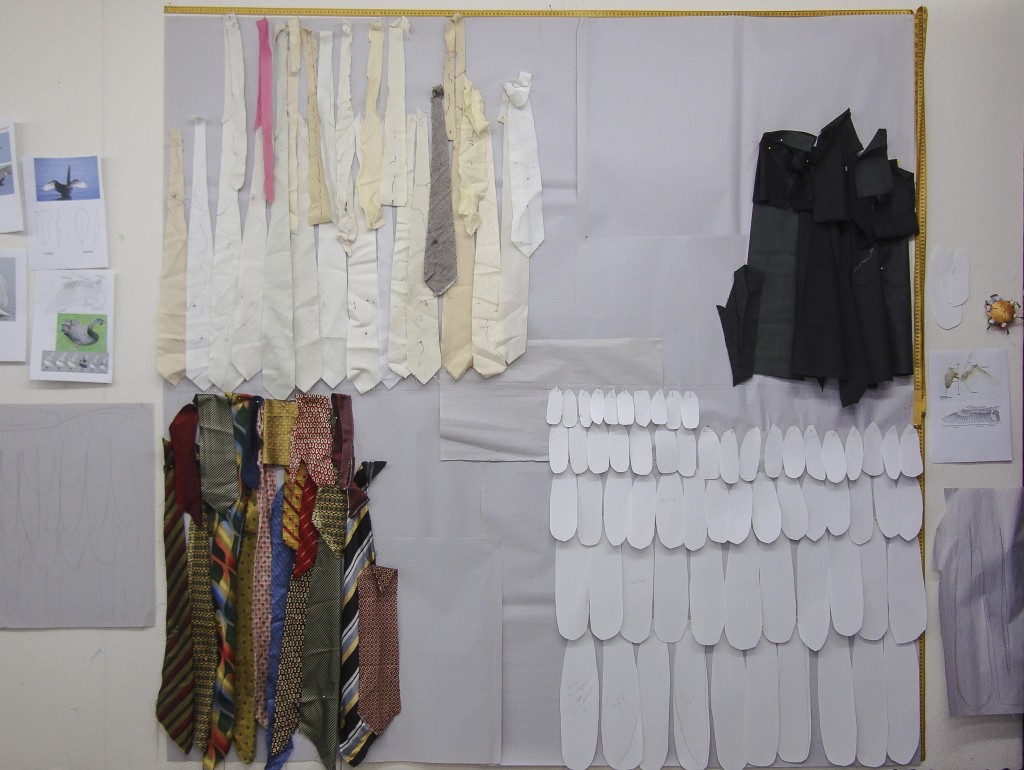 While I prep/refine these thoughts I will keep trawling through the mounds of info. I'm keen of finding better info on wing and bone structure…one exploration leads to another question!
To add to my swan obsession….
I have been dog sitting Horton over the last few weeks. Our late arvo walk is usually around Rocky Bay in North Fremantle. Summer holidays means people, boats and noise on this usually quiet part of the Swan River but there, in the midst of the holiday makers is a pair of black swans paddling from boat to boat, unperturbed by anything.
Everyone seems very respectful of them.
I would love to come back and spend time with them….a quasi scientific study plotting their data…quick sketches, photos, mapping…..
My brain is scrambled – like a swans' egg obviously.
My leads and themes are a spaghetti junction – squid ink spag. of course.
So (black) swans need to fester in my noggin while i do other things.
I return to  finishing mode, a space I inhabit to free my brain.
I choose a shelf with a close-to-complete silk quilt – started years ago, eventually reconfigured and finally quilted just before Xmas.
It just needs binding and now I am ready to complete it whilst my brain settles.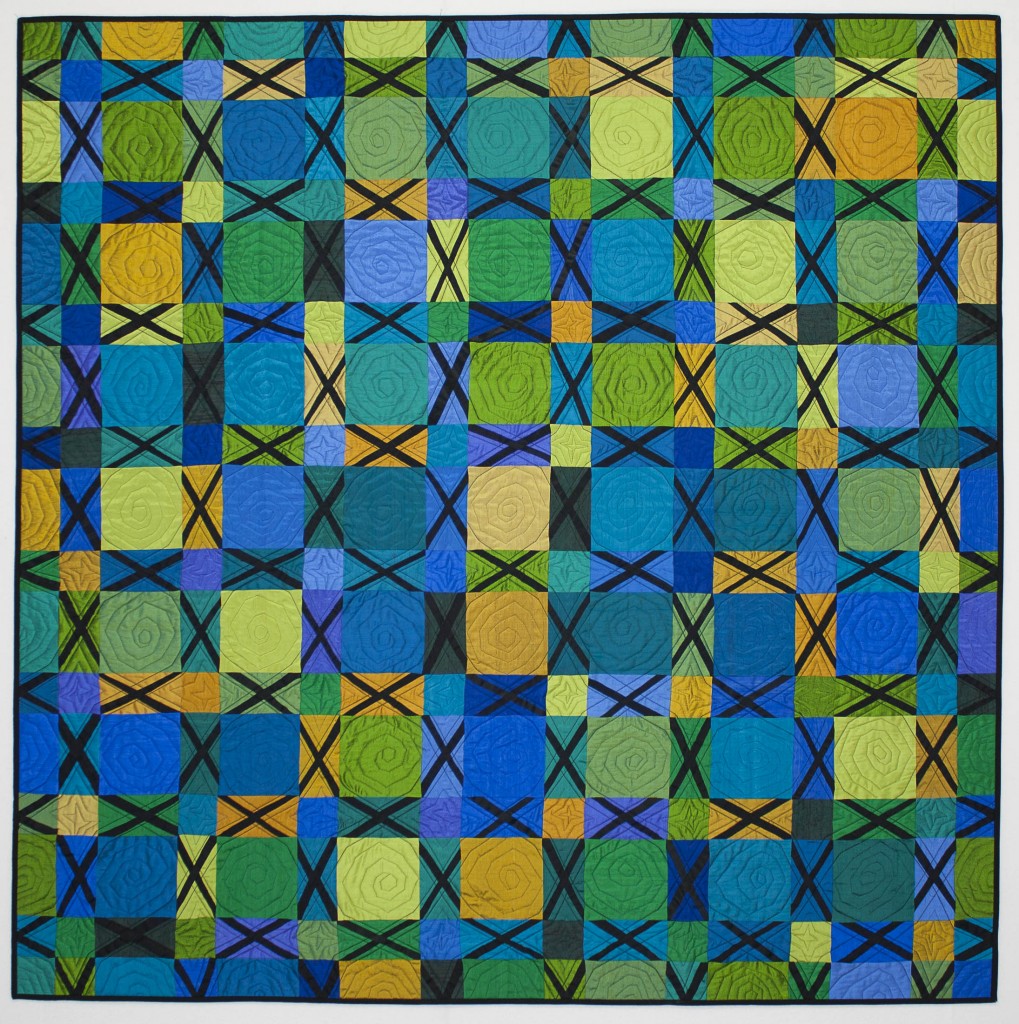 I have been playing around with non cotton fabrics for years – probably due to the overload of cottons that I designed. The sheen and feel of silk is delicious but much more difficult to corral so my loose style of piecing makes total sense here. Over-riding that is the subtle distortion of the black grid .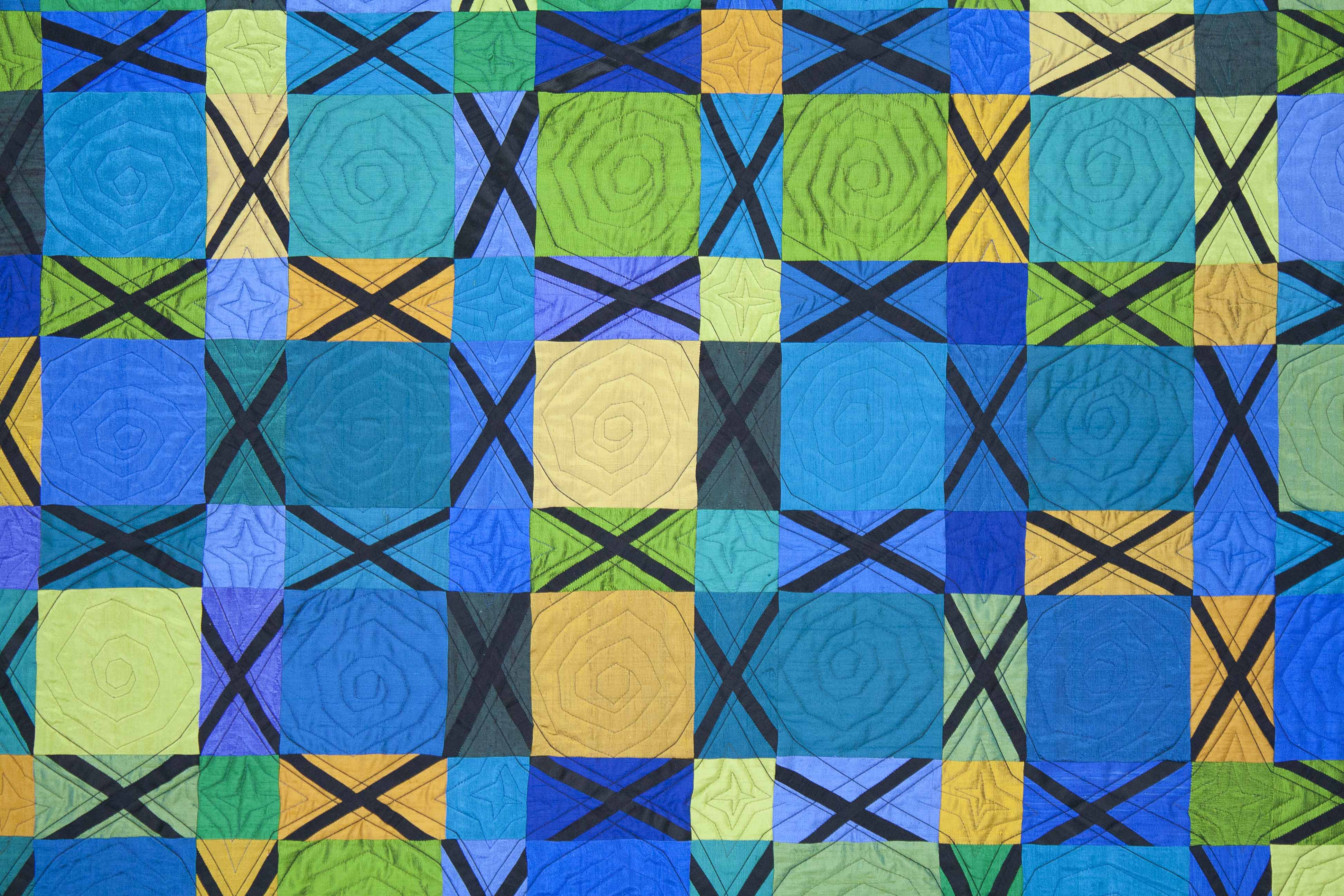 Whilst it is not written up and available as a pattern it could be……