WEEK ONE – january 5-8
The time has come for me to explore the world in my head with help from my hands.
A blog will record my thoughts and my deeds and their background.
I find writing the best way to approach my truth, my reality, my headspace, my hopes….
January 1, 2015 was to be the symbolic start to the new selfish me but in reality the thought process started at least a year before that and, with various hiccups and priorities, the start date of this blog is many, many weeks late.
My profile sets out to explain the me that I am at the moment.
This blog will explore the newness of me as it happens.
So I'll start at the beginning of this newness.
January 1 is running a bit late, my start is the first back to work week in January. A weekly debrief/review is what I will be aiming for but there will be a bit of posting catch up initially.
I have been thinking seriously about this project for many months. Whilst starting a new body of work is daunting it is also something to look forward to. This has informed the 'gathering' of my thoughts and images of late. I have given myself a deadline and a real reason to stop the procrastination of finishing old projects and spring cleaning and saying yes to things I really need not do.
My dominant and open ended theme is (black) swan. It is a starting point only. I anticipate weeks of reading and research, months of playing with techniques to help express my 'head threads'.
This first week sees me exploring my extensive collections of books – old, new, factual or totally unrelated. I have books specifically on swans, some with history, some technical, others to help with the visual 'feel' of the project.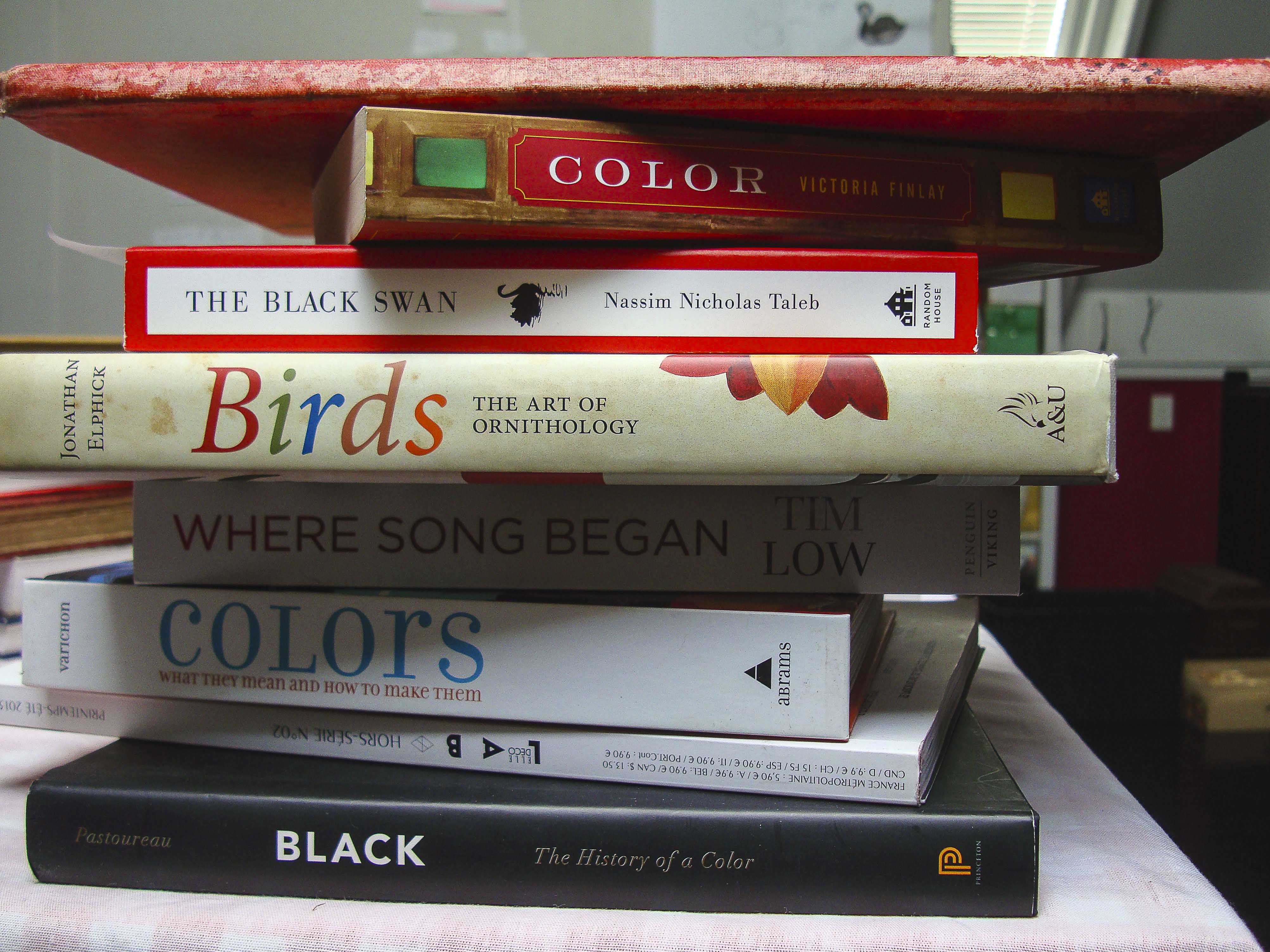 As I work through these books my thought-lines are very much a jigsaw puzzle with way too many pieces. My thinking becomes circular and splintered.
I have set aside a space as 'project headquarters' and have snippets of thoughts and leads and connections pinned to my board which helps. The table is covered in info.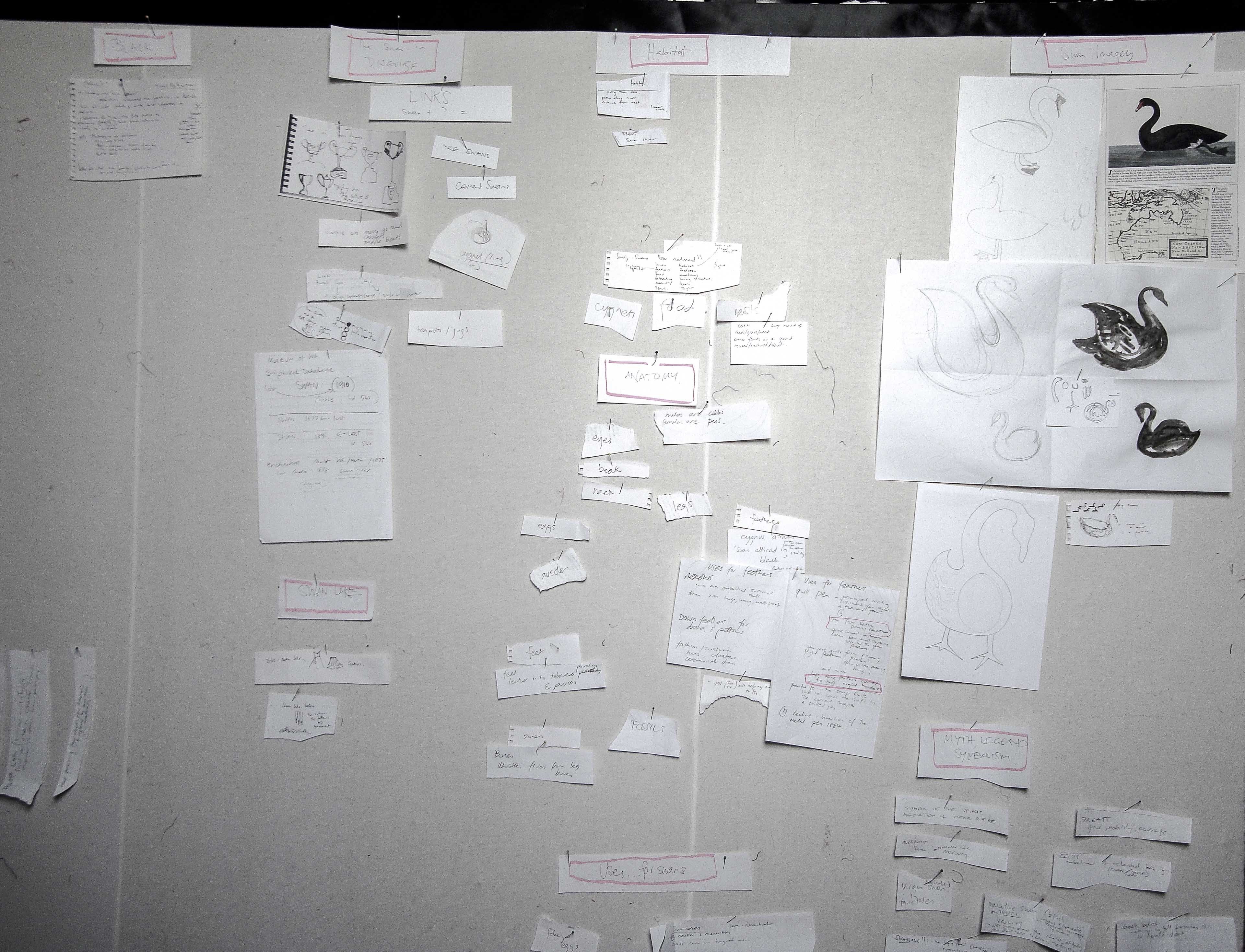 I am a very long way from outcomes that I anticipate will result in works combining textiles, sculpture, clay, quilts, stitch and drawing…..my thinking also turns to welding – something I dabbled in as a student, a skill that would need to be re-learnt.
I have had an underused Pinterest page for a long time and now it is the perfect tool to help me manage (black) swan related imagery. So now, with piles of books, loads of collected ephemera and heaps of leads to and from Google, I am feeling lost – or simply totally overwhelmed.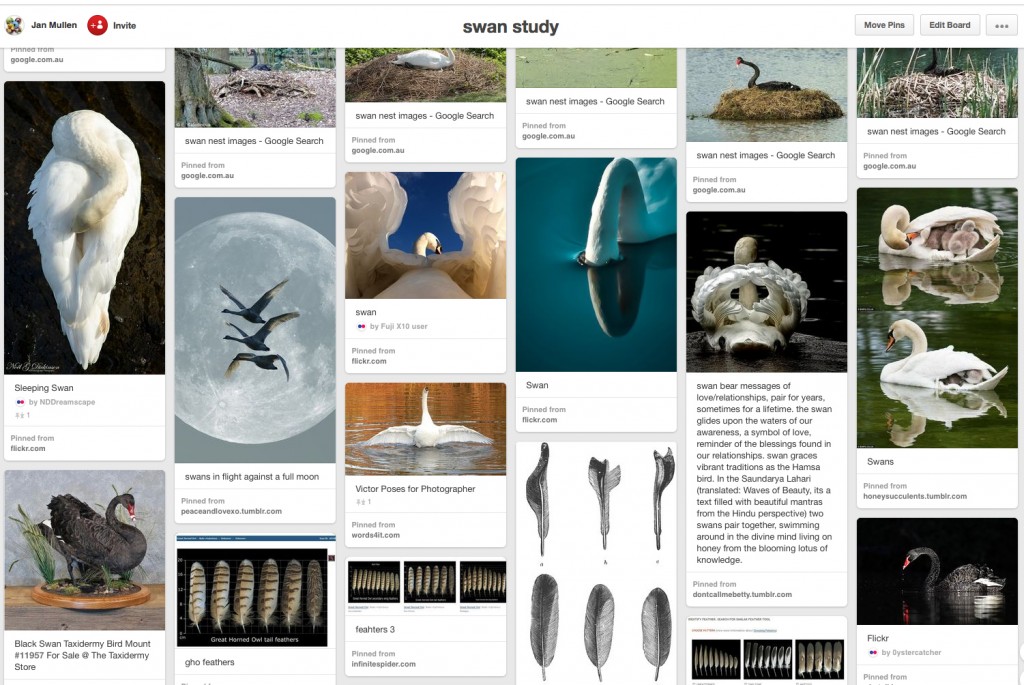 But it is a start.