WEEK FORTY-FOUR  (november 2 – 8)
Restricted by my very sore back/hip, slowly and gently I have been able to get things done with a strategy of sitting for short bursts, moving around gently, lying on my roller when the pain becomes dominant…and expecting to get not much done….
Drugs, a re-assuring trip to the physio on Thursday when I felt able to drive, and a well stocked freezer certainly helped.
I've used the time to think and to prioritise – yet again I should add – as keeping organised and on track is a major occupation of mine if you didn't notice:).
I have to acknowledged that I take on too much and don't always stick to my year's priorities….but then I pride myself about being flexible and taking on worthy tasks….a sort of win/lose scenario that I also acknowledge is part of my make-up.
BUT
This will need to change for the next few years as our little family grows….five little ones under two and a half…..five little ones that I want to know well and grow with, three young mums that I want to support.
This has to be an equal priority to my self care, growth, my art, my creativity.
I highly value working within my local communities – especially when I can help pass on skills and empower others whilst I shore up my skills and add to my learning. Win/win.
There will likely be a need for a loose-ing of this tie for a while though….
My WAFTA commitment with twentyONE+ will be a major focus for most of next year….time spent will total close to two years on this project and I feel I will have earned some frequent helper points here?
Salvage/Selvedge will be boxed up and put away next week with a final get together and a hand over of remaining money – which will provide a few classrooms, or other big needs, for the wonderful School of St Yared. I can tick that off the list – which is very timely.
I still have a big push to get another six Stargazey patterns uploaded on Patternspot.
This week I have added Needlez & Threadz to the large online tally, and if I can do one a week before year's end I will be overjoyed. This is a project that I wanted completed last year, then mid this year. I am quite desperate to prioritise this now.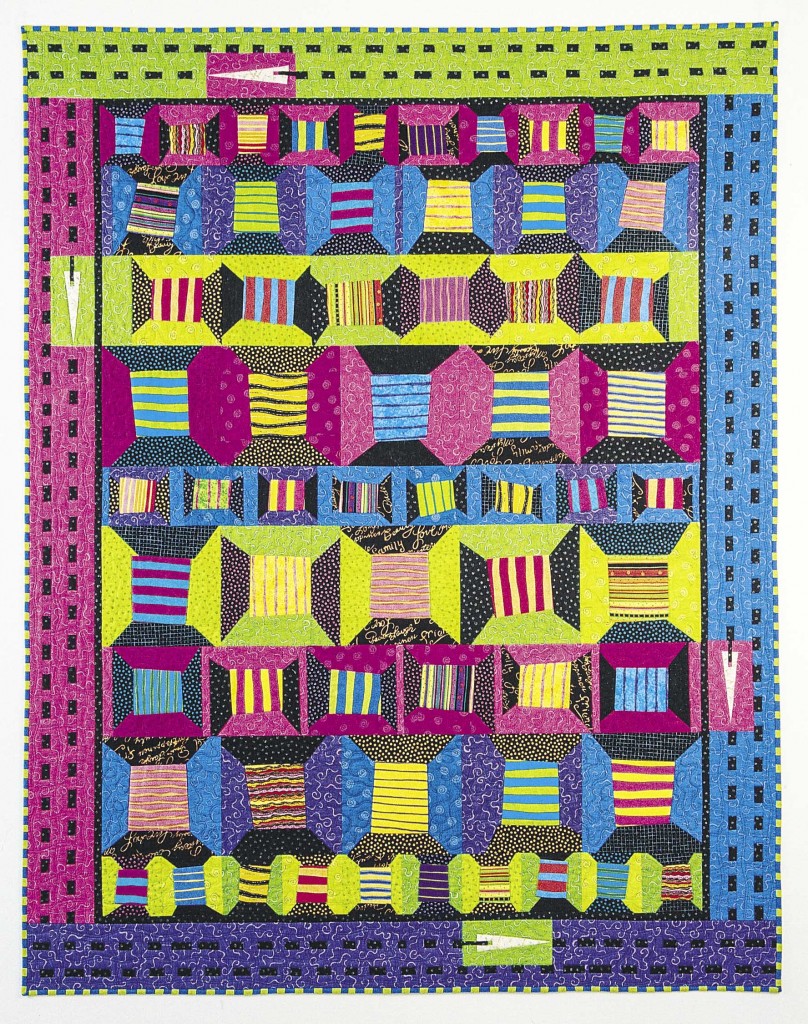 I still have many patterns that I could upload but the world will not be worse off if I don't get to them…it is only this little 'sign off' thing that I have in my noggin that bothers me – where I want things totally finished to the nth degree.  I really should lose that!
Needlez & Threadz is now available on Patternspot.
Last night I came up with an interesting way to deal with my organisational listmaking and my constant priority changing way of working.
Inspired by the recent "can you keep a secret works" of weeks forty and forty-one I think some of my lists will be stitched/quilted…..then crossed off as completed.
I think I should do it and will aim to make a start in the coming weeks by making some 'blank pages' ready to start loading on January 1, 2016.
I'm hoping it will be fun and perhaps could, be at years end, be quite illuminating – assuming that I can keep it active – can't quite promise that though….
My need for constant movement this week meant that my brain and body could only cope with a simple project downstairs – not the major work that is lined up ready at the starting post.
So I faced off with a bag of cushion-fill that boomeranged back to me from my eldest.
I made a set of big cushions for him when he left home and as they, Brodie and Katie, are re-dressing their nest, a chokkas garbage bag of fill returned.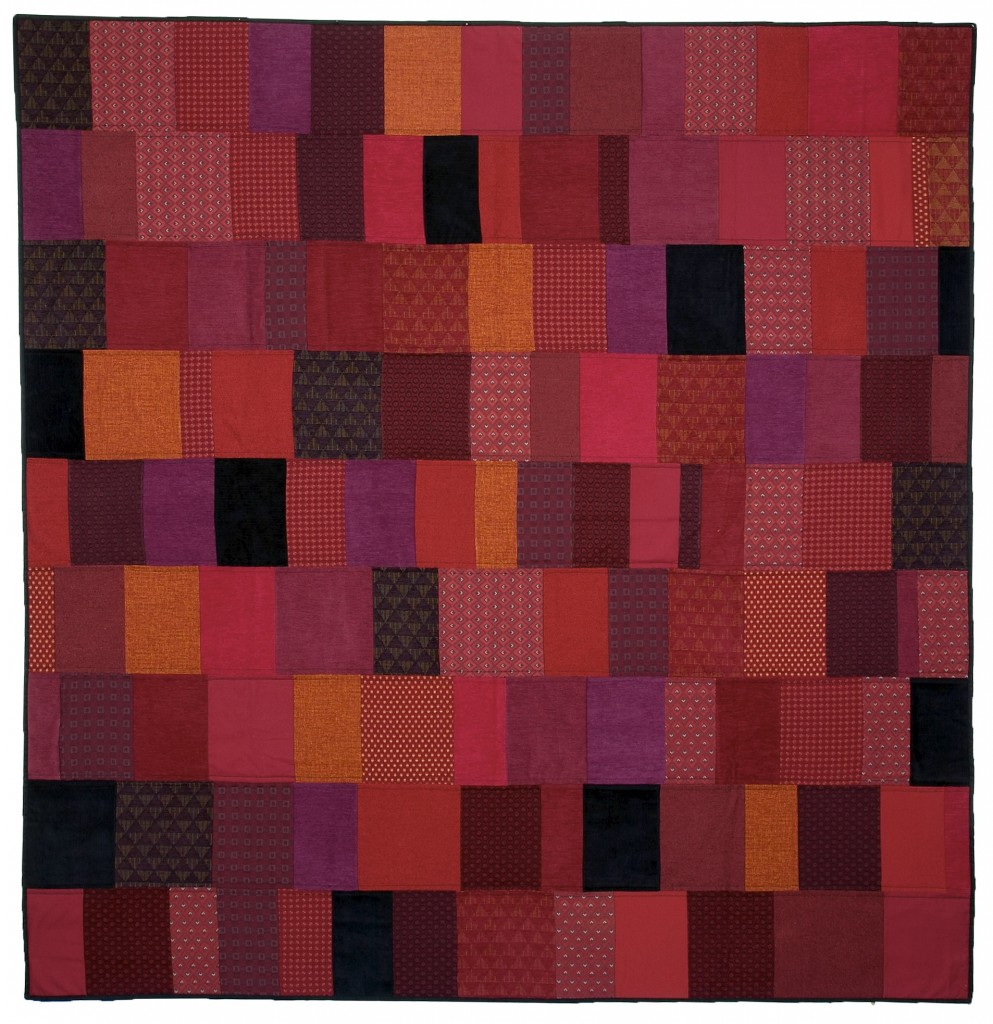 'Leaving home' quilts were made for each of my babies, in turn, as they left us. These hefty Queen size monsters are made from upholstery sample fabrics stitched together using an overlocker.  Keelan's 'Red Wagga' is shown above  – which is so hardy that it is still in use.
The pattern is also available of Patternspot.
I hate waste so I whipped up, over the course of the week and weekend, three floor cushions from sample upholstery fabrics that I have been given regularly over the years.
I did not bother to re-invent so simple used the principles from making Waggaz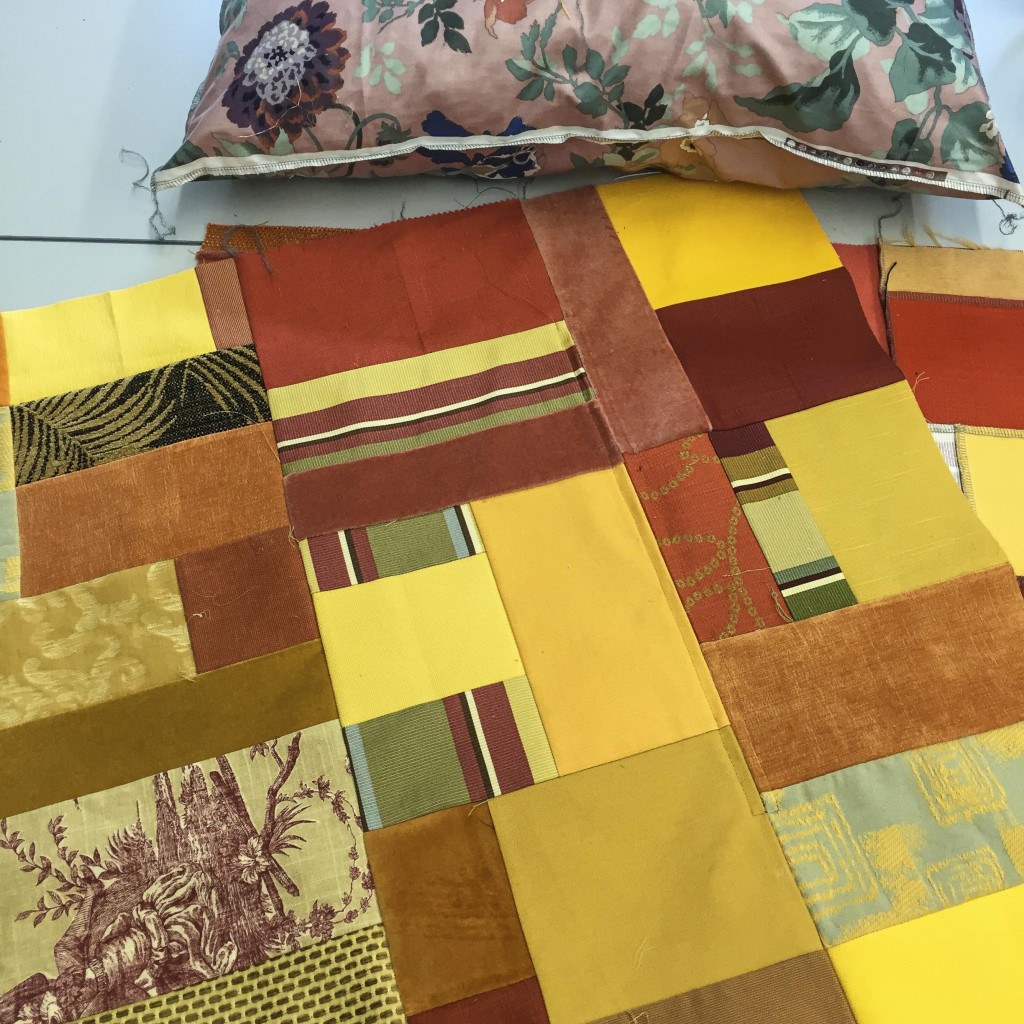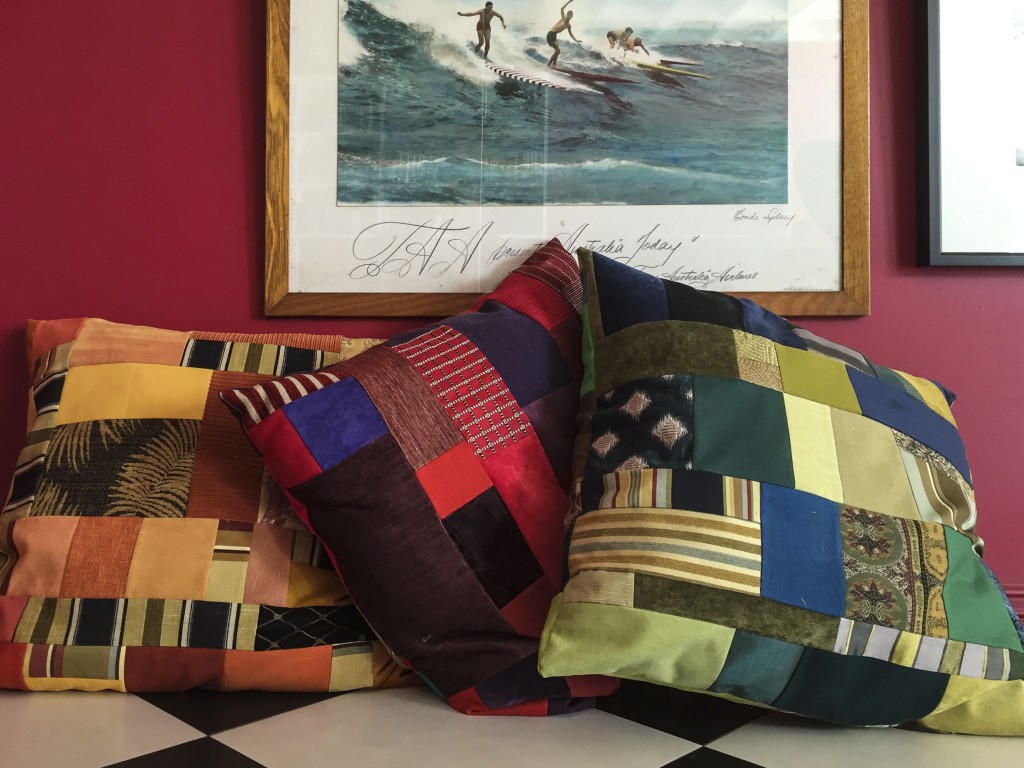 Quick, easy, stress-less ….brainless (but unfortunately not quite painless:)
I now have three squishy cushions for summer lounging under the trees, or star gazing and satellite spotting at our little house.