WEEK FIFTY-TWO (dec 28- jan 3)
It's a gentle week, this last one for the year.
After the rush of Xmas week we very quick settled in to our little house with guests quickly filling every available bed. Then it was all about keeping cool and topped up with food and drink. It is quite a beautiful simple zone to be forced into after the hustle and bustle and self-made pressure of most of December.
It is a week of emptying the overflowing fridge, of making salads from whatever we can find and attempting valiantly to make an impression on the mince pies and stocking treats that abound – yet another Xmas ritual that, whilst it may not be the healthiest on the bod, it is certainly a celebration in the sweet part of the mind.
The bloke and I stayed whilst everyone tootled back to Perth to welcome the New Year in. We had a gentle tipple to celebrate and snuck off to bed early. It was simply what we needed – much as a New Years Gathering is enticing….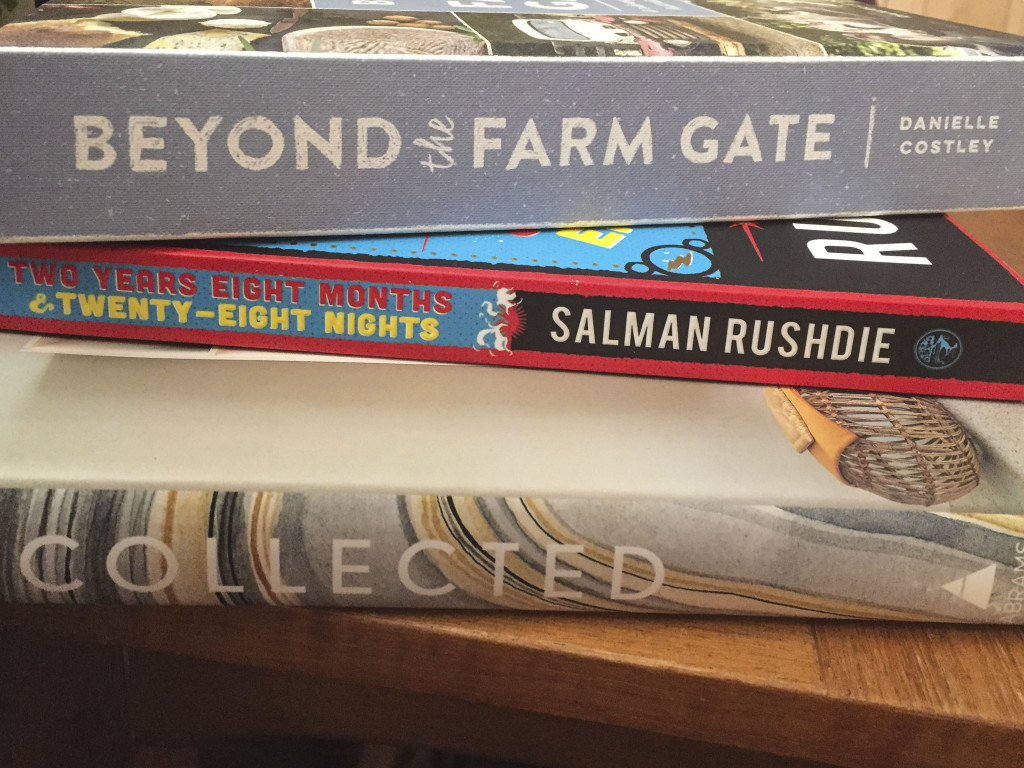 The couches in the orchard, the chairs on the verandah and the hammock were spots to alternate between as I then did a little of the requisite holiday reading in-dispersed with a lot of stitching of the hexagon quilt.
Beyond the Farm Gate was a lovely read – a book celebrating innovative farmers and providores of the South West of W.A…. we might have to leave our little house take ourselves on a tasting tour…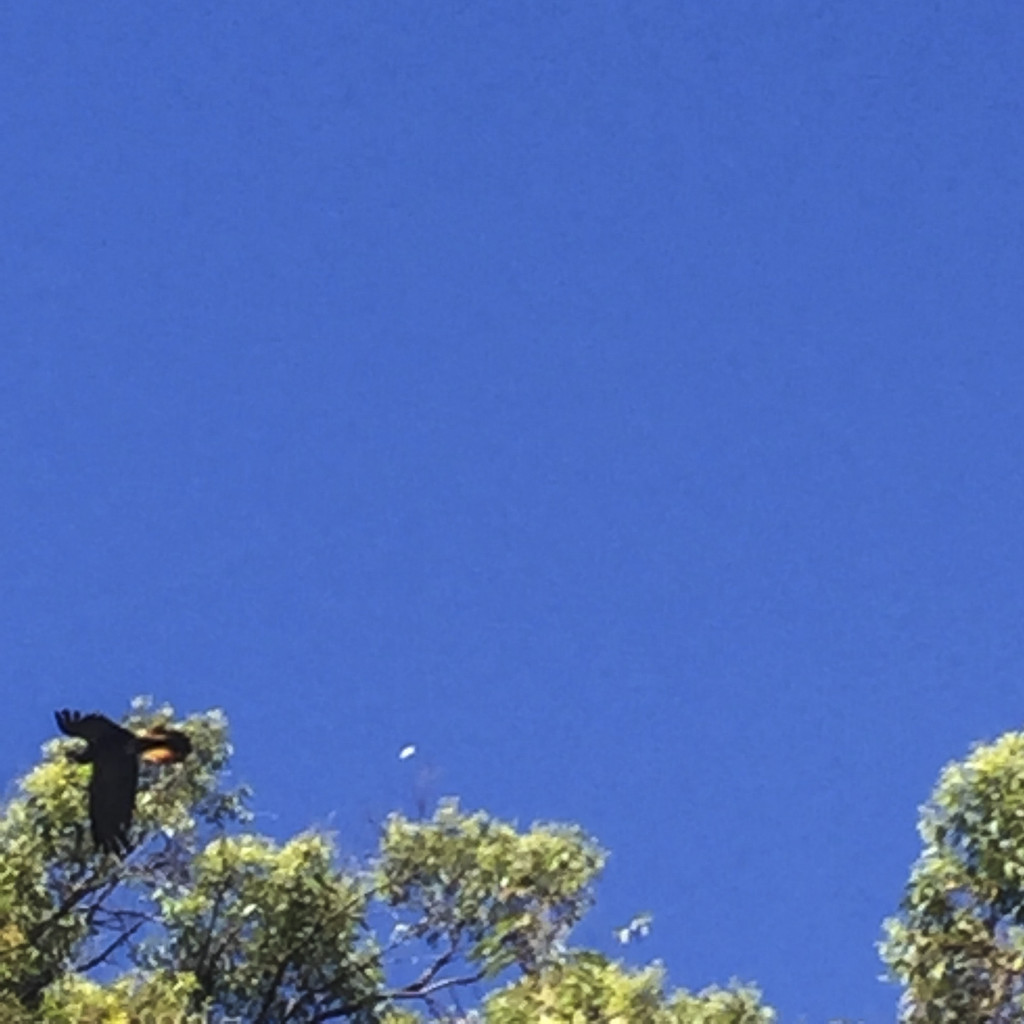 All week, as usual, the high flying symphony was around to serenaded us.
There is a continual flyover by Red Tailed Black Cockatoos, various types of wrens inhabit the bushes, plenty of colourful parrots try to reek havoc on our tiny fruit trees, and there is  also the usual array of 'ordinary' birds.
Our special Owls continue to hoot-hoot us in the evening.
Their feathered calling cards are eagerly picked up. I do have a tail feather from a red tail – very lucky with that one….
The photo above is the best I could do for the week – up high in the jarrah trees one of them shook his celebrated tail feathers as he flew off.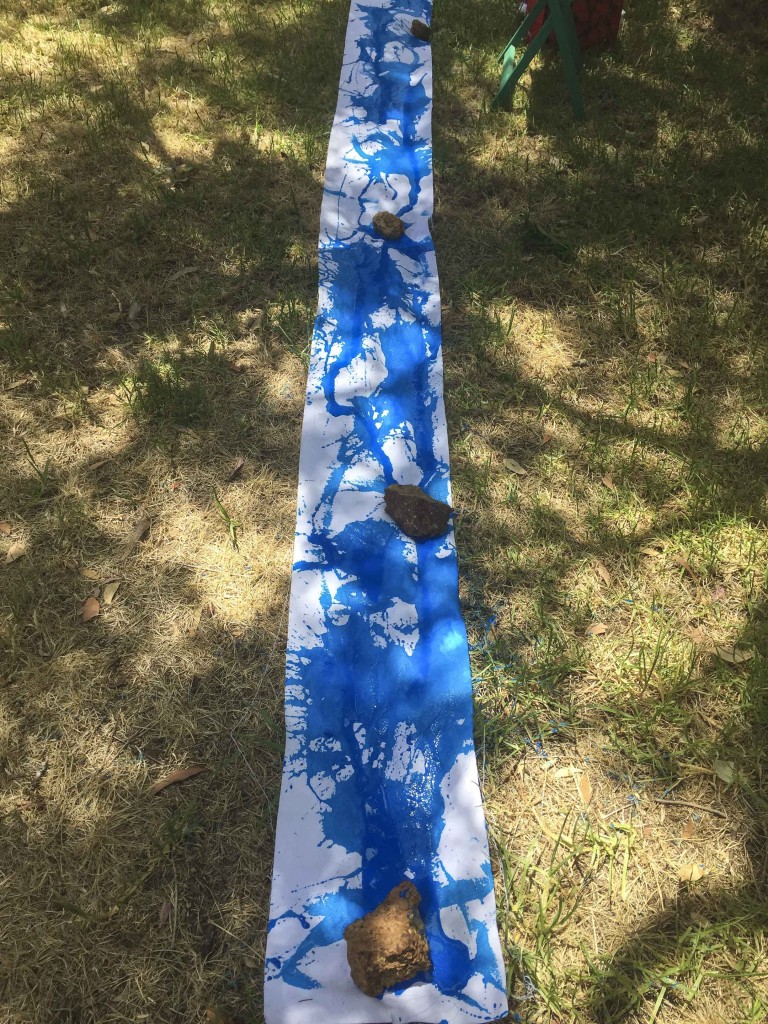 I did flick some paint onto a long length of old firm cotton that I bought this down weeks ago to make a background for a proposed piece – listing seriously – mentioned in Week Forty-Four.
As I still hadn't made up my mind what I wanted in any manner – colour? paint? ink? application? colour spectrum? fine detail? – I picked a blue hi-strike container and tipped some into an old saucepan filled with water I then poured/ flung/ painted/ dribbled and flicked it on – with no design or outcome in my mind. It was much more dense than I anticipated as it mostly sat on the surface.
Funnily enough it looks like it continues the shadows of the tree…..
At the moment it is a waste of fabric BUT I am going to persist….perhaps it will be bleached or rollered with a lighter colour before I change the scale…. we'll see.
No hurry.
On Saturday morning we had to clean up and pack up to head home for the big Mullen family 'Boxing Day' gathering – postponed this year so that some of the Queensland contingent could be in attendance.
There were three two year-olds, month-old Eleanor PLUS three growing tummies that will boost the numbers next year. I am still amazed that it is all happening so quickly but simply wonderful for the older cousins to be producing new bundles together.
Overall, it was a week that was as holiday-like as it could be there was no tap-tapping!!!