WEEK FIFTY-ONE (december 21-27)
This year has been very different for me and it has continued to be different right to the end. I have, in a very orderly fashion, been preparing for Christmas all month and have lost the manic/panicked look that is my usual style this week.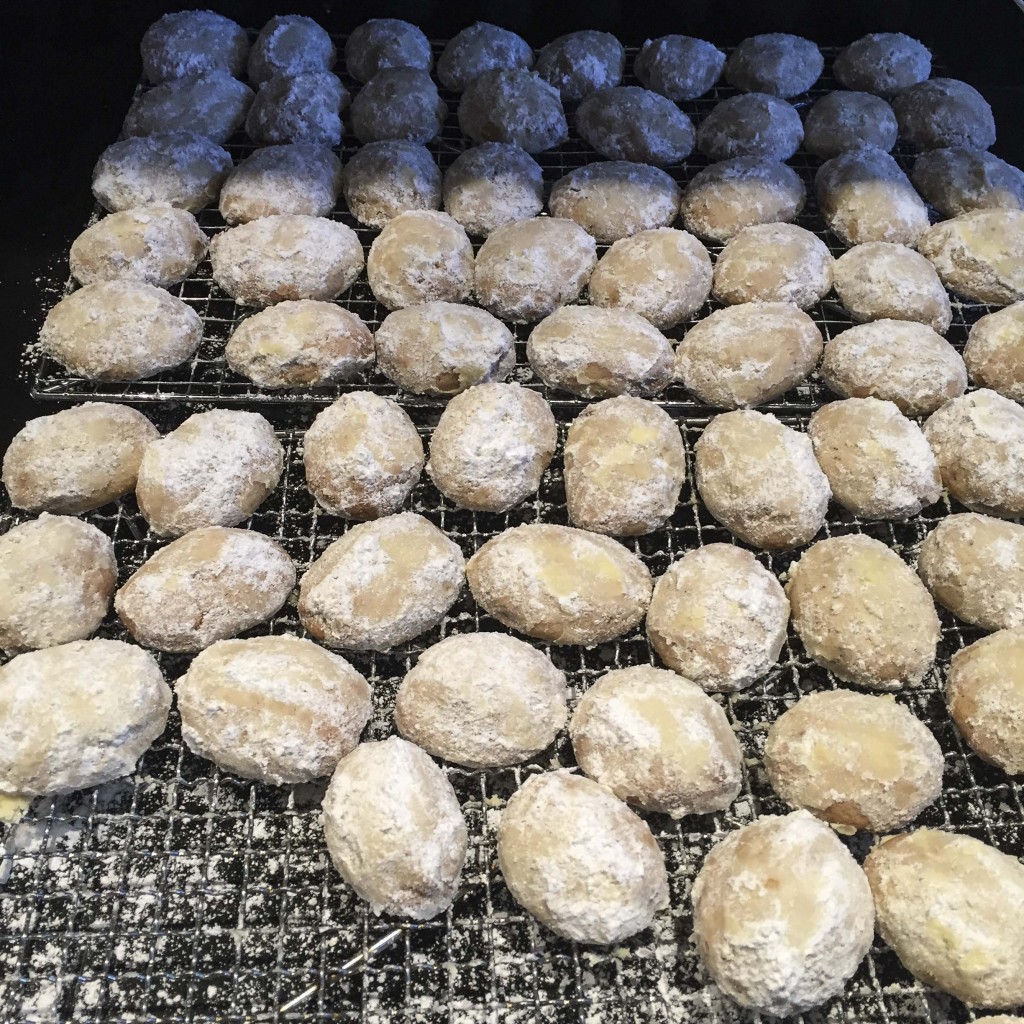 Most of the Christmas baking was done early in the week. I then had loose/spare time to spend in my studio – moving stuff around from upstairs to down and vice versa in preparation to exit previously mentioned excess from the studio. It simply was not feasible to attempt any serious projects so all I could do was prep for the new year to the best of my ability.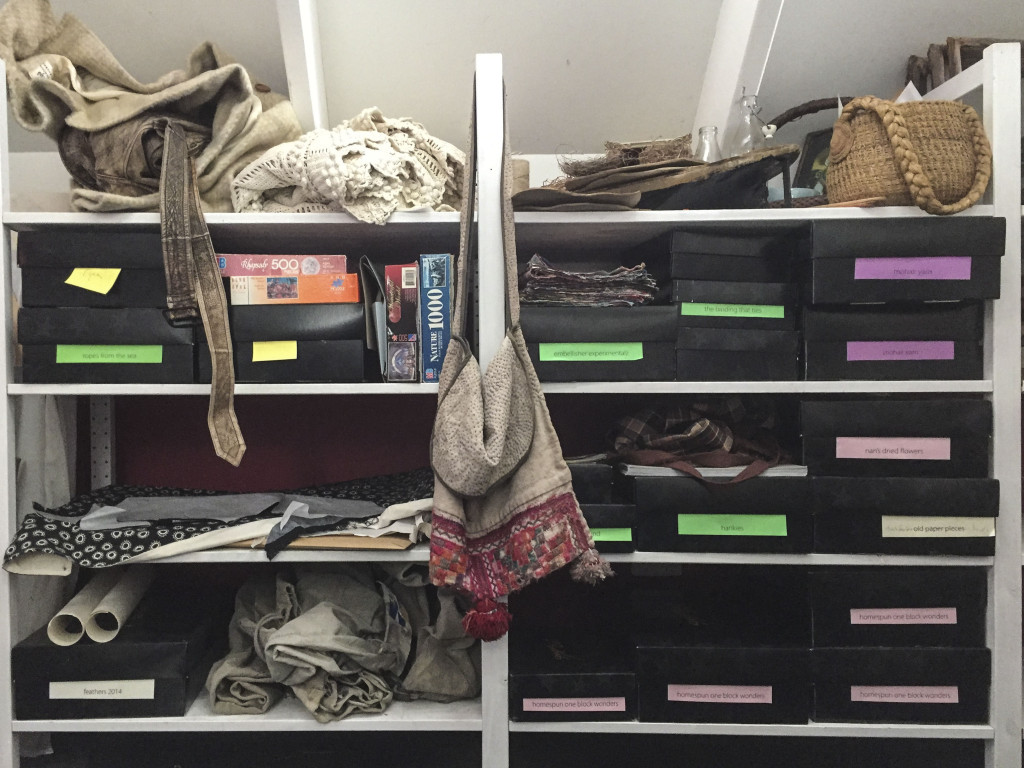 This weeks plan was to simply move all my project boxes that are not currently being worked on out of my increasingly clear-headed work zone downstairs to planning central upstairs. I need less distractions whilst in the making flurry and all my resources in close proximity….and yes I have ideas for old jigsaw puzzles….
All materials and yarns currently stored there are moving downstairs for ready access. Spacewise it is tight both upstairs and down – which is why these boxes don't already live down below- they need serious editing.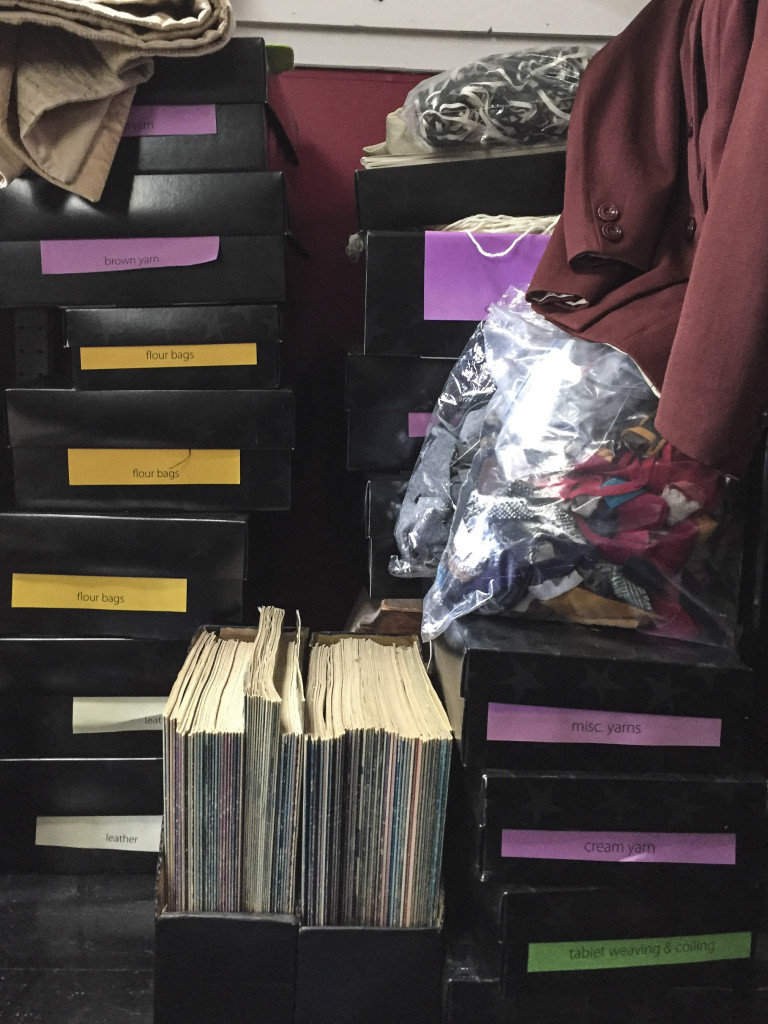 I spend a bit of time piling up boxes of excess. More than half the knitting wool for a start.
I used to love knitting but I simply don't sit still long enough chatting and rarely watch the 'box' these days so it is no longer a good fit for me.
Whilst whittling down to one box each of most colours & fibres I kept all the mohair.
I'd still like to start a very simple roomy, stripy jumper one day – perhaps after I finish the unearthed red and white hexagon quilt that is tootling along quite nicely this week.
The further I go with this editing the clearer I feel – I am long overdue in tackling this task. Moving on a big amount of 'stuff' physically will certainly remove weight from my mind.
In whittling down my stores I keep thinking about where it will go….out for sure…a studio sale in autumn perhaps? I'll keep at it in my (sometimes) measured way…..and the solution will appear. It still needs to be piled up somewhere in the meantime…sigh, sigh, sigh….I want it gone. NOW.
Mid week it is time to stock up for the special days to come. Food shopping and prep gobble up time. A little foray into the studio to thread up some more needles for the hexagon quilting and moving a few more boxes around upstairs turned into a full scale review of the work I have underway and that I want to progress soon…
Fiddle faddle, fiddle faddle…I reread my project notes, I write a few more but I'm still not sure of which WIP I want to rev-up on my return to work in early January…
I am feeling a little agitated with too many ideas and no clear path.
More fiddle faddling and more going around in circles….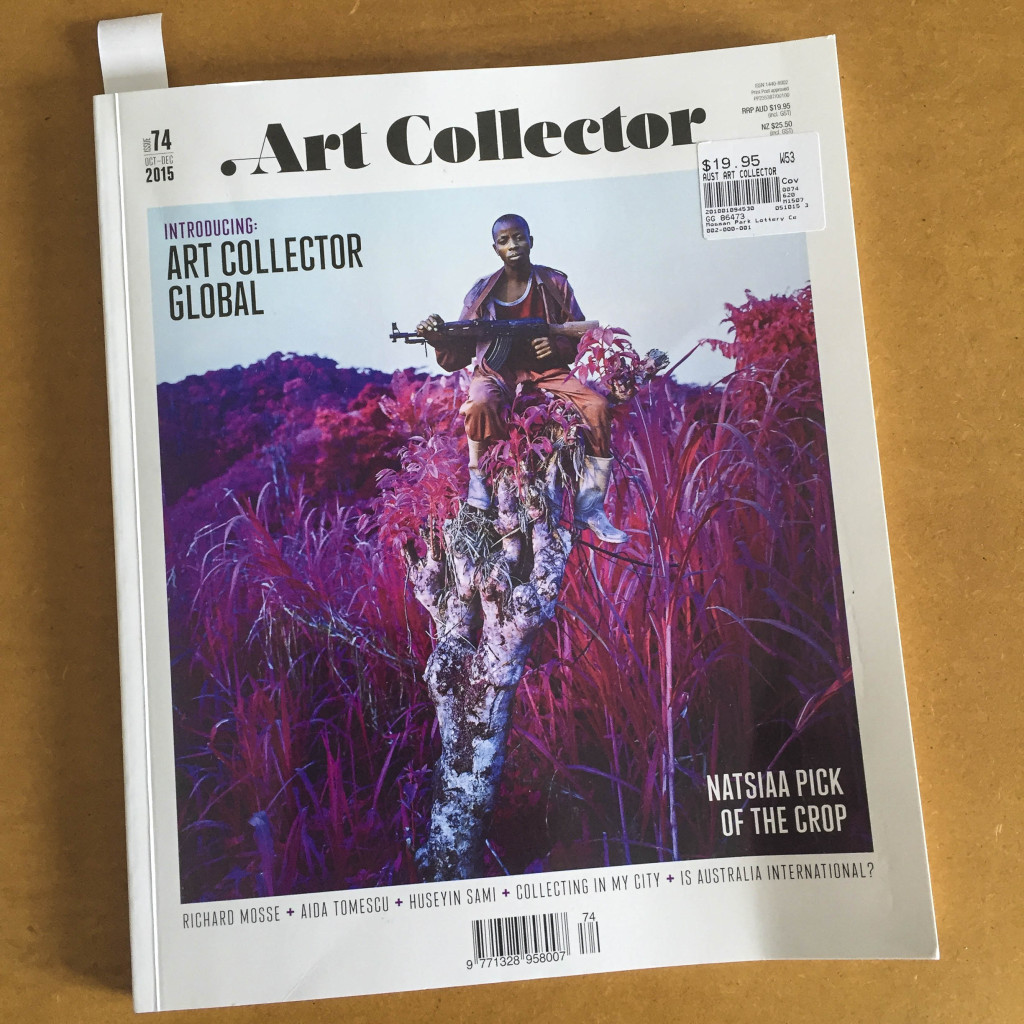 I've been reading the latest issue of Art Collector…I subscribe to Artists Profile so this is an additional read – I really enjoy getting to know more about what is showing and who is doing the work and why….mostly the works that I love are simple and graphic. They lead my eye in, sometimes pure pattern, sometimes a 'subject/object' and in varied styles.
By mid arvo I'd just finished the last page – with my second cuppa for the day when it gelled… Simple, graphic, K.I.S.S. I now know which project box is in pole position.
I'll have a better break knowing what task I am coming back to.
We host a Xmas eve 'party' every year.
When we moved to Perth from my hometown Melbourne I sorely missed Auntie Joy's annual event. When we were growing up it was the most anticipated event of the year. Playing with the older cousins – there were 13 of us – running round and round the beautifully kept garden, playing games inside and out, music from a very competent coterie of family members AND the spread. Legendary.
It was worth having the annual afternoon nap for.
On my second year in Perth we adopted that tradition in our little family that has continued for close to thirty years. We have old friends, new friends, friends' friends and family.
Our visitors come and go and make DIY ham & salad sangers and eat mince pies.
Though there is a whole lot of shopping and a bit of cooking and cleaning up after the messy cook and the very messy event we love it.
Christmas day brings breakfast with the kiddos and their little ones, then opening of many pressies. They then scoot off to their various in-laws for lunch whilst the bloke and I relax. This year we quickly packed the car to escape to our little house. I was planning to cook a Christmas meal in the evening but leftover ham-on-the-bone sangers with a little celebratory tipple was the perfect treat for both of us. As usual there was a compulsory movie in the evening – Love Actually beat It's a Wonderful Life…just….
The weekend passed in a hot haze with a portable pool set up to escape into.
Summer holidays in Western Australia – togs and water, a good book, or gentle conversation – what could be better?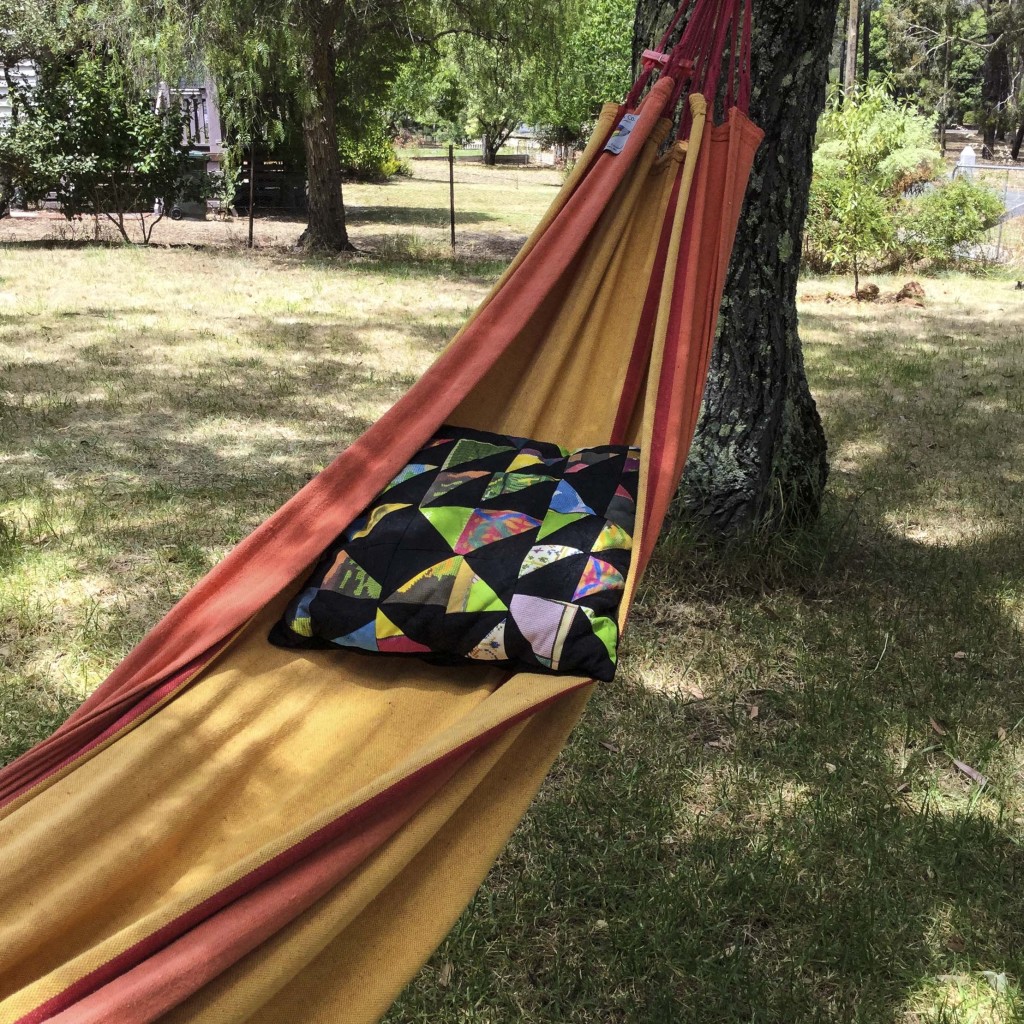 All that and a hammock strung between shady trees.