WEEK THIRTEEN – (march 30 – april 5)
I've feathered another set of samples this week – this time Formica – a small and rather ugly sample set of my fathers. They were slippery-shiny and the black pen has improved them markedly.
The last set I have is a big set, about one thousand of the little devils to be turned into angels.
I want them done in three weeks but that is a crazy ask as they are larger than the ovals and next week is already booked up with loads of work on the computer.  An almost impossible ask….
Once they are all done I will decide how many works should be made and how they are to be put together. I work at this continually, trying to fit all my thoughts into a seamless work(s) but I won't know the results till they are finished, many weeks away.
 Luckily I have patience and I love a jigsaw puzzle.
To rest my drawing muscles I've spent time on the computer with three patterns converted.
 One is a Freebiez/free pattern – In a Crooked Little House – the other two are fruity.
I still love graphic quality of Pineapplez and Applez and think these food themes will ultimately stand the test of time. They were far from my biggest sellers perhaps simply because most bods don't need to dream under fruit? They work do work well as picnic quilts, table covers, or for decorating kitchen couches or walls.
 Happily for me there are three more patterns off my to-do list and now available on Patternspot.
The Making of Home continues to be a simply an amazing read that often seems to run in parallel to Lark Rise. I am not hurrying through either but instead slowly devouring.
 Learning about the changing age and circumstances of marriage for example.
I read in Lark Rise, a few days later explained much more fully in The Making of Home, how movement of females who were sent off  'to service', so as not to be a burden on their family finances, had broader reaching effects. Their wage, although minimal, allowed them an independent spend as well as the requirement of regularly sending money back home to their struggling family.
These increasingly independent gals, who learned much more about the world than if they had stayed in their village, generally entered into marriage later. They were then able to set themselves up with goods, funds, a more modern work ethic, and most importantly, a knowledge of their own worth. They paved the way for us….
My Thursday is generally the day that I get out and about – off to the shops, appointments, and a favourite occupation – trying to see some of the many exhibitions around, (which I sometimes combine with catch ups of like-minded friends).
I seek out exhibitions that challenge me, that make me think, and those that make me question my response. I also like to keep up with what other artists are doing. It gives me sustenance whether I view locally or away from home.
This week it was off to see Kaleidoscope (Tracey Moffat), and An Internal Difficulty (Australian Artists at the Freud Museum London) – both at PICA. Both well worthy of the viewing. Details below of Susan Flavells 'couch quilt' thickly embroidered with Freudisms:)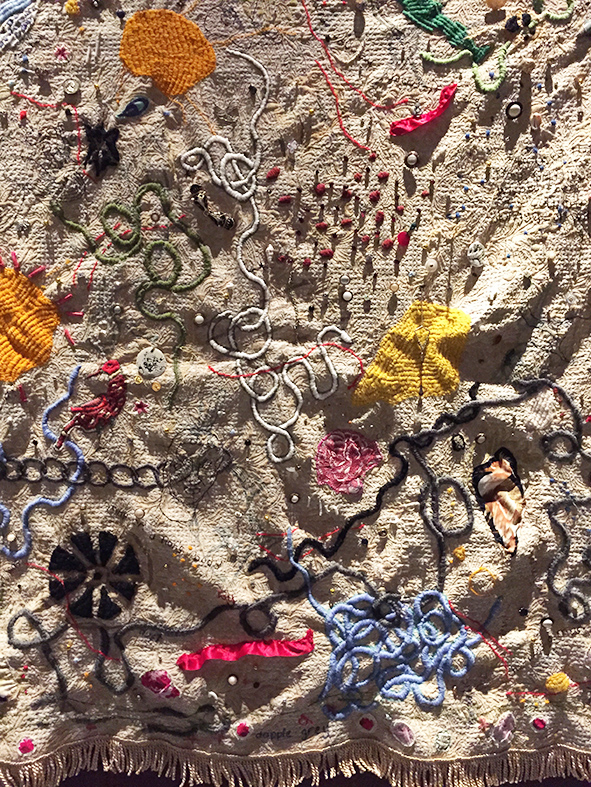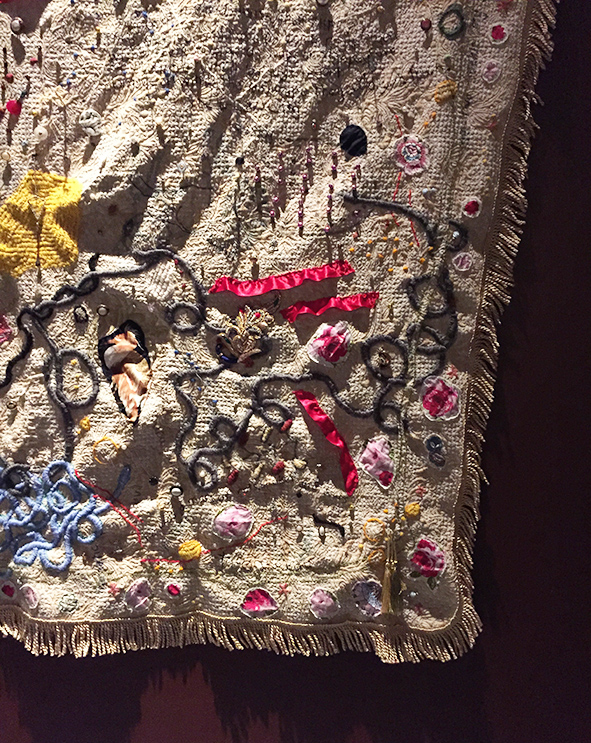 And so it is Easter…. time for egg eating at our little house, lots of Hot Cross Buns, a chaotic family dinner at the pub, a bit more planting (both fruit trees and natives), sitting in the last of the summer sun and surrounded by dog chaos. A simply lovely break with maybe a bit too much indulgence.
Luckily the whole crew made it down for the highlight of Easter at Dwellingup  – the primary school PUMPKIN FESTIVAL!!!!!
Some of us had been last year to ogle at the enormous produce, to delve through the trash & treasure and to have a little spend on the stalls.
We can't go past home made jams so that was an easy favourite but the big new thing for us, was the petting zoo. With our toddlers in tow we had a pat of the chooks, guinea pigs, sheep, duck and goat. Next year I think that we will be able to join in the pony rides…..small thrills that reintroduce we jaded oldies to the joy of 'little' things.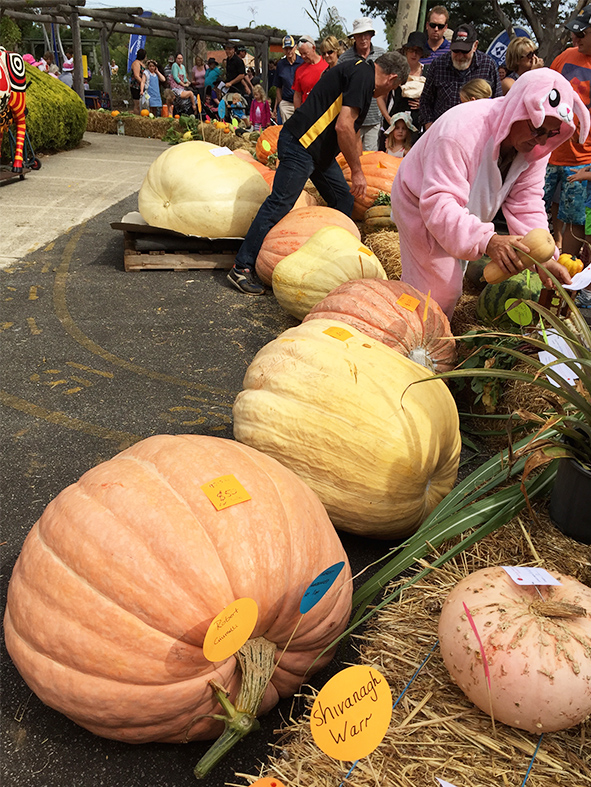 Big pumpkins and….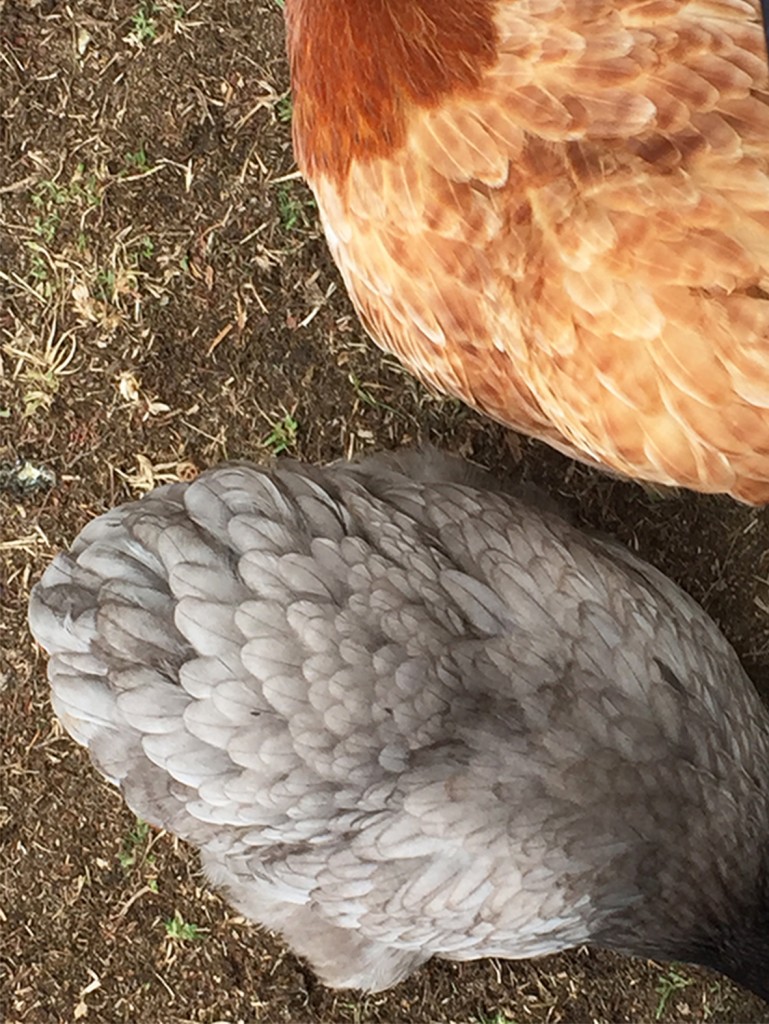 Soft feathery chooks to touch.
I also reveled in a big blast of nostalgic joy – the schools Fruit & Vegetable Creations are definitely works of art.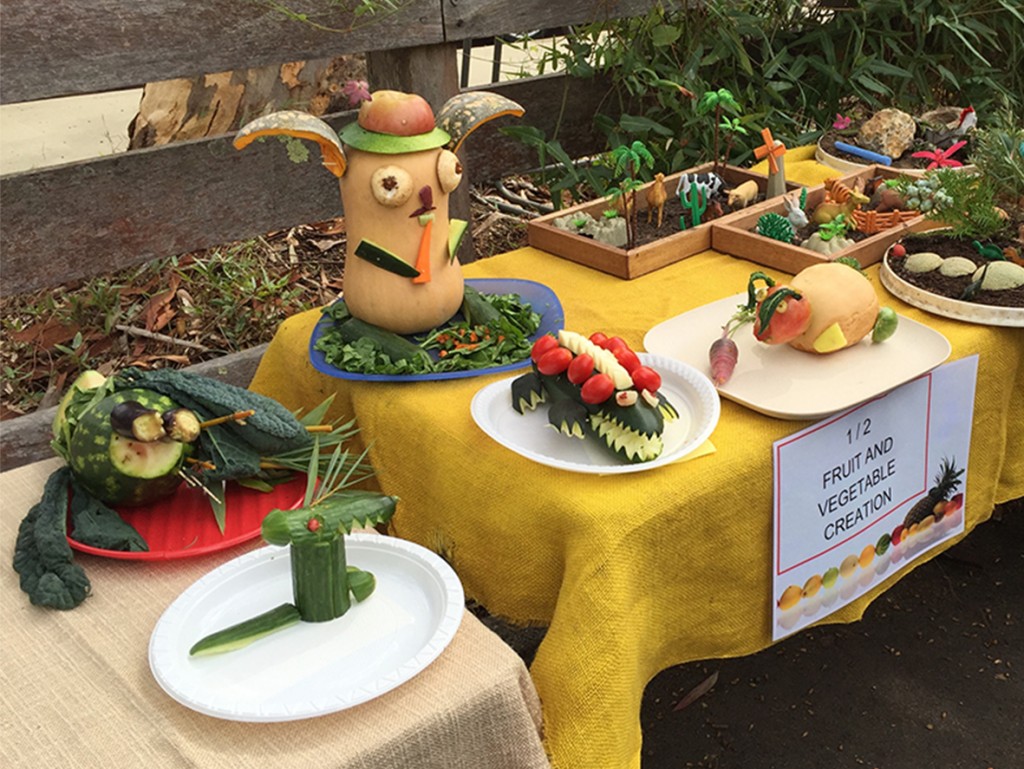 …and a beautiful vegie feathered friend to finish the week with.