WEEK TWELVE – (march 23-29)
It is week twelve and my week has just lengthened.
I started with 'short' dates to realistically represent the working time I had available – four days. Alas, as always, my days rarely work to plan and I find that, yet again, compartmentalising just doesn't work. Instead I rush to the studio whenever I have a little bit of time as well as the planned for luxuriously long stretches.
I will continue to mark the weeks – if only to scare myself – but now they include the realistic juggle of time that is, as always, an element of my life.
The oval feathers are done. My aim for 60 minimum per day was realised and I have them all done by late Friday, ahead of time in my now long week. I admit to becoming addicted.
They look lovely laid out in colour rows, increasingly pushing my drawing area to the edge of the table.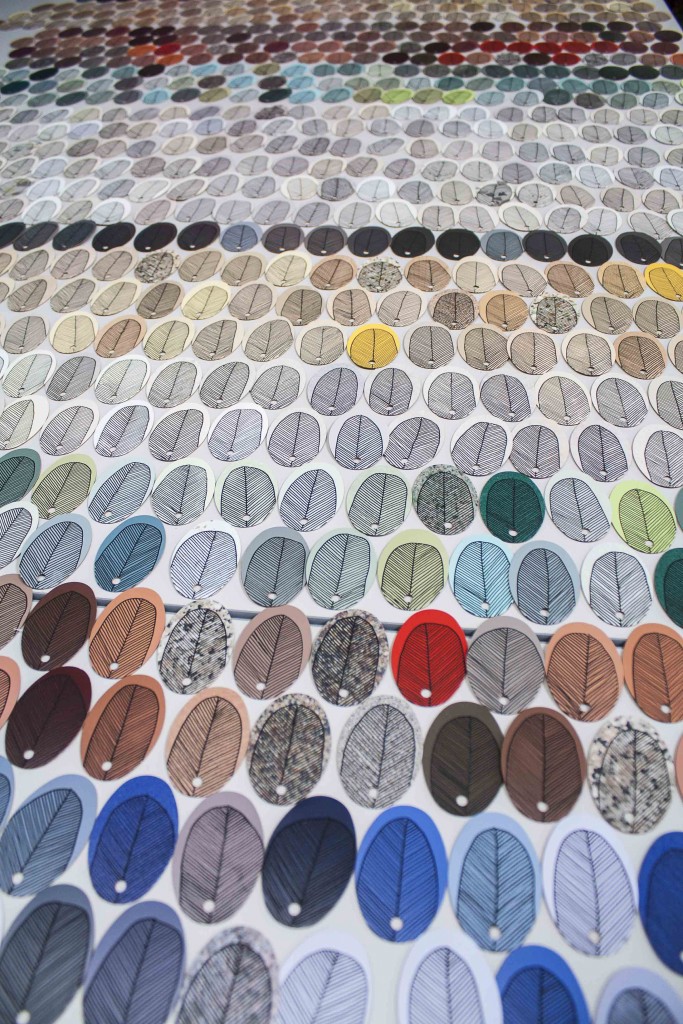 They are very quilt-like but I have started to play with other arrangements.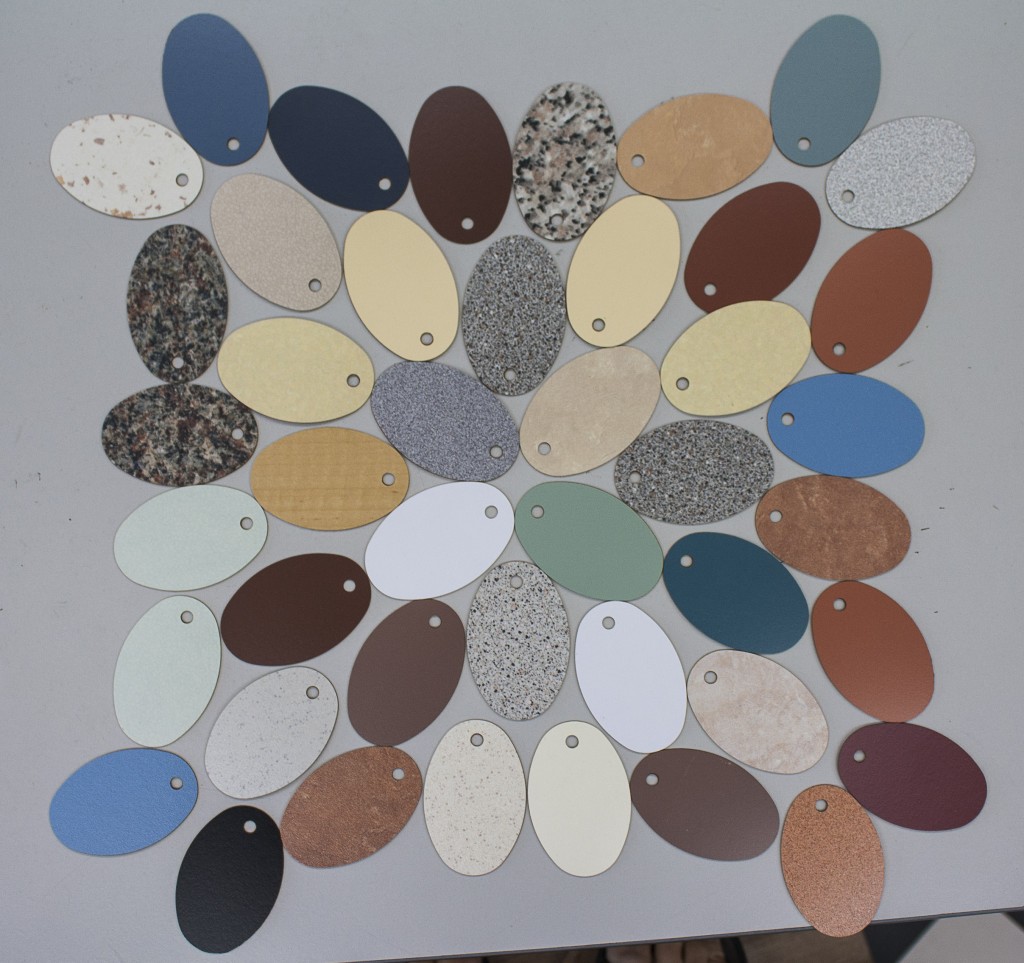 The original Laminex 'silver' feathers now have trial oval borders imitating the doiley.
I have started splitting them into different colourways, again with oval borders on.
I will have to make decisions soon about size – I originally envisaged a few big pieces but I need to be open to making BEST pieces not BIGGEST.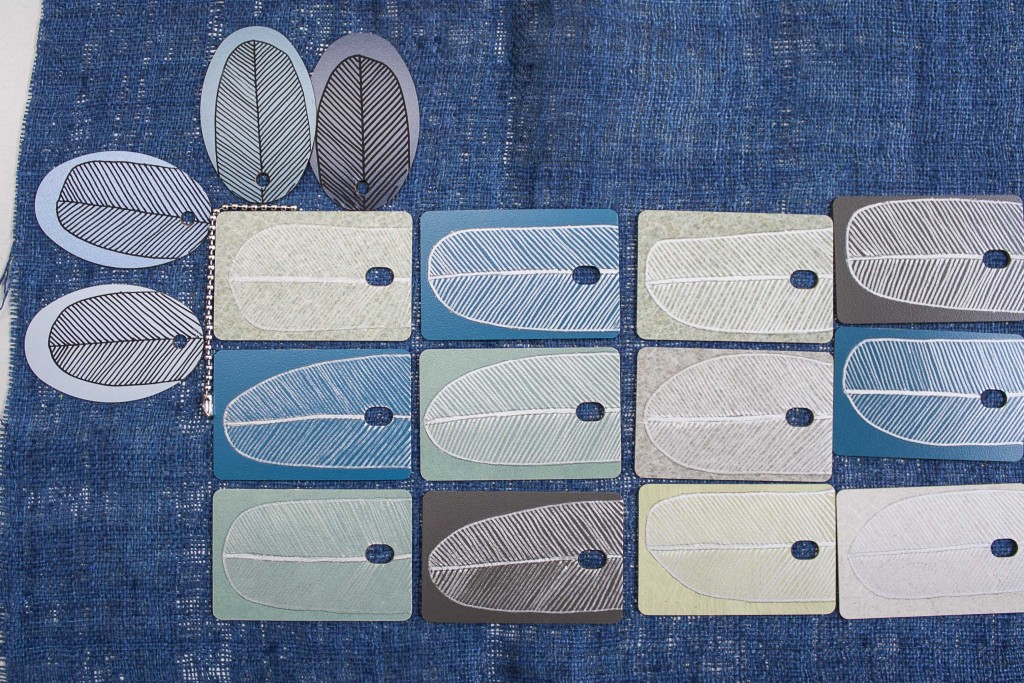 I also need to resolve their backing. I want them to be fluid, to read as a 'textile' to be placed on a table but firm enough to be draped over a pole, hung or framed as needed. They also need to be held together firmly.
My shelves are stacked with all sorts of fibres, many now splayed across the table – from sheer silks and beautiful thick woollens to recently purchased Wettex!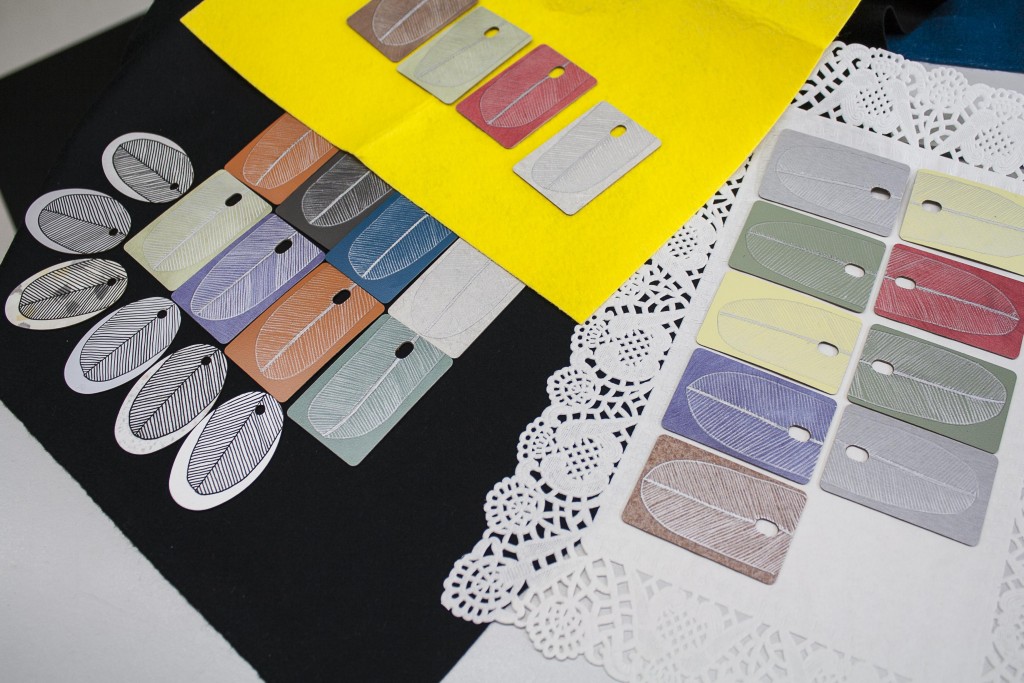 These Laminex works are multi-layered but the overarching themes here include the lost heritage of doiley-making as a by-product of new domestic products made to aid the modern women.
As such, Wettex/modern synthetic cleaning cloths have a strong link to the death of the doiley. 
As polished wooden dining tables and scrubbed wooden kitchen tables retreated from favour and fashion, their old fashioned polishing cloths/delicate care/hard housewife yakka were replaced with the ease and colour of Laminex tables and synthetic cloths.
Television, introduced to Australia in 1956, is certain to have reduced domestic making – previously radio had allowed eyes and hands to be kept productive.
A little bit of research leads me to some old adverts for Formica/Laminex that now sit on a new Pinterest page. I love Pinterest for its ease of recording visual prompts.
In turn I discovered the reason why the brand Laminex dominates my world – it was a dominant Victorian company and my Builder father would have certainly purchased locally.
Within the theme of (black)swan these Laminex works are in the subsection 'feathering the nest' – the making/decorating of home.
The two books I am reading at the moment are both full blown stories of home.
My nightly fictional read is a re-read. Lark Rise to Candleford by Flora Thompson is a gentle reminisce – a veiled autobiography – of hamlet in the late 19th century England.
I plucked this off the shelf after reading a Salman Rushdie oldy – The Furies – a black read if ever there was one – so I needed a white antidote quickly!
Having read Lark Rise before, a long time ago though, I knew that this book deserved to be revisited now. I had also recently re-read The Mill on the Floss by George Eliot with her, yes her, wonderful descriptions of home life back in the early 19th Century.
Both books are about Home and domesticity in a specific place and time where feathering the nest was a very different task from the mid 20th century of my Laminex life.
It is my non-fiction read that has me really excited though. Home by Judith Flanders, was shown in a previous post (dated 18th March).
I have read the introduction twice so far. Wow! It is such an eye-opener as to how we look at history. Can't wait to dive back to it.
It is memorable book already because this is the first time that I have defaced a book – underlining sentences and recording comment beside text.
I have always regarded books as almost sacred objects…so much so that when my first born, as a toddler, grabbed a book from the shelf and had a chew, the horror I felt is still etched in my memory!
In the past I have written out important bits by hand, paraphrased whilst re-writing, scanned, photocopied and taken snaps. 
My research books are often simply littered with sticky notes until I can get back to them.
I think that I have turned a corner that I won't regret.