WEEK FORTY-EIGHT (november 28-december 4)
This week was such a big week. A blur of a big'un. It certainly is that time of the year and, as always, I seem to have a deadline other than the the total wallet leaking/decision making race that is Christmas….
Underscoring the week was a start on a new quilt – a wedding gift for a nephew.
Tim & Kellet will eventually live in a new farmhouse on the outskirts of Melbourne. They have requested a quilt to cuddle under on their rustic leather couch.
I never usually offer to gift a quilt. I happily give quilts to family members – mostly samples – but occasionally there have been works fresh off the machine that have tootled out the door straight before or after being photographed.
I hesitate to make on a commission basis but family is different. These boys and their partners 'get' the connection of family to the same level of my kiddos. We appreciate each other.
I made a quilt for both of Tim's brothers when they wed.
For the first couple, Dan & Rachel, I sent them online to look at various works I have made. They liked 'Every Man must have his shed but my man's still waiting"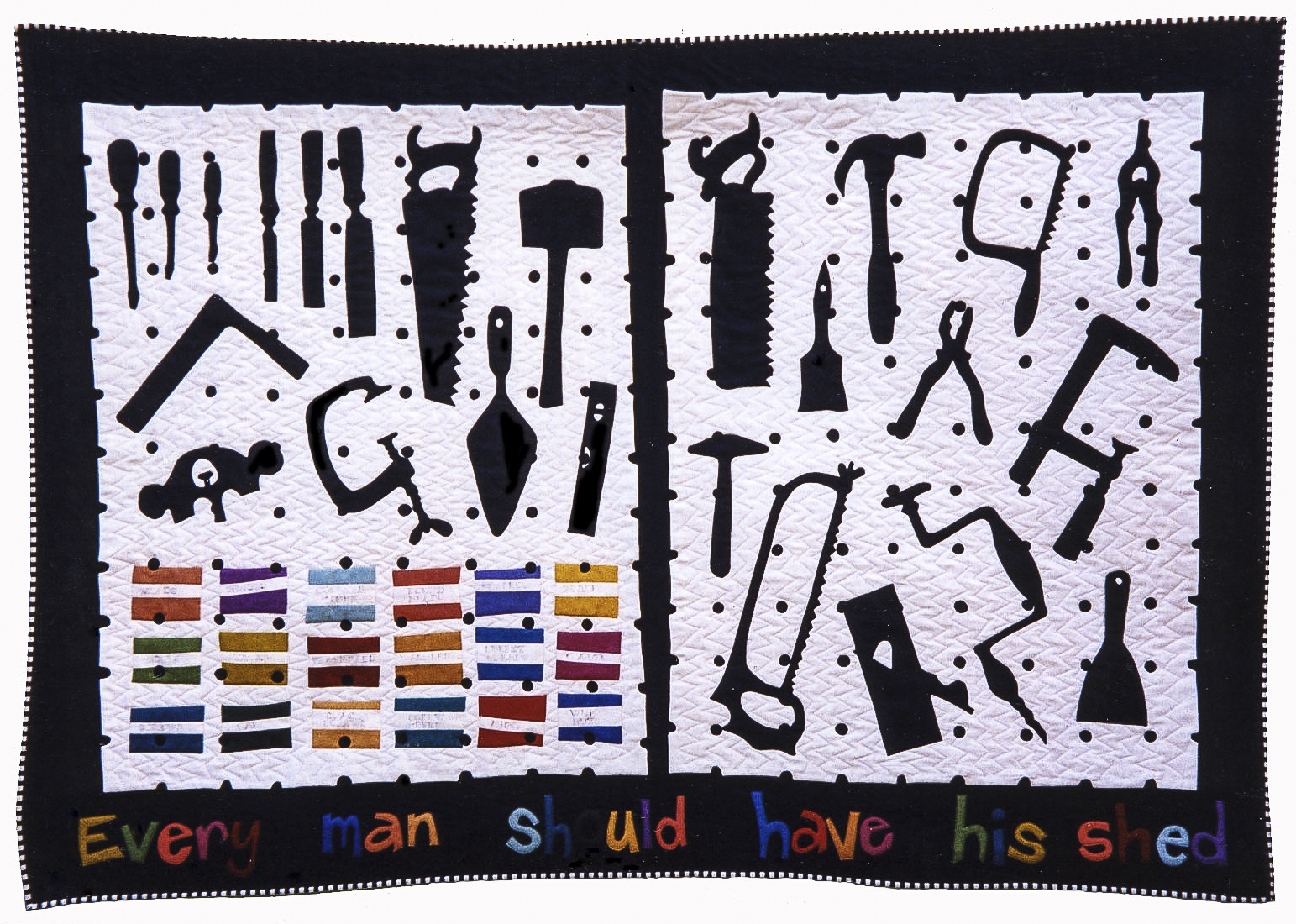 So based on the look of that quilt I made them a large bed quilt that had their 'bits' on each side (tools for Dan, lawyer imagery for Rach).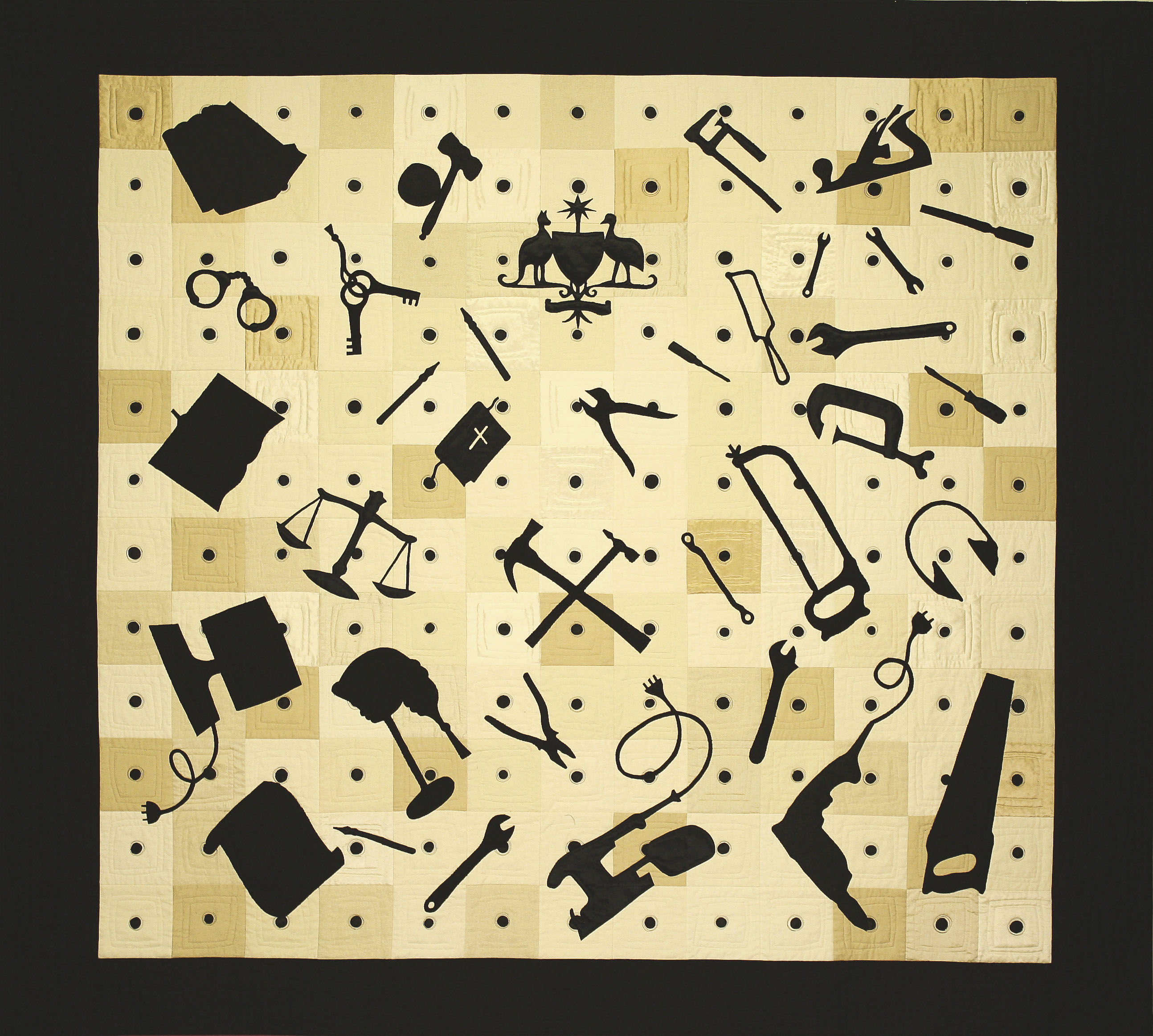 When Rory and Asha wed they requested two couch quilts for their brand new home. Cotton and colourful, one themed with native birds, the other with native plants.
This was a bit different for me applique-wise as I wanted detail not simple silhouette and they loved the idea of a riot of colour and pattern.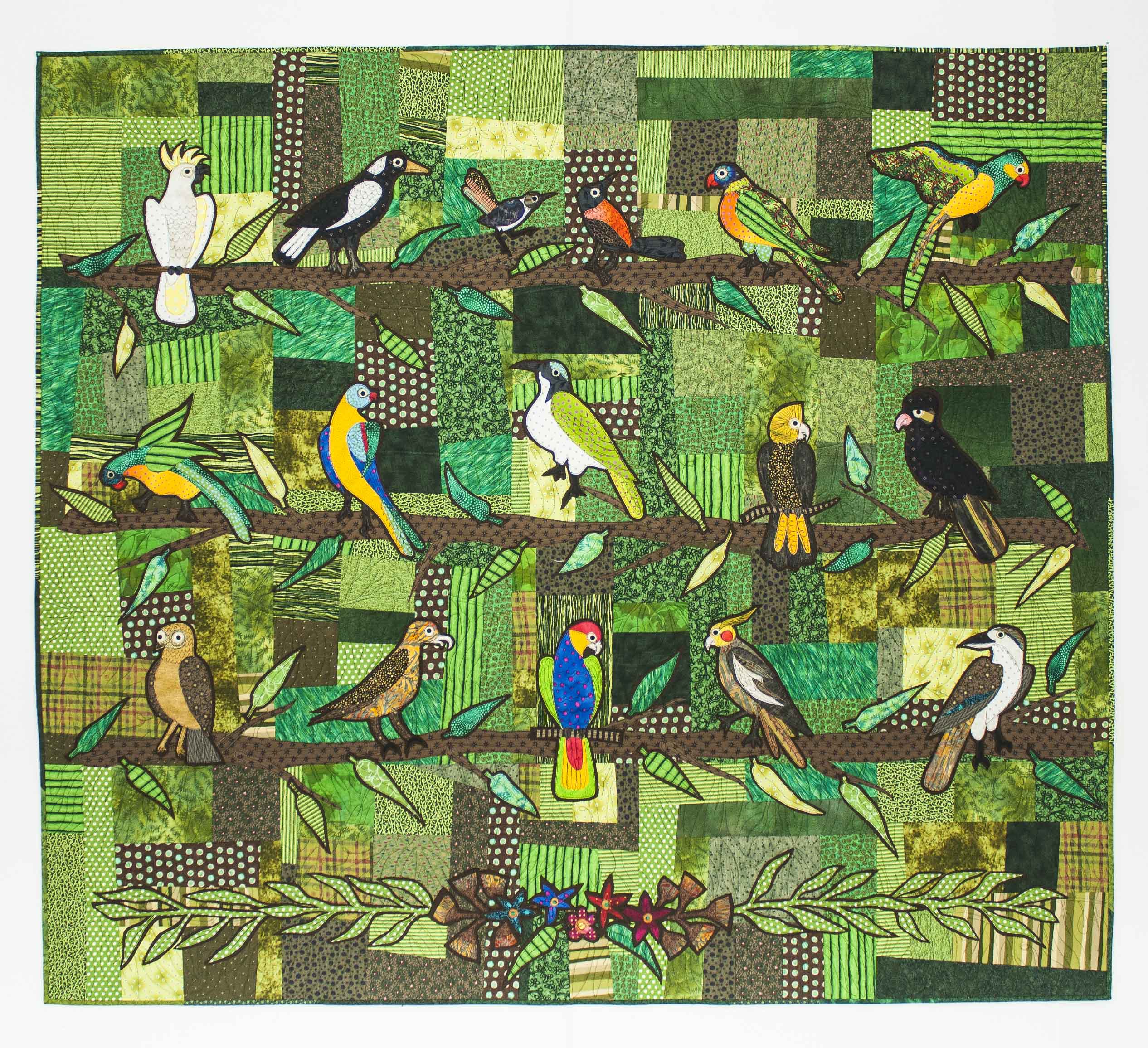 I worked on the quilt and the applique separately, then united them at the end.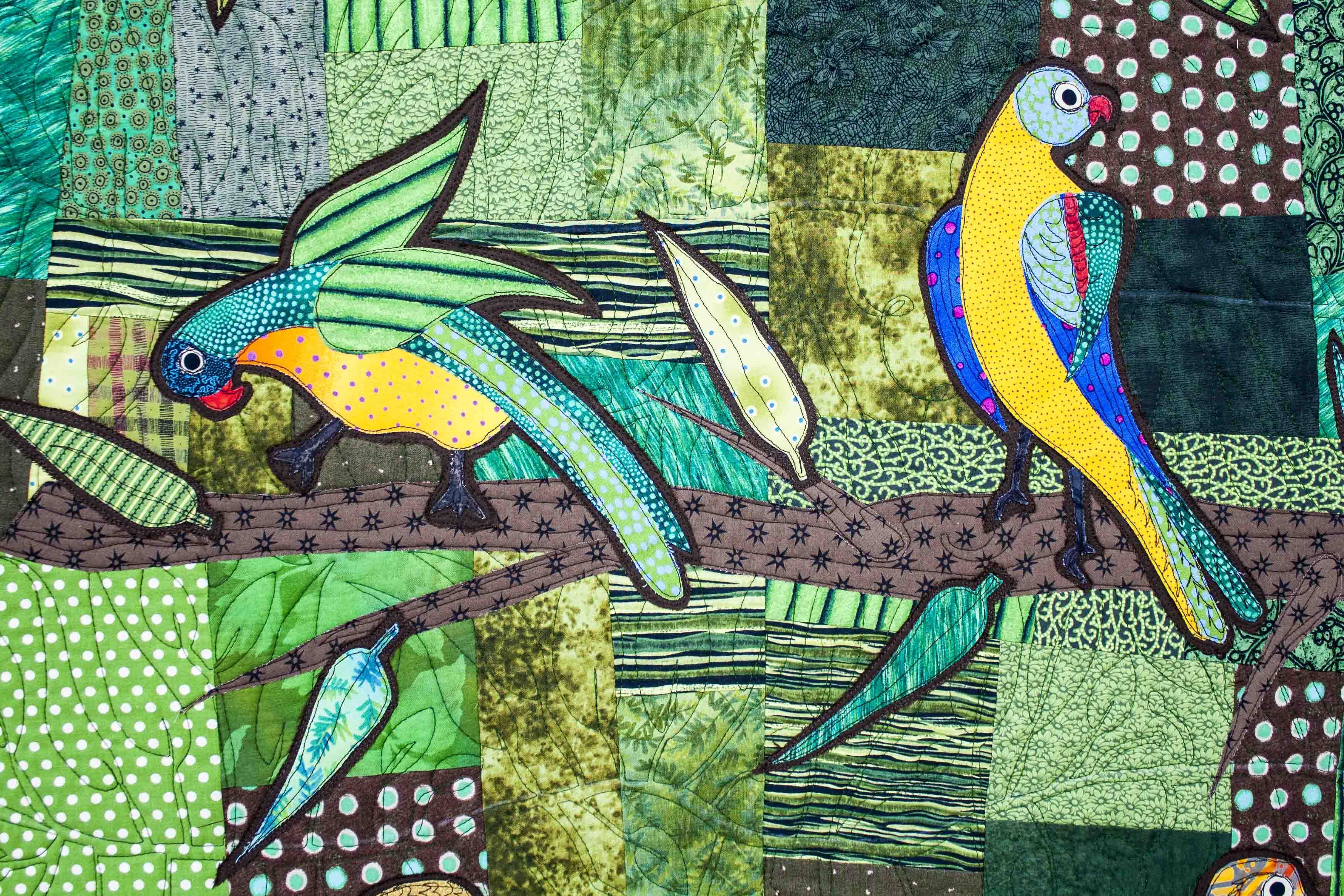 The process was perfect for me.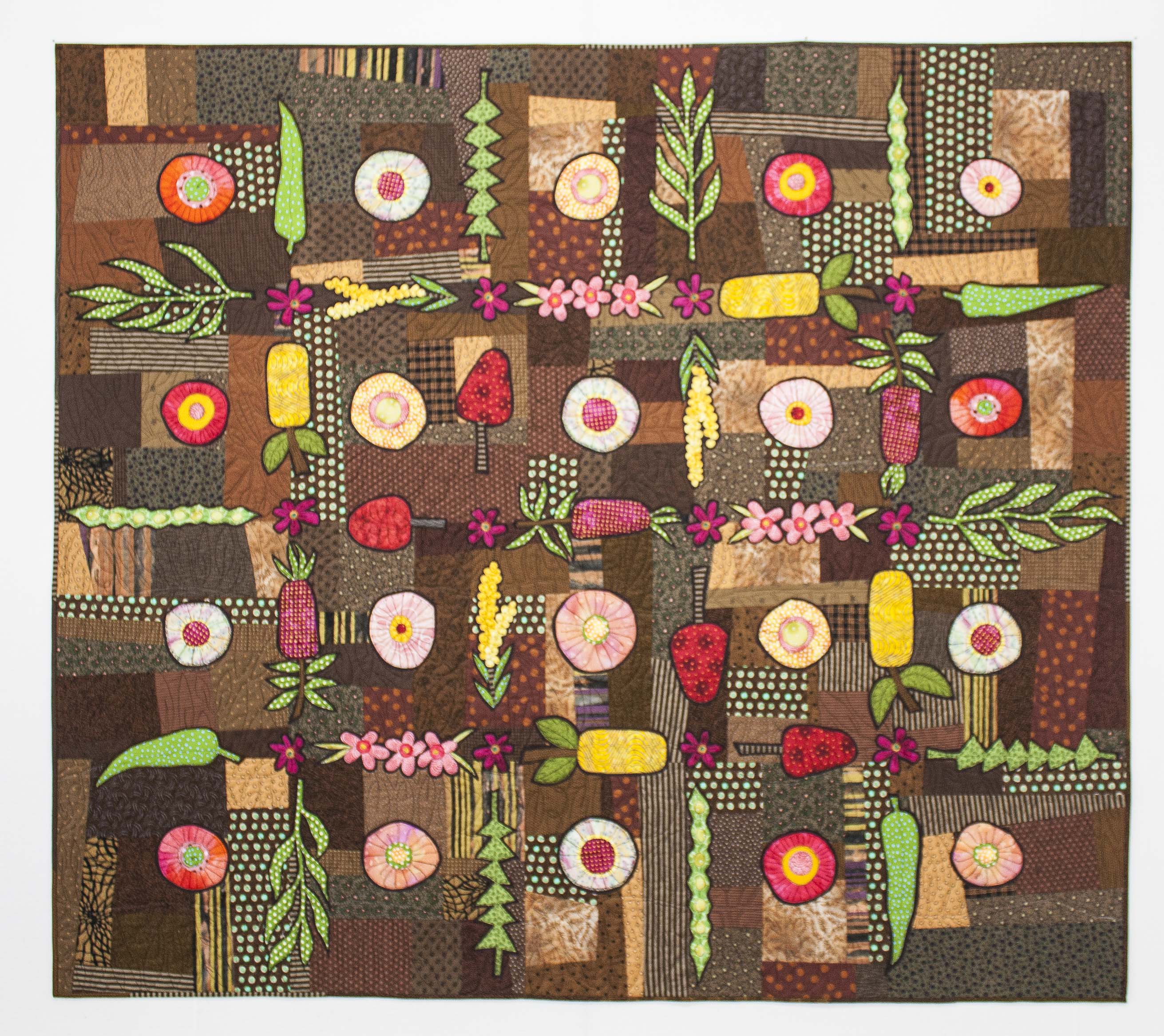 When our wedding invite arrived a couple of weeks ago I rang Tim.
Do you want money? Gifts from a list? Or a quilt?
I am quietly thrilled to be able to get family made textiles into their life ….and quilts?….well I think to be given one is pretty special.
So, after much deliberation and almost free reign with design I settled on wool as the base fabric. It is the warmest cuddliest fibre and Melbourne gets sooooo cold.
The almost free reign refers to the second part of the brief – a desire for farmyard animals to be featured.
So in a similar way to Rory & Asha's quilt I am making the background/the quilt and I will create the animals seperately.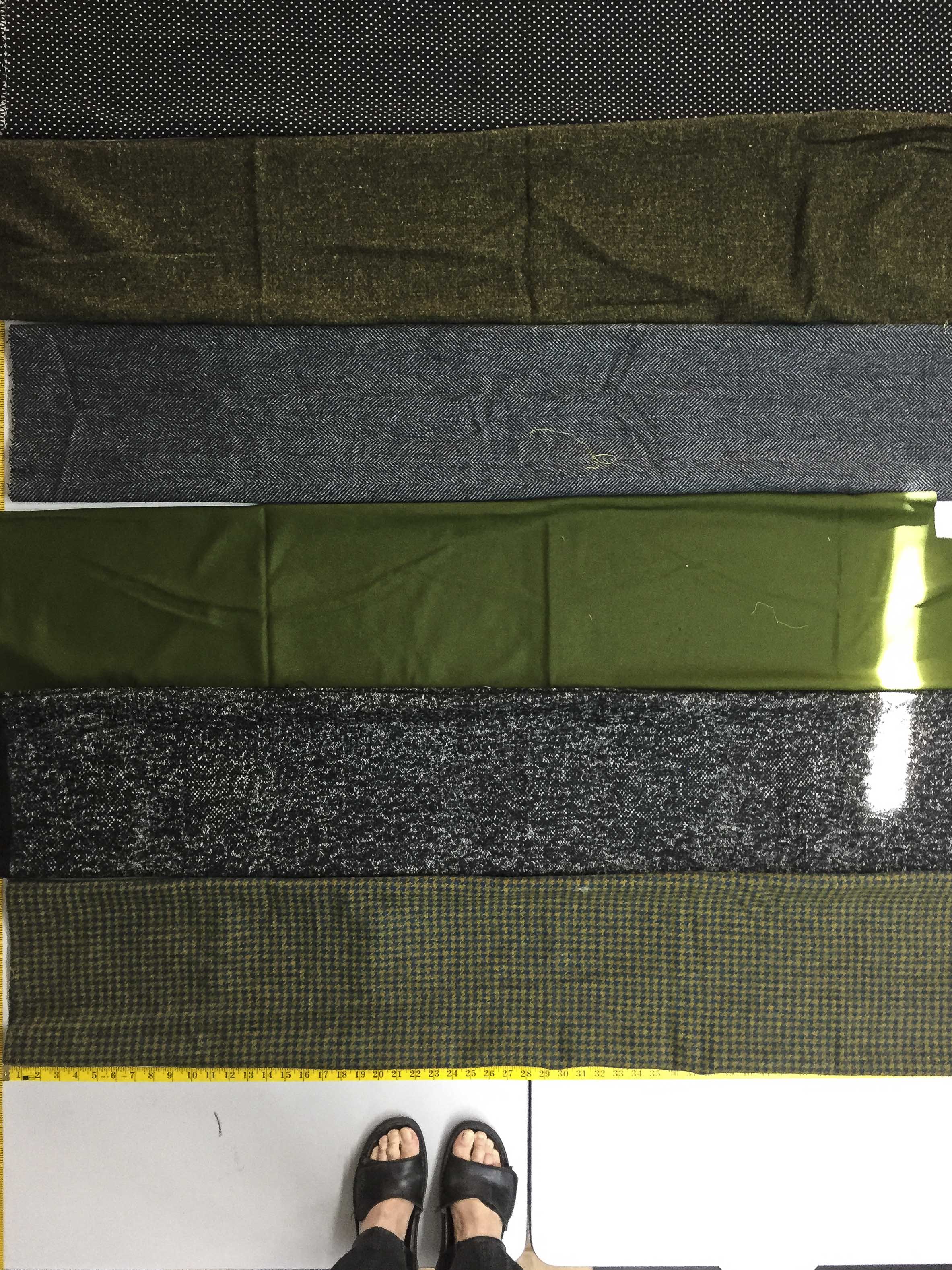 With no time or inclination to shop for woollen fabric in summer I am using what I have on my shelves. I slowly settle for ten inch stripes of alternating black and green fabrics. I will be quilting it minimally this week to settle the fabric and to create a stable base for the applique.Then the fun???? will really start.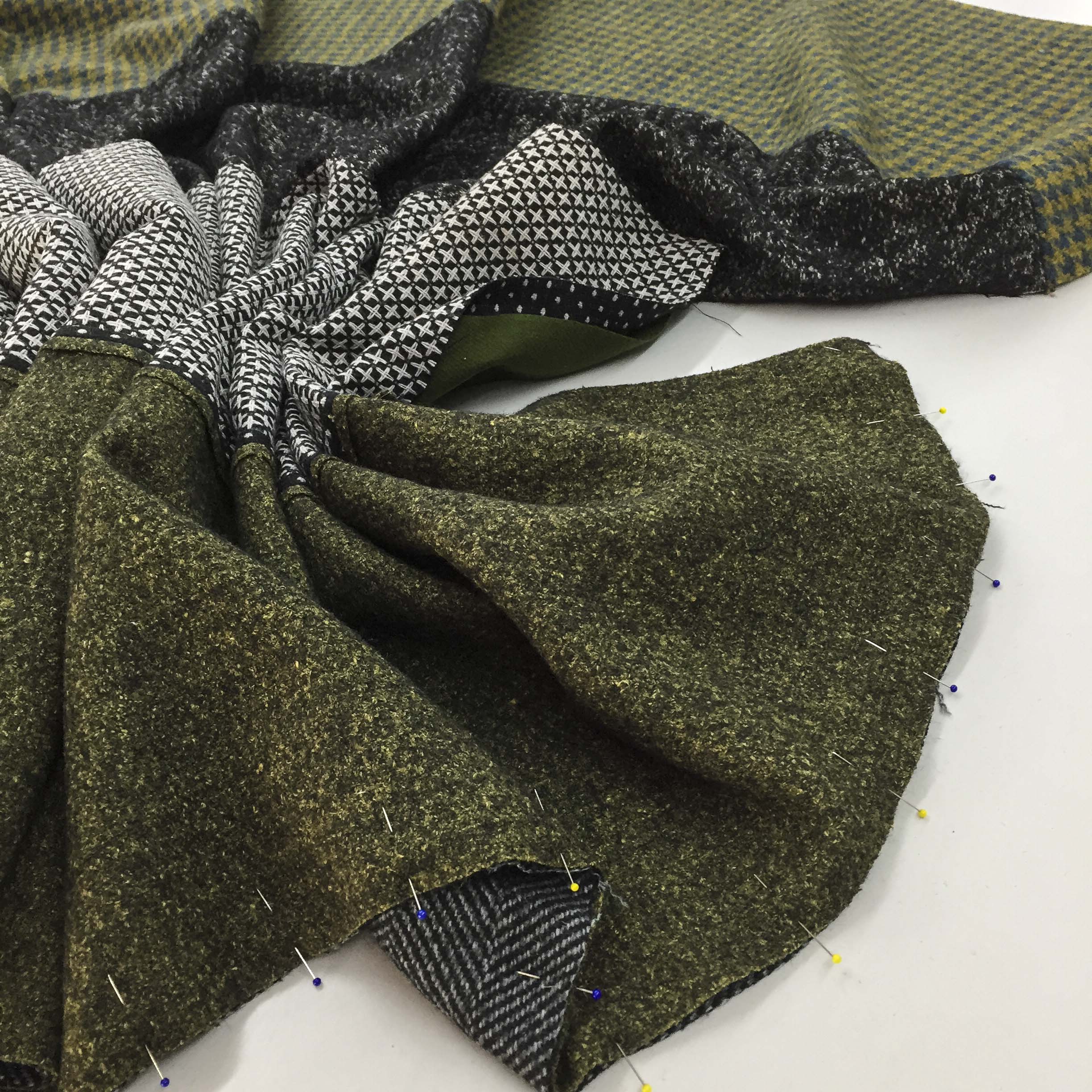 The quilt WILL travel over to the farm with me in early January so I really only have until Christmas to do the bulk of the work.
My many toDOist lists are being reviewed. Christmas decks will be cleared quickly and efficiently….:)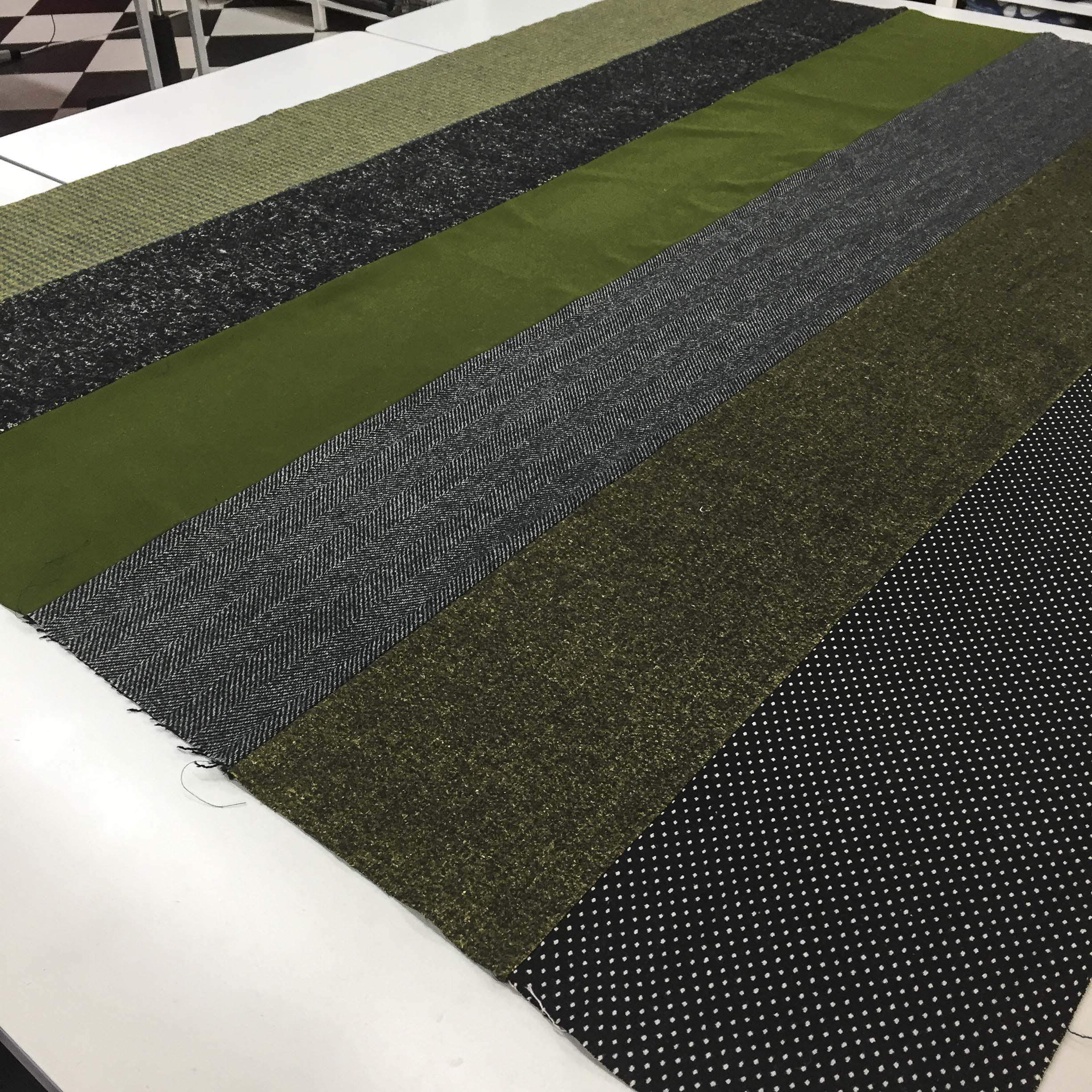 I was working this all out at the start of the week whilst I attacked the upstairs 'drawing room'. Up and down the stairs I went pulling fabric out, adding and deleting continually.
There are still a few things to clear and set up up there but I do have a space that might (hopefully) end up being my after dinner wind-down area.
The years spent watching the next new series at night with the bloke are in the past.
Evenings have become very precious -I need to be productive at night now AND I do need to keep tasks 'quiet'.
I need to 'be' in a quiet brain place not racing on the machine or getting inspired and excited. I don't sleep after those evenings.
Conversely, reading early in the evening works in the opposite direction.
Yet drawing, with a repeat rhythm, has often settled me in the evening of late.
It is a quiet way of achieving.
I loved 'feathering' the laminex samples last year.
I have loved my foray into coloured pencils and paints chips and beards recently.
AND
Now that the bloke has a keyboard I can be as far away from the tinkling as possible:)))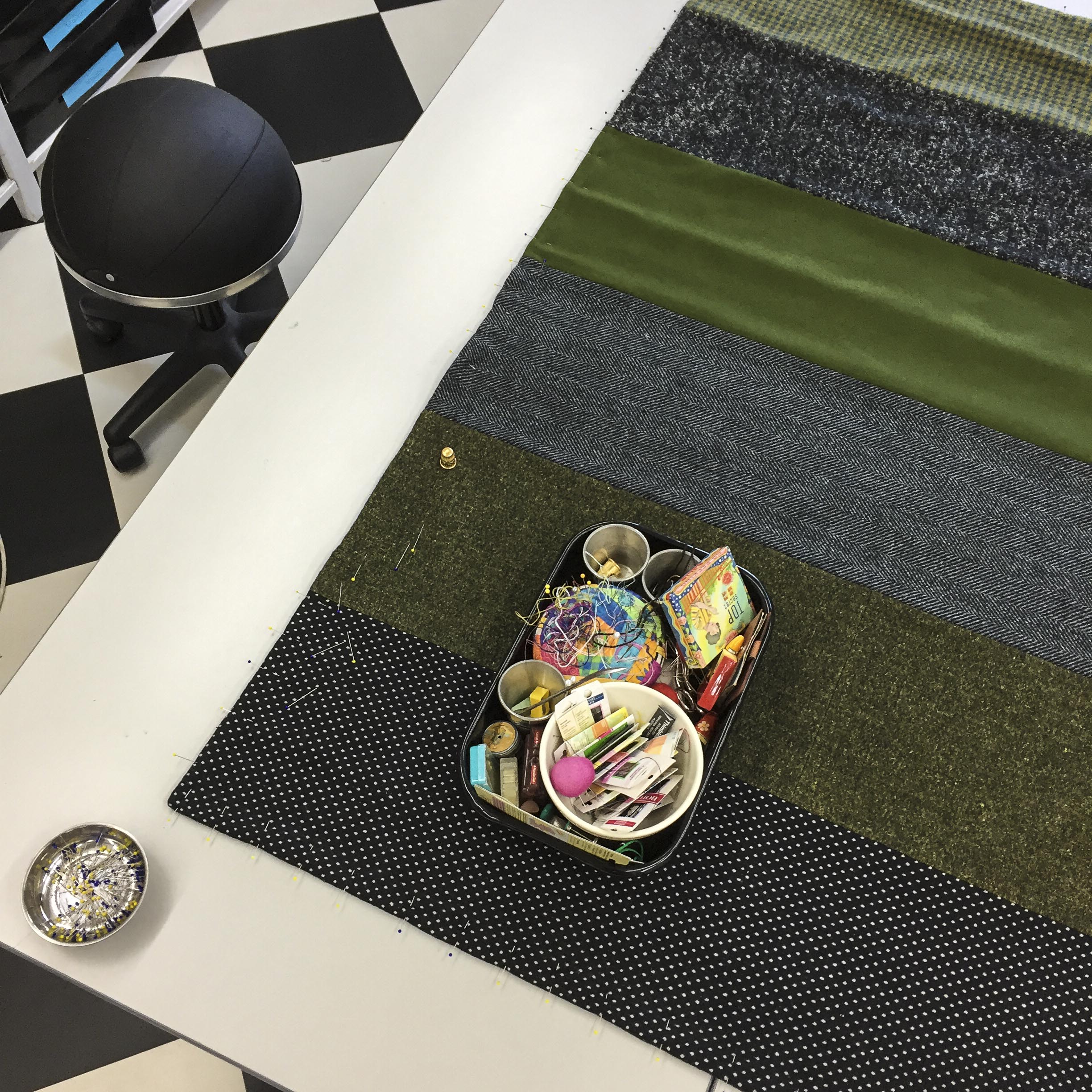 I turned older on Tuesday. Lots of lovely contact to helped me mark the day.
Our movie club was convening that night to see I, Daniel Blake so no romantic dinner!
Leftovers and free movie tickets (thank you Luna Palace:). All nice and low key.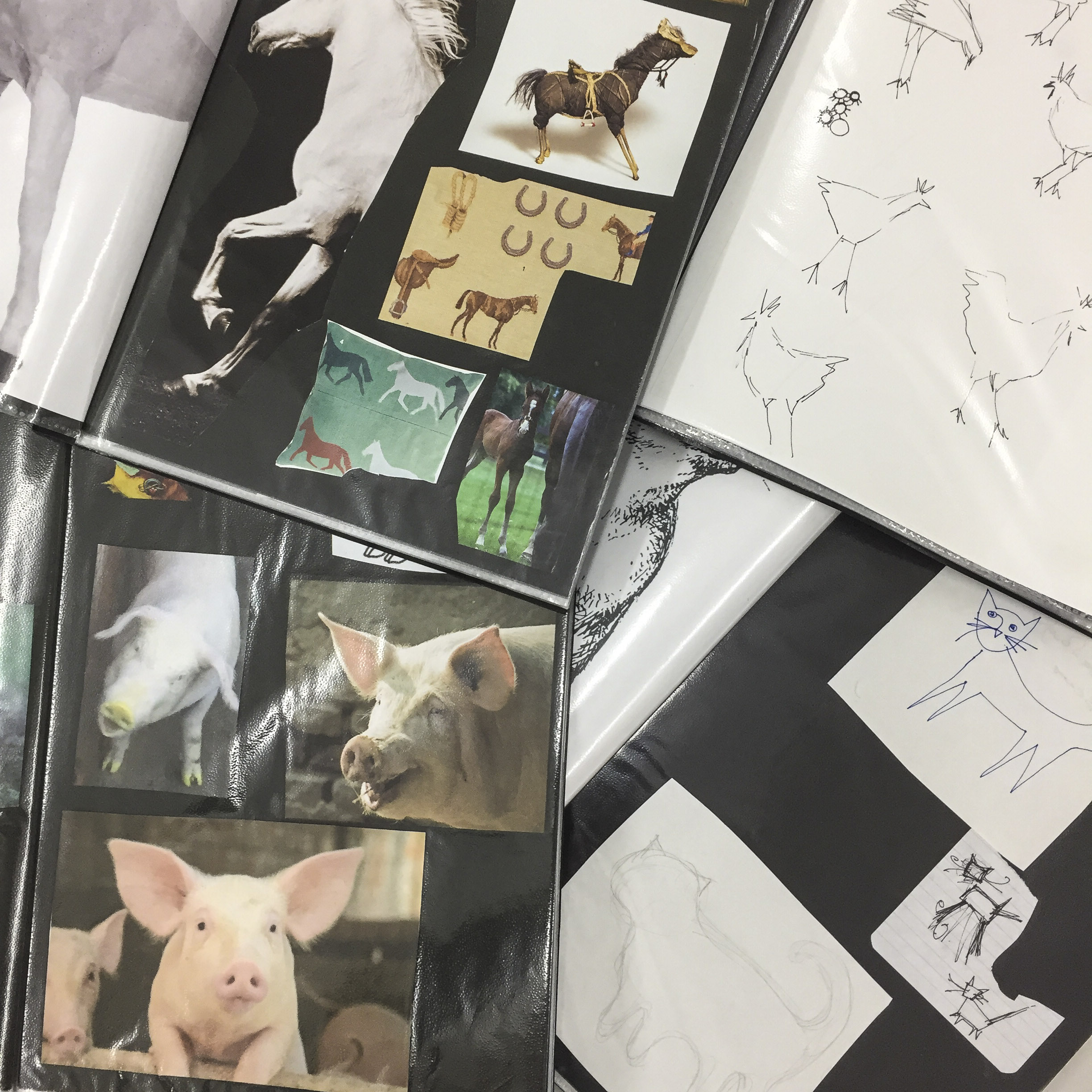 On the weekend I let the bloke travel down south to work on the girls shed whilst I worked on 'the wedding present', and cleaned and had a rare catchup on various tasks.
Why? My very special friend Vince (from way back in the heady Stargazey days) was in town and when he's in town we hit the town.

This visit was a bit different as dinner came with a guest, the delightful, down to earth Anna……Anna Maria Horner.
I always have a great night with boys, it's just three lads and me.
Mostly we have a lovely dinner and rarely continue on as in the days of old.
With Anna there the connection is talking about the Quilt Industry and the shows and the trips and the great people that are still hard at it at Quilt Market twice a year. They were great times.
We headed off to a pub in Freo to get to know one another and to reminisce and to enjoy the beautifully weird folk this town has to offer on a rocking Saturday night.
Yep, a big week….a blur of a big'un.
Save
Save
Save
Save
Save