I currently have two major sets of work in progress – ceramic birds and paper pieced patchwork. I am approaching the sticky end of the both series, with final decisions leading me towards the finish line. Getting close. Getting to the 'home free' stage even though both will still need plenty of considered time to get them to completion.
With the hope of freedom to move on, I recently prioritised, started, and have settled into a third work-in-progress set of works that may very well fail.
Am I worried about the possibility of failure?
A little, and mostly because I will have spent (not wasted) time on something that may be a dead end. I am gambling with my time and I do not like gambling.
I am often happy to jump into projects almost blindly and with a inner confidence that I trust – well honed with broad experience over time.
If I initially hesitate with a project I acknowledge that an alert has been issued.
The alert may simply mean enter slowly, proceed with thought, consider the ground rules better or perhaps seek alternative path?
It may just mean that timing is not perfect.
This year the second iteration of The December Gallery has given me wonderful freedom but enormous time constraints. Both are a blessing and a curse…and everything is a gamble?
My choice with this new set is a need to mix things up a bit, to experiment, to learn. To do this I decided to go backwards in time.
Let me explain……
I was always the arty/crafty kid in my family. We four were all sporty. We all lived with noses in books yet we each pushed forward with specific interests, and to expertise, over time.
Even though I was labelled correctly I always felt fraud-like.
I could draw but did not spend time drawing.
Perhaps it was because art for the wall wasn't going to cloth me like my textile skills could?
Though making clothes was not a necessity, it was the only way I could afford to dress the way I wanted to. Multiple part-time jobs – cake shop, sport store, babysitting and school supply store clothed me and paid for my Hillman Hunter, my independence.
I also spent leisure time, likely avoiding study, to knit, crotchet and weave often with handspun, naturally dyed wool or wool from 'Jedda' who lived with us in suburban Melbourne. Loved it all.
I wasn't interested in paint….the mess I could make! Though I will never forget 'fourth form' art at high school when we were given a small canvas board and free reign to paint. I chose a photo of some Sahara Desert sand dunes to replicate. The image is still imprinted in my brain, partly perhaps because I was not satisfied with the process and the result?
I had a good eye and good hands but there was pressure and frustration, self-made obviously, of being let loose with acrylic paints, frustrating brushes, a small stiff board and a lack of skills.
I should have asked questions but I didn't.
The experience has haunted me ever since.
Self identification can be interesting.
I can reel off sets of skills and interests but I have always blocked/blanked painting. Yet, when asked to design fabrics in the early heady days of Stargazey Quilts, circa 2000, my default was to draw simple patterns and then to grab the paints…gouache because of their flat solidity.
I had simple images in mind and paint – that particular paint – fitted the hand-worked look I sought.
I was truly blessed to be working with Marcus Brothers and XLN fabrics, both companies taught me much. They accepted my daubs then propelled my work to unthinkable heights. I certainly have an appreciation of how paint is an essential piece of my art-illary.
So, the gamble….
My research on the Swan River Colony has offered many leads but my interest in avian beauty is ever present. This time my 'take' is the weird exotic look of these new-world creatures and it is driven by the need to play with pattern and then turn these patterns in collages.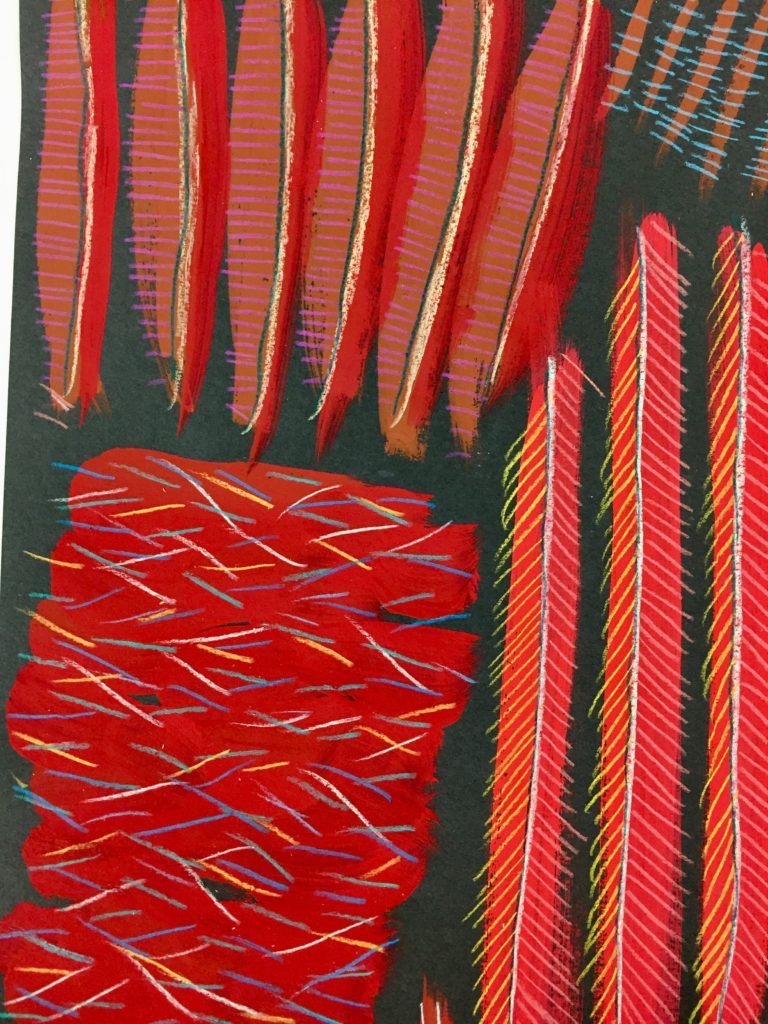 I have bower bird piles of gathered paper from many places over many years, boxes of paints to make mess with, and a diverse and odd array of pencils from childhood, plus newer fancier 'grown-up' full sets.
The best bit so far is that I am ripping through all of these with total abandon.
Parsimony begone – restraint does not reside here – these materials are no longer precious.
I long to use everything to their stubby ends and to mess up those crisp edges!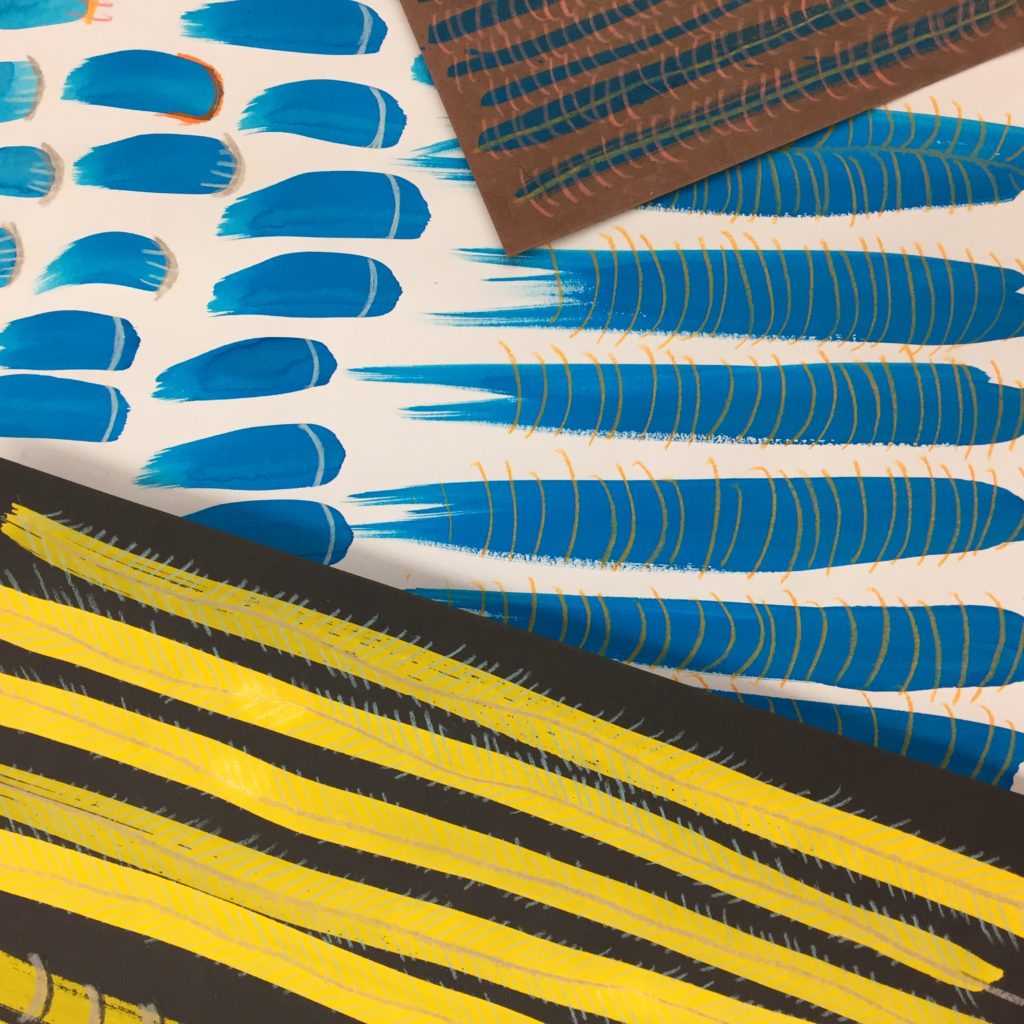 Parts of many days have been spent daubing onto those orphan papers and card.
Then time hunkered down drawing over those daubs with coloured pencils.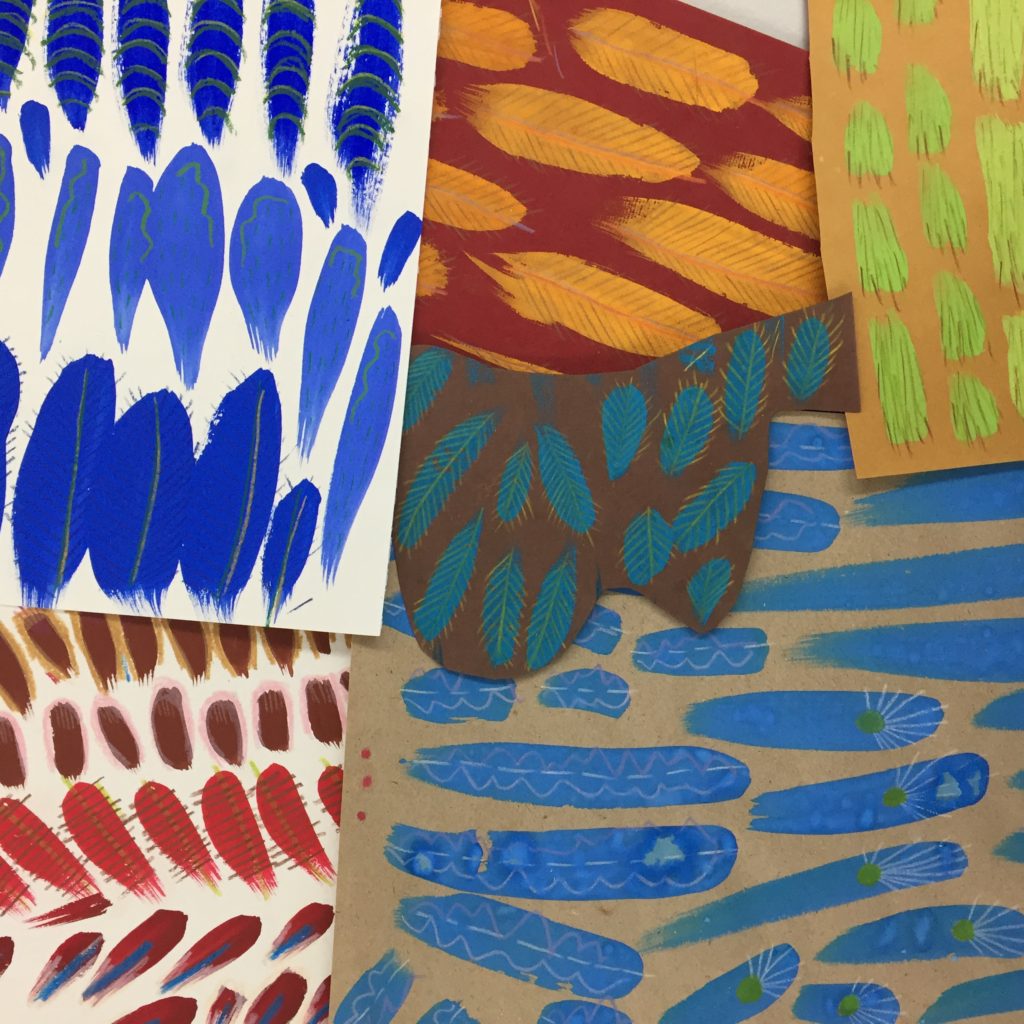 Followed by cutting the daubs into 'feather' shapes.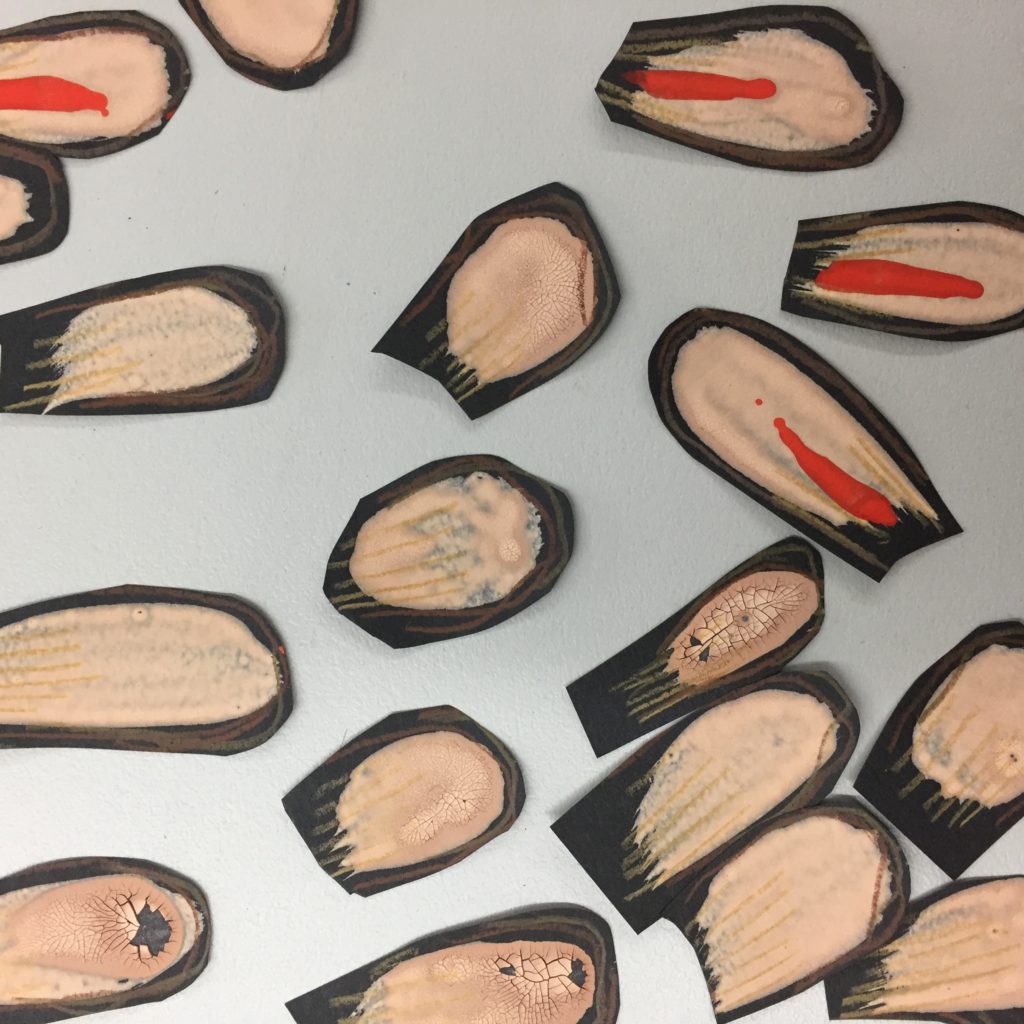 The result….
I have produced a 'mess' of pieces that I can only hope will eventually tell another little true/fictional story of fresh eyes in the strange new land that was The Swan River Colony.
Trimmed to shape this mess is looking a little better and I still have hope that this is time well spent. I can, at least, rationalise that I have enjoyed the time and the freedom of the process.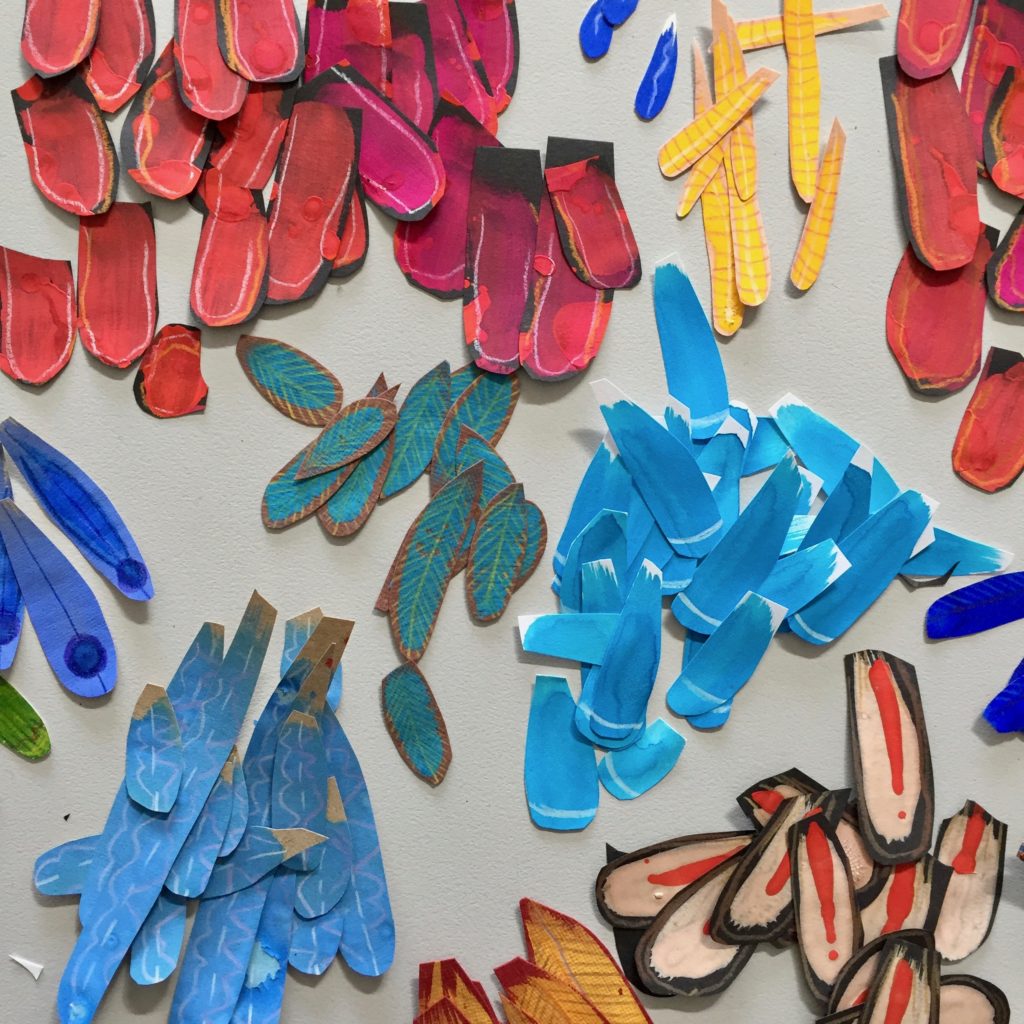 The next step is finalising the base – the backgrounds of these high branch dwellers.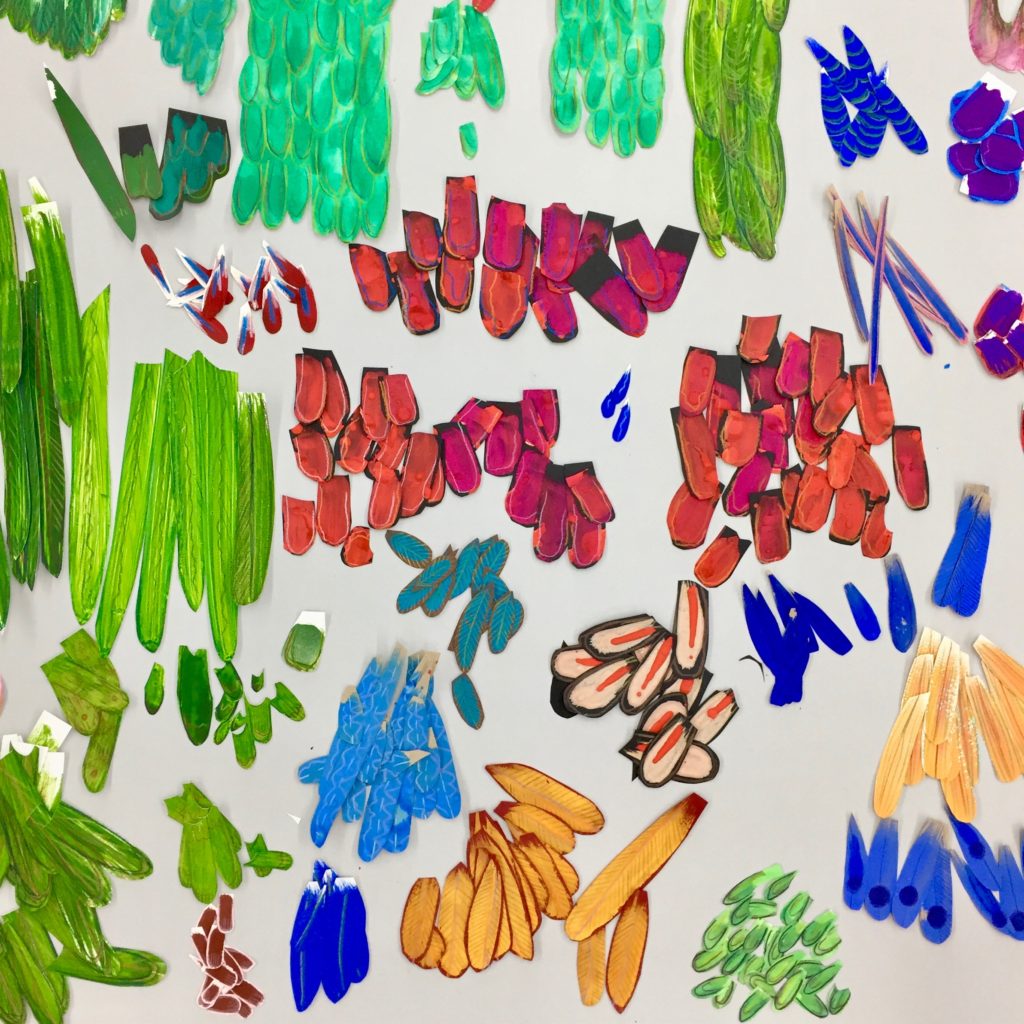 My appreciation for old bird prints, and imagery is leading the way….spare backgrounds appeal…..birds on branches and stumps waiting quietly…..viewed by strange visitors drawing and painting their portraits.
The roll call of inspiring artists of the avian is long; Lear, Baudin, Raper, Watling and Gould for a start.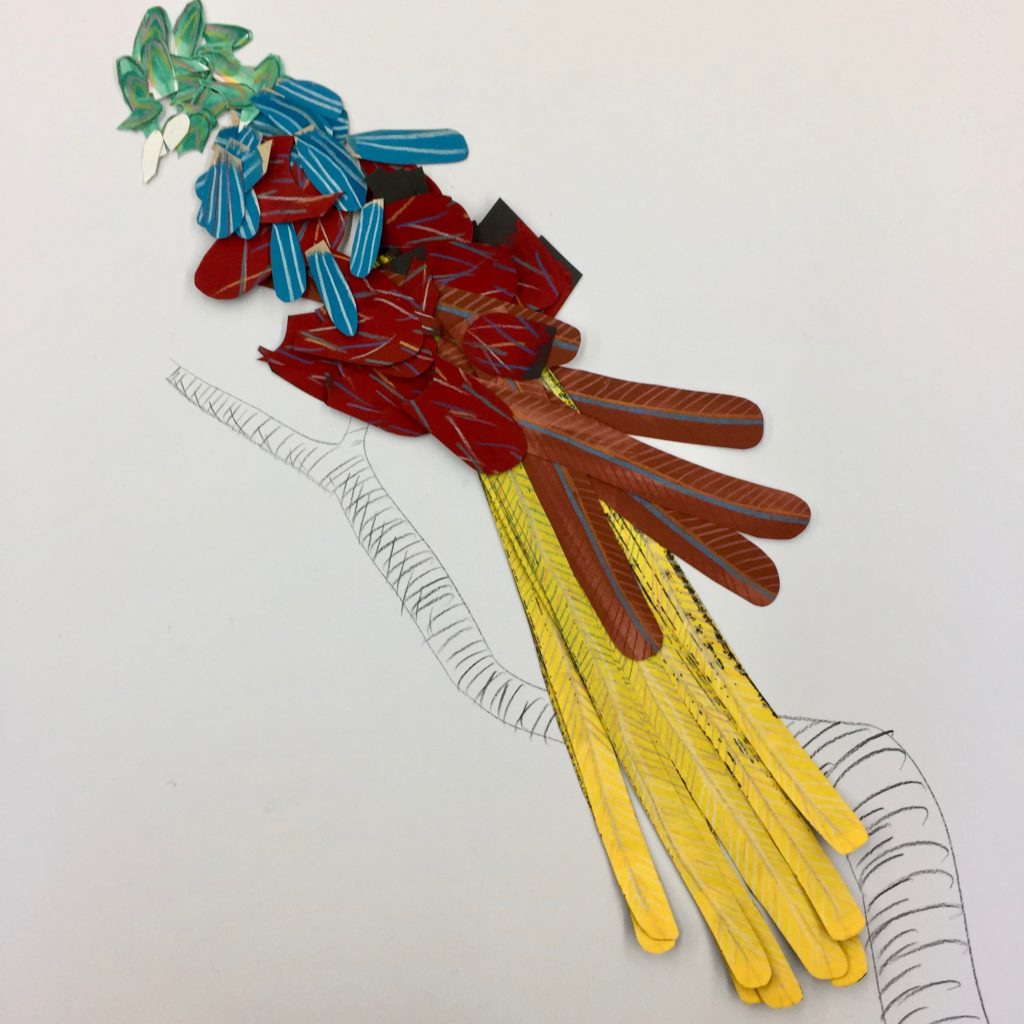 Next.
What size, what paper, which methods and materials will help tell my tale?
I'm onto it now and will mix the analogue of this process with a bit of digital most likely. Hopeful that I am spending my time well.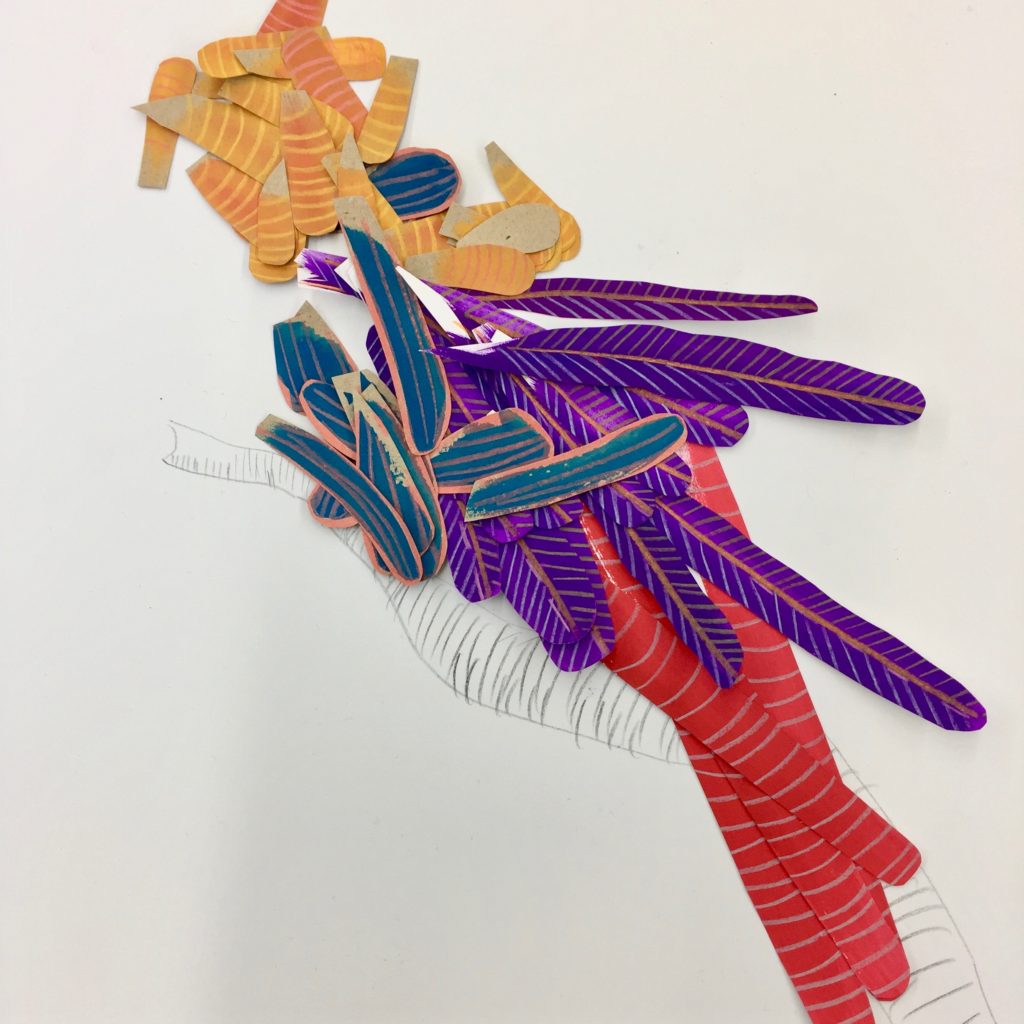 I have enjoyed wielding the brushes again – the change of materials, tools and processes.
I am grateful for the freedom that I gifted myself.
Even if the work fails, I will have won the gamble.