WEEK  TWENTY-SEVEN – (july 6-12)
I love checking my Horoscope.
I  prefer the weekly ones and generally read them, try to make positive sense of them, then quickly forget them.
If I like what they say I may tear them out and keep them for a wee while – building a file of positive goodness.
Just one of those things that makes me ME….
Early in the week I'd been pondering – thinking of how quickly the year was going, how little I felt I had achieved, and how I feel about that.
Pragmatic was the word that popped into my head….
pragmatic |pragˈmatik|
adjective
dealing with things sensibly and realistically in a way that is based on practical rather than theoretical considerations
Hence my delight when I spotted The Weekend Australian's latest entry for Sagittarius.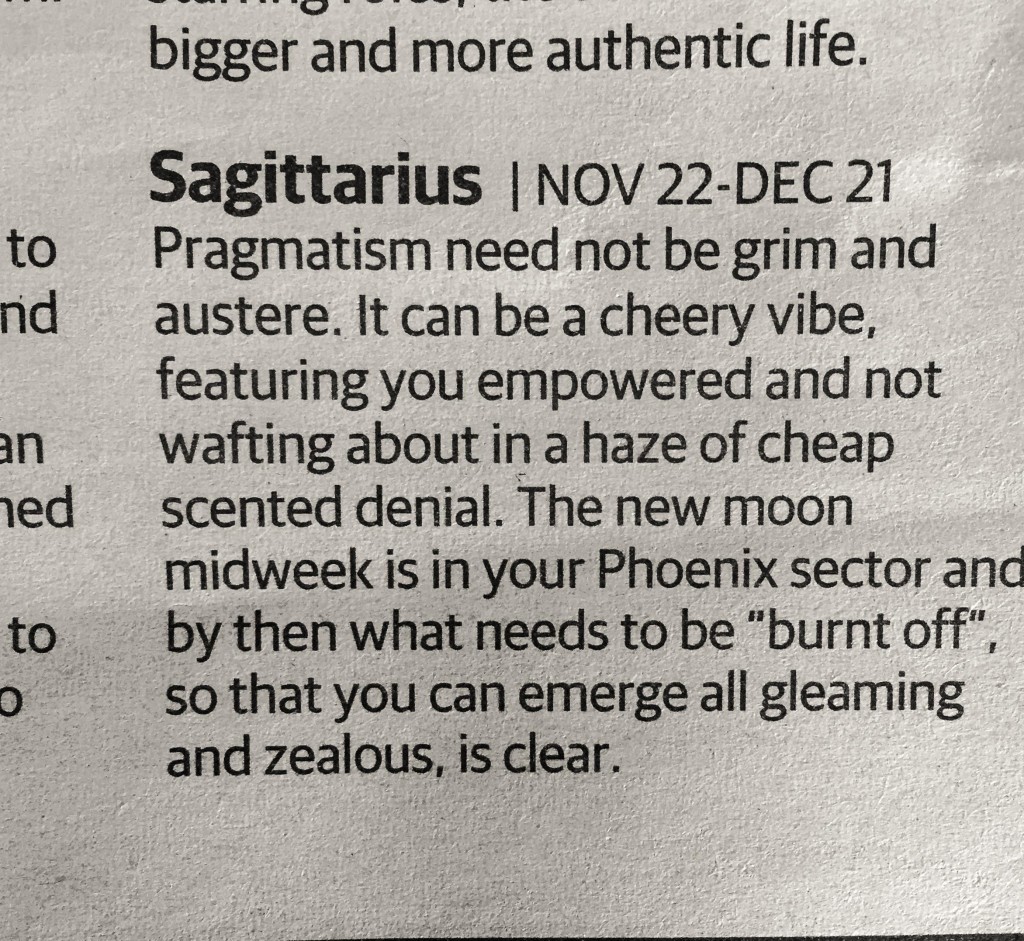 Spooky hey?
And supremely positive.
I can't wait to emerge gleaming:)
So, onward.
With fifty-two weeks in a year, the start of week twenty-seven marks a half way point.
Time to reflect on what I have achieved so far perhaps?
Time to tweak work modes so I can accomplish much, much more?
Time to be pragmatic about everything….
This blog is foremost a tool for me and it has come in handy this week as I trace back to where I started. I feel daunted that the year is flying by and leaving me, once again, with seemingly little to show for it.
from week one – the first blog post;
"I anticipate weeks of reading and research, months of playing with techniques to help express my 'head threads'."
I am thankful that I wrote that down – that I was pragmatic – I feel less pressured just reading it.
Also, I must acknowledge that many of the 'head threads' that I worked through initially are mostly untangled and waiting for me to turn into art works….
It is week twelve and my week has just lengthened.
I started with 'short' dates to realistically represent the working time I had available – four days. 
Alas, as always, my days rarely work to plan and I find that, yet again, compartmentalising just doesn't work. Instead I rush to the studio whenever I have a little bit of time as well as the planned-for luxuriously long stretches.
Yes this is where I am still feeling stretched and disappointed.
Time management.
Specifically, giving priority to keeping lots of wheels oiled and moving rather than rocketing off into the far reaches of the unknown (my nascent artworks).
This is a continual re-occurring cycle for me and I feel like I am stuck back in this vortex yet again.
So now it is week twenty-seven and it's time to talk tough to myself if I want to have a productive rest of year.
TIME TO again be PRAGMATIC and REALISTIC and PRACTICAL.
I need to be pragmatic about how the first twenty-six weeks have been spent.
I need to assess where I am 'wasting' time and how I can find more time for making art in any way, shape, size or form.
A late night thinking session had me writing down what I spend most of my time on, and, whilst I have been productive, I  can easily see that I have given priority to 'outside things' over my studio work.
I'll try a few strategies to corral my time in the next few weeks to see if I can change my work mode, habits, priorities and output.
Head down/ bum up as we say around here.
Of course I am aware that living next to my studio and  working next to my home is part of the problem. It has advantages and disadvantages…
The dis being I am always aware when the floor needs vacuuming, the washing needs doing and dinner needs putting on…..
The ad is being able to continually tweak the work on the wall and to iron a stack of feathers whilst cooking that dinner.
Perhaps all I need are a few simple strategies like closing the shared door?
Or working some tasks to a set time with the alarm telling me to move on?
It is not like I am dis-organised, it is more that I take on too much organising of 'extra-curricula' things.
Tweak time!
Moving back to the week just past… it WAS productive.
On Monday I started straight into making more large Weldon feathers with a fresh supply digital prints and black fabrics at the ready. Twenty-one large (24") feathers were slowly constructed and ready for the final iron and closure by Tuesday evening.
Wednesday was taken up with arranging finished feathers in final position.
The structure of the piece is a major 'round' and then the corners are filled to make it square.
It took all day, on and off.
I've chosen a very heavy hemp for the backing rather than making a more stable quilted base. The hemp is strong and has next to no stretch so that the feathers should stay flat.
I've never done this before so new construction decisions like this are a gamble.
Arranging them took ALL DAY.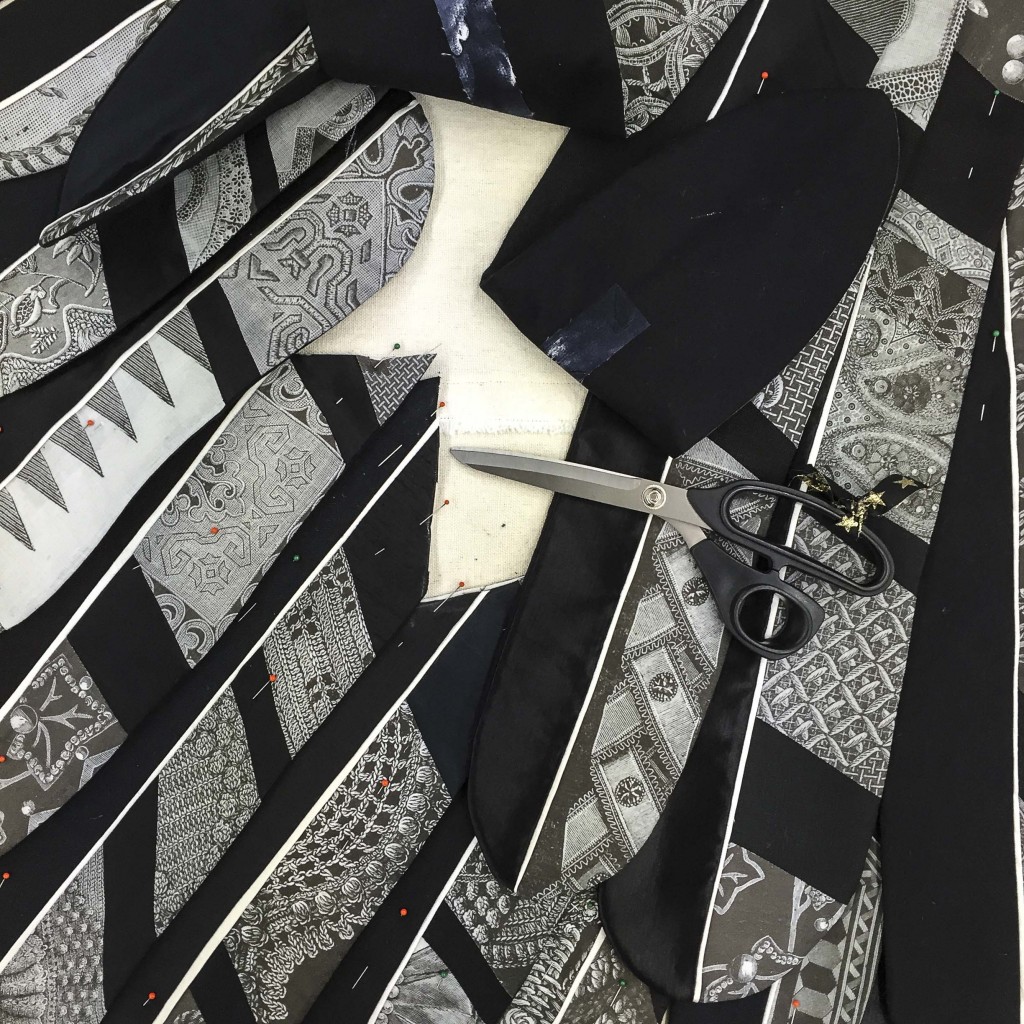 Thursday arrives and the 'quilt' is put onto the machine.
I've cut off the corner feathers, where they are hidden under the round, to reduce bulk.
They are initially ditch-stitched along the white quill – very slow and steady.
I stopped 1/4" short of the edge to allow for turning the backing to the back
Next I hold down the cut edges….and repeat for the all the long feathers.
A very long day with a lot of pricked fingers and band-aids.
I hope to have all the feathers in place by the end of next week – then there will be a pile of hand stitching required to hold parts of the feathers in position and then to refine the edge.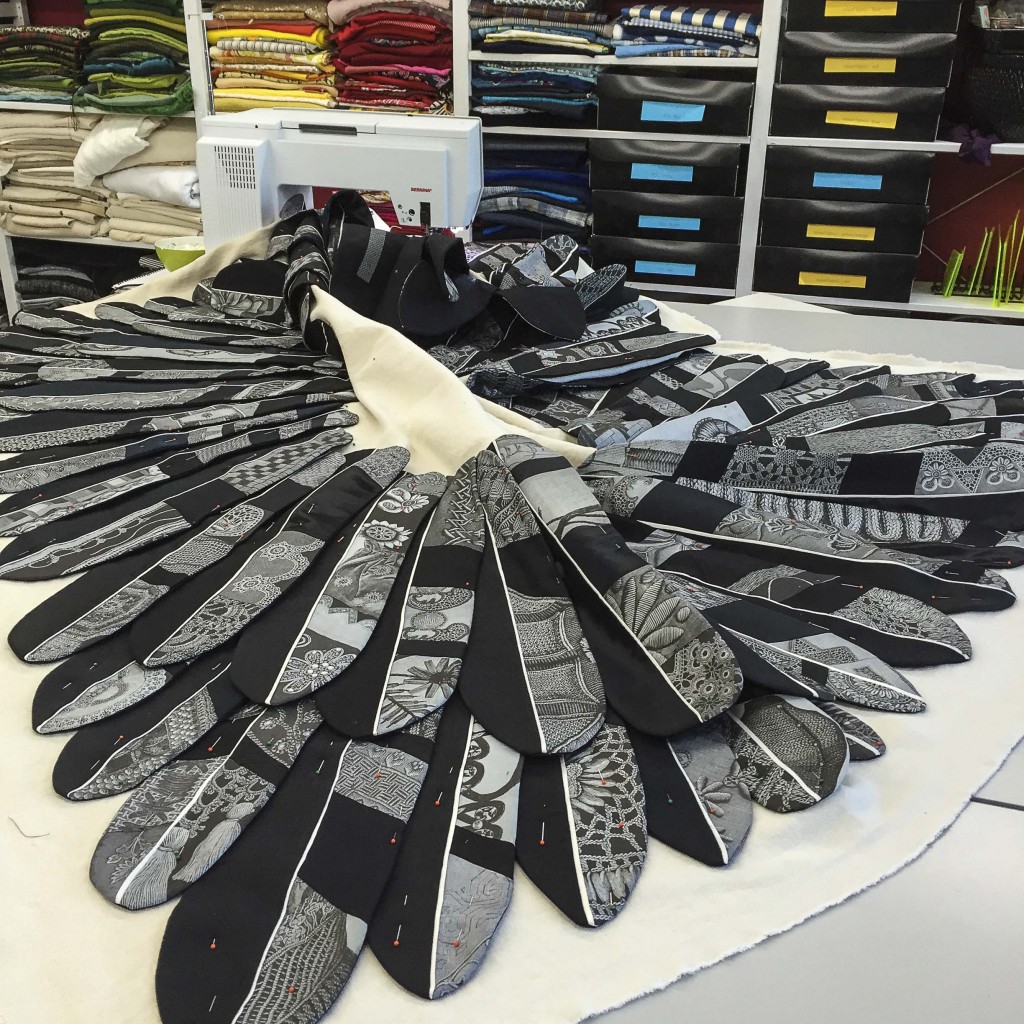 I'm pleased with how it is looking but, interestingly, I seem to have now lost the picture that was in my head – all I see now is what I see on the board….(see this post)