WEEK  TWENTY-EIGHT – (july 13-19)
This week I have spent a lovely amount of time downstairs – much spent making and then arranging the smallest central feathers into their final positions – ultimately eliminating all other options except the best one.
When I did get to the machine it was a tussle with the bulk – though it was a lot easier working in the centre than the outer edge.
Outer to inner is an odd way to work but the overlapping feathers necessitated them being stitched down in this order.
All were finally machine stitched/quilted down with some quick hand stitch needed to hold some edges in place and then the trimming and stitching down of the backing to be done in the coming week.
 I'm on the home run…
But my thoughts about the quilt this week are now love/hate.
This usually happens to me with this sort of work where I have invested so much time and so much thought into its being.
I usually start an artwork with a strong idea, explore options of both the idea and the manner of making, then try to then work downwards sharpening the idea, materials and method of making.
Each step of the way there are choices.
Each choice informs the next step.
There is no guarantee that all of my choices will make for the best artwork.
So now with the piece almost done the second-guessing starts….
Does it say what I want it to?
Does it look complete?
Will it grab the viewers attention?
Should it have been looser?
Was it a mistake right from the start?
My thoughts will be validated when it is out of my sight for a while.
My thoughts will be validated when it is viewed by others.
Hopefully the outcomes will be positive.
Right now though, assuming I ultimately feel good about this piece….
I would like to make a few more of these exploring the others who help feather our nests – not just the glory box/hope chesters – but also the 9 to 5 suit wearers who traditionally bring the income to our homes as well as the builders/ architects/ tradies who make our nests.
I could also make more works considering our the home makers – the digital prints I used are sourced from the 1880's but I'd like to consider more recent homemakers/featherers – my mothers/grandmothers generations.
If I continue on with this thought line though, I am, right now, feeling the need to make the next one looser….
I would need to invest time in trialling ways to muss up the feathers a bit without loosing the clarity of design that is inherent in me…hmmmm or perhaps the current piece has me on the right path.
Time will tell me….meantime Laminex feathers are calling….
On the time management front I have corralled my inbox work to an hour each morn – 9am to 10am – with the alarm set for a quick finish. I then close the computer off, or at least the email, and check it again at 5pm.
It worked beautifully this week as I settled quickly into making mode downstairs with that as my prime task for the day.
Another thing I am concentrating on is having more 'physical setups' in place to make starting work downstairs easier…
Lists are good, good habits are better, but I find that if I arrange workspaces and materials for the next stages of the project it helps me to focus on a quick start with no procrastination, no need for a distracting cuppa….
and
Whilst I haven't closed the door between my studio and home I have set this up in my head as a threshhold…to be crossed only as necessary between 9 and 5.
It has been a productive week.
Saturday was Quilt Study time again, this time looking at the collection of one of our members – Jenny's ethnic textiles, mostly old quilts and some family treasures.
Many of the pieces were purchased from tours she has done with Ruth Hadlow to Flores and West Timor.
We saw some lovely pieces with a few having some of our experts trying to nut out details of technique.
We saw old & soft & English…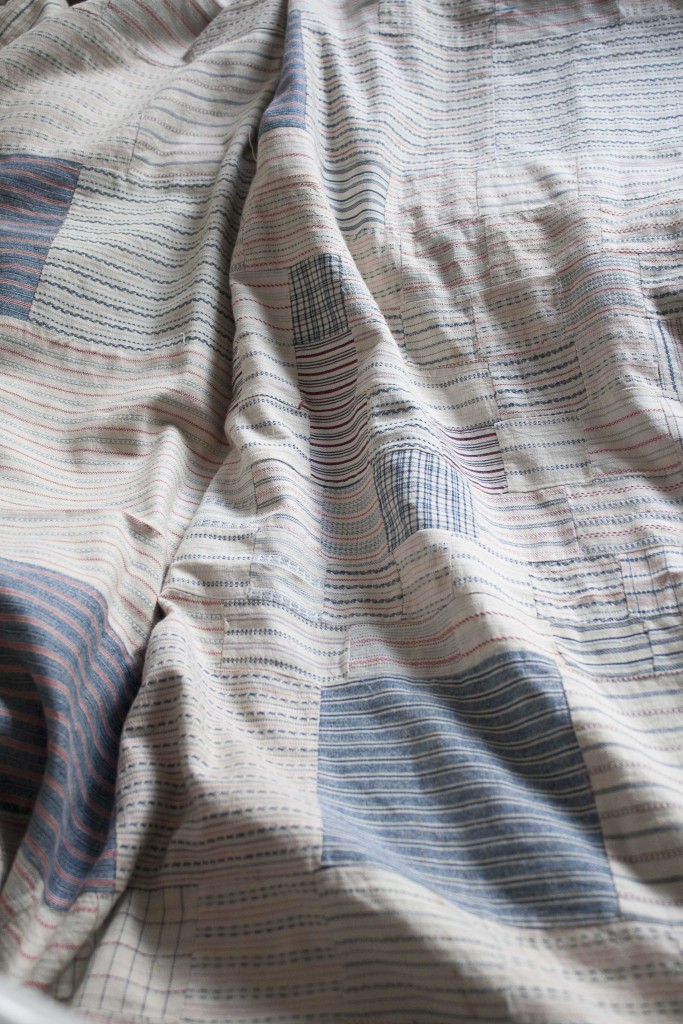 We saw bright and intricate.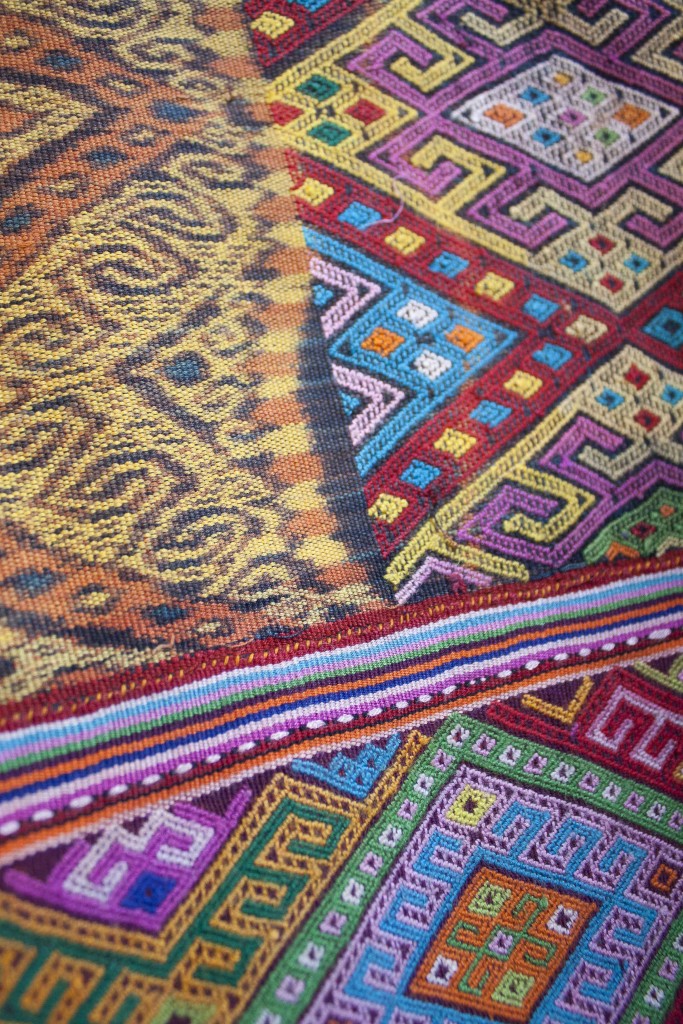 A fantastic session as always for this small, focused and appreciative group.