WEEK  THIRTY-FIVE – (sept. 1-6)
Another week of sitting still, staring at the screen, has me champing at the bit – I feel I have been being attached to this keyboard for way too many weeks. It is feeling quite unhealthy…
My still life on my bottom friendly ergonomic stool doesn't compare to my highlight of the week, which really was the only balm available for my creative soul – a long but quick trip to Mundaring Arts Centre to see Still Life – extraordinary, everyday.
I do wish that I had taken some photos but, as befits the quick decision to make the long drive up and down the big hill, I was rushed and simply not thinking very clearly.
Truth be told, that befits my demeanor generally at the moment…harried, hurrying, half-listening and simply not feeling like the best version of me.
The exhibition held some wonderful pieces.  My favourites were two stunningly beautiful works from Elisa Markes-Young and two fun and beautiful works from Neil Aldum.
Elisa has recently been working on a series 'The Original Place' relating to her childhood memories of Poland. Her aesthetic is a beautiful mix of folk art, stitch, embellishment, and print, with a mix of mediums including, most prominently, textiles. Her work is as meticulous as it is quietly, understatingly, adventurous.
Beautiful.
I knew nothing of Neil Aldum and have found it difficult to learn anything much about this young bloke apart from that his practice is very varied.
His two pieces were easily accesible….
Sitting within a frame were two flat layers, an old white bed sheet underneath an old net curtain. The action took place amongst the net…bobby pins were flattened and used as 'marks' to draw a Numbat on one and Native flora…grevillia? banksia? or? on the other.
They were simple and inventive.
Both had red stickers on them and it was easy to see why.
If you can't get there it is worth downloading the press release or catalogue from the exhibition page for a peek at a few pics.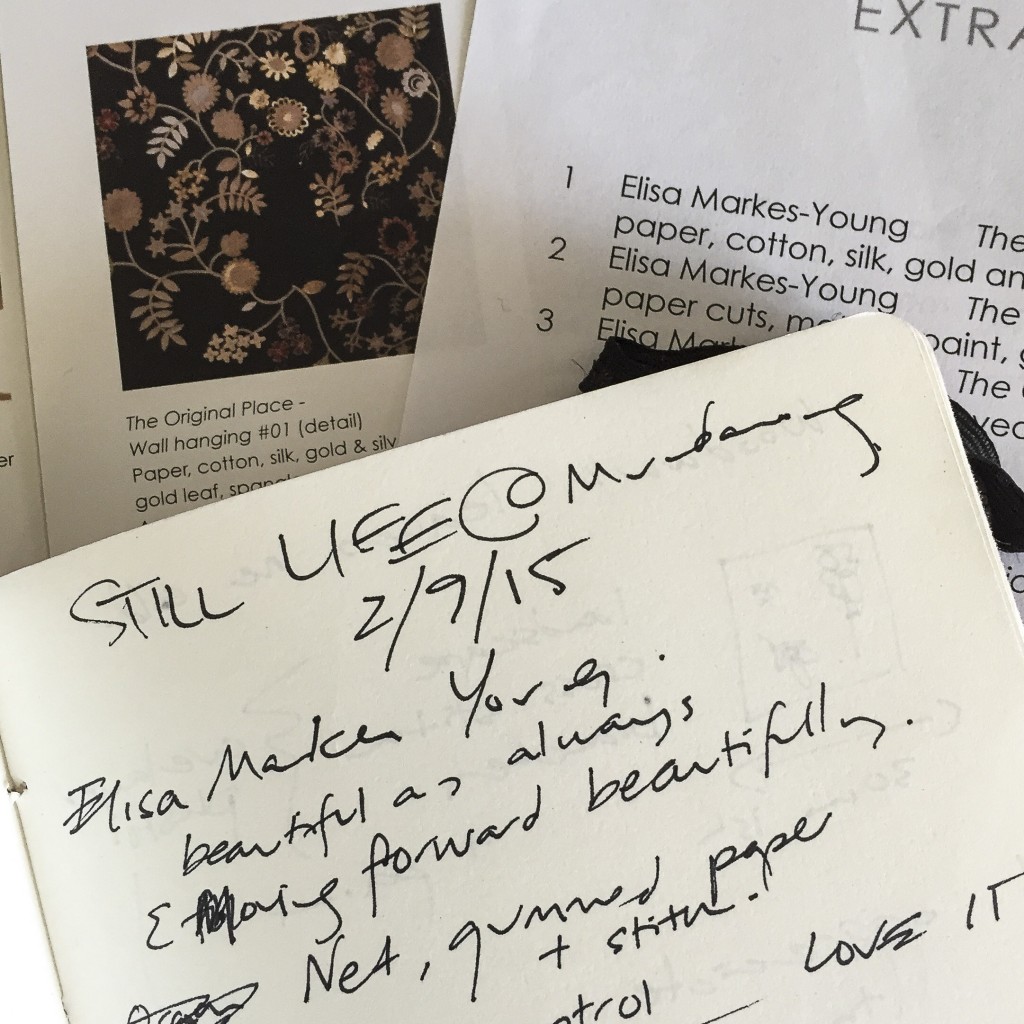 I did slow down as I left the exhibition and, rather than rush straight home, I  decided to visit a 'new to me' cafe for a calming coffee and a spill of my thoughts. I felt like I could have done a 'jack & jill' tumble if I continued in my haste to return home.
So in warm, welcoming, and comforting surrounds I was able to open my notebook and lightly scribble….emptying and centreing myself…whilst refueling.
I loved  Kinfolk Cafe in Mundaring and it is sure to be more enticement for making the uphill trek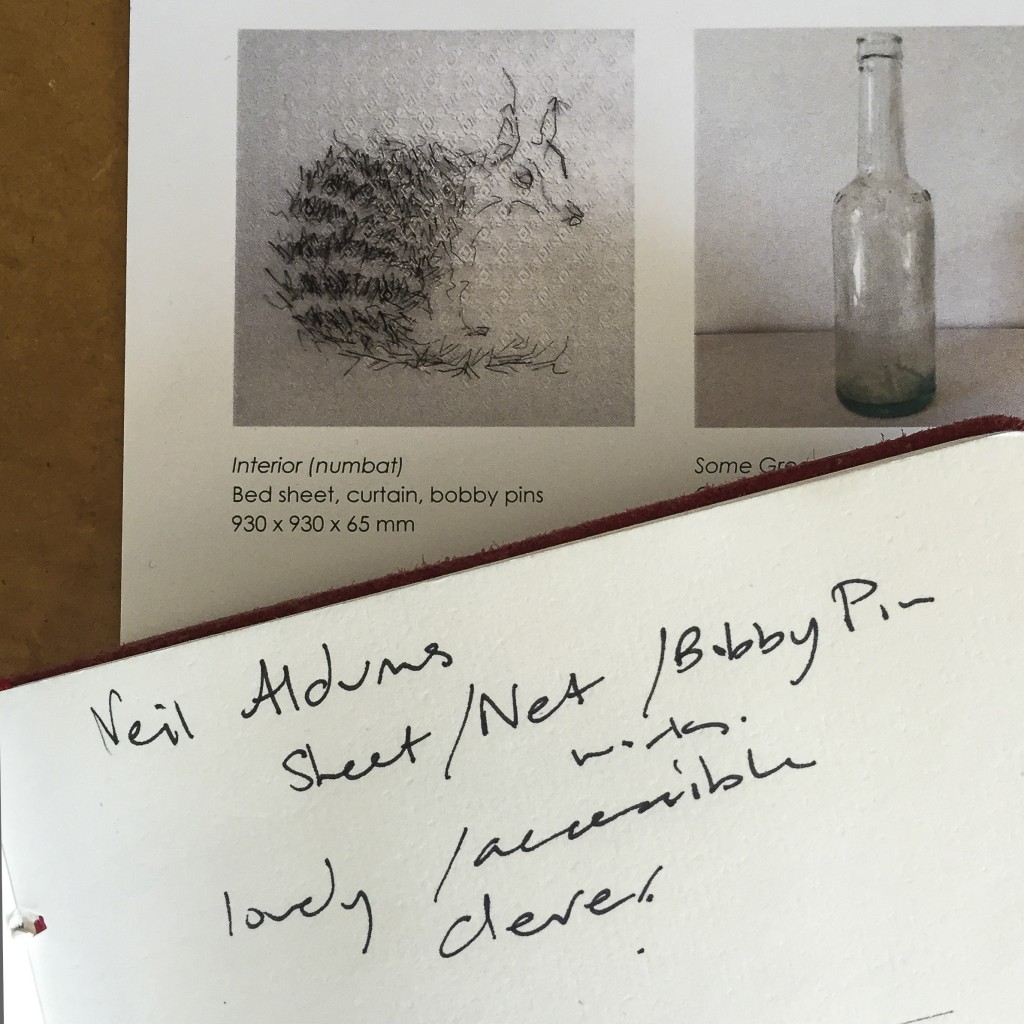 more often. Visiting two things is always better than one.
I have a few more stitches then will need to work on a mount/frame for feathering #3 – finished/unfinished…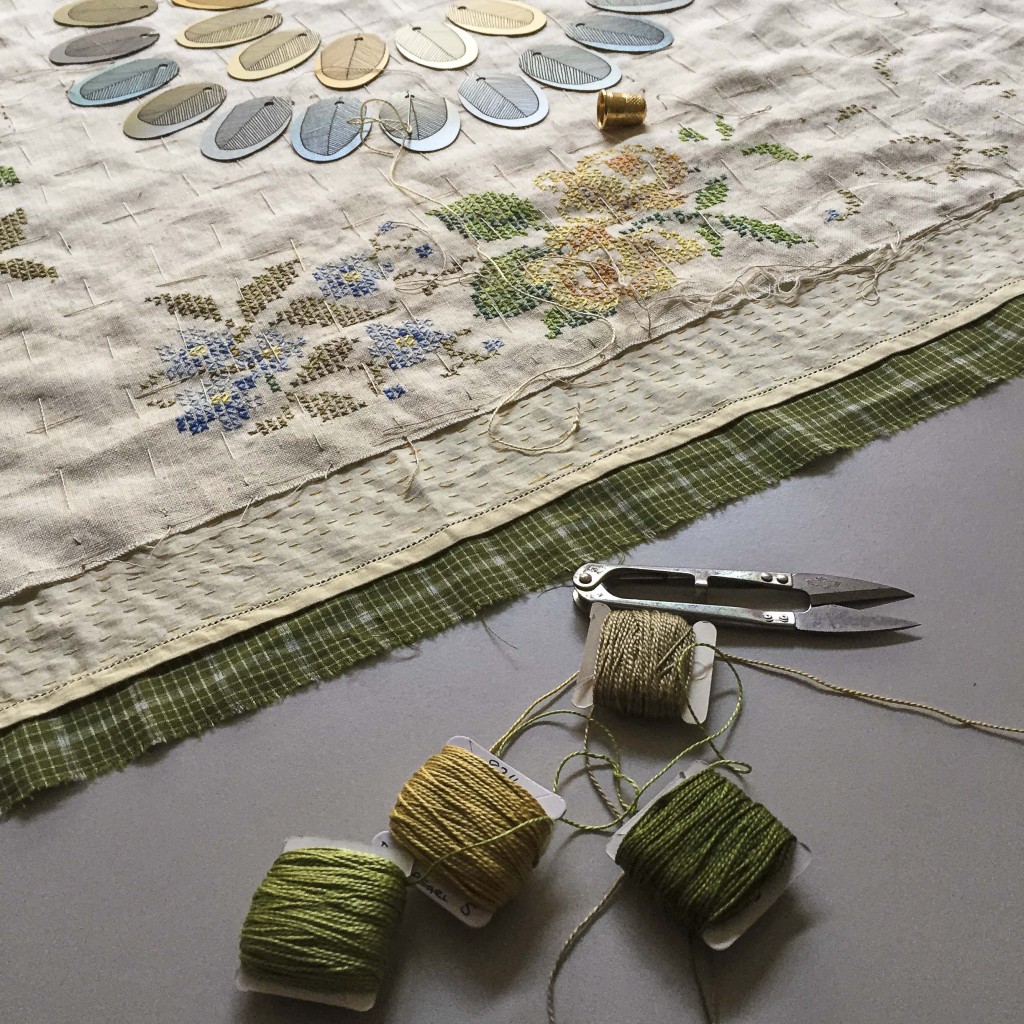 &
I will have some paint chips ready to set by the machine so that I can get to stitch quickly in the next couple of weeks between classes and events and meetings…that is all I can expect for the next couple of weeks sadly….