WEEK  THIRTY-SIX – (sept. 7-13)
I started the week off with lists and a dogged attitude.
It was always going to be a jam-packed week of notes and prep and meetings.
It was also to be the finish line of prep for my first classes in the studio for over a year.
So, inevitably, it was to be a week of writing & prepping & clearing & cleaning.
MONDAY
The many days and weeks spent writing and refining notes for my Design class have paid off and today I am finally satisfied.
They are printed & packaged & waiting to hand out.
Next, there is an agenda to be prepped and sent in readiness for Thursday night's meeting.
Monday is also blog day…my recap time….me writing about me.
So, inevitably, lots of computer busy ness & cleaning up & clearing.
TUESDAY
I have four object studies/files of samples for the design class.
Today I start scanning and importing photos of everything I have done – a big job that will have to be slotted in between other tasks. They will form a Keynote/PowerPoint presentation which are likely be used next week and also, of course, at the OZQUILT Design class in October.
I finished the last stitches on Feathering #3…  finally!
I think this will be framed and may need something special on the mount board – no hurry to decide though – I'll wait till I can get to it's companion pieces, #4 & #5, to the same stage before committing to fine details.
In the evening the bloke and I moved my old family piano.
A few months ago it was a full piano, now it is in many parts.
We deconstructed it months ago and it has been stored under work tables in the studio.
My work tables are clear and the instrumental jigsaw is under my cutting table and shelves and other places where it will be less annoying to incoming creatives.
One day it will be reworked into tables/furniture/artwork?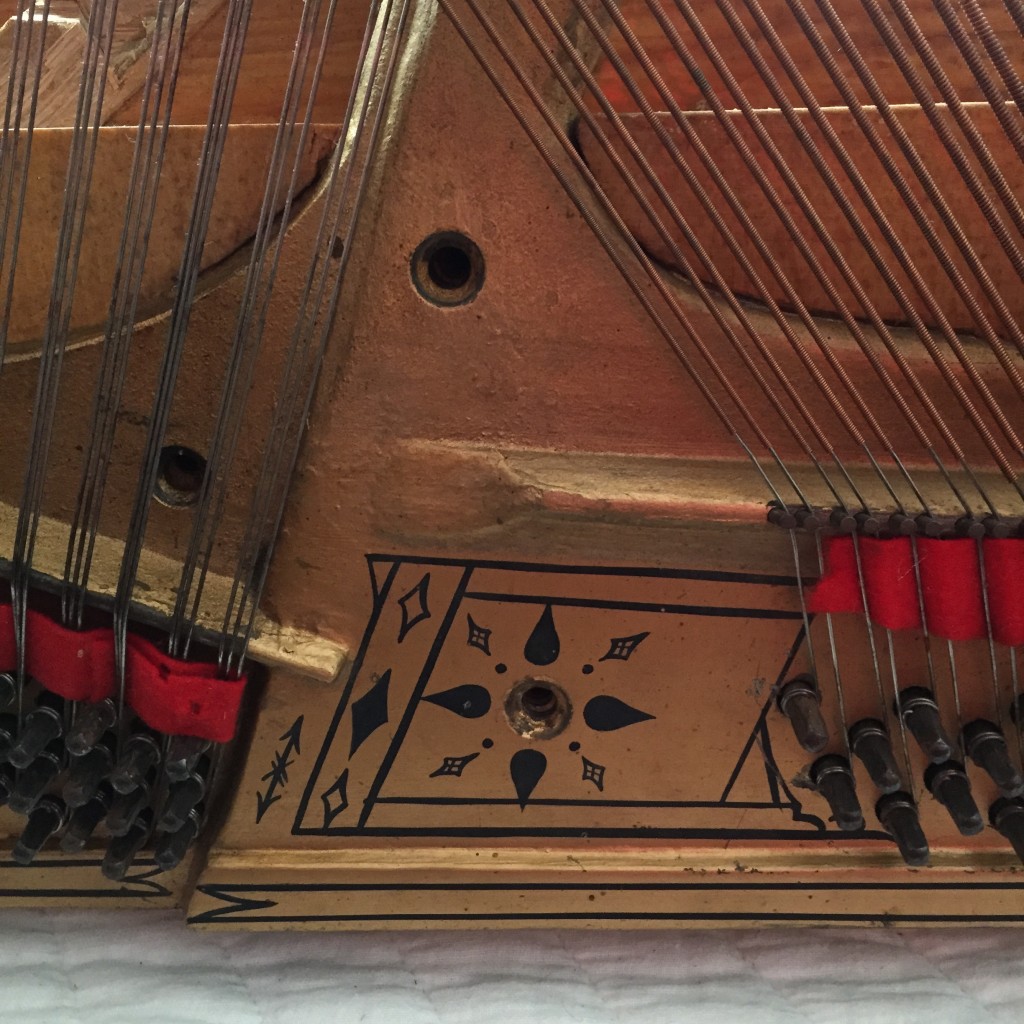 WEDNESDAY
I packed up feathering #3 and finally found time to pack away feathering#1- which has been lying idly waiting for some rods to be cut.
Both moved upstairs and the decks below are clear.
Time for shopping & prepping & cooking & clearing & cleaning.
THURSDAY
After three days of prepping, class day dawns.
I think we had a great day – it is always wonderful to catch up with gals I have taught and worked with and have got to know well.
The word Design is often associated with other D discriptors – daunting & disappointing.
We had all in the most positive D's I think….including daring & delight.
In the evening it was off to a committee meeting but I managed to fit in a bite to eat inbetween doing more of that & cleaning & clearing…it was sort of now or neverish as the next class was in two days and I had Estherday in-between.
FRIDAY
In nap time, on Estherday, I caught up on emails.  In my inbox was a congratulations letter from OZQUILT – feathering #1 was selected for Art Quilt Australia and will be shown in Geelong next month.
&
I'm quietly happy….
SATURDAY
For some it was Dockers day but for a few gals here it was Design class day.
Another VERY productive session but with not nearly enough photos taken.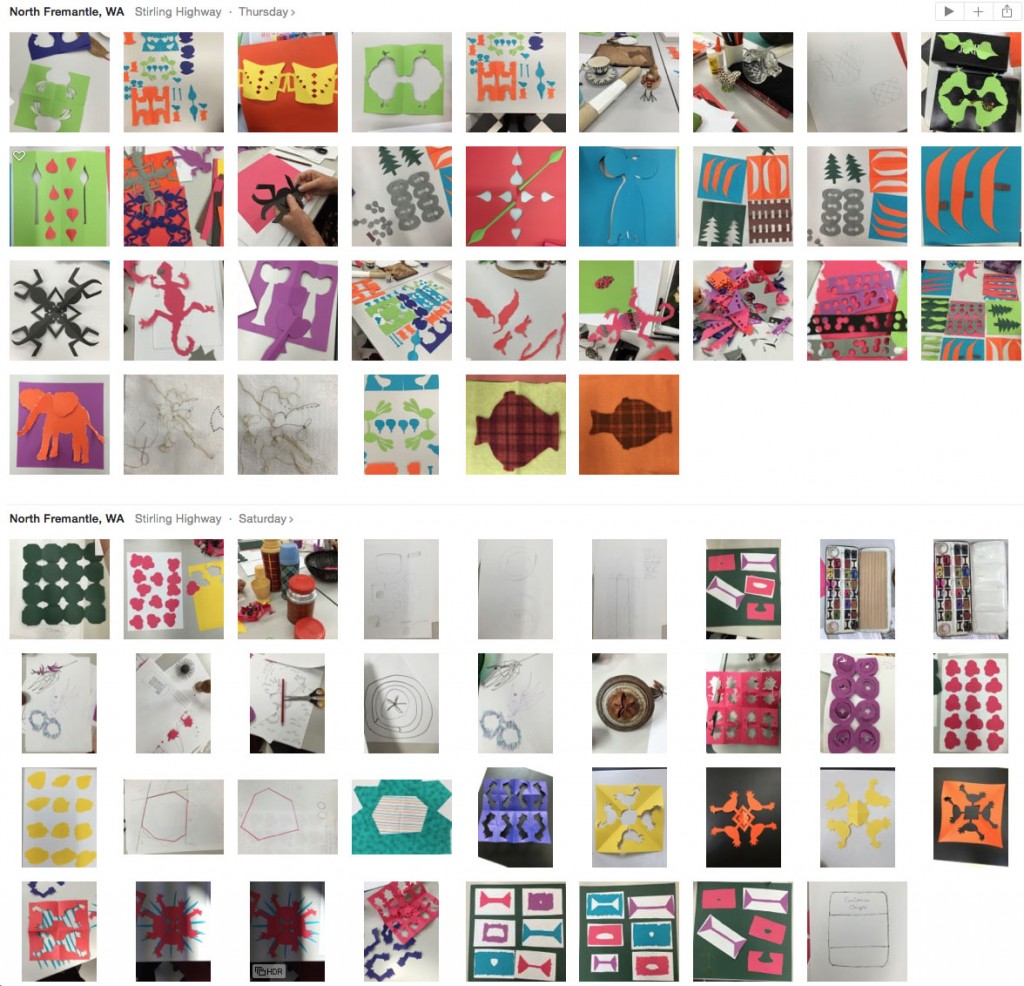 My….it was a blur of a week but satisfying at the same time.
I do miss not teaching & not catching up with lovely people.
I miss the pushing and tug as they work forward.
I love reconnecting.
BUT
this busy week reminds me of the problem of teaching – there is much too much of the "&"…..
the worst being….
"&" with the sewing machine and all my projects packed away a part of me is bereft…
Time soon to nurture my stitching fingers and to neglect other responsibilities for a little bit.