WEEK  THIRTY-SEVEN – (sept. 14-20)
THE START OF THE WEEK
It's been mostly another week of sitting on my bottom-friendly stool.
Another week of tap, tap, tapping….of searching for the correct words….of trawling through and trying to make sense of, and prioritise, emails and documents…
….and of talking.
It is a week where I am at it full tilt with paperwork and meetings for the three groups I am involved in WAFTA, OZQUILT, QTSGWA.
These three groups have commandered most of my attention this week – though the attention seems both splintered and circuitous. All I seem to be producing at the moment is sleepless nights – and that is no work of art.
My body parts are seizing up through too much of that bottom (in)action.
I try to swim 3 times a week but not this week….one swim only.
Until lately I had been in the habit of a daily walk mid arvo, to flex the muscles, to take in the air and the sun's gentle rays, and to clear my brain allowing creative thoughts to flood in. What was a habit has been quickly undone of late.
I have become reactive, rather than proactive, with those sleepless nights a combo of the physical effects mentioned above and not shedding the days tasks….the mental…
It's that middle-of-the-night repetition – where I become fixated on something and I just can't get out of that loop….
The only solution is to rise and read with a warm herbal in hand.
It's then being too tired to get out in the cold and dark to swim my forty laps.
It's then being too groggily in need of morning coffee that I forgo the homemade muesli/yoghurt/fruit routine for quick fruit toast.
It's being too time poor to go for my walk….or too mentally drained to even consider it.
AND
It's being too overwrought/hyped at the end of the day to make a soda water with a delicious squeeze of lime when a glass of white would relax me instantly.
Simply put I am in self-sabotage mode and that overwrought brain is ruling my tired bod.
THE END OF THE WEEK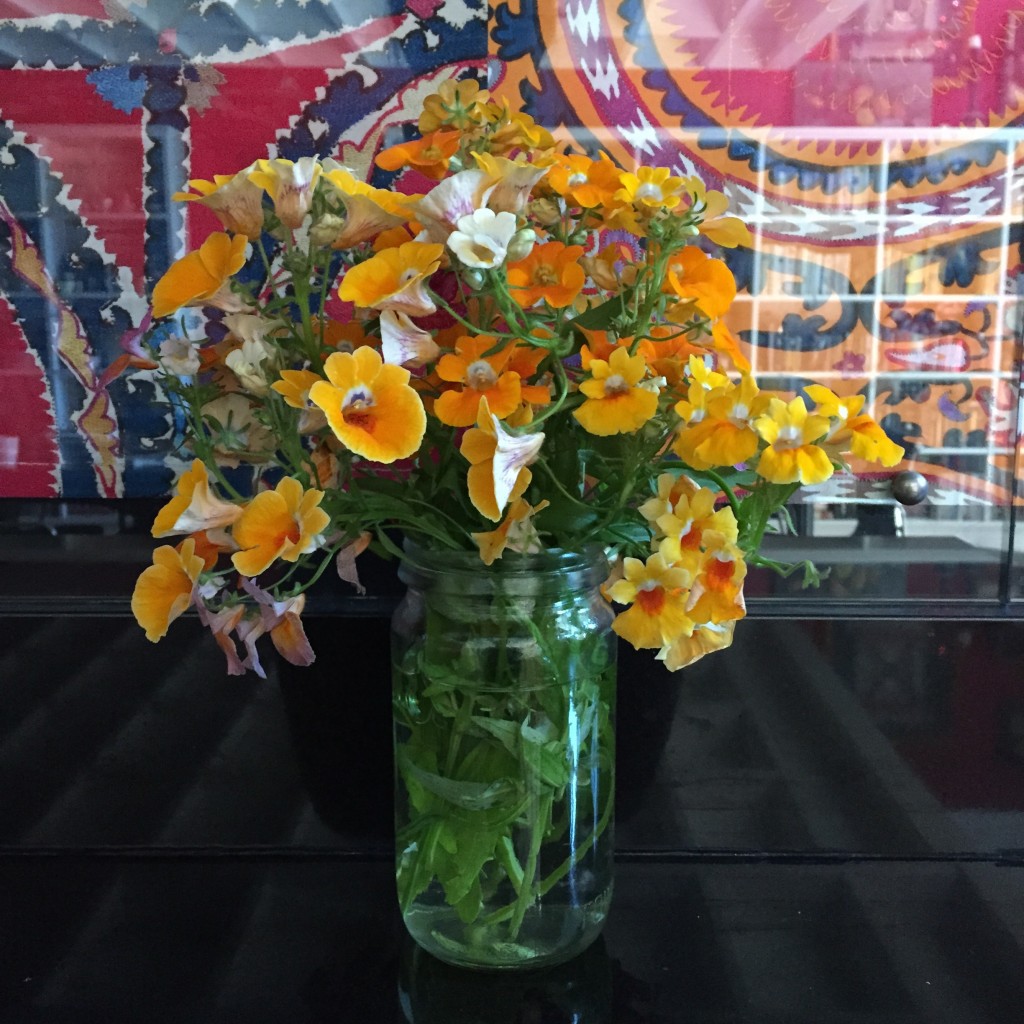 As the week progressed numerous highlights, (pysche settlers?), did start to appear.
As I connected with people who I value highly, the need for that self-sabotage disappeared… and the simple gifts of home grown flowers from those friends certainly help.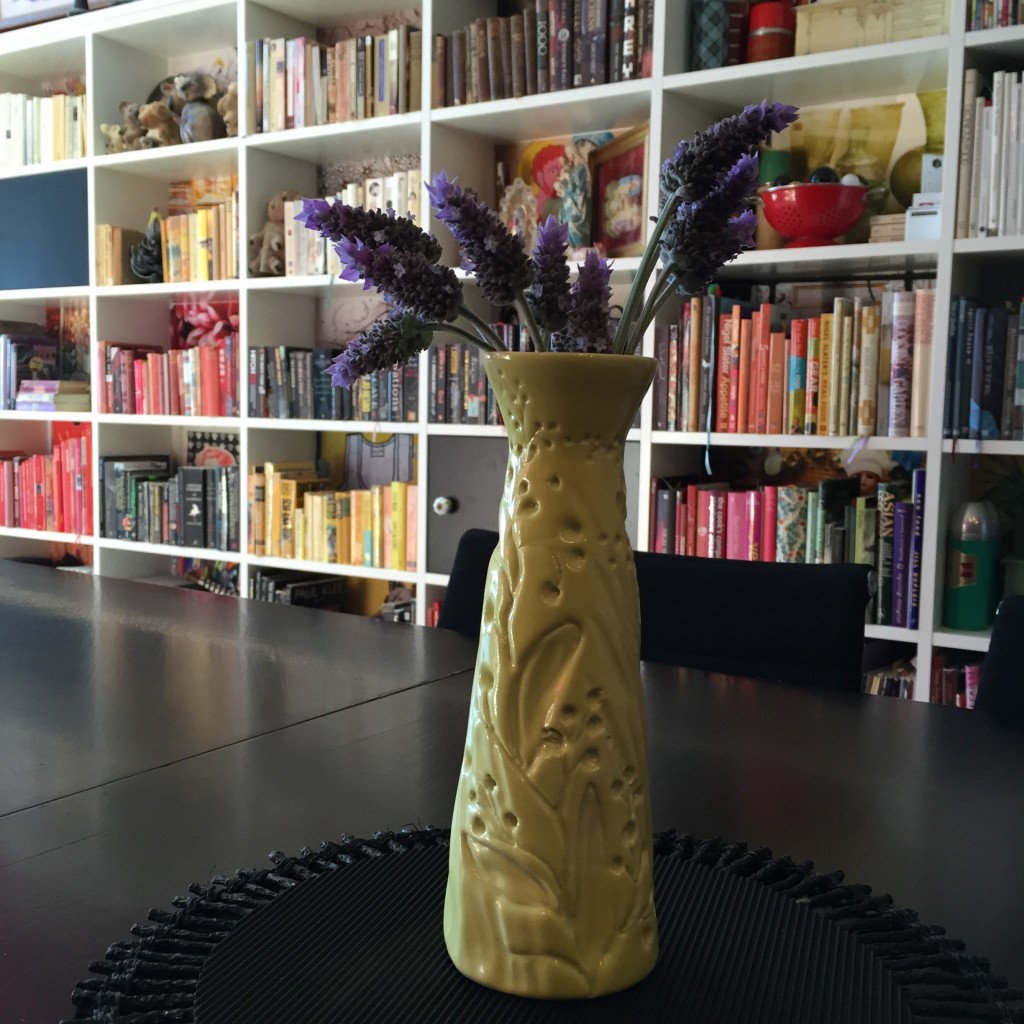 The third and final studio Design class was another treat of a day for me and it helped me to turn that corner.
I've loved these three classes despite the weeks of work involved.
I've loved seeing confidence rising in these gals I know so well.
I've loved watching them knuckle down in total silence whilst concentrating on getting-to-know the object they have chosen.
I've been very aware of their vulnerability – who can draw to the ability they want to?
Who can predict the end at the start?
Inevitably hopes are destined to be dashed….
I asked them to delve beyond what they are seeing and to be open to failure.
But we had no failures.
Instead there were successes, starting points and most of all awareness of process and their own capabilities.
Art does not come from nothing. It takes knowledge, effort, openness and that awareness…
So the class ended up being a great 'turning point of the week' highlight to have.
The next highlight started by way of a quick talk about the forthcoming Design class when I presented a quick 'power point' to local OZQUILT members.
Taking centre stage is still not 'my thing' – even after having to do heaps of presentations over the years, around the world. Sometimes I do it well, sometimes not….
I know that, deep down, some of the week's night worries will have stemmed from this anxiety. Technology did not fail me though, and the many hours I spent compiling the visuals did, I think, pay off. I felt satisfied.
We were at the Wanneroo Cultural Centre to see the OZQUILT touring exhibition 'Australia Wide 4" which showcased 40cm x 40cm Art-Quilts.
Members of QTSGWA joined OZQUILT members upstairs to listen to the President of OZQUILT, Margery Goodall, give us an informative, thought-provoking guided tour of the exhibition. It was very worthwhile.
Even though I had seen the show online, nothing can compare to seeing textiles in the flesh and being able to share conversations about the pieces.
There are some beauties.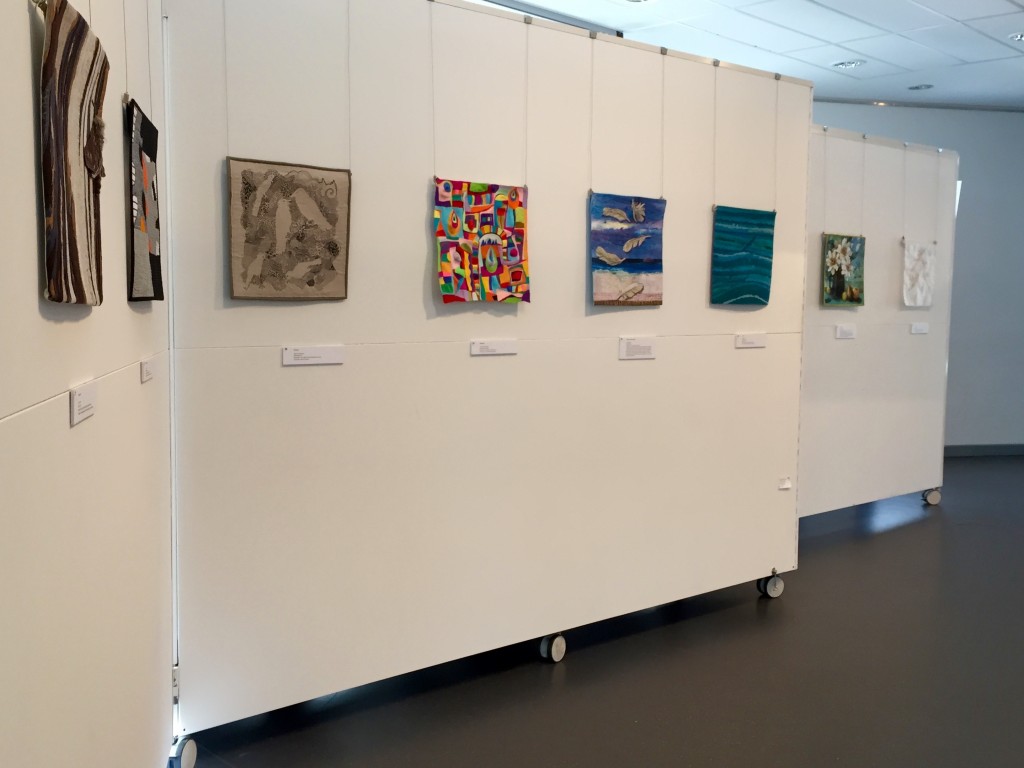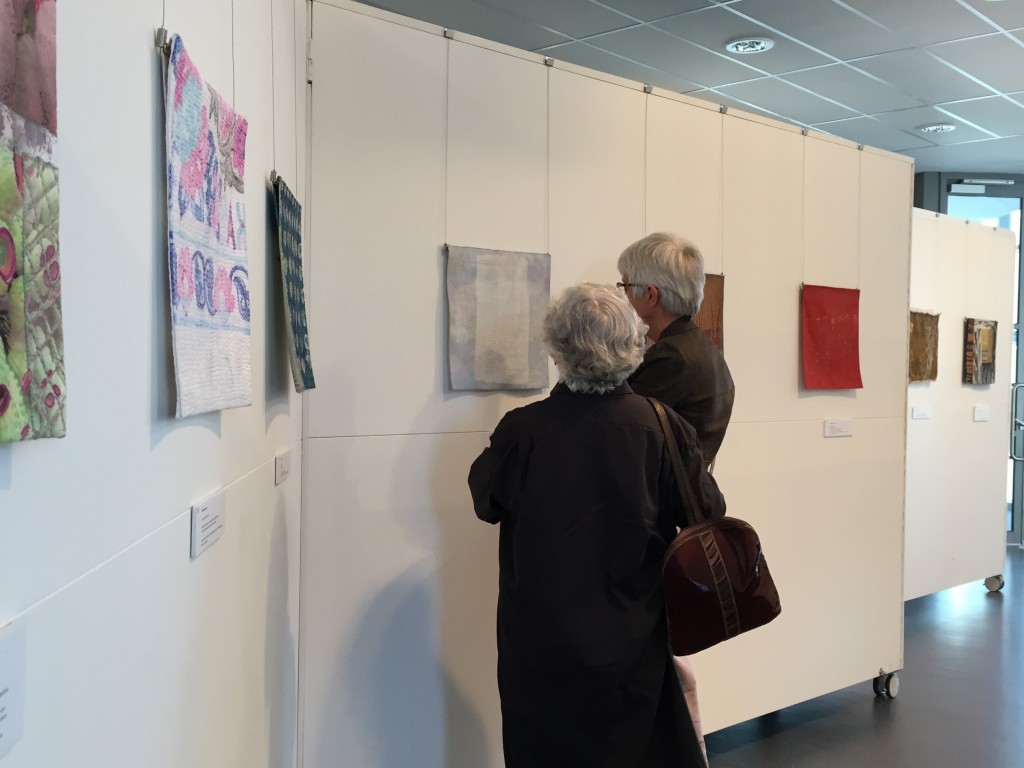 Thinking as I write I realise that it was also a mini meeting of WAFTA, with most of the attendees being members of at least two of these three textile-loving groups that I belong too.
There is something very symbiotic about that…..my start of the week panic/chaos because of the three groups,  the end of the week 'celebration' with members of the those three groups.
A very difficult week, a very valuable week…..