WEEK THIRTEEN (march 28- april 3)
As it is now April  – a third of the year is gone.
It is rushing by – though some days I ease forward and some days I go round in circles.
This week it is a combo of clear straight line vs plodding….
The week starts with Easter on its final bun/choc filled days.
The family-filled little house is emptied/exited in a rush and then the bloke and I begin our quiet clearing and cleaning and setting straight.
Home to washing and a catch up on computer tasks in preparation for post-jury day tasks…..essentially we need to go back-to-base and start over with twentyONE+
Stage two is starting and we will be plotting a clear straight course on Thursday night.
I needed to clear my big worktable for the meeting, I needed to move the many works-in-progress and feather possibilities elsewhere.
This sort of movement is usually worthwhile even though it may seem to be a bother.
As I clear space by putting away things that are no longer needed – usually because they were pulled out and assembled as possibilities – I reassess the merit of these nascent works.
After a few thoughtful sessions I have four solid paint chip feather works ready to be held down.
I think I'm moving in a clearer straight line, no plodding right at the moment?
It feels good but it will feel better when they are complete…..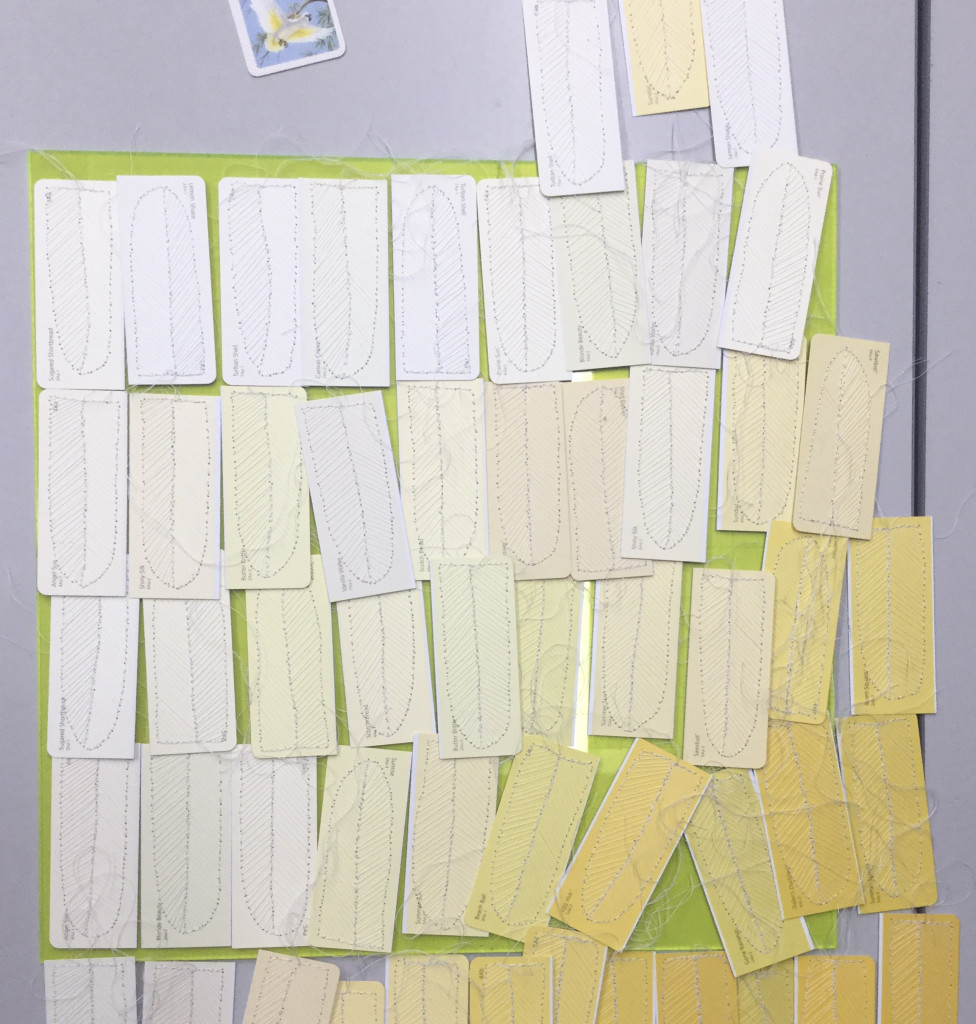 I eagerly stitch in between tasks.
The sewing machine is switched to economy mode so that I can produce a feathers while the kettle boils and I can produce three whilst going downstairs to clear my head.
They are being pulled slowly, quickly, intermittently, almost erratically into existence.
I want to be working at them with steady vigour but other priorities exist for a while yet.
One of the tasks that I have had little time for, but now get started on, is setting up a webpage from the Quilt & Textile Study Group of W.A.  My next deadline for having this functioning is May 21.
There is a lot of history to go through. Visits to be written up. Photos to be edited.
It is an increasingly important task to me – to go a little way to reporting on the hidden Textile gems that can be found in Western Australia.
My nose is hovering in the vicinity of this specific grindstone….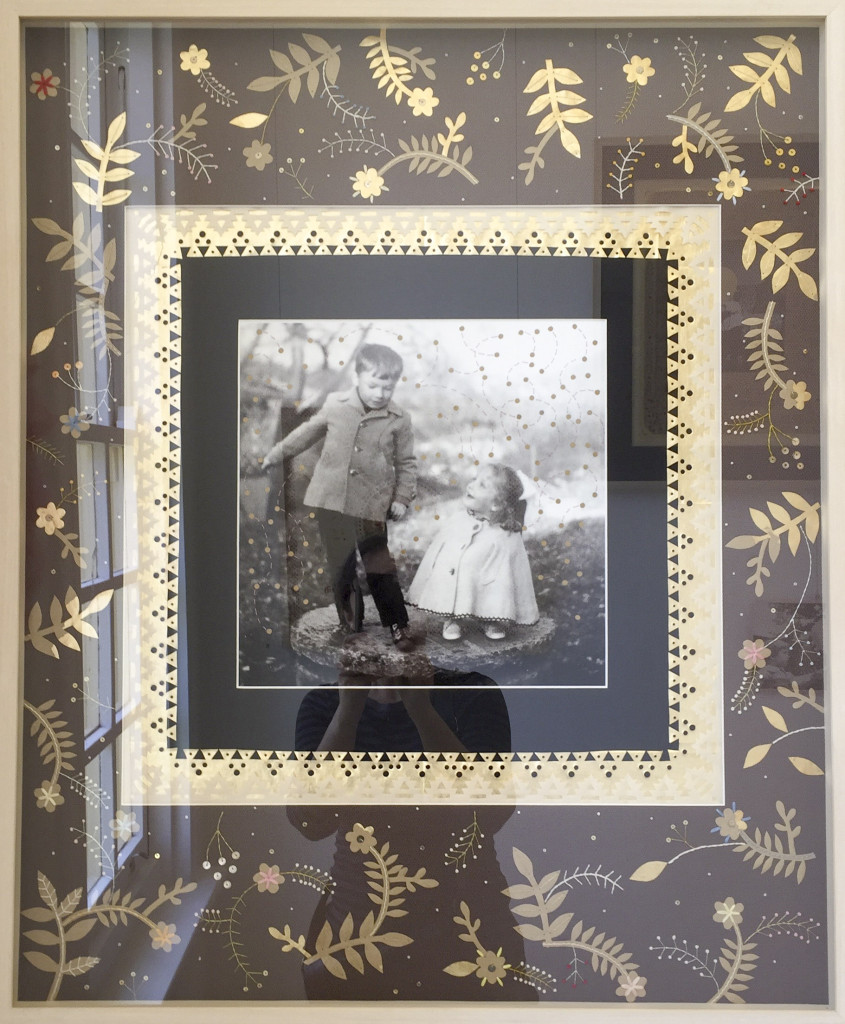 On Thursday I make time amongst the out and about tasks to revisit Improbable Returns that is still on at Heathcote.
The QTSGWA visited and we listened to Elisa talk but I needed to have clear 'head' time…time to explore on my own with notebook or camera.
The revisit rewards me.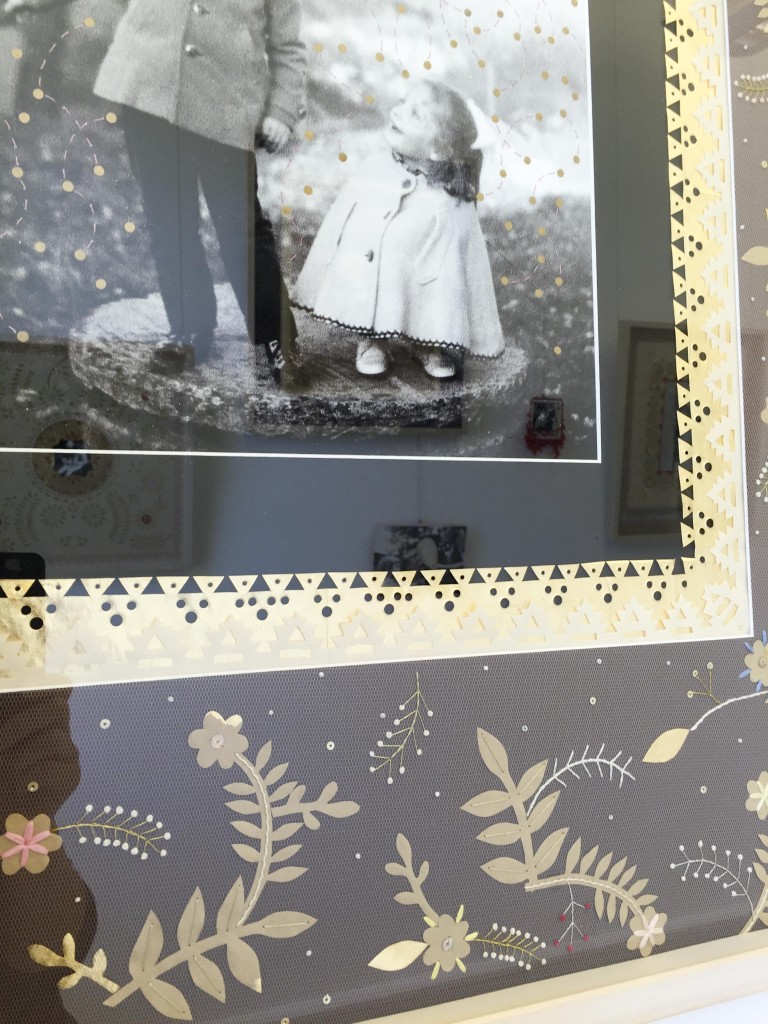 Friday morn is filled with tasks starting VERY early.
I am off down south again with Miff, her two little girls and our chief protector – old tough/softy Riley dog.
Sunny days playing and cuddling and cuppas.
Crisp clear nights, ideal for star spotting.
We pull out and lay down cushions and lie in the yard flat on our backs.
Three satellites and one shooting star within a few minutes then zilch till our warm beds called.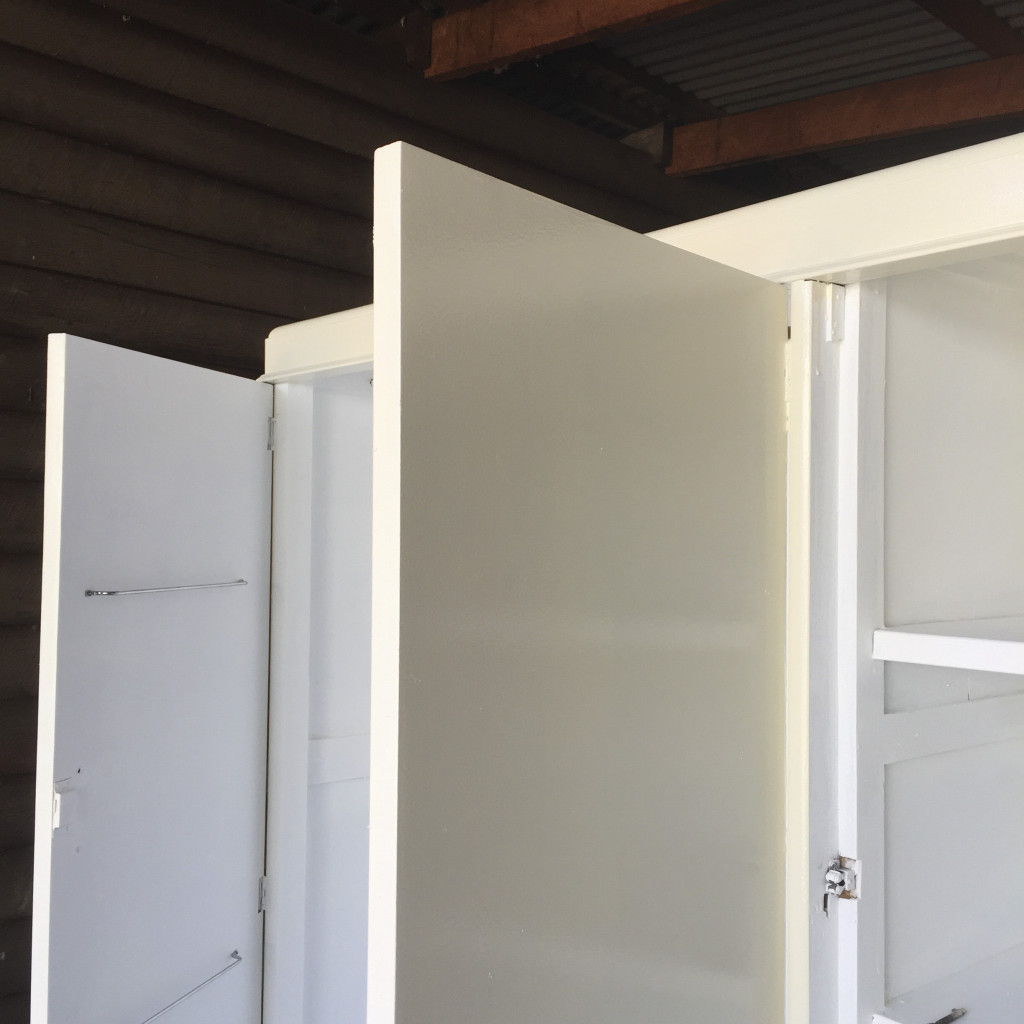 On Sunday morning before I leave I coat the wardrobe that is patiently awaiting attention.
Next stage, best stage, is to start scribbling all over it:) Here there will be lots of short straight lines and maybe some curves….plotting/plodding on this task will be fun.