WEEK THIRTY-ONE (august 1-7)
The painting continued and more white paint was flung …. and I ran out to get more!
By Tuesday arvo the painters tape was off, tiny touch ups were done and I set to scrubbing the edges clean.
I then needed to make a box and sent off my quilt, money and paperwork to Ozquilt for the upcoming Australia Wide 5 exhibition which starts off its tour in Bunbury Regional Art Gallery.
Bunbury is going to be a hive of textile/artquilt action in September as the exhibition opens alongside OZquilt's annual conference – this time with the moniker Bunbury Bash.
A must see if you can make it….alas I will be in Mongolia….happy/sad.
Then there was the blah job of scrubbing and replacing shelves.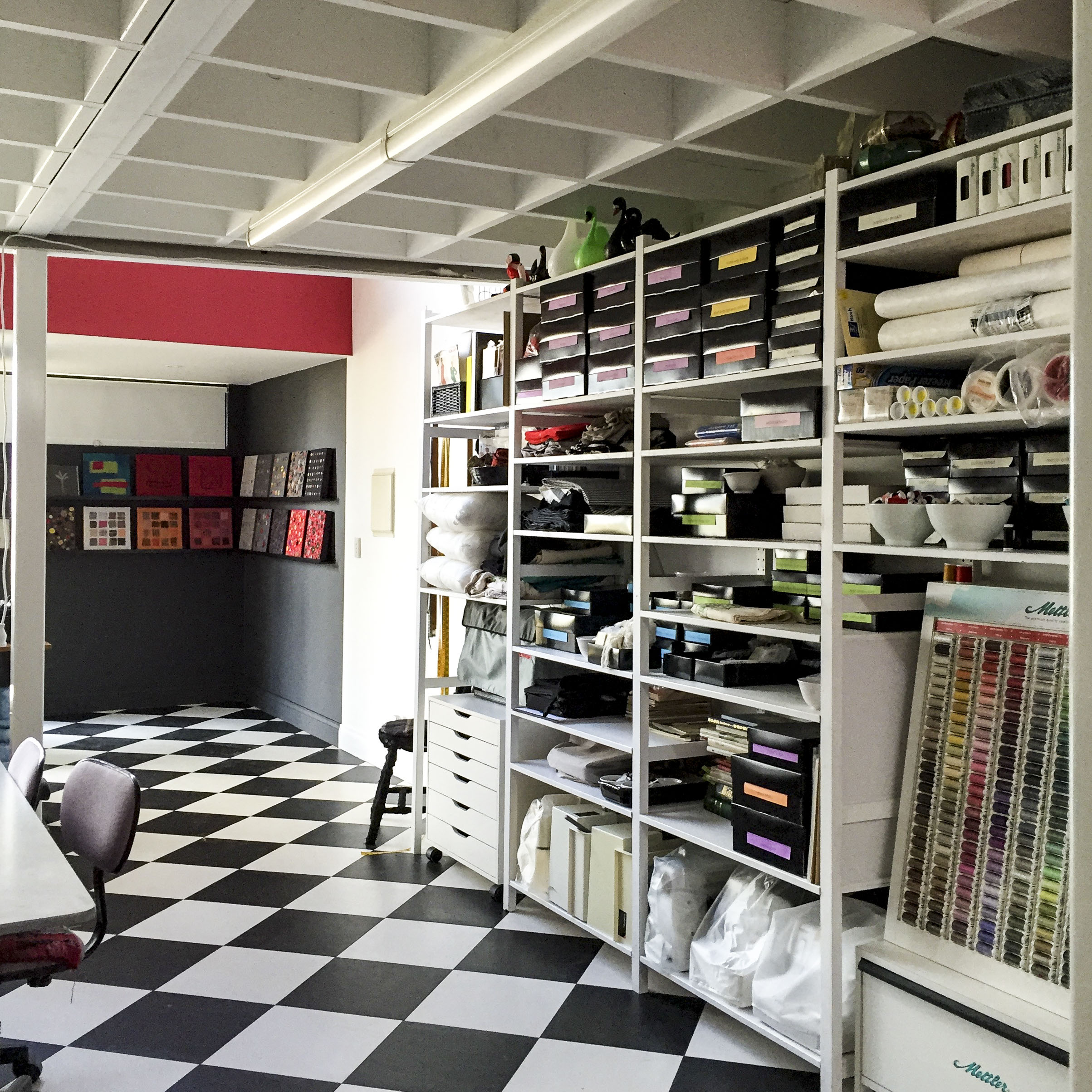 The not blah job was playing with my project boxes…. I get excited yet again at the laminex, the paint chips, the doilies and the bits and pieces that I have lined up to make artworks or to prompt the making of artworks.
These well marked books are in the very precious, full of great ideas and brilliant sparks pile.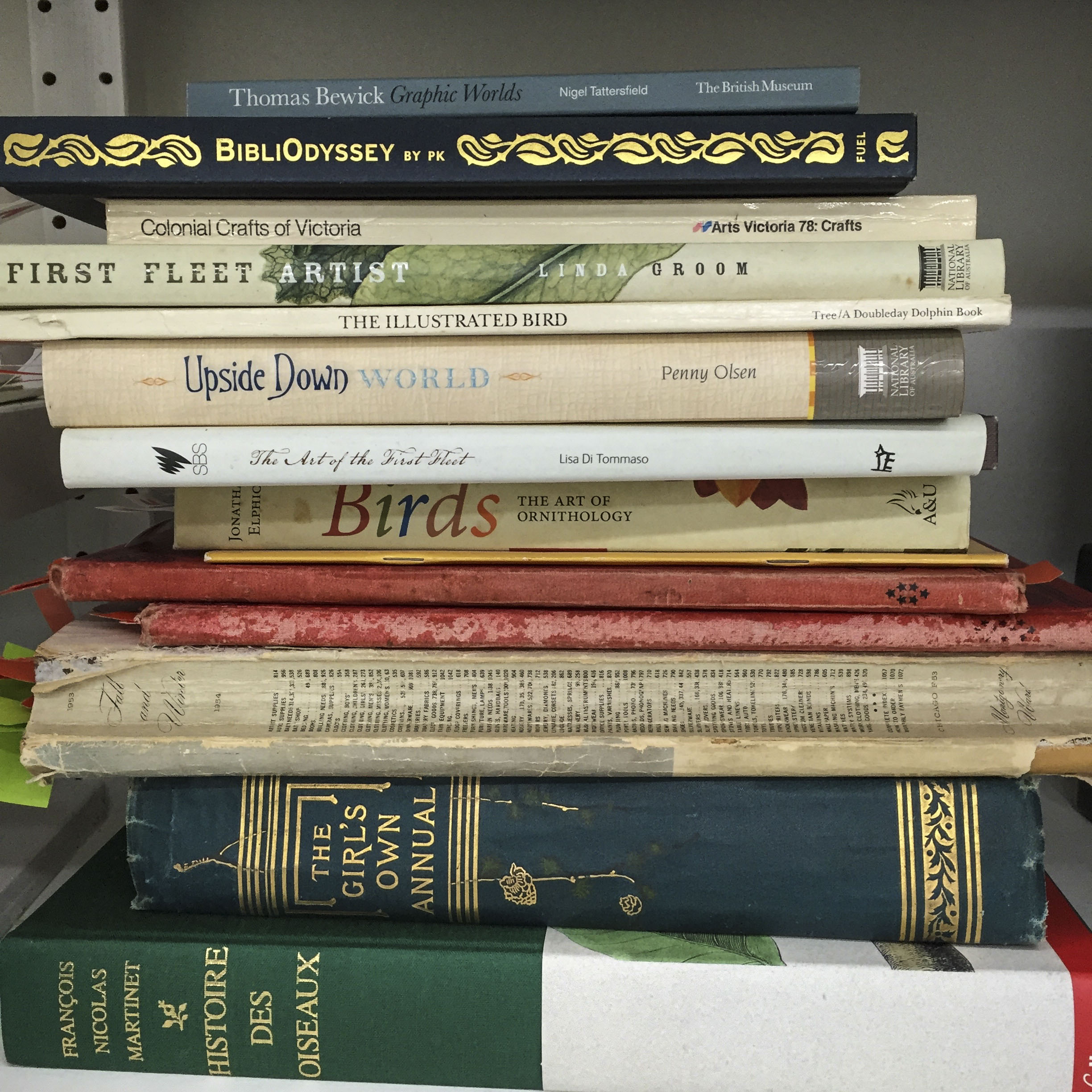 At the same time as I get excited about future prospects I try very hard not to turn despondent…my output is so minimal, and currently mostly deadline driven, that it is hard not to be feeling a bit poopy about it.
As always the low moment of if only I didn't have to shop/clean/walk the dog/talk to people…then I could achieve/ I could make, I could create non stop!
Stupid and unrealistic head chatter.
My life is good and my life is normal because of these 'interruptions'.
I have lived with big work priorities in the past that take over normality and I know that ultimately that loses its appeal and becomes even more unhealthy.
By Wednesday I am pinning up the flannelette on the design wall. It will suffice for the while and I won't replace it yet.
I still need to cover the stapler/pins to tidy up the edges…. sometime….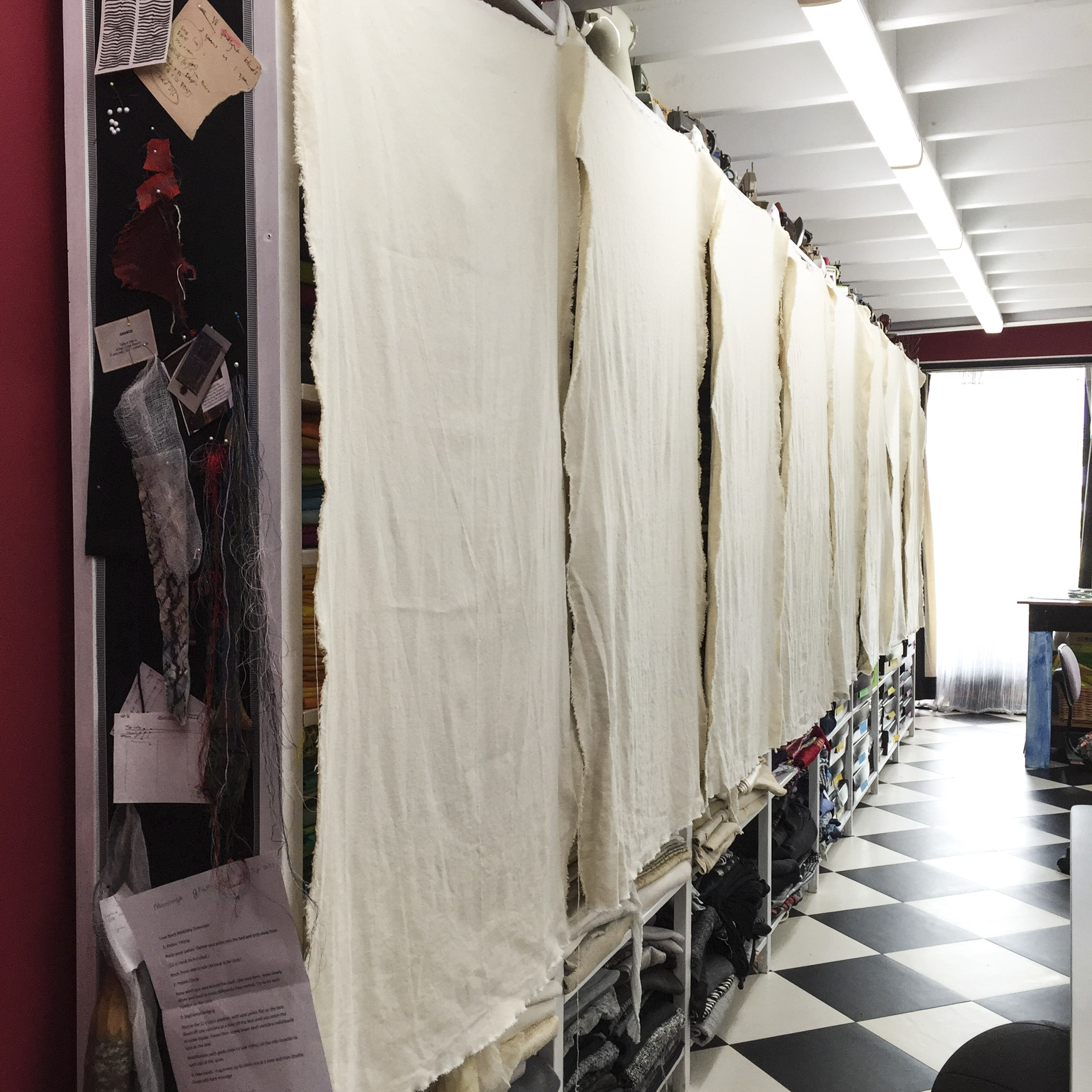 I also need to slowly set to making fresh covers for my 'fabric' shelves.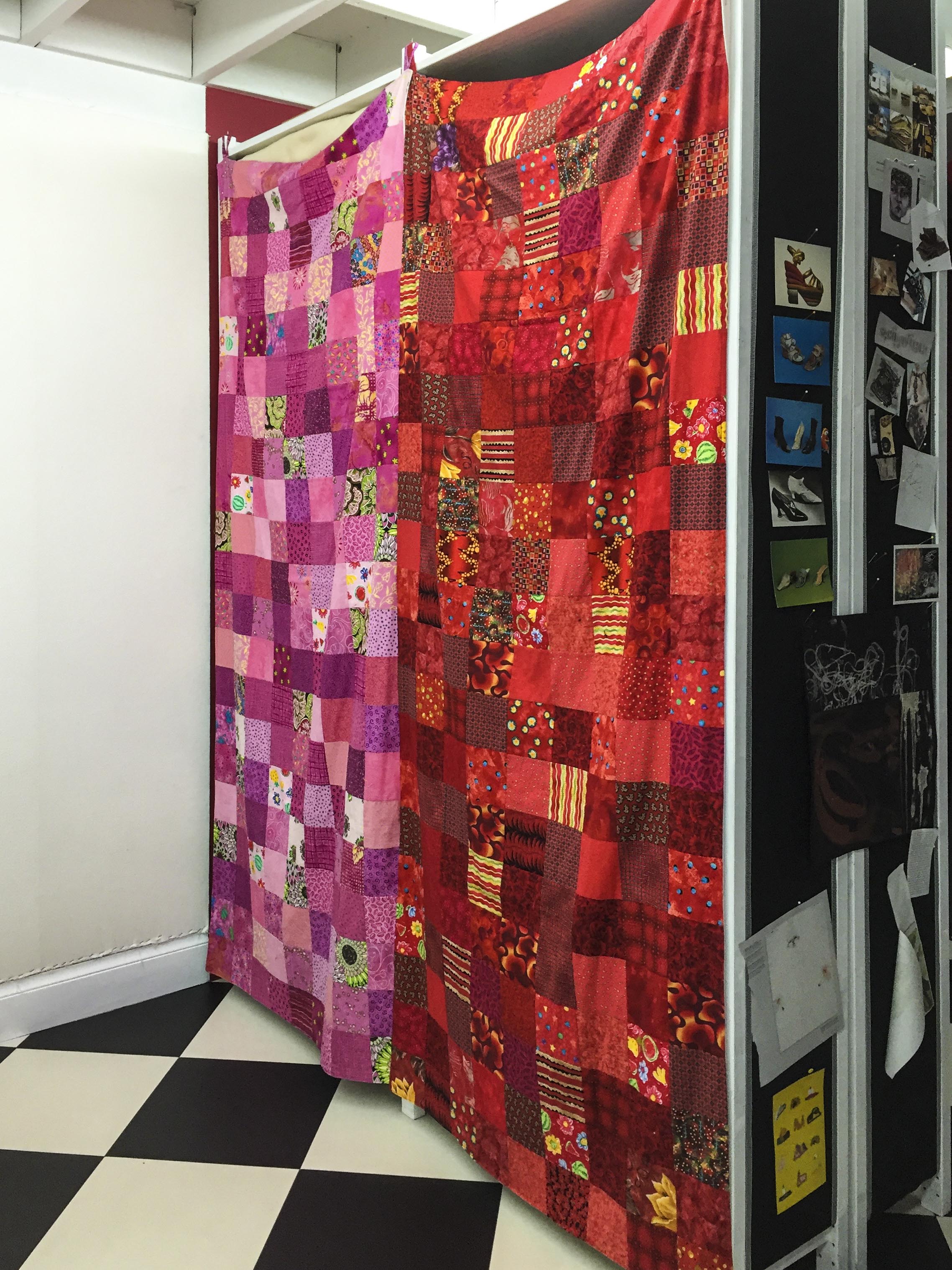 The previous versions were made whilst we camped amongst our renovations yonks ago. Dated they certainly are….and I sold some at the studio sale to force my hand to remake.
I need absence of colour but don't want sensible all white. I don't want cupboard doors as I often pull the covers off and celebrate the fabrics and notions and the joy and inspiration of it all.
I'd love blinds but I just can't find anything streamlined and economical enough.
The temporary covers that I strung up a few weeks ago, cut from an enormous roll of hemp, will now be the base of a slight patchwork of black slivers/ stripes/ borders…..whatever happens basically.
They are too 'creamy' for my liking but I'm keeping this simple for a change.
It will be a slow project that will start one day and finish many, many, many weeks later.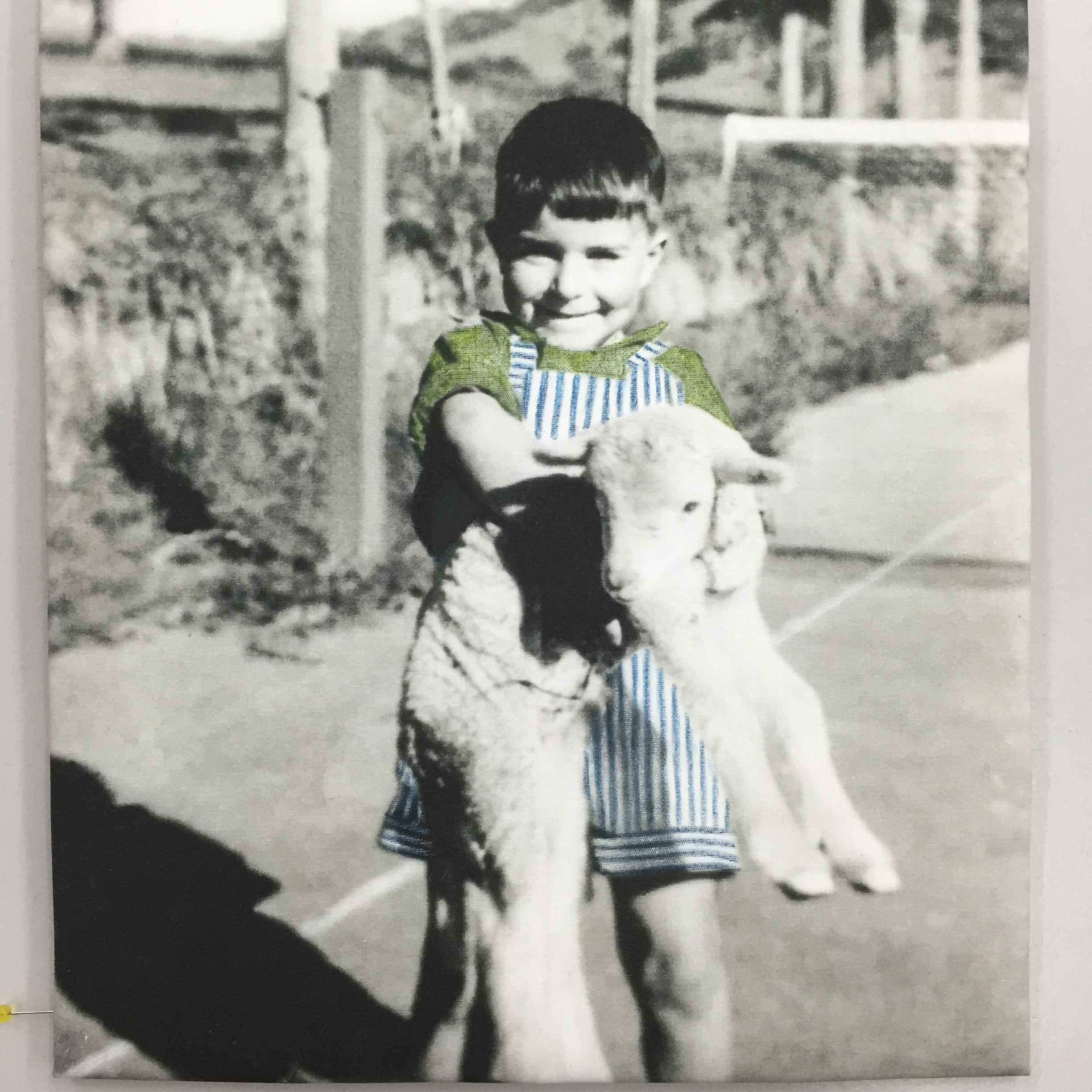 I finally start working on the fabric print of 'Robbie had a little lamb' that is needed quite quickly. I had planned to stitch on the photo – as I have often done on these photos on fabric.
Instead, after a lot of to-ing and fro-ing I return to using Derwent Inktense pencils and I colour/redesign Rob's overalls and shirt…unrealistically/artistically mind you.
I will frame it next week, likely adding more details as I do.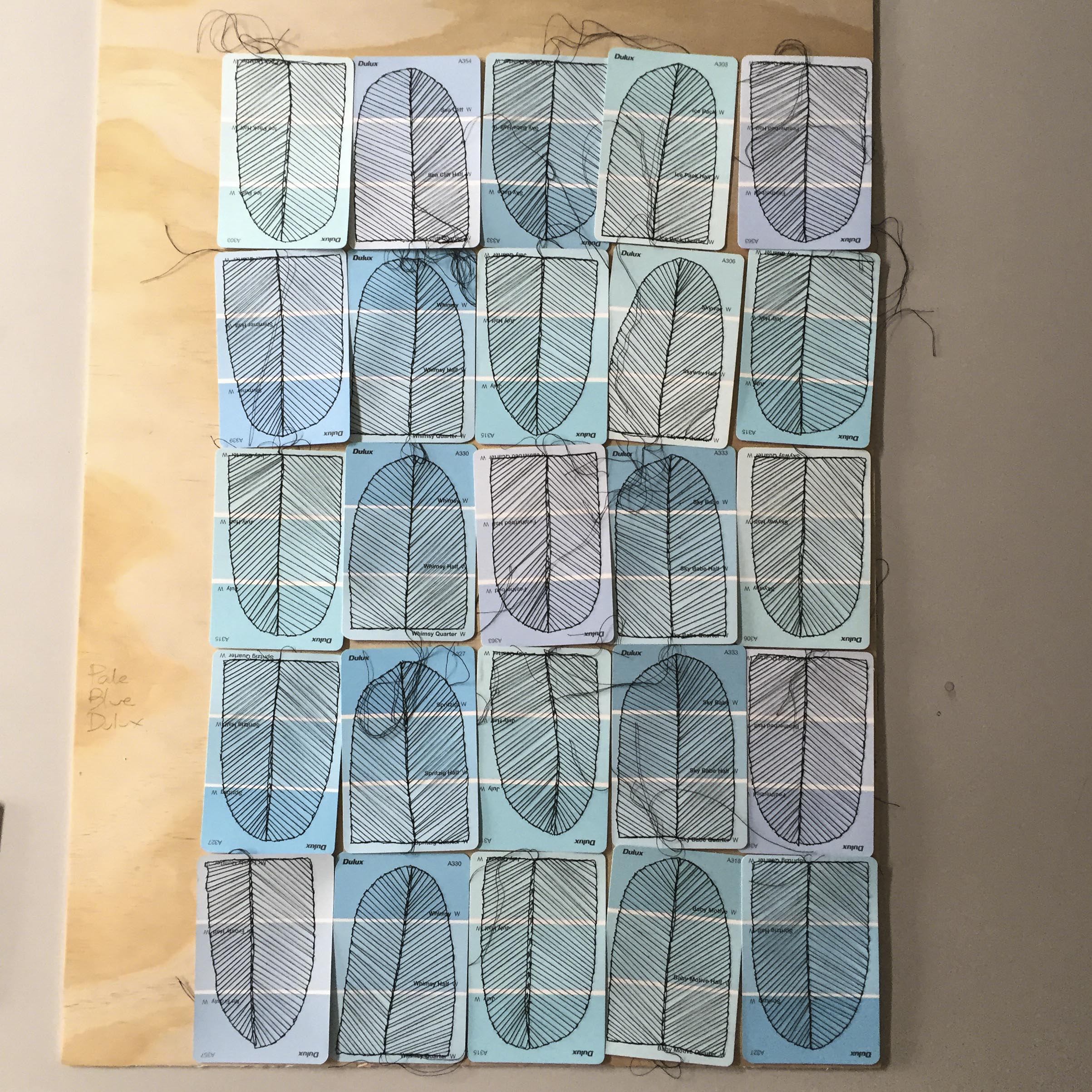 I also measure and organise some boards to frame paint chip feathers, new, and big, and small, and then using scraps. The bloke is going to make a pile of frames/supports for me.
We head off to our little house on the weekend with old friends/old neighbours and we were mostly hunkered inside due to the cold and the wet…it was lovely. It is not often I allow myself to do precious little down there – though either way it is a wonderful escape from routine.
In between showers we walked to town to visit a new 'old wares' shop.
Later a drive took us to the Forest Heritage centre where the bloke became extremely excited by the woodworking facilities which he hopes to be able to use soon…I could happily cope with that as I can keep him very well occupied….. getting those frames made would be a start!
Save
Save
Save
Save
Save
Save
Save
Save