WEEK THIRTY-FOUR (august 22-28)
First cab off the rank in this to-be-gentle week was another set of cushions – three needed, again for the third/front bedroom at our little house. Nothing too considered is needed as I am simply using up three inserts that have been taking up space, black fabric that I recently dyed, and some corduroy scraps.
The overlocker zooms through the fabrics, the simple and quick press stud tape closure is in then…catastrophe…. I put my finger plum through the corduroy!!!!
A tear test on offcuts revealed the worst – a compromised warp – BUT as I was minutes from completion I patched, ignored, and continued as if nothing had happened.
They will last as long as they last and will be replaced when necessary.
The bin then made a meal of some defective fabric….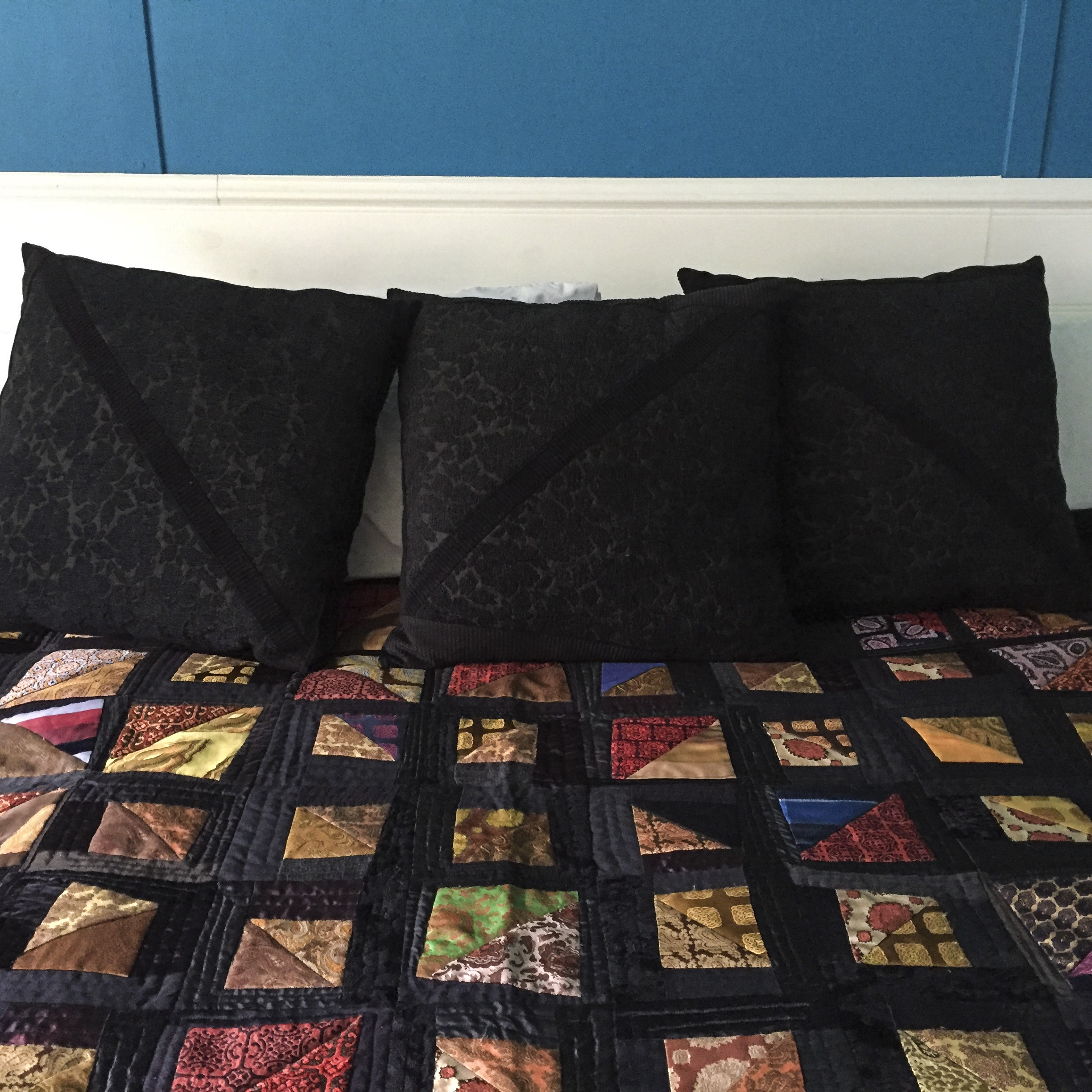 The next thing gently crossed off was a quick coat of paint.
My cutting table legs have moved from a bright blue wash to matte charcoal.
Tick, off the list, done….
The studio is tuning down to mute.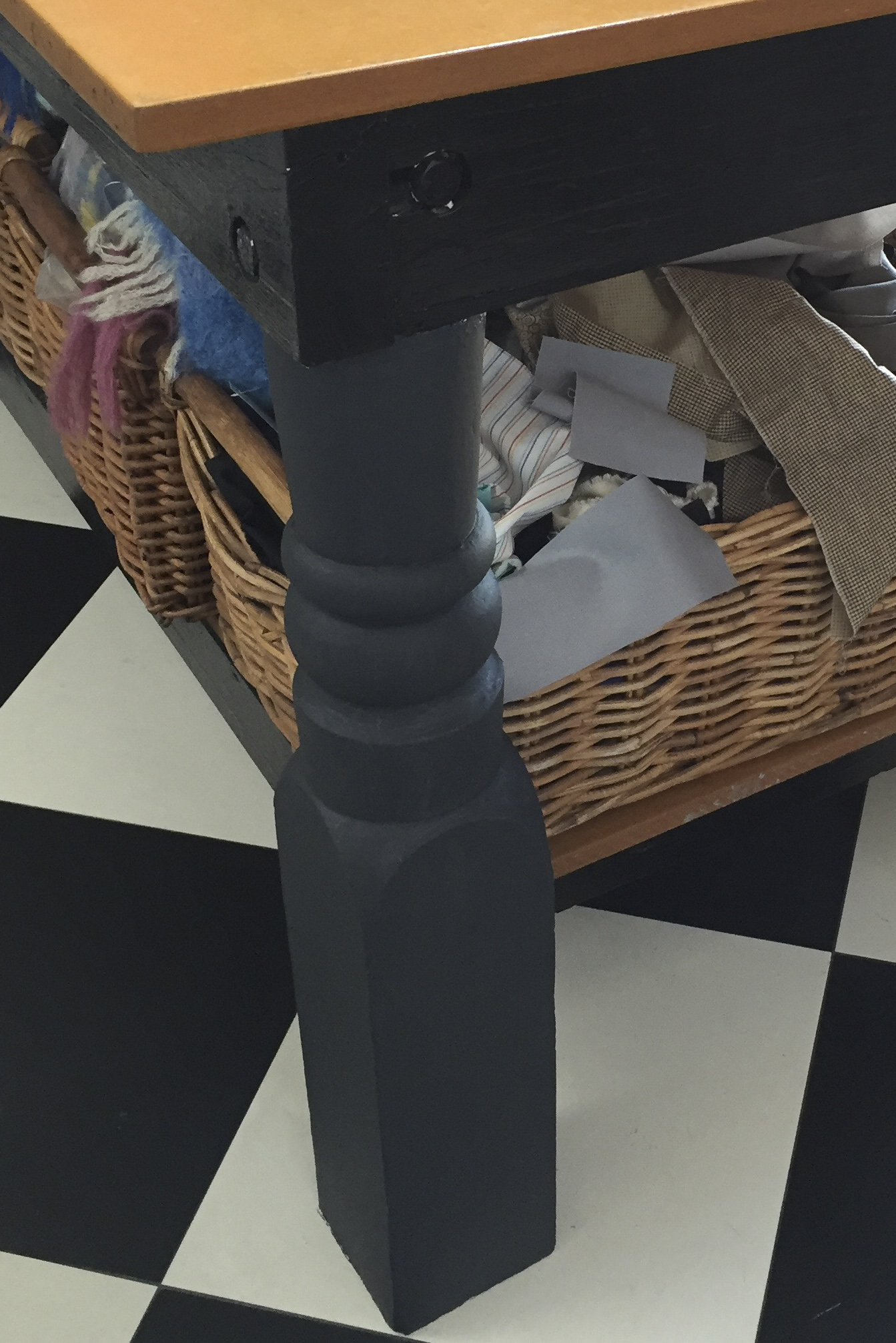 I gave myself no chance to overthink either of of these projects. Big tick! I am learning.
At the back of my mind for weeks past, and undoubtedly for the weeks to come, is my impending trip to Mongolia. I've now made a start on piling up things to take with the aim of making this my lightest ever trip – luggage wise.
I have my cameras out and have decided that my little and very old Sony Cypershot, that has been on many trips, is not coming and needs to go to Camera heaven.
Partly because I would need to buy new batteries and a slew of new cards.
Partly because it does not shoot raw like my big camera.
Partly because I want this trip to be a very lean and light pack and I need to keep clearing.
My 'big' camera has an extra telephoto lens that will be great for the long vistas… and even though I am generally not a long vista afficionado they are starting to interest me much more.
I am also looking for a night time/quiet time/busy hands project to take ….I will try to make a skirt to stitch on as I did for the Uzbekistan trip……see above and below….it was a great challenge to fill up an area of the hem with what I saw. I also wore this work in progress as often as possible.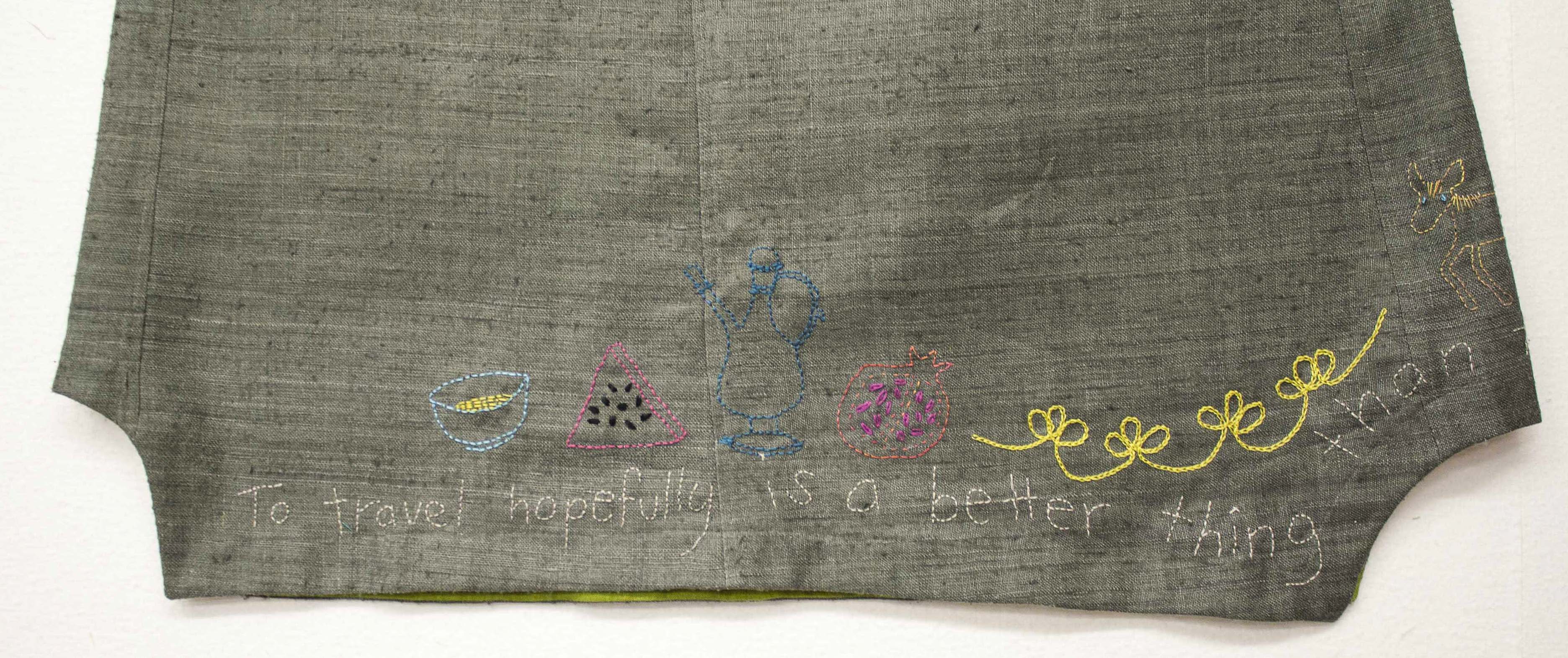 …..but just in case that doesn't get done I am working on a back up ….paint chips…..again.
I can see myself sitting quietly and divesting myself of the inspiration of the day through these. I have trialled pencil drawings – the palm tree across the road is loosely depicted.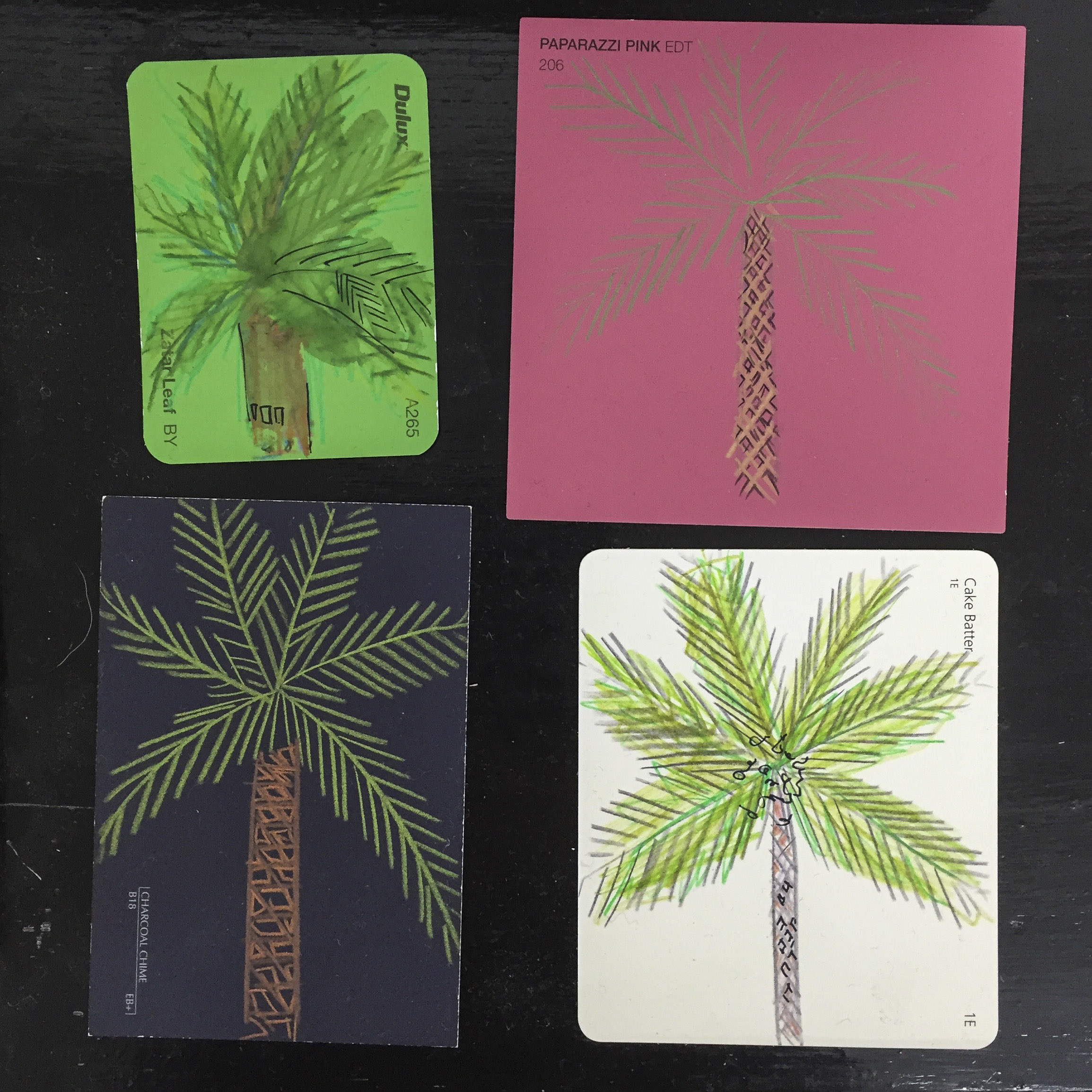 Like many bods I am daunted by white paper…it blocks me…so the paint chips in their non precious colour-full variety appeal.
I am not sure whether I will take pencils or watercolour pencils? I tend to prefer the clarity of sharp lines BUT I also have thoughts of stitching over these drawings on my return home – so for that watercolour may be a better look?
I'll keep testing.
I also quickly superimposed a grid on two paint sample cards.
I then divested the machine of the thread and sttiched holes for handstitch with perle cotton. Nothing special – a simple busy hands exercise finally…..I do need more things like this but I also don't want to waste my time chasing the ideal long term project that I hanker for.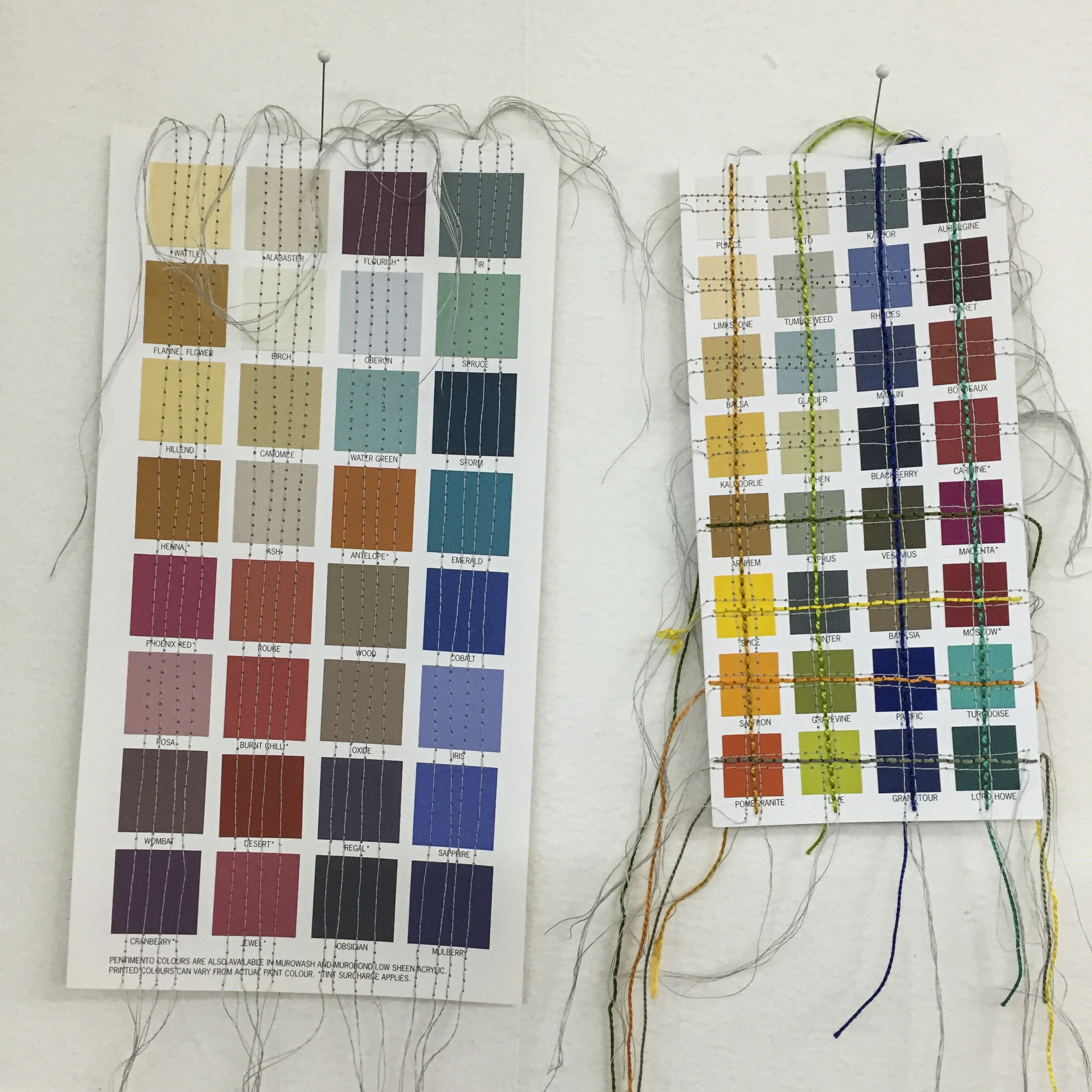 Thursday was Class Day – although I ran it with only three gals, as we lost our fourth the week before.
Two were starting afresh with new challenges, the other was on the completion home run. Such a pleasant day with good friends and no pressure. Good outcomes.
Lovely.
The studio was quickly returned to my mess with my machines up again quickly and paint chip board WIP's arrayed.
I spent time finishing stitching some piles of paint chip feathers.
I spent time re-arranging paint chip feathers.
I spent time prepping boards for backing the paint chip feathers.
Then the end of the week, a Friday morning Esther and Flick sit whilst Miff had a turn at the sewing machines.
Then a Friday night race  to our little house to be with our youngest grandie this time.
Getting to know the little ones over the course of a weekend is part of the reason we have this house.
The extended family familiarity is a tonic for all of us.
Save
Save
Save