WEEK THIRTY-SEVEN (september 12-18)
For the first time I am posting before the week has ended… in a matter of hours I will be off and away for another dose of cold weather –  this time in Mongolia.
Excited – you betcha!
This will be my fourth tour with Gabriella Verstraeten and the ease of traveling with her, and with a tour group made up mostly of bods I have travelled with before certainly helps. That, combined with packing, and unpacking, and repacking…. for weeks... should mean that I have the correct mix for all weathers and events….hopefully!
I have just been perusing a couple of books purchased during our memorable trip to Uzbekistan and Krygystan,which points to a certain shared aesthetic and history with Mongolia, though each country remains unique.
Because of my much more considered pack and prep I am itching to get going.
Can't wait to photograph and draw and meet the locals and generally absorb.
So much so that for the last few days I have wanted to draw on those paint chips whilst reading excerpts from those textile books.
The week has hurried by slowly….or slowly hurried by?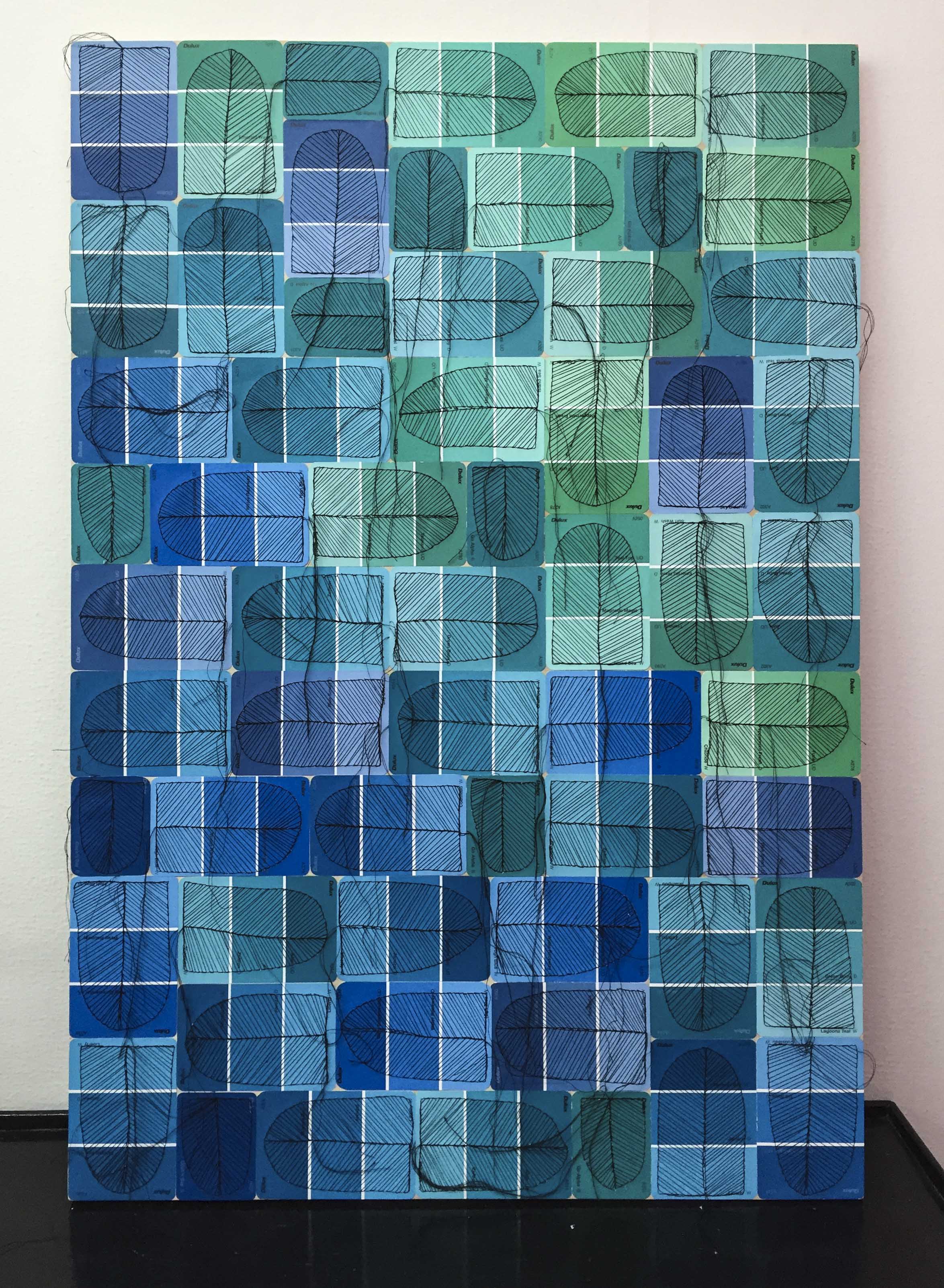 Mid week I finished another paint chip board over the course of two days. Though as soon as it was complete I rotated it around to the left which suited me much better
and
I prepped two more ready to adhere.
This prepping takes forever! Trying to get the balance correct I run upstairs and down, looking over my balcony to gain perspective/distance.
I take photos sequentially and compare and adjust continually.
Then I often need to stitch more feathers or remove handfuls of a colour that just don't end up working.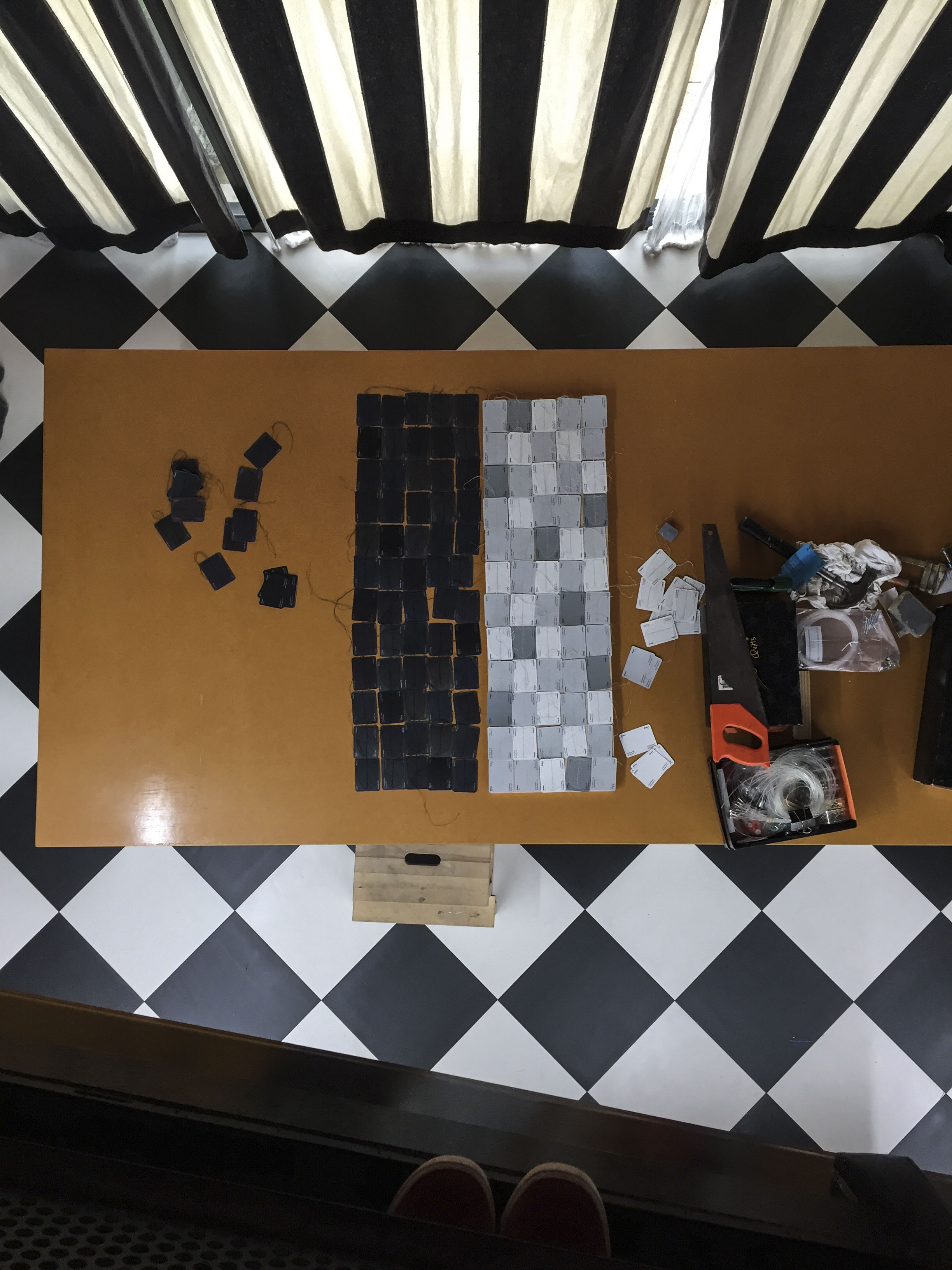 I had hoped to have them both stuck down and finished but nope….. a busy week and weekend got in the way. Though just before the families arrived for Sunday dinner I had one adhered. Yay!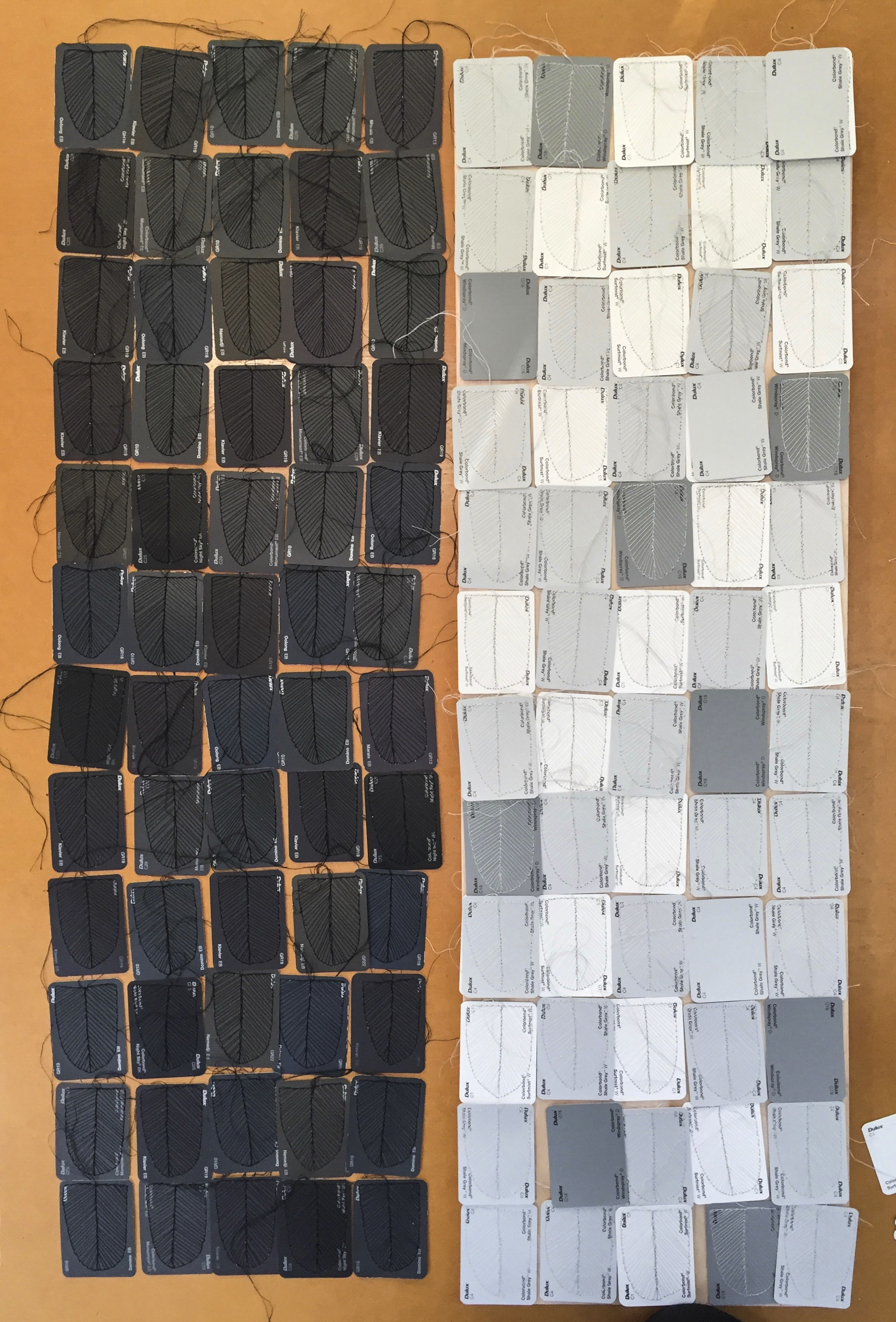 Another class went ahead on Friday and the gals involved showed various levels of progression dependent on their self initiated 'programs'. To me this looks like being a very rewarding venture as those involved are both self directed and self motivated.
I channel their direction and help technically but basically we work together on little things that add up to make big steps.
Yep, rewarding.… and they are only getting started.
Apart from lightly reading textile books I have returned to a quick fiction reread that I also aimed to finish before getting to the airport.
I recently listened to a podcast – Richard Feidler talking to Jeannette Winterson and was reminded of how much I have enjoyed her writing.
Over the years I have filled the gaps in my knowledge of literature and writers intermittently and one of the easy ways to do this was to trawl or race through 'classic' selections.
I was not aware of her books being auto biographical in nature which certainly does put a different spin on things. 'Orange is not the only fruit' is an even better read second time round. I haven't finished it so it is flying with me tonight.
I'll get to 'Sexing the cherry' again on my return.
I'll go on from there in the next wee while…. I love her writing and her stories.
Betcha I come back with some of my own….
Save
Save