WEEK THIRTY-NINE (september 26 – october 2)
After breakfast on Monday morn, of Week 2 in Mongolia, we clear the breakfast tables away and set up some borrowed hand-cranked, (non electric:), sewing machines in preparation for Deel Day.
The room echoes continuously with confusion and frustration overtaken thankfully by patience and goodwill.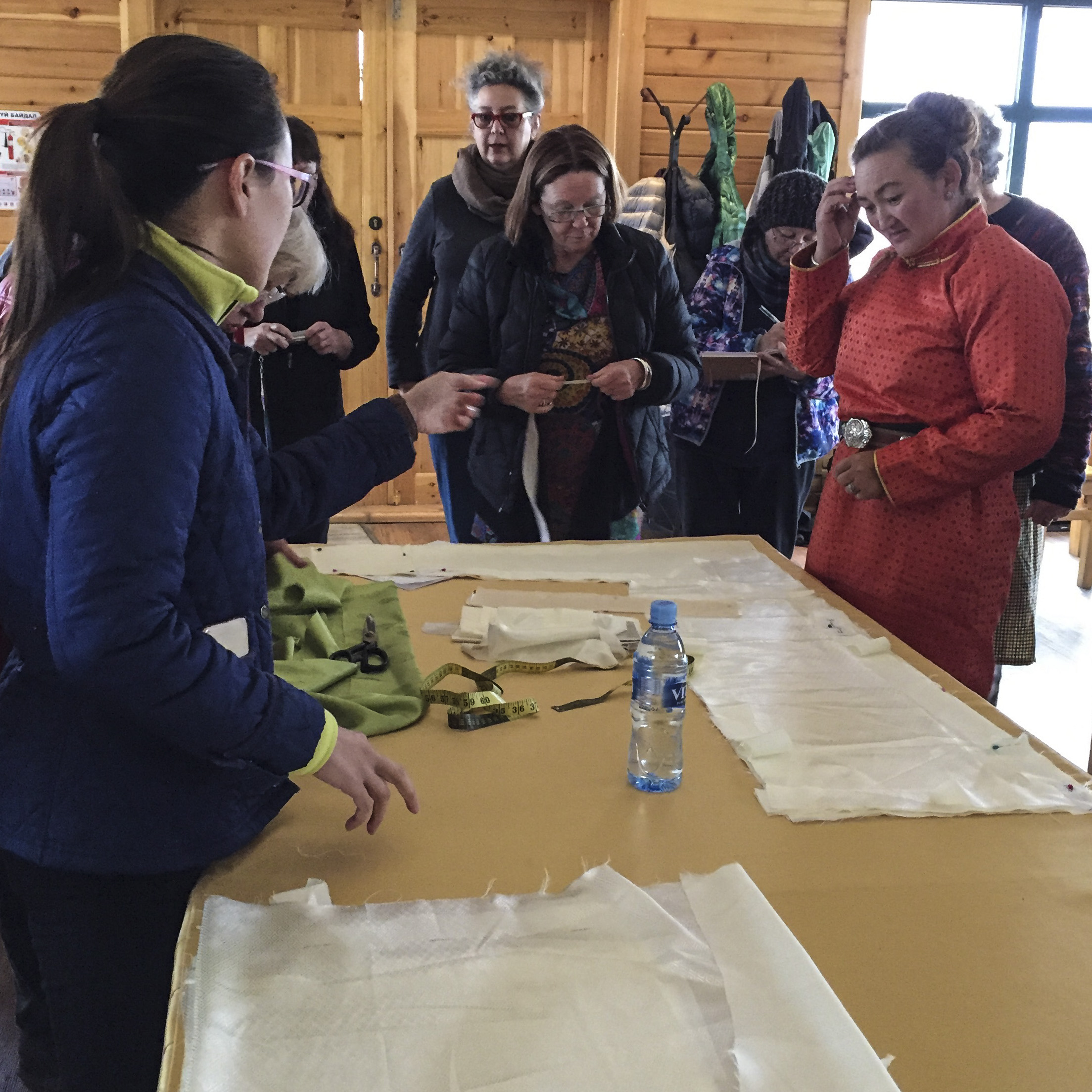 Heather is taught the first step and we try to follow what she is asked to do. This is no usual class, this is gentle chaos from which forms from a congo line of instructions.
Our instructor is needed constantly and we buzz around passing information and misinformation on with Mongolian style efficiency – which is sometimes smile-worthy, sometimes frown-worthy.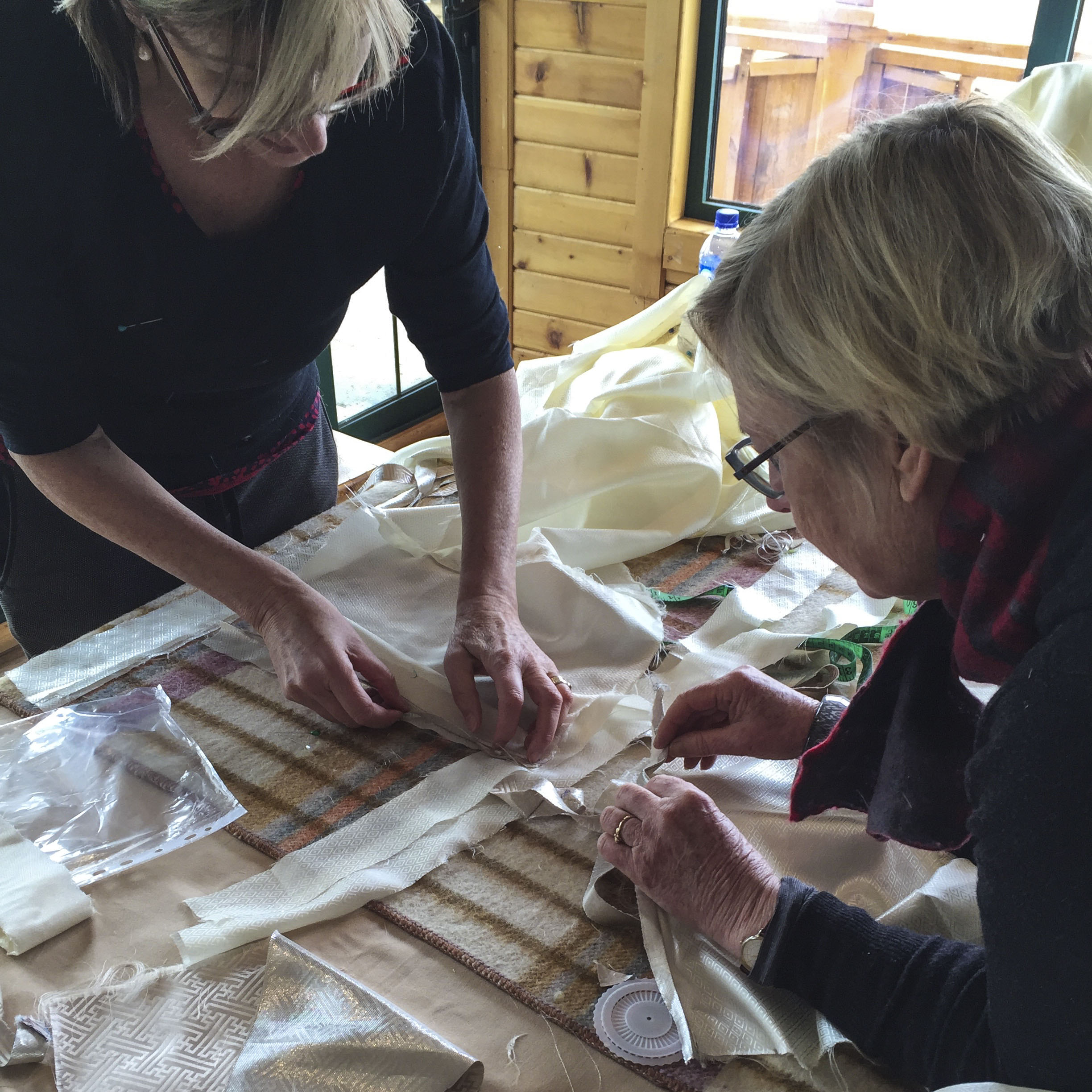 I became a gopher, a scout and one of the 'techies' trying to fix the constantly problematic sewing machines. The other techie was one of the two hubbies that travelled with us. Luckily we arrived with a big bag of threads and supplies to donate and sometimes the last and simplest solution was a change of thread – from the lumpy/hairy string-like local product to some sweet stitching Mettler.
Unfortunately we couldn't do anything about the solo iron that failed to deliver…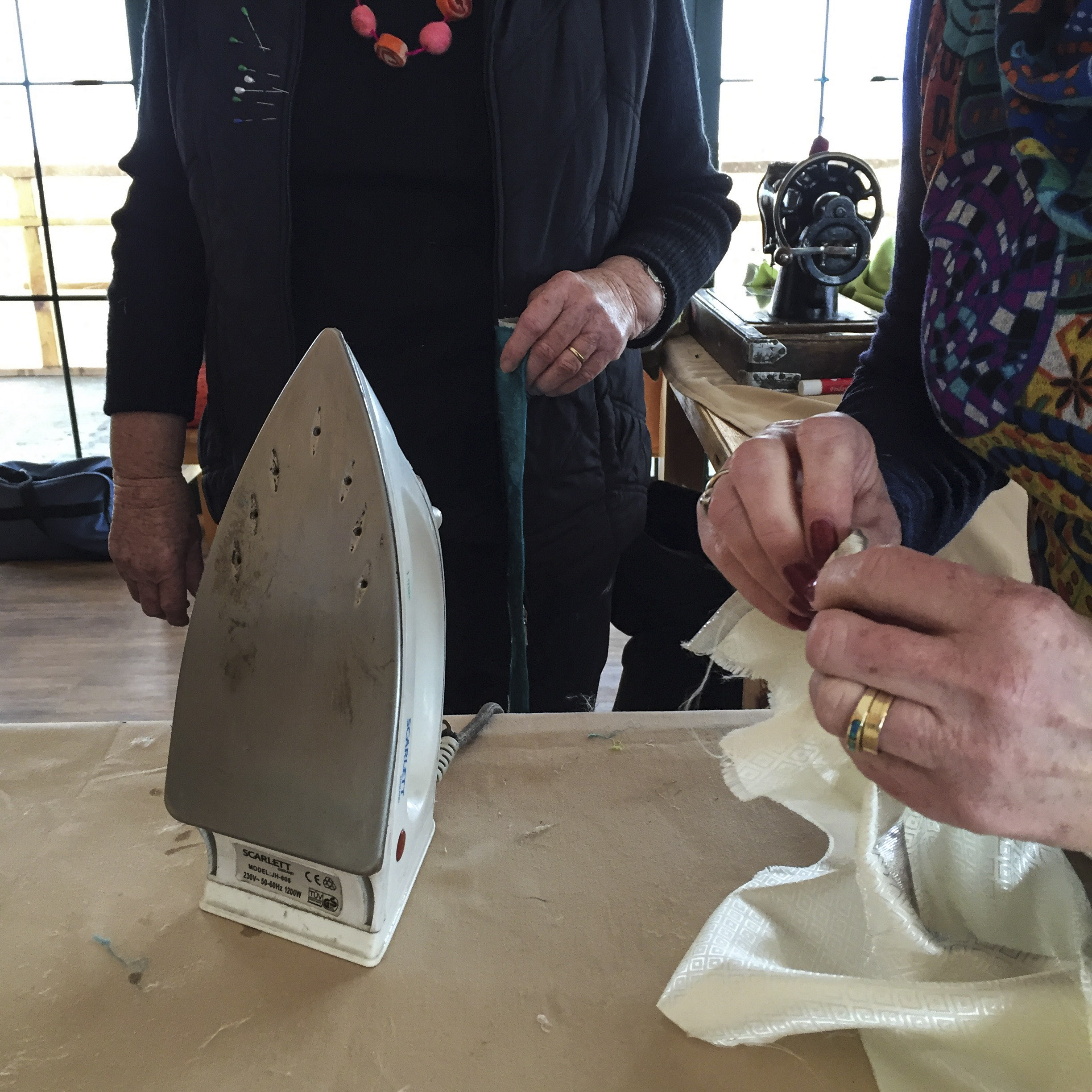 The day was long. Our lunch was a four course adventure taken in a similar disarray amongst the MESS of fabric.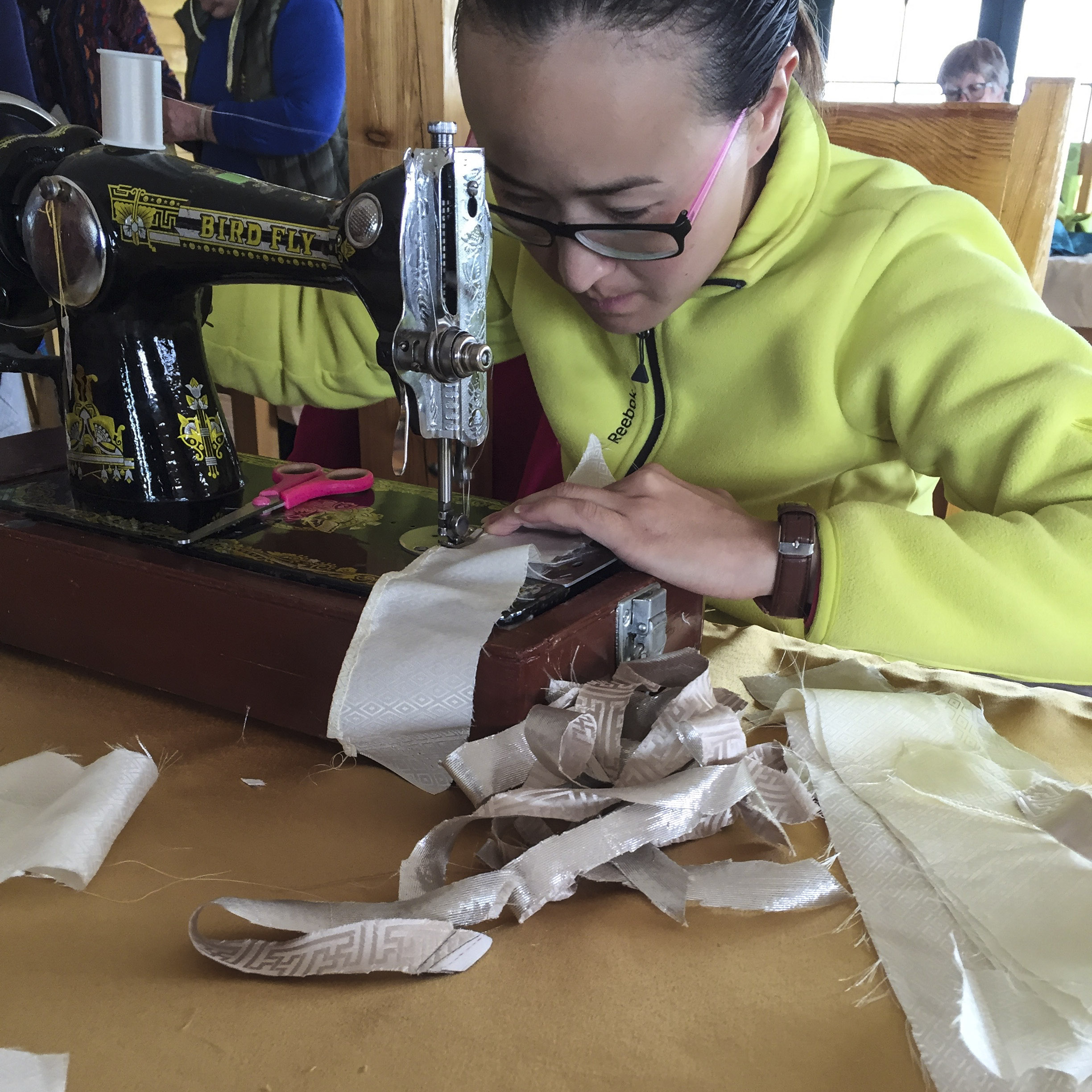 Thank heaven for dinner which spelled the end of the chaos. Our team variously beavered till they were dislodged or thankfully put their in progress bundles away.
Wine with dinner that night was a given!!!!!
So hard to get out of our beds on Tuesday morn.
The air was freezing despite our  GER stove. We pack to leave our 'camp' and will head slowly to the airport via the YOL valley.
The freezing conditions have turned the landscape into a frosty wonderland. Plants are encased in ice. The tiny trickling 'streams' have frozen fringes. The local animals….ground squirrels? pop up from and run down to their burrows. It is a serene wonderland. We are enchanted.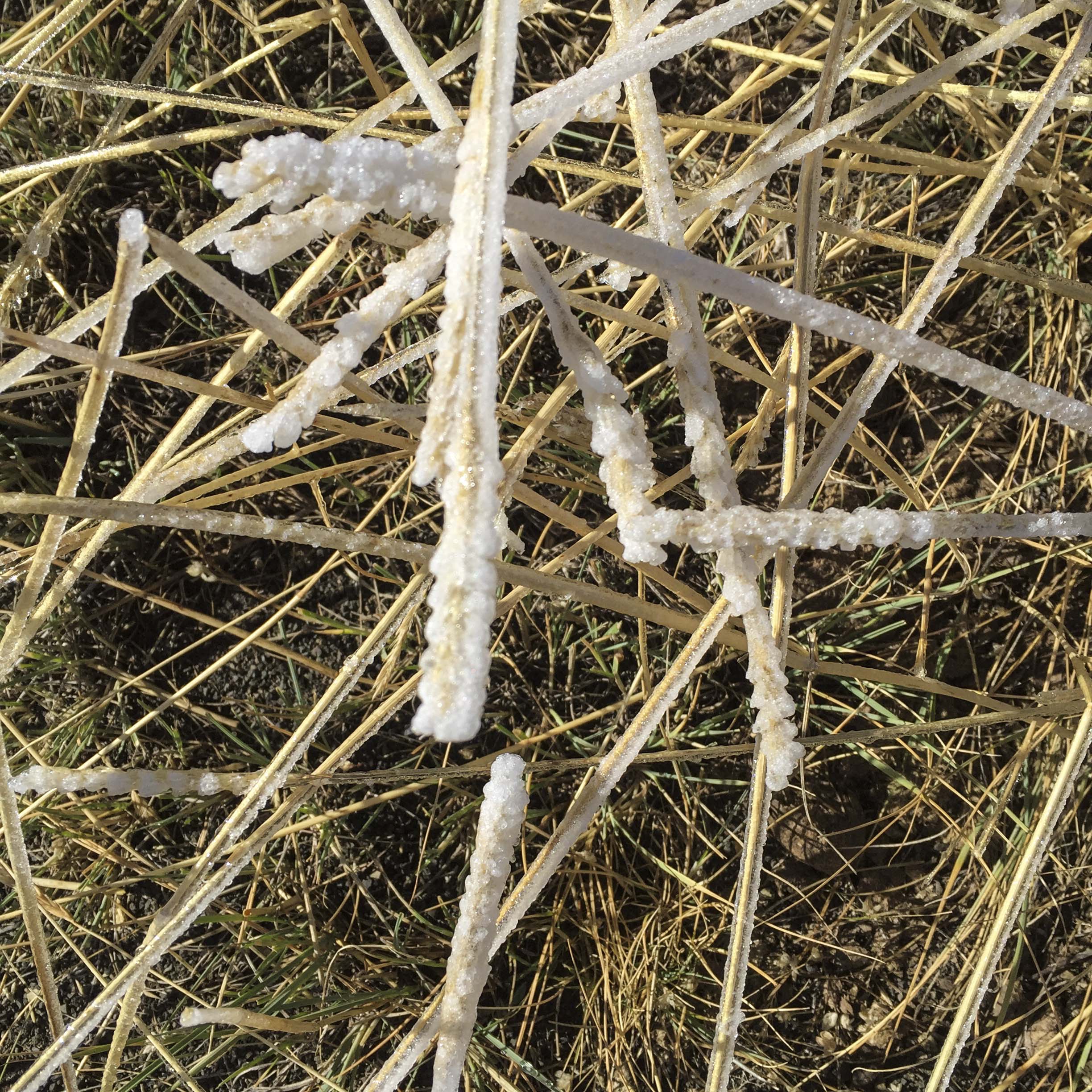 We wake up in our new beds at the Bayangol Hotel in UB. We have three visits to this hotel in-between flights out and we are switched rooms randomly between the eighth and eleventh floors which gives us varied views of the UB skyline.
We're back quickly to the State Department Store to top up on needs or wants.
The quick change in weather has me buying a puffer jacket for the next leg of the trip.
We also visit Mary & Martha, a not for profit store selling beautiful handmade goods. I grab a 'tus kyiz' a richly embroidered textile that decorates the walls of a ger. I feel like I have my trophy as I planned on bringing little back.
Next we visit a felt-making cooperative. They show us the ropes in their underground workrooms (bunkers?). They have very little stock to buy as they have had a tough season with a dearth of tourists. We place orders that will be filled and delivered to us on the last night of our trip.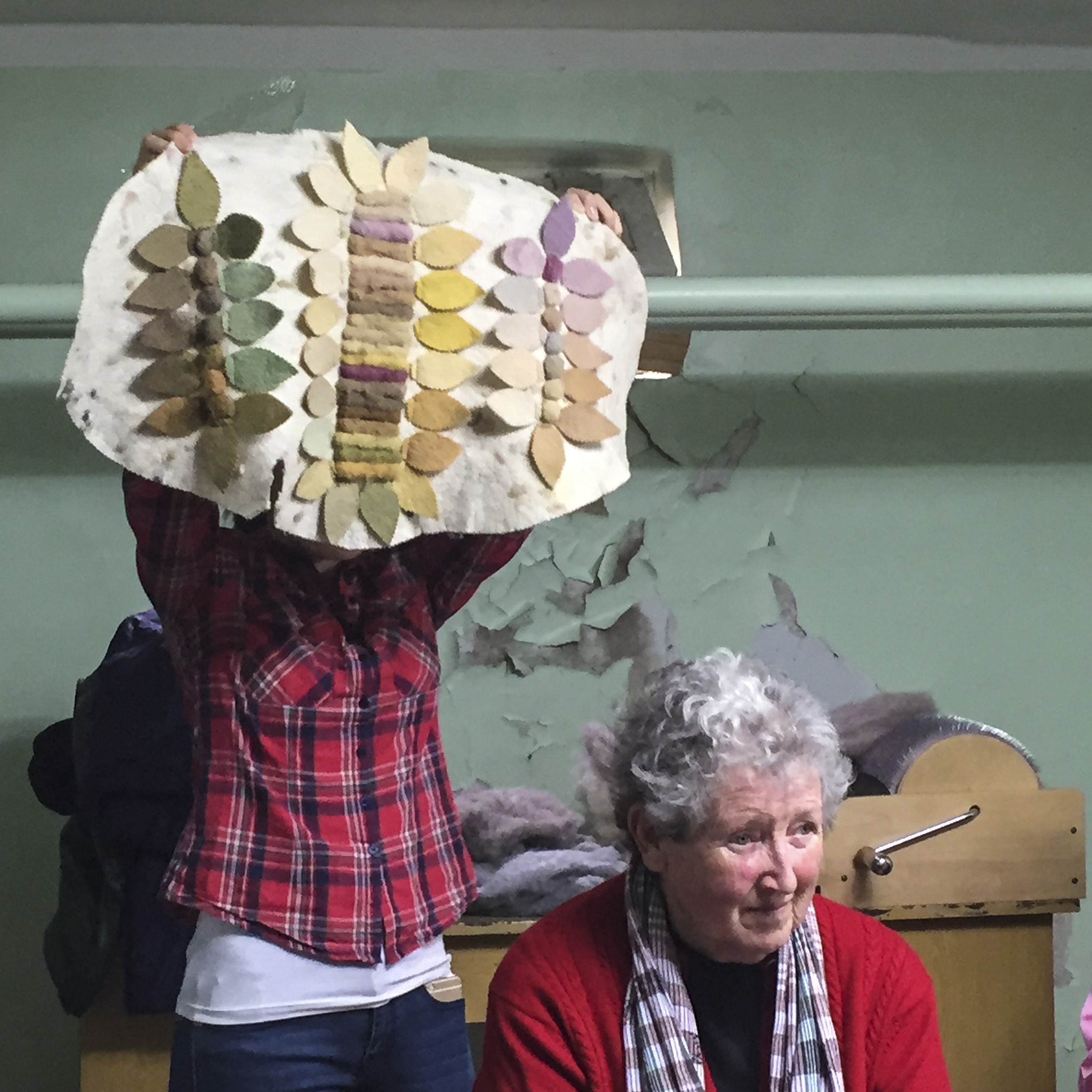 On Thursday we again head out of town, this time to spend the day at a master craftswomen's house. Here we will learn either to embroider, crotchet or knit.
Once again the exchange is tinted by our lack of common language but goodwill abounds as we crowd in the tiny 'lounge' room and form our little projects.
Our teacher is an multiple award winner and her beaming fella expounded her worth. Joyous to see.
Everywhere we went there was mutual interest and good humour. Enchanting!
Another early flight on Friday as we leave the hotel at 4am for our flight to Ulgii and to my particular highlight of the trip…. the Altai Eagle Festival. The landscape viewed from the plane is incredible – so much so that I felt sorry for the others on the opposite windows. I need not have worried as my feelings were reciprocated by them and their views which were entirely different.
Unfortunately I did not have a window seat on my return and also viewed the same side. Perhaps a reason to return?
We are met by a trio of drivers and a local guide. The local form of transport is dire – ancient Russian people movers. Again our drivers are fearless racers!
Our hotel is pleasant but ultra basic. Occupational Health and Safety do not visit these countries …thankfully….we learn to step lightly and go carefully.
We visit the local three-floored museum where we are followed by eagle-eyed staff.
Back in our transports we bump and race to our afternoon treat – the home of an Eagle Hunter.
We need to cross waterways and luckily our drivers and vehicles pull us through.
It is scary though – especially on our return when vehicles one and two stalled getting out of the water whilst we sat in the moving water, with lost momentum, while the frontrunners got their exit act together. Who said a textile tour was not adventurous?
Our beautiful boxed lunch was eaten that day was next to a Deer stone – a large and ancient lump of carved stone surrounded by pebbles and large rock pieces of the most amazing variety.
Then to the Eagle Hunter and his family where we had the requisite nibble of foreign treats whilst sitting in the most amazingly chaotically beautiful cluttered dated stone/mudbrick home.
A highlight for many of us was to be able to hold the eagle.
Our arms were slipped into the Hunters old and stiff leather glove and the eagle was (never cleanly) placed on our arm which rested on a fence.
Heavy, beautiful, stunning, trusting, exhilarating.
The eagle remained hooded which made the experience safe for both of us.
UNFORGETTABLE.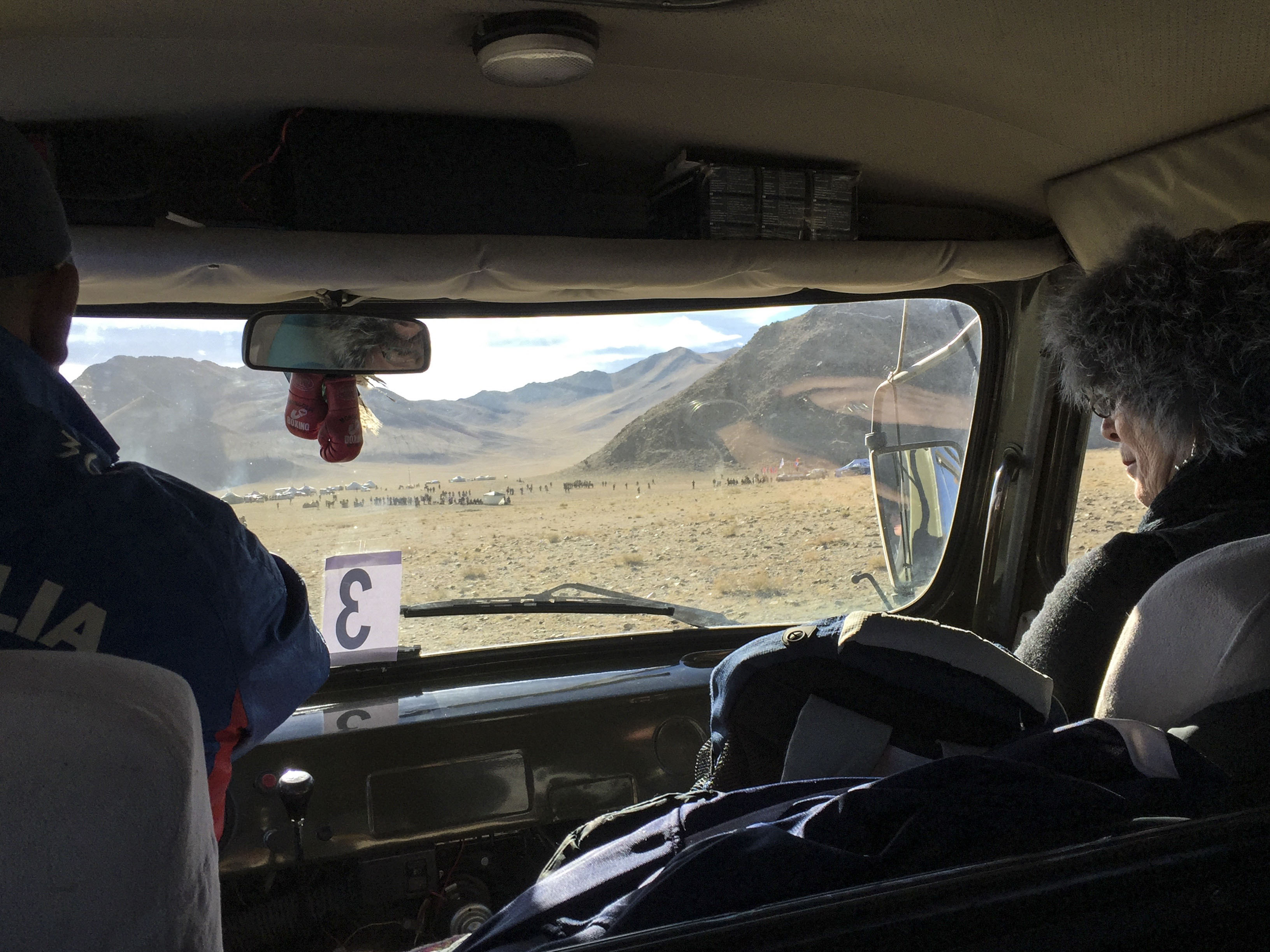 And finally on Saturday the impetus for my being on this trip, The Altai Eagle Festival starts. This two day event has brought together 92 Eagle Hunters, mostly older males but also some young males and two, or three? females.
Aisolphan, the star of The Eagle Huntress is competing….a thrilling bonus.
I feel very lucky to be here now.
Having seen the film at the Melbourne Film Festival before its general release due very soon I think we have been able to be part of an experience that may be altered by 'fame'.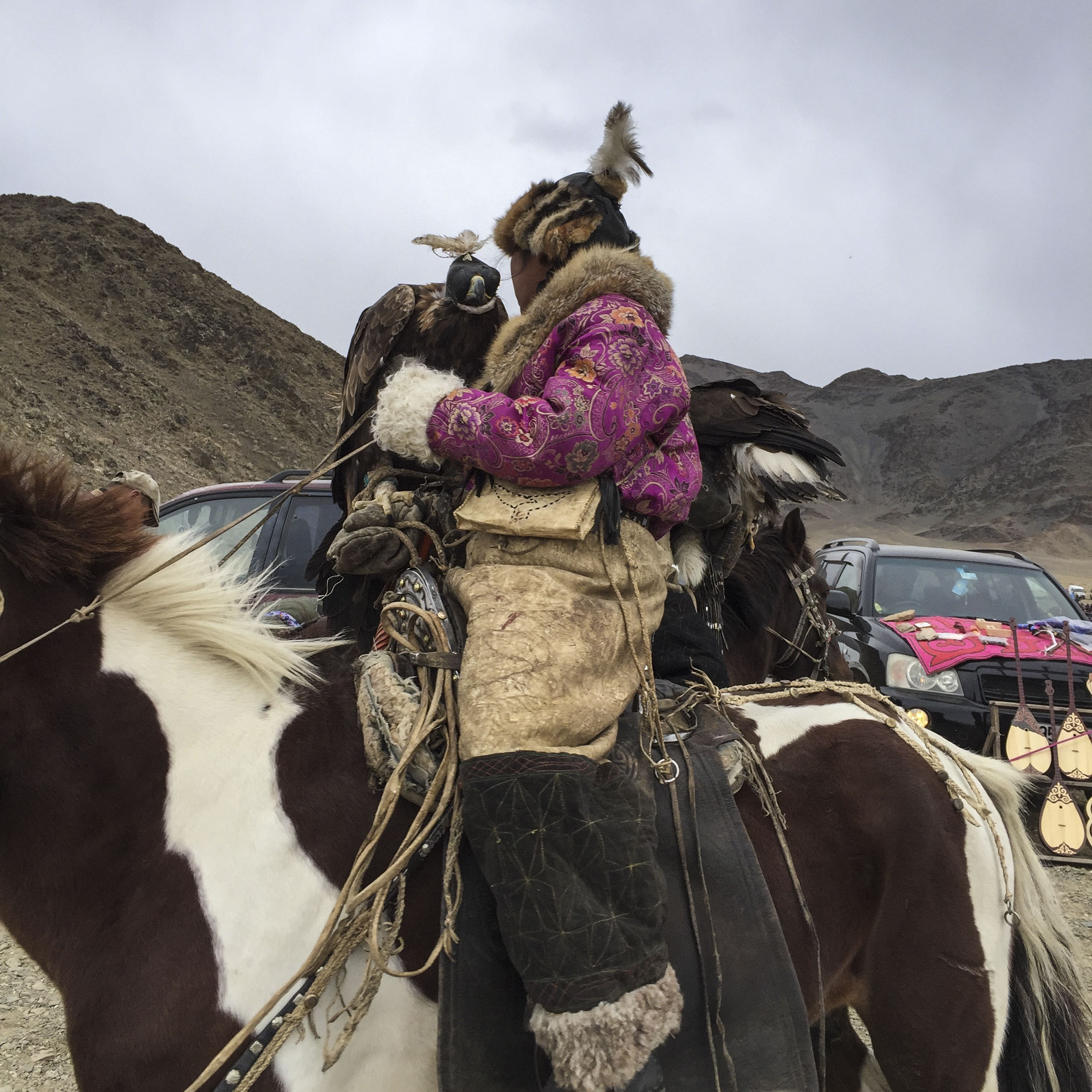 We had a long and fascinating two days out in the weather in a beautiful valley about fifteen minutes from 'town'.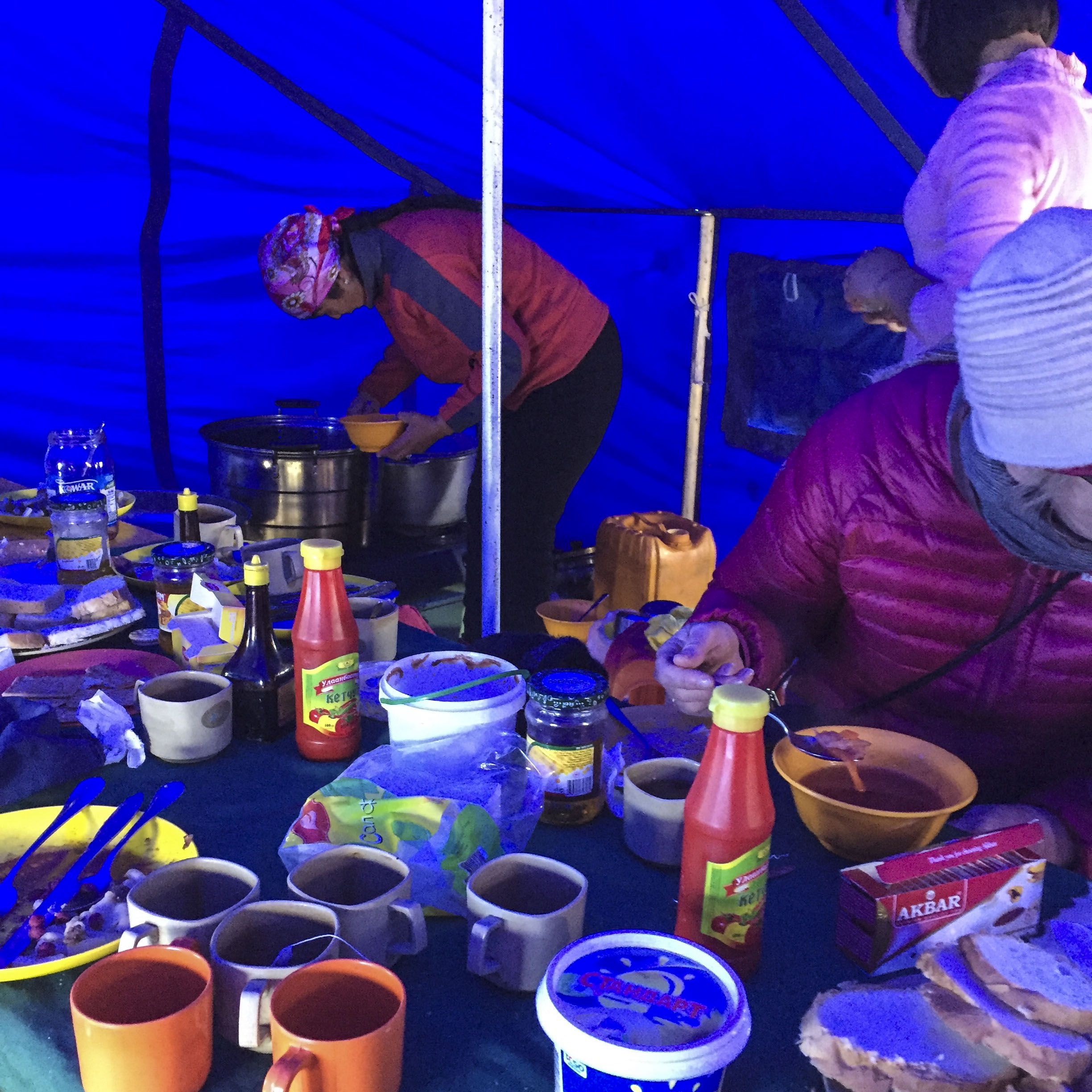 We had a lunch tent that revived us and removed us from the wind, cold, dust and even a tiny smattering of snow.
We variously watched (and photographed obsessively) the various parades, events races and competitions.
The vast array of authentic, used Kazahk textiles laid out for our perusal and hopeful purchase were an equal highlight.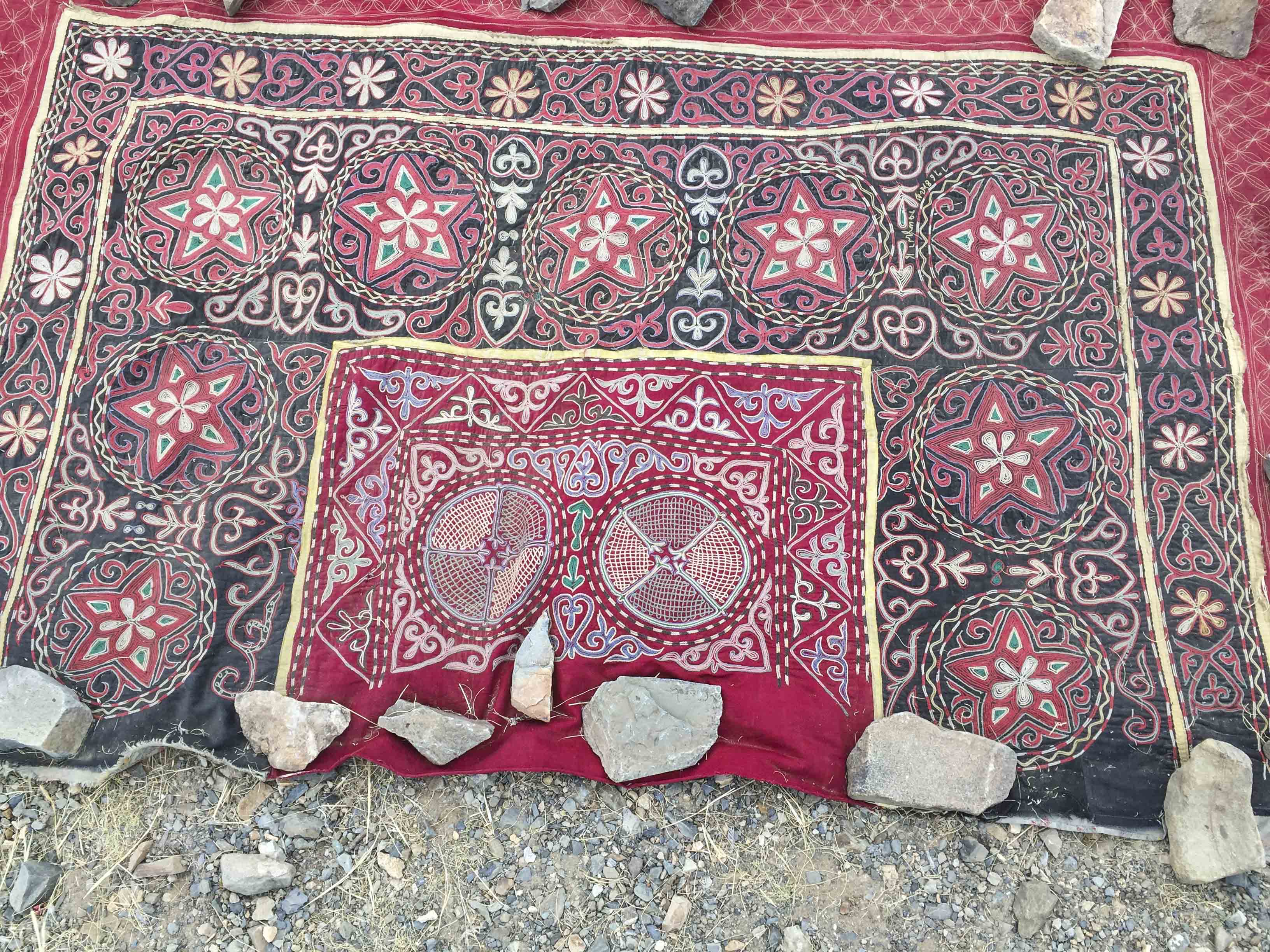 The first day was one of gentle chaos. It was a long and thrilling/exhausting day that was topped off by a Cultural performance – a lovely time warp of sets and skills and faces and costumes.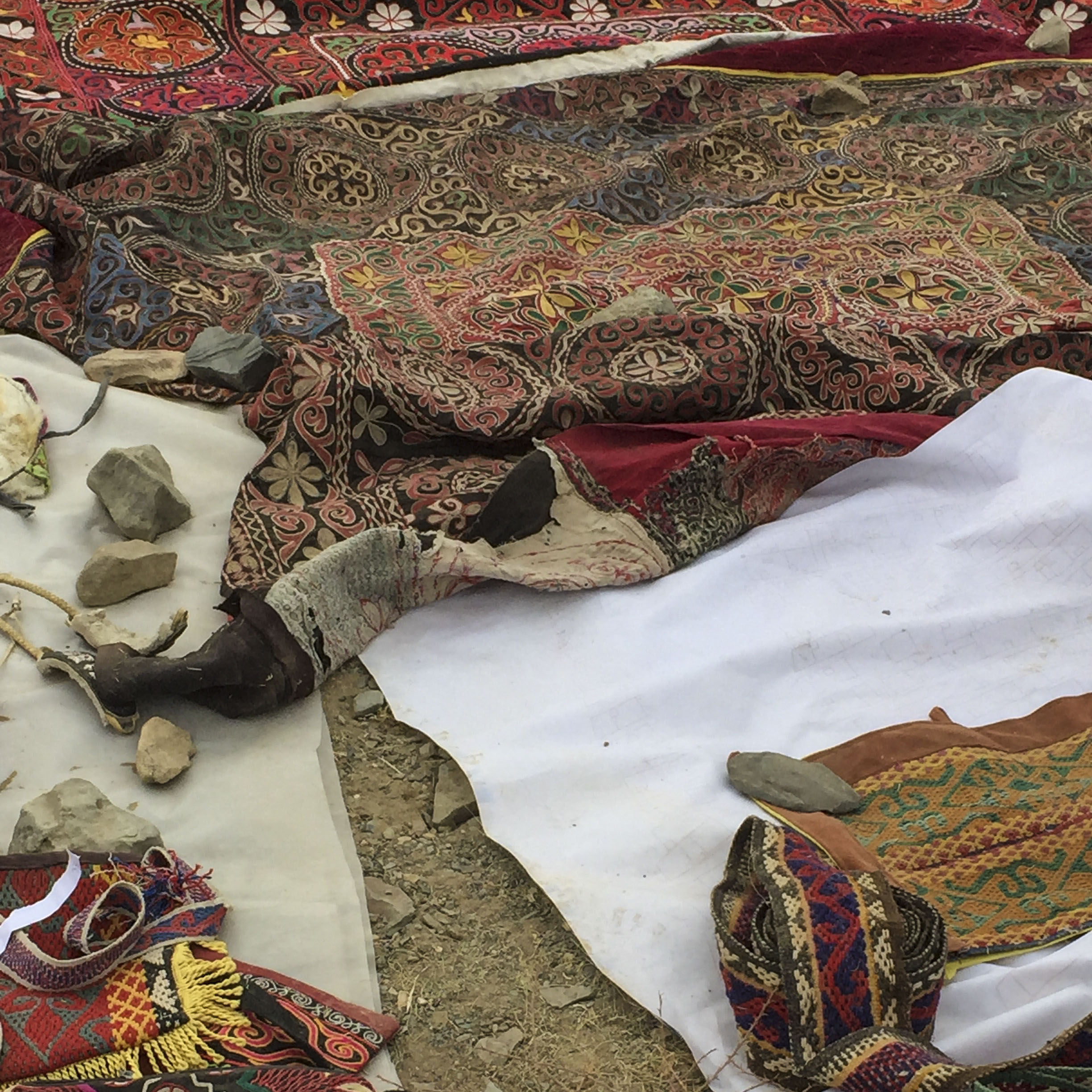 Day two, Sunday was colder. I continue to chew through the memory cards. My camera is covered in dust but I am not worried – the phalanx of professional photographers that I stand amongst have such magnificent(enormous) equipment and skill and sit happy amongst the wind and dust.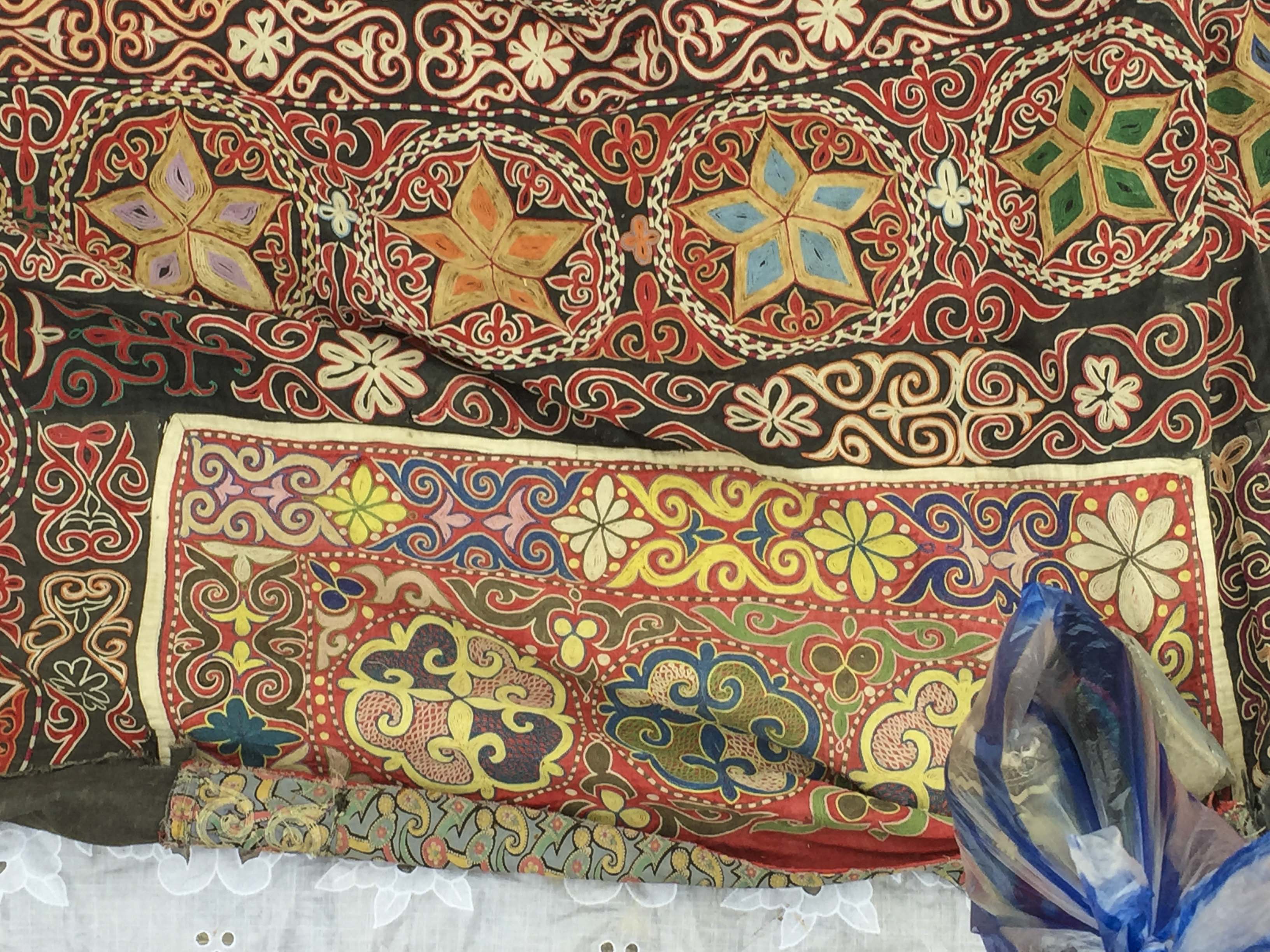 We trooped to watch the fizzog of the camel race with only four competitors!
We delighted in the couples race where the gals tried to dislodge the fellas from their mounts…with a whip and a smile.
And finally, exhausted, frozen and totally happy, we made it back to the the late-leaving Russian people mover to escape the weather and to start wending our way home.
Oh what a week!!!!!
Save
Save
Save
Save