WEEK FORTY-TWO (october 17-23)
As the sun starts shining, and the festive end of the year approaches, my thoughts are as busy as my days.
Neither are giving me anything but transient satisfaction.
I want to be working on artworks that have a puzzle, a joy and a clear end date. I want to be enveloped by busy artist-land – but daily living, family life, commitments, and my free-form family-friendly timetable does not assist this aim.
One BIG preoccupation mentally, as some of my memberships to groups are due, is whether I continue on paying my dues, reading the newsletters and not really getting anything out of the membership but frustration – or do I pull out?
Do I want to be exhibiting in group exhibitions around the world if the proviso is that I am working to a specified theme, or size or technique?
Do I want to be making Art Quilts in that wonderfully organised and committed world?
OR
Should I concentrate single-mindedly on my current themes and paths, only entering finished works if they fit requirements in my limited time?
Towards this end I have identified, or am in the process of identifying, the stages of my artistic process and progress….or failure.
At the moment there is rarely a straight line for me.
I have plenty of ideas and works-in-progress that need to/are likely to come together, with materials, process and intent, to make something that feel's like it is moving me forward. Without a deadline though, my intent wavers too easily.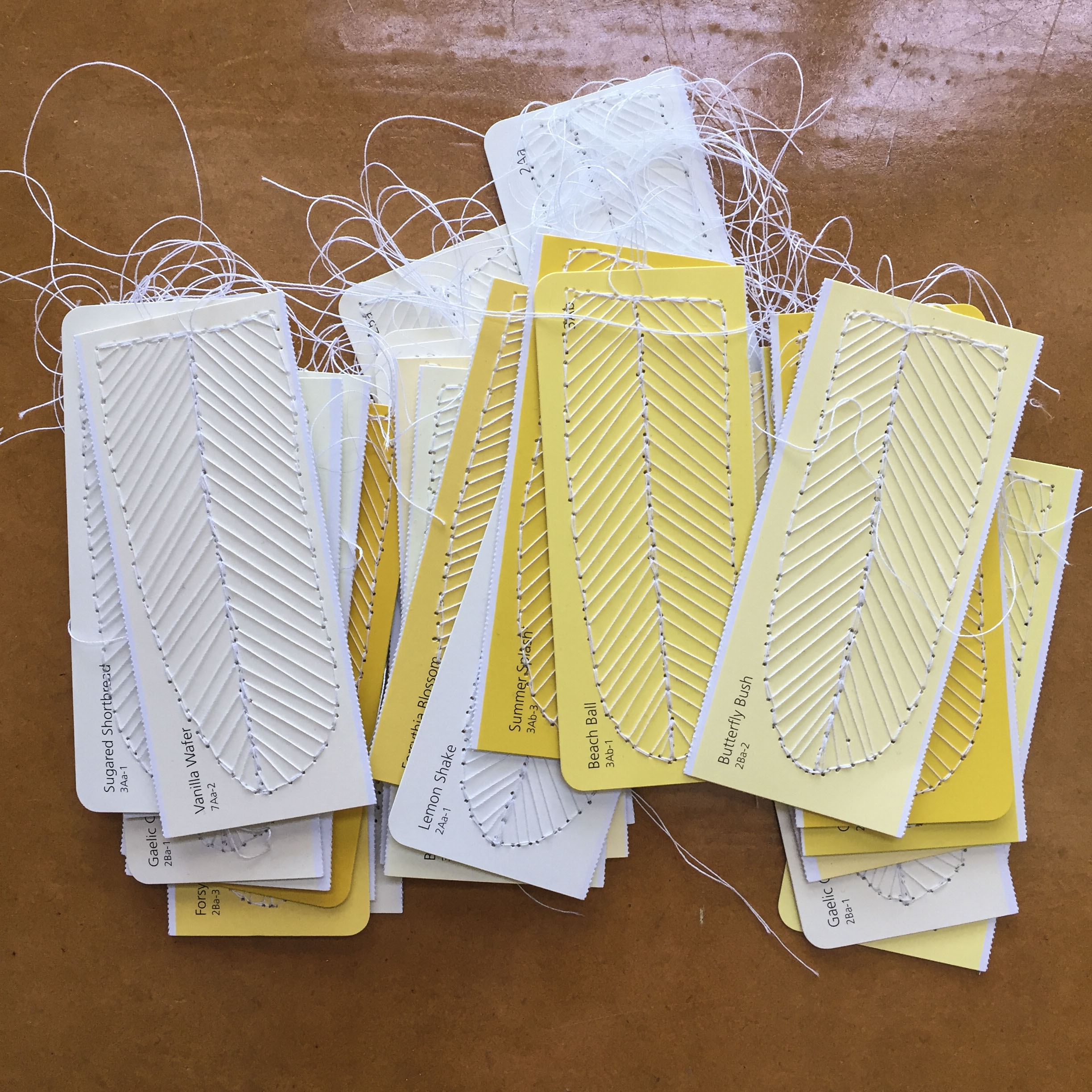 For example;
If you peruse my ramblings regularly you will have seen numerous WIP photos of 'Sulphur Crested Cockie' paint chips – a little paint chip iteration that continuously niggles….
I have the feathers stitched on thirds of 'Taubmans Trios'.
They look good with their more-realistic proportion and I have had a selection of them shuffling around on a knitted background for ages. For a while, a black board has sat underneath to show up the negative space and the holes of the aged, unfinished knitting.
BUT
I have had no desire to finish them as is …. there is a lack of finesse, resolve and clarity of intent.
BUT
Eliminate the rough edges of these card-thirds, then the white dividing lines, and make all the corners curved… then I have a way forward.
Another step on the visual/thought success path?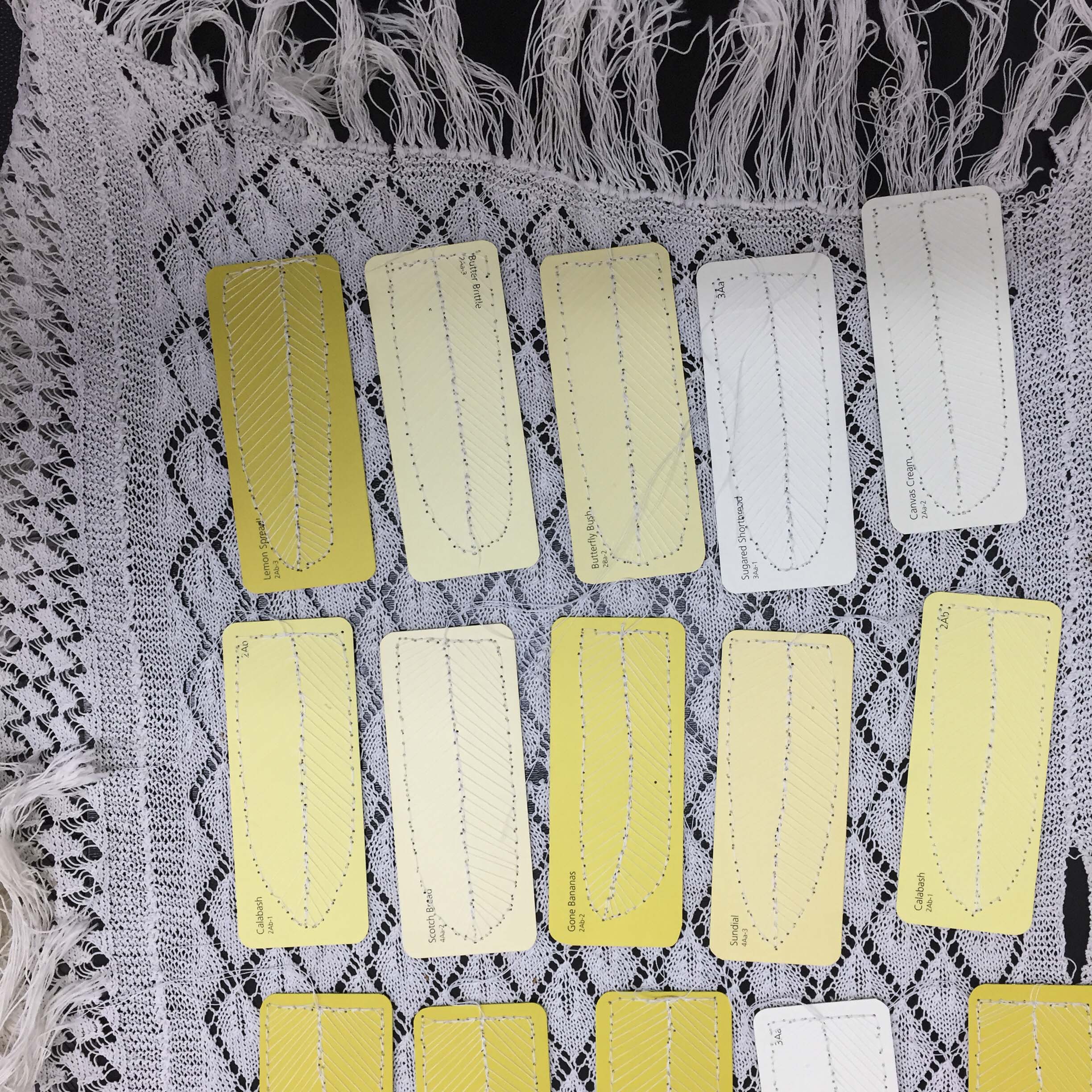 ALAS
I still need to fine tune the backgrounds/mechanics/hanging for this piece and the others that are likely to follow.
AND
The REASON for their existence is also an integral part.
There is a piece of the puzzle not quite fleshed out…..
For the paint chip works made to date the 'reason why' was solved by mounting them on back-framed plywood boards. These inferred that they were a work-in-progress, with a lack of preciousness that a 'proper' frame would have conferred.
They touched on the temporality and the continuing necessity of decorating and of home-making.
As you can hopefully see, I just don't want to do too much 'making for makings sake' work. I rarely respect works that have no story unless they are gobsmackingly beautiful.
I do have thoughts of accordion pleating and grid arrangements of these 'paint chip thirds' so that If I use fabrics as a base they can be folded for travel.
They could be made to fit within an art quilt specification…
I will need to explore my desires further.
I also like the thought of overlapping them BUT then they may be too flat looking?
Then there is also the plan of using them in a 3-D format:)
Shall see, but I have at least moved forward on these.
Stepping closer…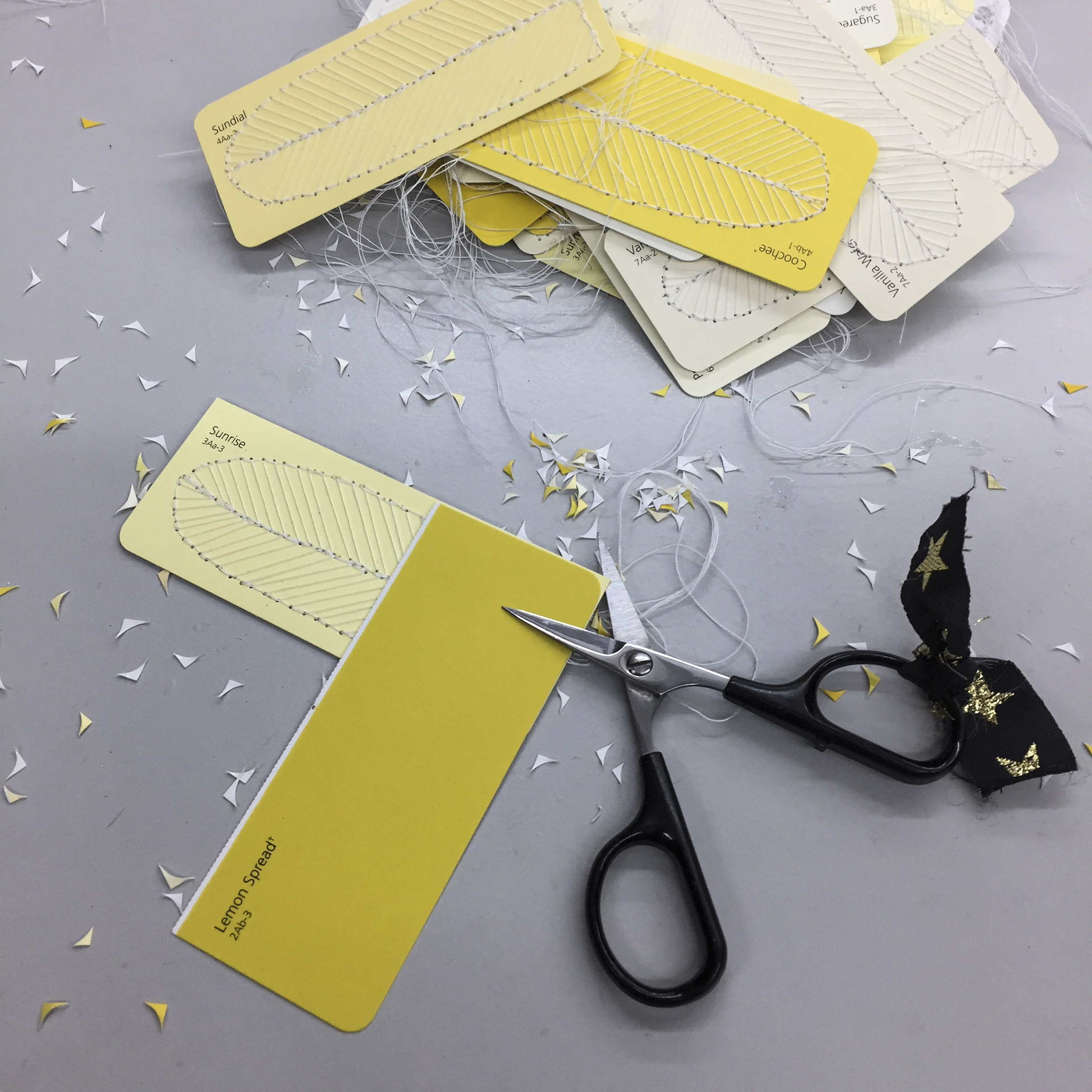 I DID replace the torn feather on grey board and, as expected, it took ages to chisel of the offending paint chip.
I DID prep another murobund board for some 'while-away-the-time' handstitch.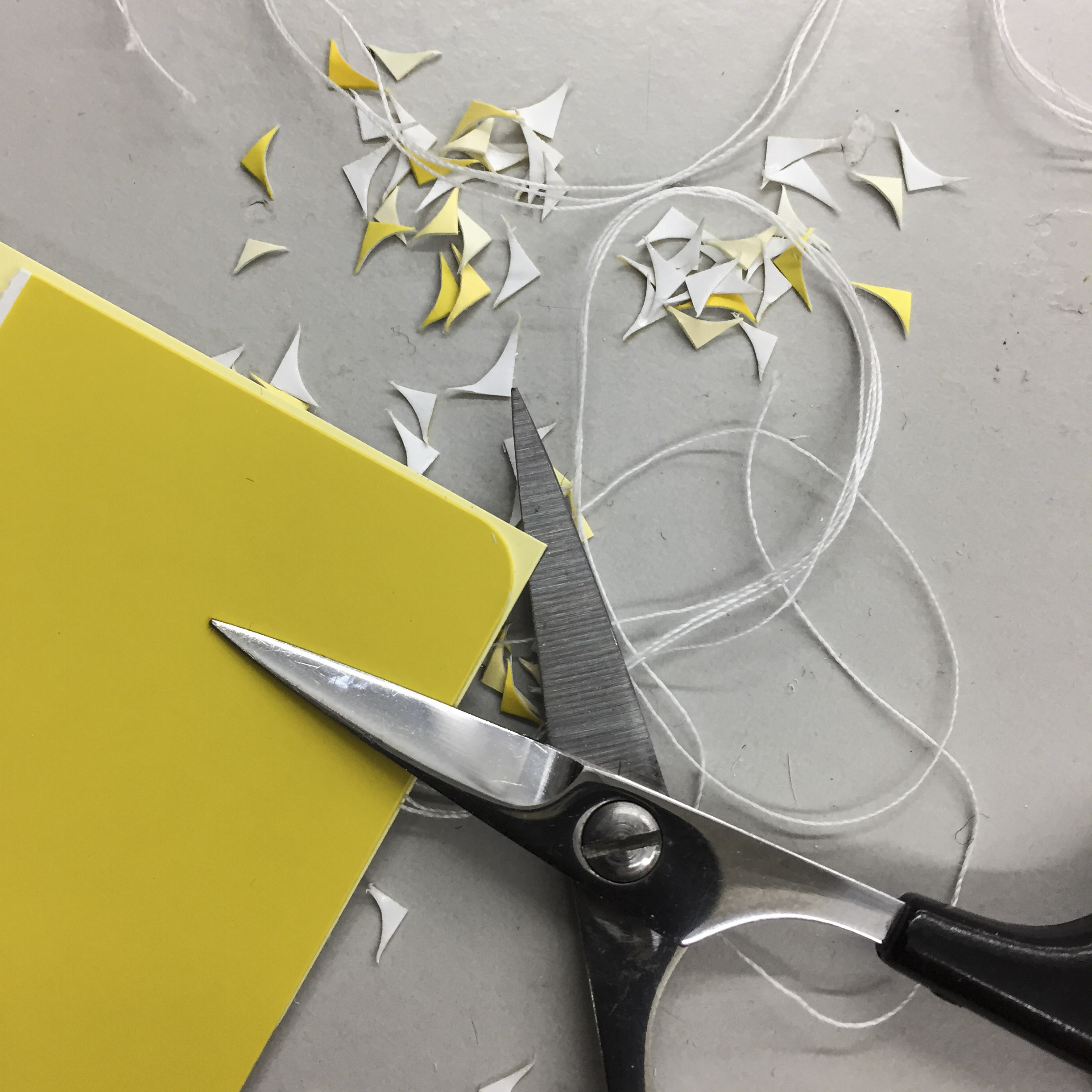 AND MOST IMPORTANTLY with those curved edges I have moved that work forward to equal footing with the Laminex/embroidery pieces.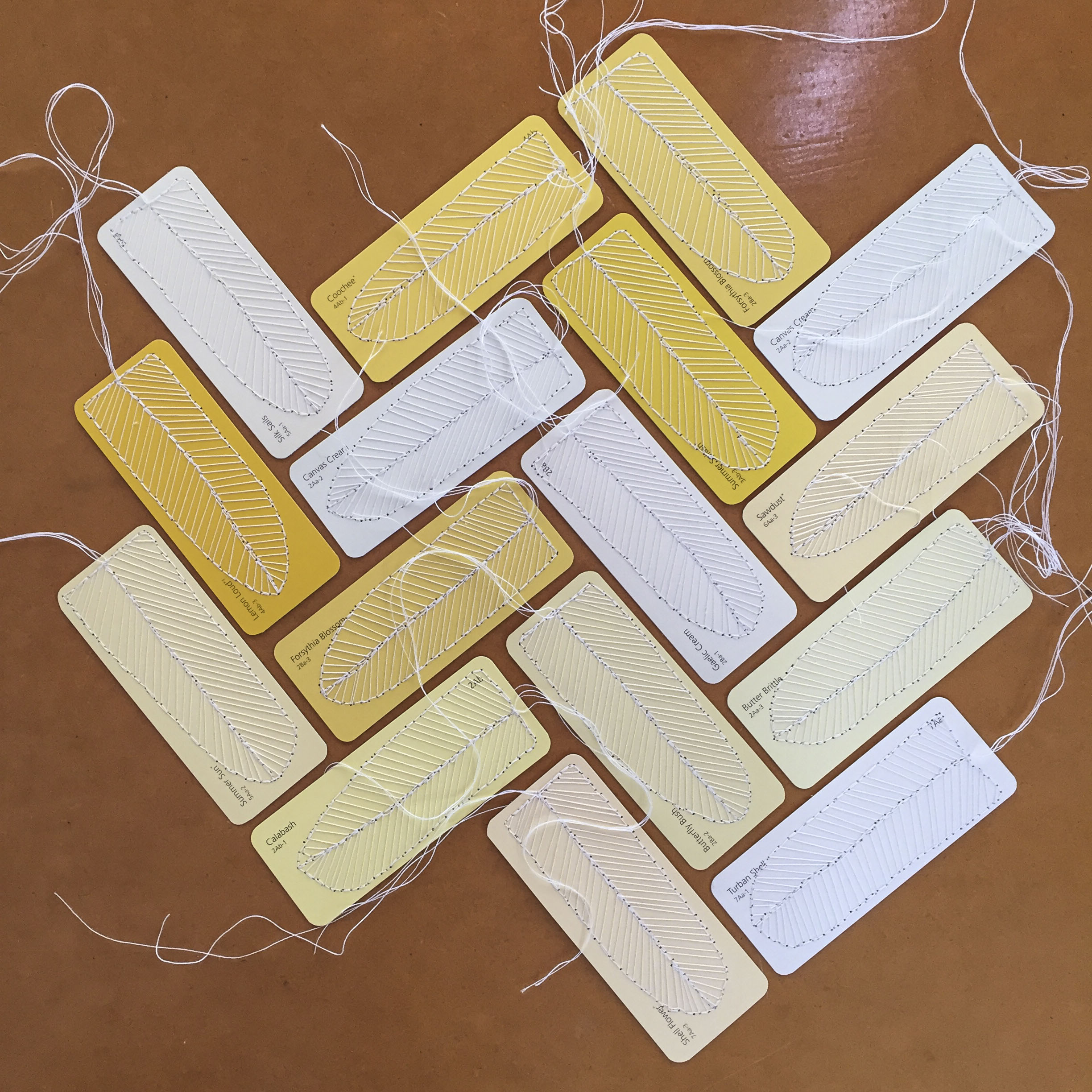 More thinking time is needed on both series…all parts of the puzzle must fit.
Out of my thoughts and into real life…
The weather is beautiful on the weekend and the bloke and I set about quickly to assess the weekends work at 'our little house'.
Our original plans for accommodating the whole family together down south have taken a turn. After last years bushfires the building regulations have been sharpened to very strict and expensive levels. The beautiful, in keeping with the area, outbuilding we were planning on, cannot be easily done as a self build.
Even worse, the renovating of the back end of our little Mill house will need to be done next year to save us having to rework the whole house to this new fire-rating – losing the essence of its authenticity.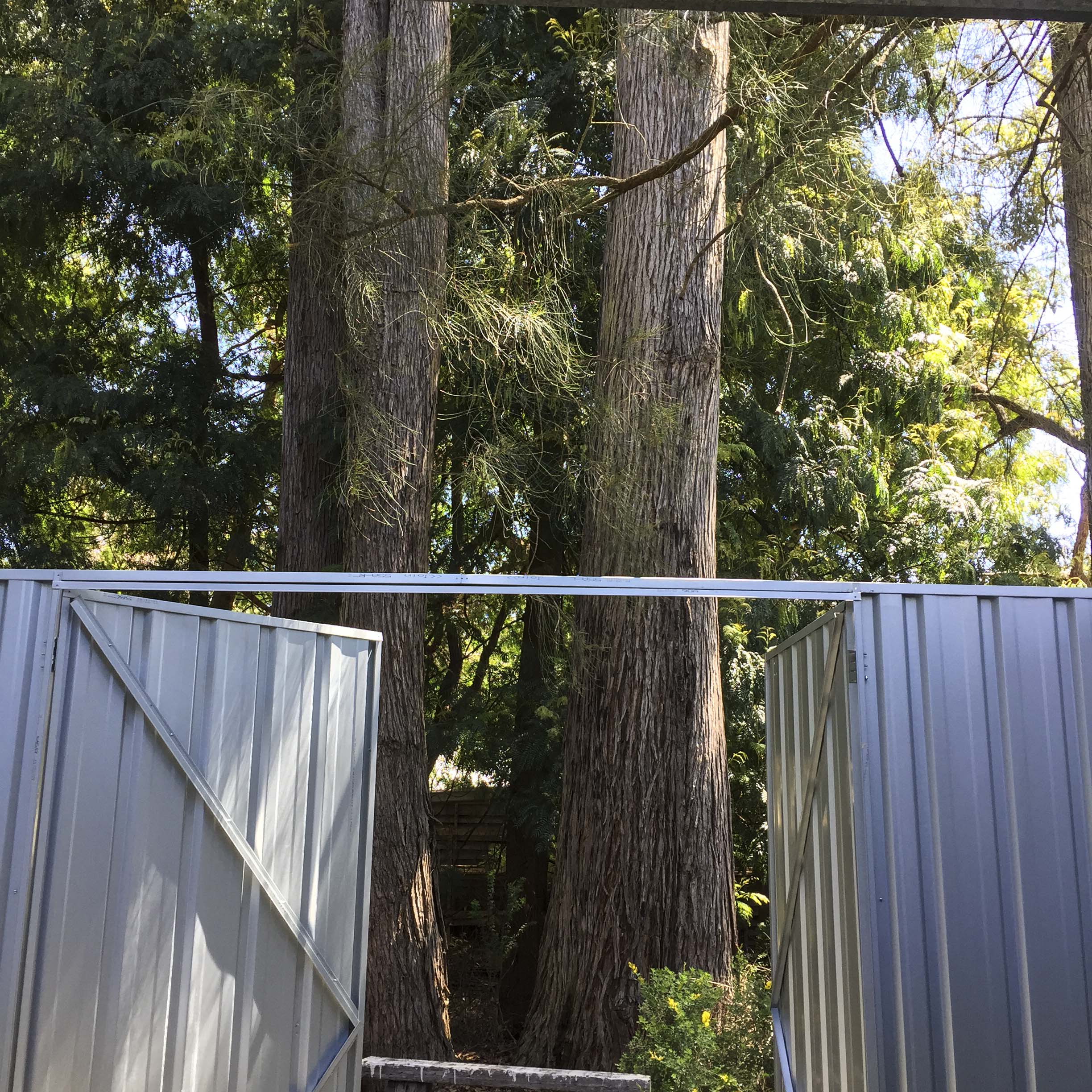 Our easy decision is to re-do the house asap and meanwhile to turn the junk-filled carport into a 'studio/ overflow bedroom/ jigsaw puzzle-ing venue'. This is currently being referred to as the girl's shed (as it abuts the boys shed:).
We get cracking on assembling a tin shed to store the seasonal and the excess.
The tin shed is flimsy and shoddy (screw holes do not align and need to be re-drilled. We manage, just, and at the end of the day we have a shed to start loading!!!
A we do so gently and thoughtfully.
We are also clearing out the carport in preparation for the girl's shed.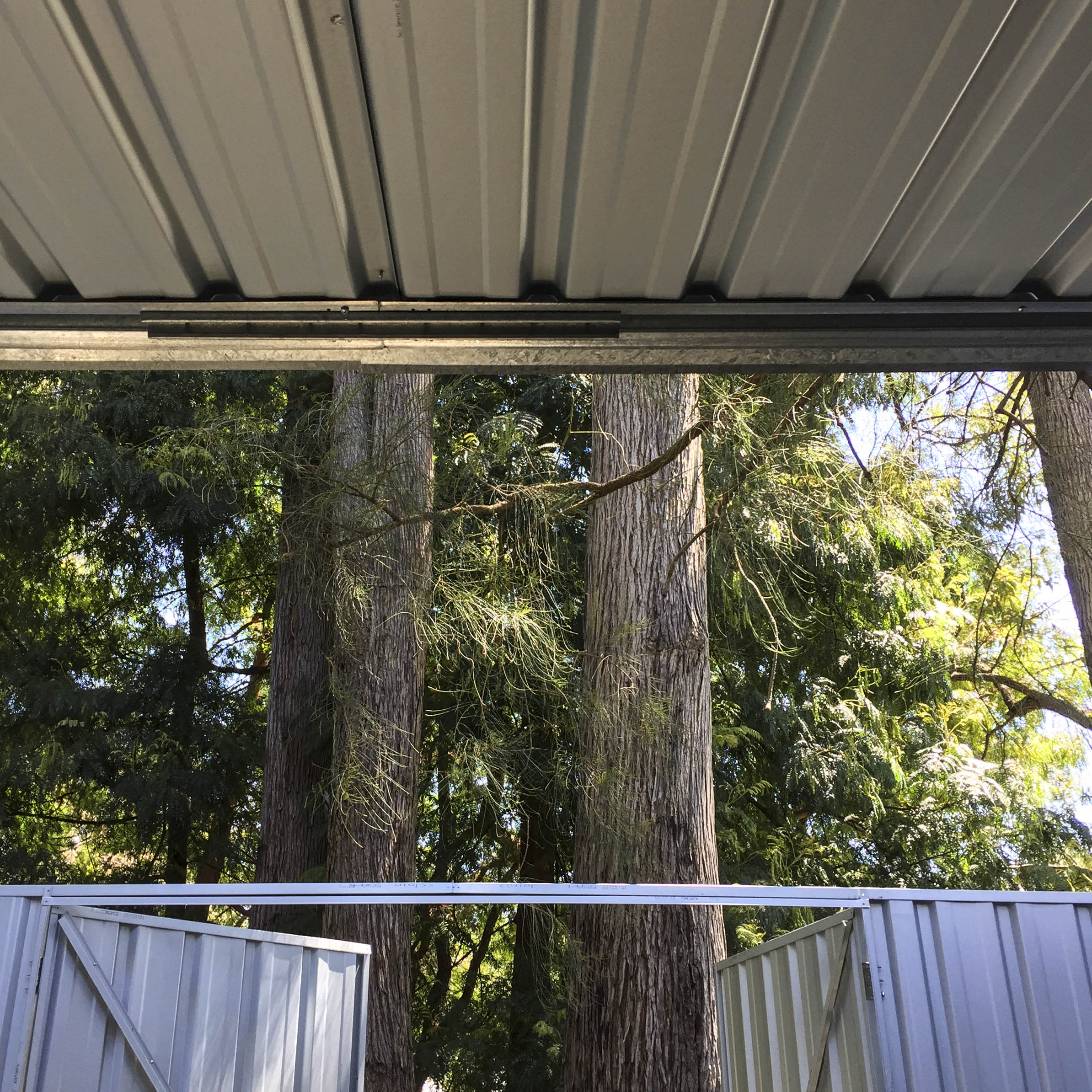 The bloke gets onto measuring for flooring – he is already hunting and gathering windows and doors. He is loving this challenge.
We are also clearing out the Mill house's spare room to turn it into a fourth bedroom for this summer.
We spread ourselves everywhere...all parts of the puzzle must fit.
I also have to weed in and around the fruit trees.
The weeds are huge. Barrow load after barrow load.
Not difficult, just hard on the back. Good physical work.
I ache but I am getting dirty out in the sun! It has been a long time. Delicious!
We achieve so much in one-and-a-half days.
We rush home to quickly prep for the George's third birthday party and kid chaos that had the two biguns' jumping out of their skin with excitement at the large wrapped gifts.
The other three were oblivious.
Ellie and Flick, our suddenly confident crawlers, with their pale bare legs unaccustomed to warm weather, darted around the floor exploring, beaming and munching on the quickly torn wrapping paper.
Balloons were chased. Sausage rolls downed. Candles blown out. Chocolate cake demolished.
Our little family is setting up new traditions….
Save
Save
Save
Save
Save
Save
Save
Save
Save
Save
Save
Save