WEEK THIRTY TWO (august 7-13)
A low grade week (weather-wise) and a low grade cold (nose-wise) conspired to keep me inside and cocooned most of the week. As I had planned the final sessions of the downstairs studio painting I was ready to stay inside with the heater on.
I cleared my south wall of bookshelves. All the 'stuff' from the shelves covered, at height, my six tables and the laundry bench area.
The fresh feel the painting exudes will keep my surroundings inspiring me as this is mostly where my days are spent.
The coming way too quickly December Gallery exhibition has simply hurried the process up. Prioritising the painting over making artworks was necessary I feel but it has also happened now because I am learning to be a bit more realistic about time planning.
In theory I'd love it if my list-fueled array of tasks were static and regularly achievable but reality gives me something akin to a game of snakes and ladders.
In doing the painting now I am preparing for the appearance of snakes.
Never boring.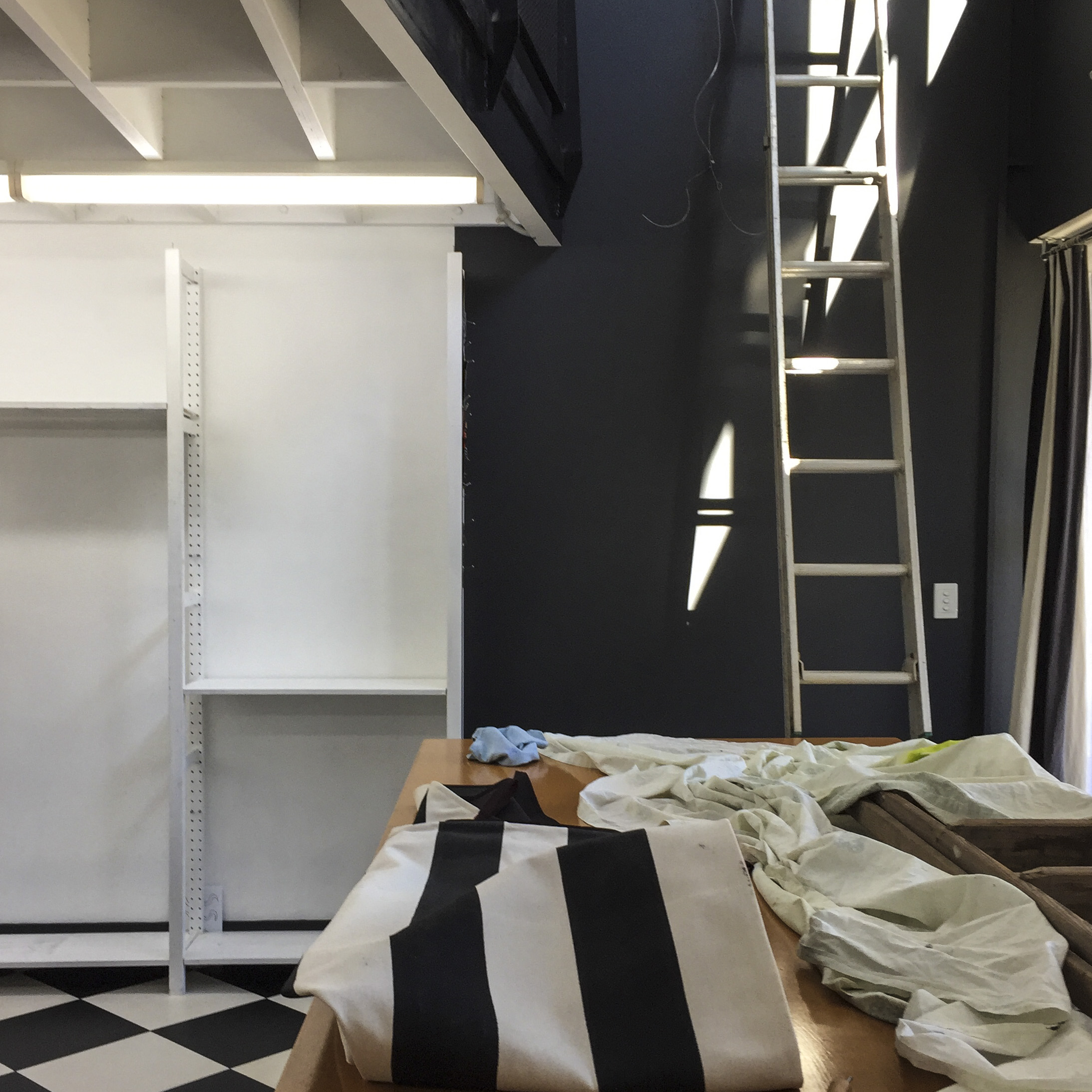 Early in the week I set to empty seven sets of Ivar shelves.
To paint the wall with FOUR coats of white to cover the red.
To paint the skirting board charcoal – even though it won't be seen it looks great.
And to clean up of course. Have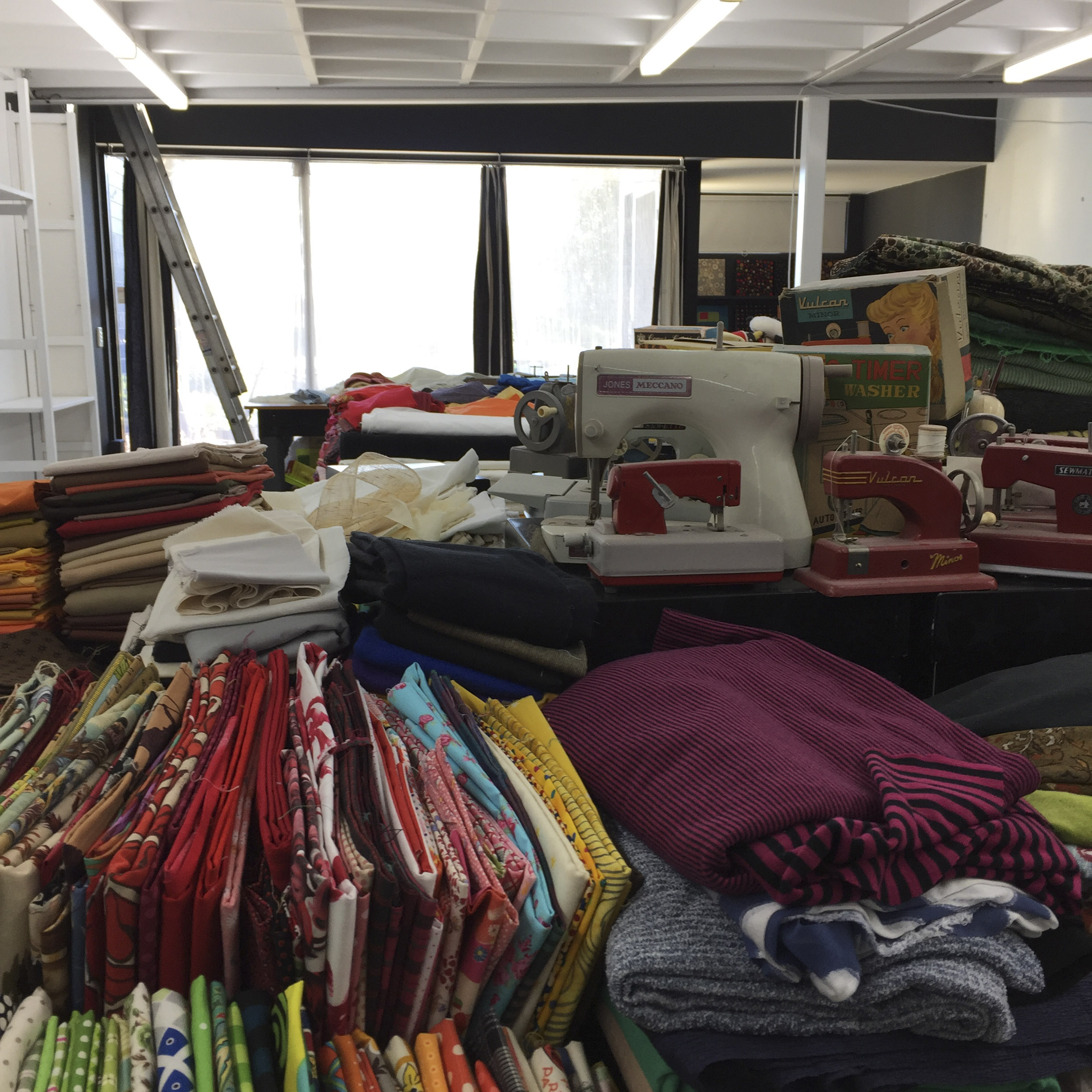 I mentioned that I am a very messy painter?
On Thursday arvo I set to replace six of those seven shelves and start the jigsaw puzzle of re-placing most, but not all of these precious supplies.
Done…..but done, of course, with a whole load of creative dreaming.
We, Miff and I, have some lovely fabrics including thouse bought specifically for dressmaking.
We are both very keen and unfortunately time poor.
Luckily that didn't stop me patting favourite pieces and thinking…maybe we can play together soon?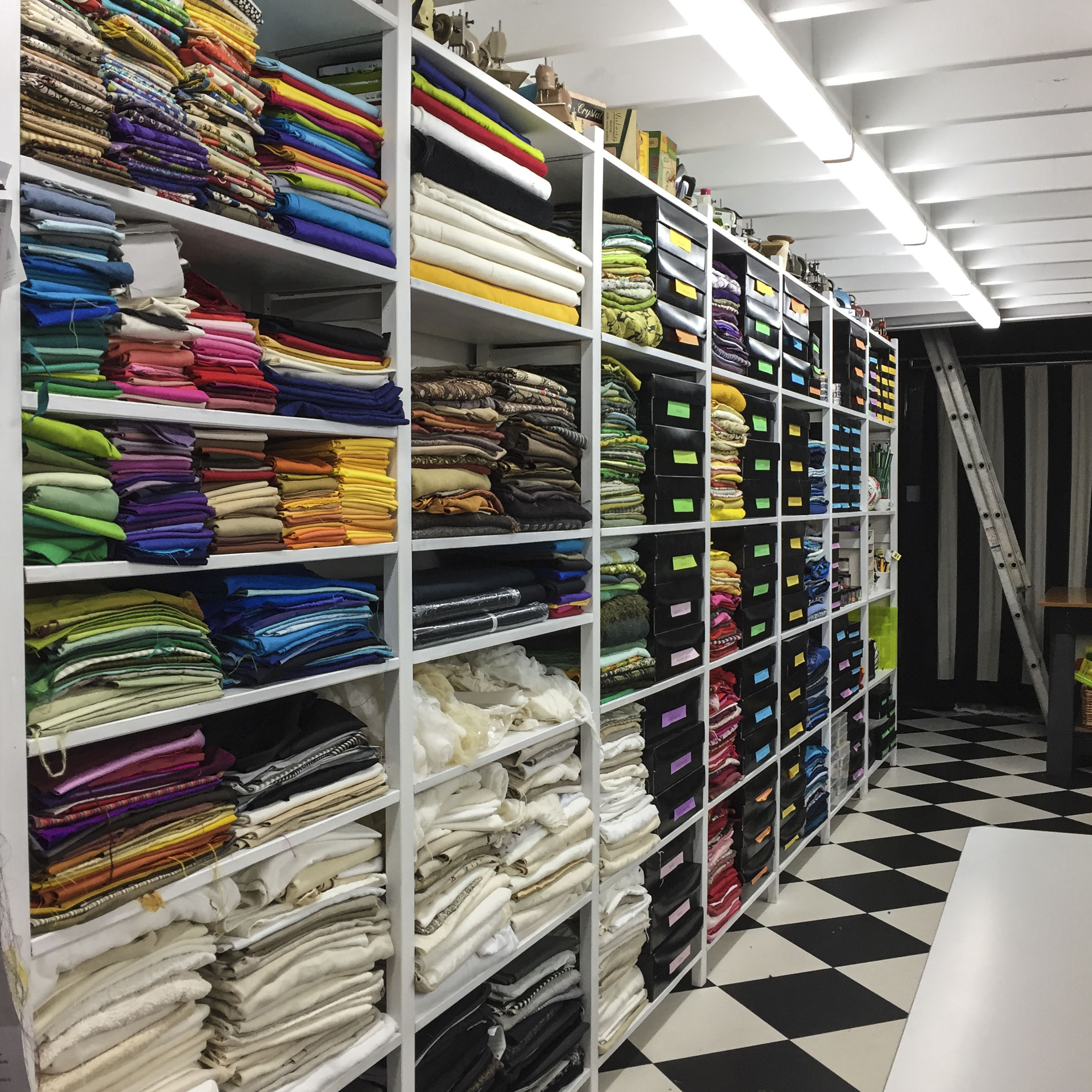 There are still a few artworks to be hung but downstairs is looking great. Fresh. The new me?
Unfortunately I can't continue the refresh upstairs more than we have encroached in the last week – there is too much being stored there at the moment.
Next year my plan is that we'll be repainting our home (next door) and finishing the studio upstairs.
Fresh is good.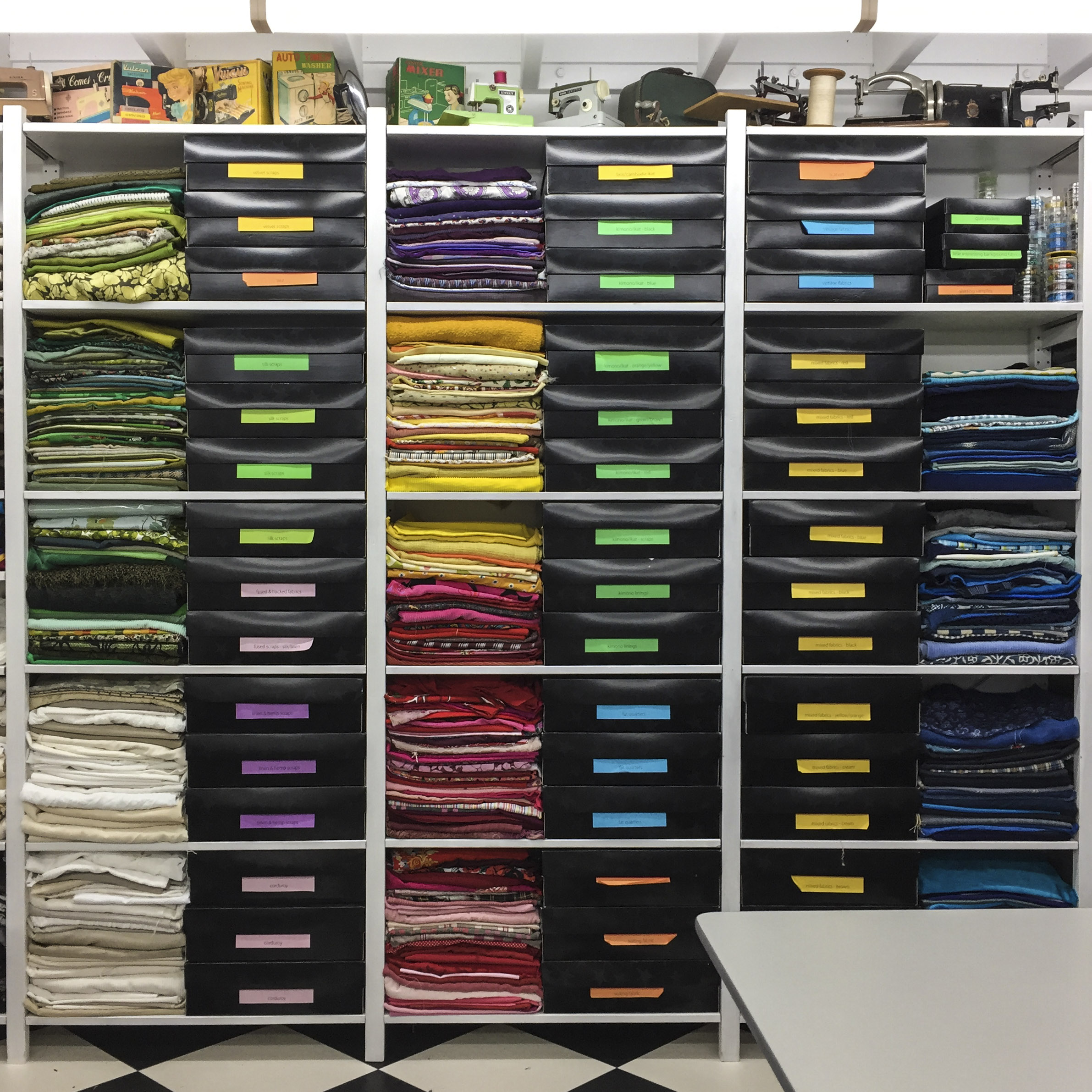 Three beach walks in this wintry week, and my resolve of last week to not return laden lasted one day only.
Sea urchins started the rot of resolve.
Ropes, of which I already have a couple of boxes, were picked up every day – though I feel that picking these up is like removing litter…and is quite altruistic?
A few sea-worn feathers and tiny pieces of sea-sanded wood fitted in my hands and pockets. Minimal and restrained????
At least I didn't bring the fish home…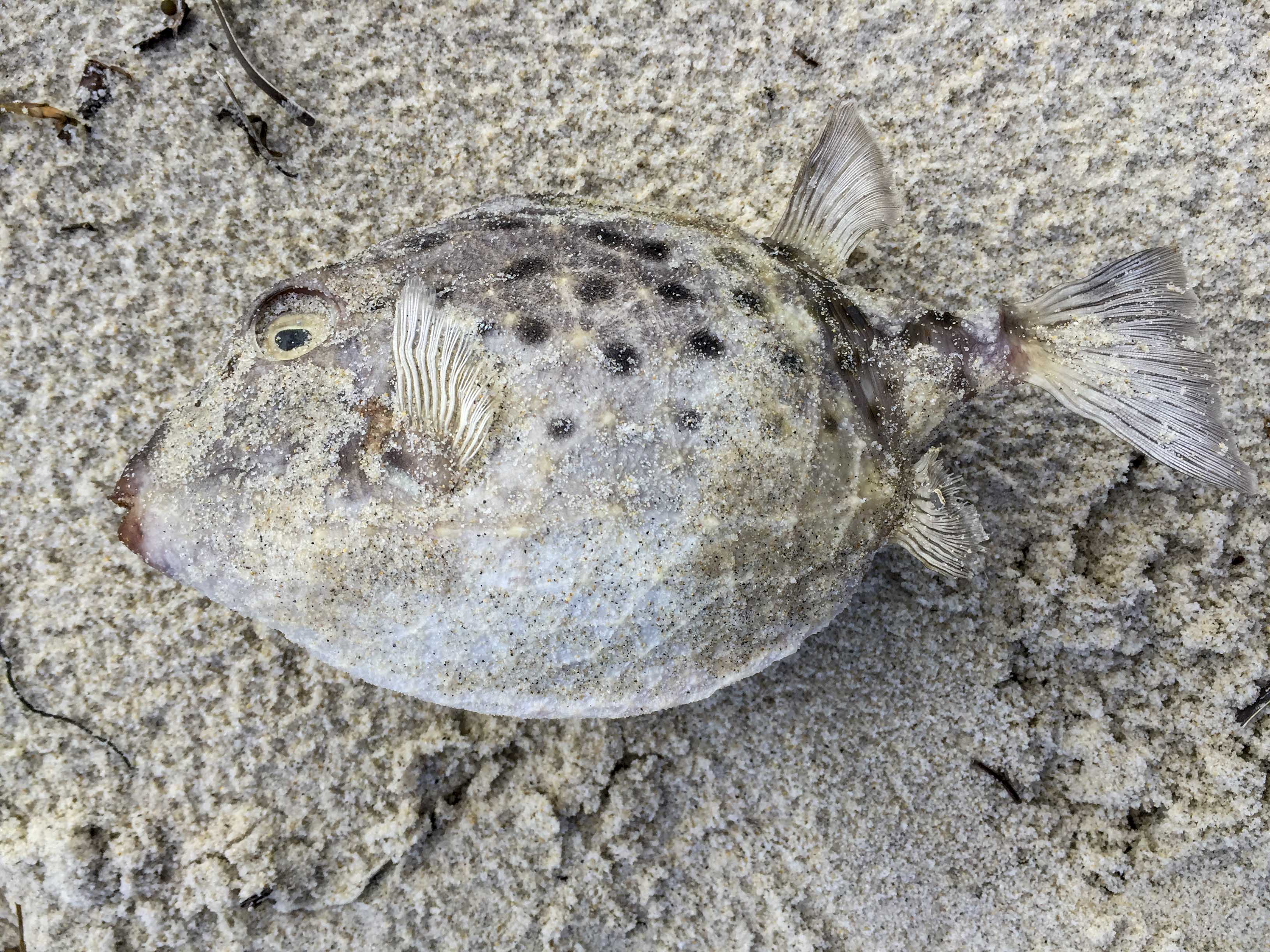 Finally I pressured myself to timetable Instagram to the top of my ToDo List.
There were a few reasons why I have delayed a jump onto/dive into this wonderfully pictorial platform.
Primarily I knew that it was sure to be a visually tempting/time-sucking vortex.
I was also undecided about how best to use the time it will suck up.
Plus, I was also unsure of the protocols and intricacies of they system.
At my age when one needs help with technology one turns to youngsters – so I booked an evening session with my daughter. She understands me, my foibles and my reticence very well.
By the end of the session we had worked out an approach to posting that will suit me.
I was also 'allowed' to sleep on it with a deadline to post the next day.
YIKES.
She left with the lovely/scary words …'I'll be checking up on you'.
Beautiful role reversal.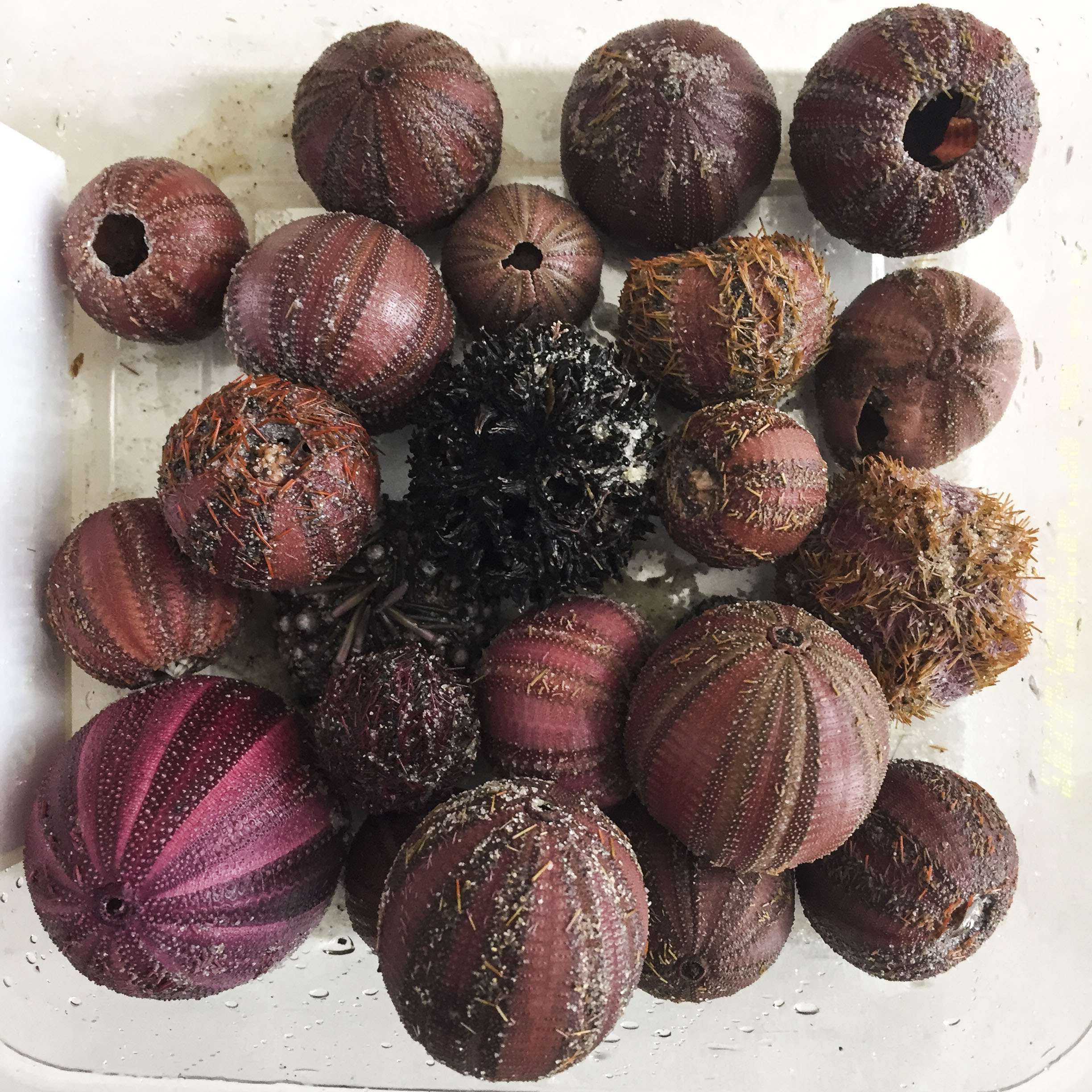 On Friday I dutifully posted nine photos of my current work-in-progress, "Knit1Purl1#3 – bookish". The pressure is now on as I have been instructed to post on Monday, Wednesday and Friday. Already it is Monday….. but Monday is already blog day….just a wee bit of added pressure.
The interesting part was that even though my posting plan involves telling the story of/ the processes of my evolving artwork….(can't stop the teacher in me obviously)…I do like the thought of utilizing the special posting days.
#mondaymotivation, #tuesdaytip, #wednesday words/wisdom and #throwbackthursday are likely to be worked into my posting regime so that I can look back to past works and judiciously post some of the many photos I take.
I promise this Instagram won't take over my life.
I promise.
I promise.
I promise.
Save
Save
Save
Save
Save
Save
Save
Save
Save
Save