WEEK SIX (february 8-14)
tenterhook |ˈten(t)ərˌho͝ok| – noun historical
a hook used to fasten cloth on a drying frame or tenter…. (fitting/ sitting well with my line of work?)
PHRASES
on tenterhooks;
in a state of suspense or agitation because of uncertainty about a future event.
The week is veiled by the waiting game… my daughter is due with her second bub on the twelfth and until this week we were told that it would not go longer than that….but it is…and that is great….but the waiting, the anxiety of a mother for her child/grandmother for her grandchild is enormous.
I wait, I don't make the appointments I should, just in case.
I don't go far…just in case.
The phone is glued to my body….which is solace. If it doesn't ring I am not needed and all is well….
but still… tenterhooks.
Wednesday
Was meeting day for the Quilt &Textile Study Group of W.A. which results in hours/days of time taken on research, correspondence in and out, sometimes beautifully leapfrogging as changes and updates happened quickly between 'us'.
For this bijoux group has two new enthusiastic organisers plus me…that is the me that is trying to ease out of organisation of the group and into the self appointed position of recording the story/history of what we do and see.
Why this interest?
Not quite sure but this small and fluid group is doing something a little different from other textile groups in Western Australia. It is (sort of) affiliated with the Quilt Study Group of N.S.W but the link has not been maintained in the last few years.
Years ago I began this desire to record by photographing some of the items we viewed at the meetings, which were mostly held in my studio, and last year, with the idea of initiating a blog or website, I was more proactive with recording some visuals at our meetings.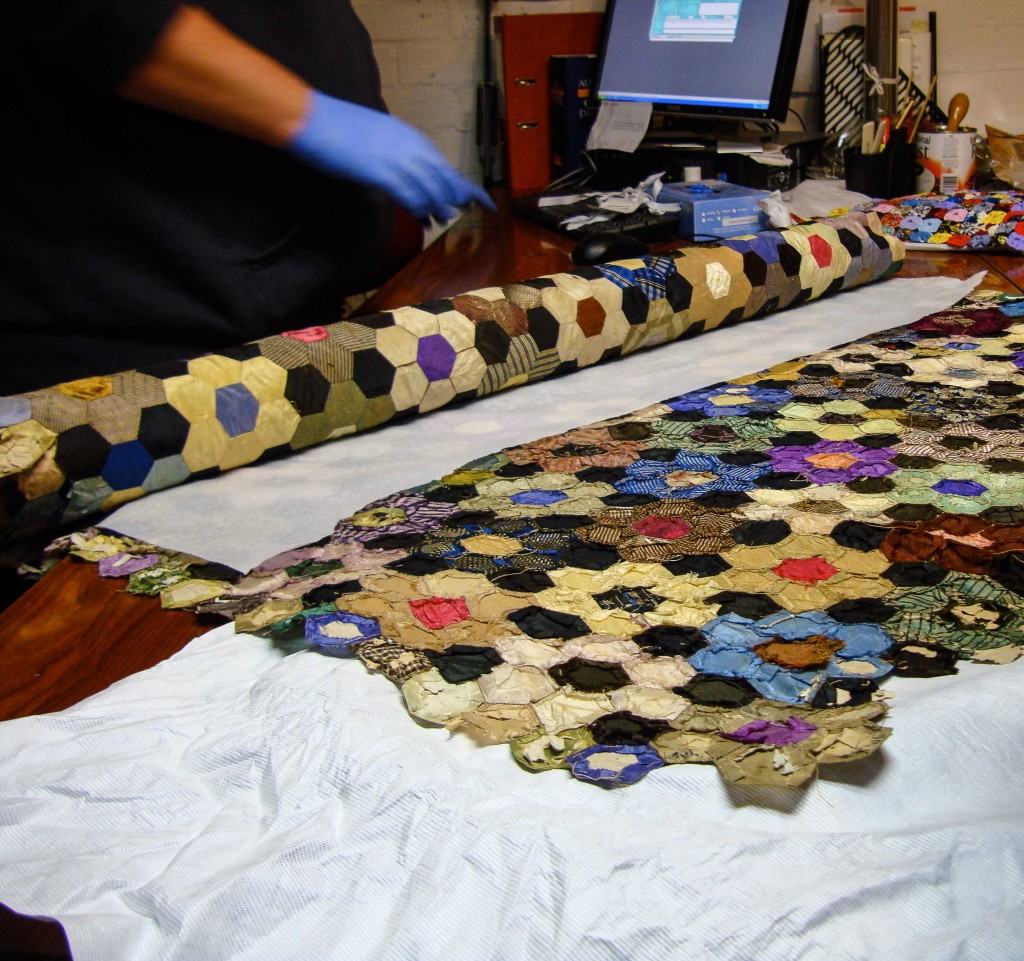 The website is only just past the drawing board stage but I am quietly keen to move on to this project recording our history and current exploits….. to celebrate the talent that we have in isolated W.A and to make note of the fantastic collections that can be found locally if you know someone who knows someone.
We may not have a dedicated textile museum or even a wing of one but there are gems to be found, enjoyed and celebrated – shown for example, are two pieces from the City of Armadale collection. Their finding/viewing makes it all so much more exciting for someone starved of museum riches….yep, that would be me:)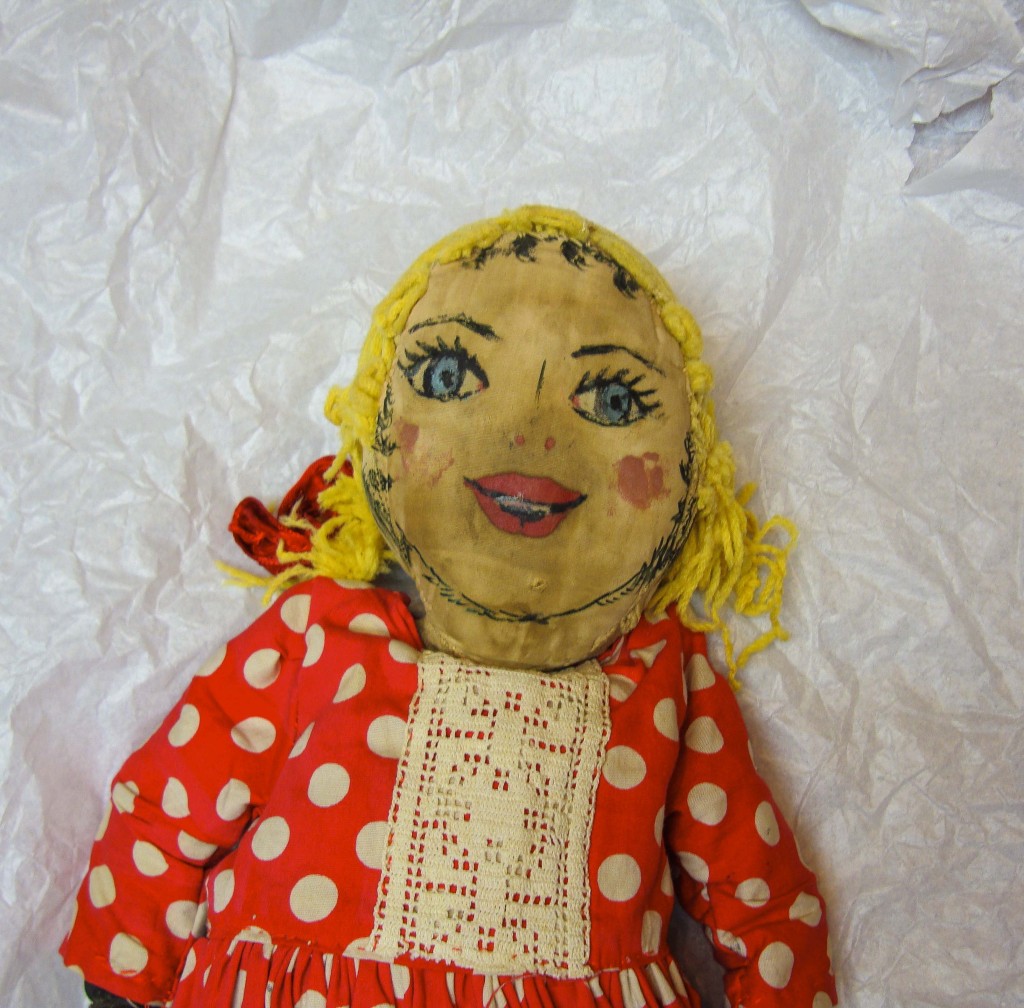 Having a finger on the pulse of things to see is an attribute I bring to the table so we easily have our five visits this year planned out but not locked in quite yet.
Wednesday Night
Was meeting night for twentyONE+ where we start off the year by lining our ducks up and waiting for entries – which are due by March 1.
It is hard to know what we are up against.
Will we be thrilled and overawed and have enough quality work to hang in two shows, (twentyONE+ & a Salon des Refuses)?
Or will we struggle to have enough entries to fill the lovely but not enormous space at Spectrum Project Space?
tenterhooks again…..
So Wednesday was the peak point of the week and this day has loaded me with organisational tasks for the week ahead. I truly value being involved in this way but I badly need to have an end in sight….to be able to spend time growing myself (as was my plan at the start of last year).
If I look back on this blog's tag line….
Time to press refresh, time to reinvent, time to produce a new body of work.
…..it does feel like I am only fiddling around the edges of my desires at the moment.
At the same time these experiences are invaluable.
Growth here is not artistic but it does challenge, it makes me think on my feet and be sure of my decisions.
It has made me totally unafraid of changing my mind if someone else has a better idea.
It has helped me to be firm in my ideals of empowering as many bods as possible…in particular those of the female variety.
Yep, invaluable, but I don't want to burn out…. instead I have have batons at hand ready to happily pass on.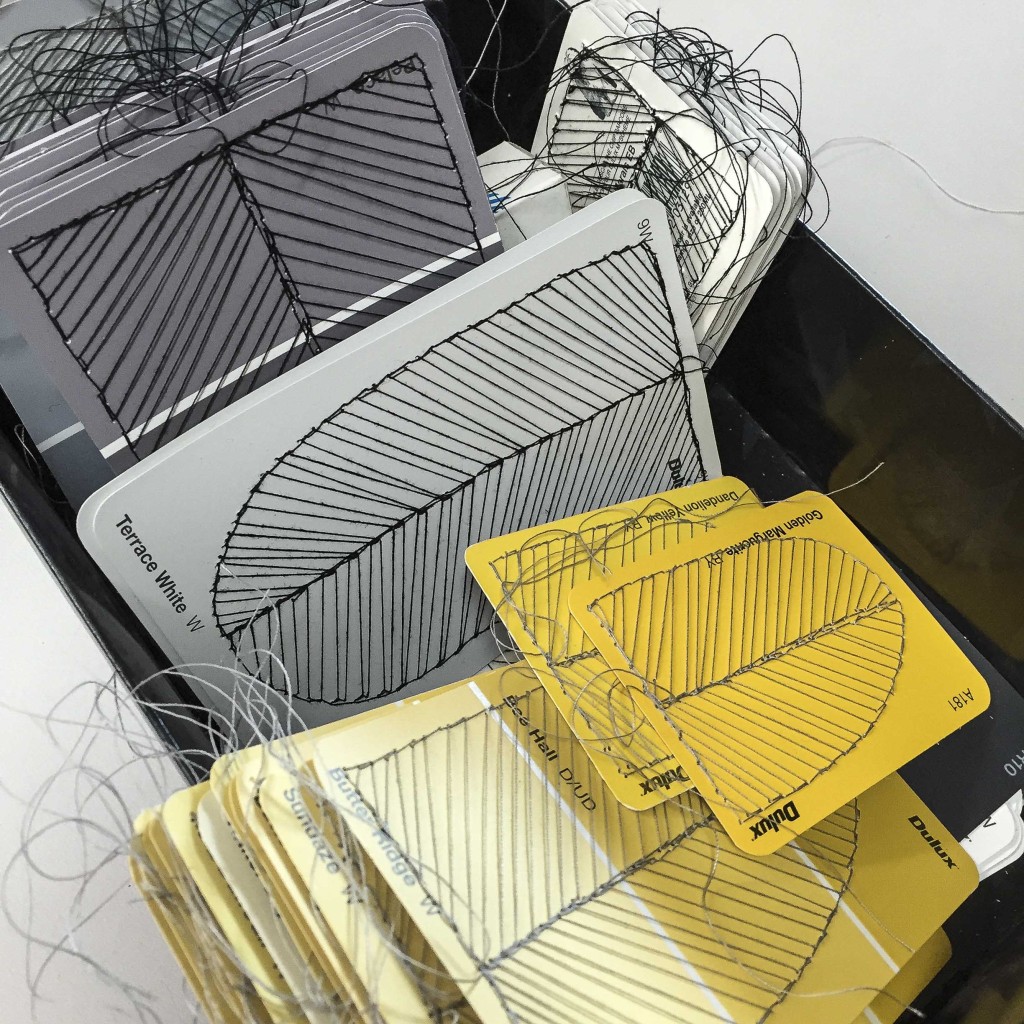 All week, in between everything, I stitch….
I stitch on paint chips.
I listen to Conversations with Richard Fidler and am particularly struck by Bruce Pascoe's conversation about Aboriginal civilisation – we were bought up to believe they were hunter gatherers but it turns out that proof is HUGE that they inhabited an agrarian society growing millet, damming to irrigate, harvesting in stoops and milling.
PLUS
Explorers such as Sturt (who is close to my heart as we grew up with his descendants) wrote about it – so it was documented early.
It seems incomprehensible that this wasn't something the general populace knew about? Why weren't we taught this in Australian History? I have many questions and am intrigued.
Straight away I want to read Bruce's book Dark Emu: Black seeds and will explore this when I get my hands on it….sold out locally at the moment though I have ordered it through Magabala books online.
Exploring a little more I find a Pozible campaign. It thrills me to see that this knowledge, however old or new, is being used to empower communities NOW.
Exciting stuff….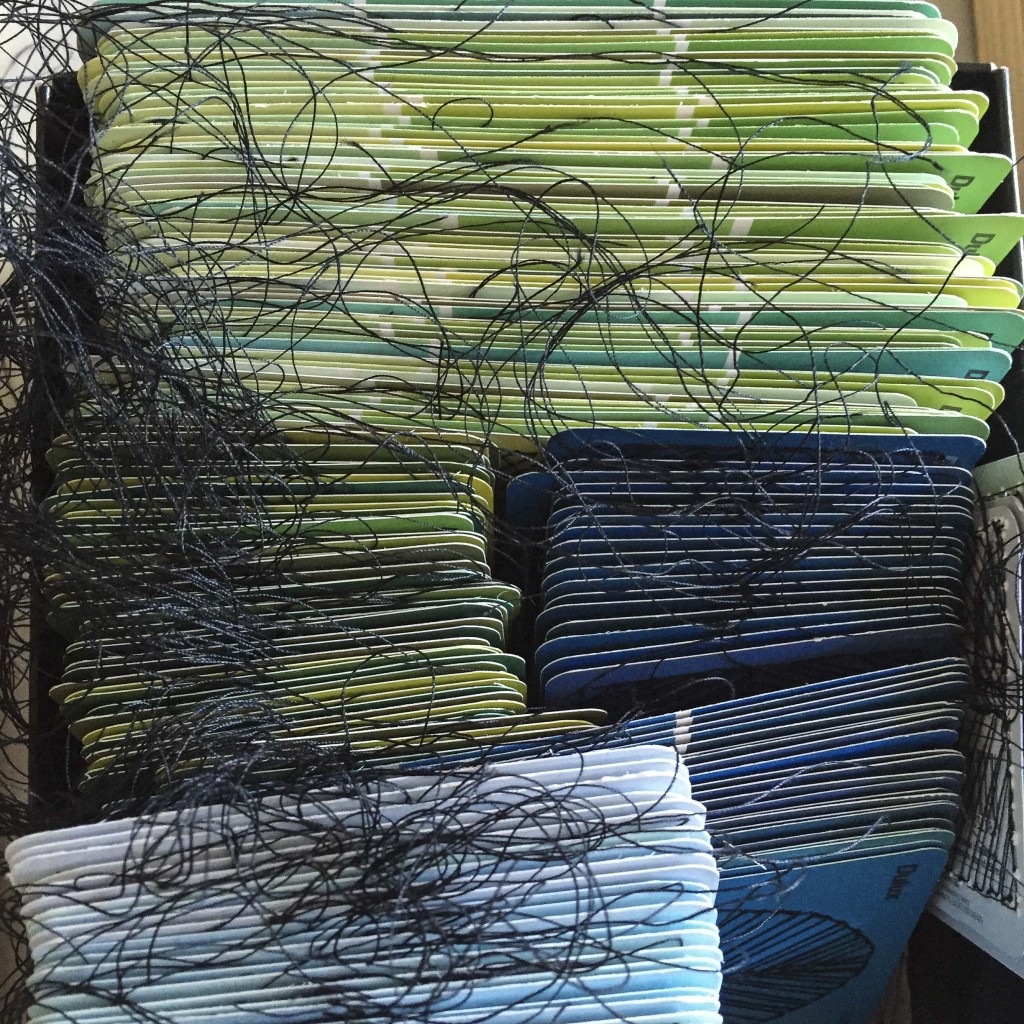 I keep stitching on paint chips.
Paint chip mode has quickly become a default.
Have five minutes? I can turn on the machine and do one.
Thinking time….push out six.
Loving it, and as continue I think of, and record, plenty of possibilities for these little palettes.
My bloke is making frames for me to place the first three of these sets on.
The first is very large and so I have made two smaller versions to make sure I achieve the effect I am chasing by trialing first. Fingers crossed.
In a rare move for me I am ready, straight away, with the desire to hang some in my home.
They tick boxes for me.
They are not earth shattering but who needs to look at earth shattering every day?
These have a calm beauty, an unexpected rhythm, and still draw my eye in to explore.
They are 'simple'.
I'm happy with them which is much more exciting to me than my usual guarded response.
Though I shouldn't speak so early – as they are not finished and on those frames. There is still time for dissappointment:)
And finally I have finished Salman Rushdie – Two Years Eight Months and Twenty-Eight Days ( a very clever play on one thousand and one nights and all sorts of legends).
Whilst it is not a big book and not a difficult read it is full of backwards and forwards intricacies in this collision of tales, cultures, eras, myths and reality.
Beautifully written, as always, it is too dense for my last thing at night reading – I think I will have read it at least 3 times by the time I finished late in the week.
Sometimes I needed to read the same chapter two nights in a row and even when I finished it I wanted to go back to the start and do it all again.
Still, nice to be immersed in creative myth and legend in such a week.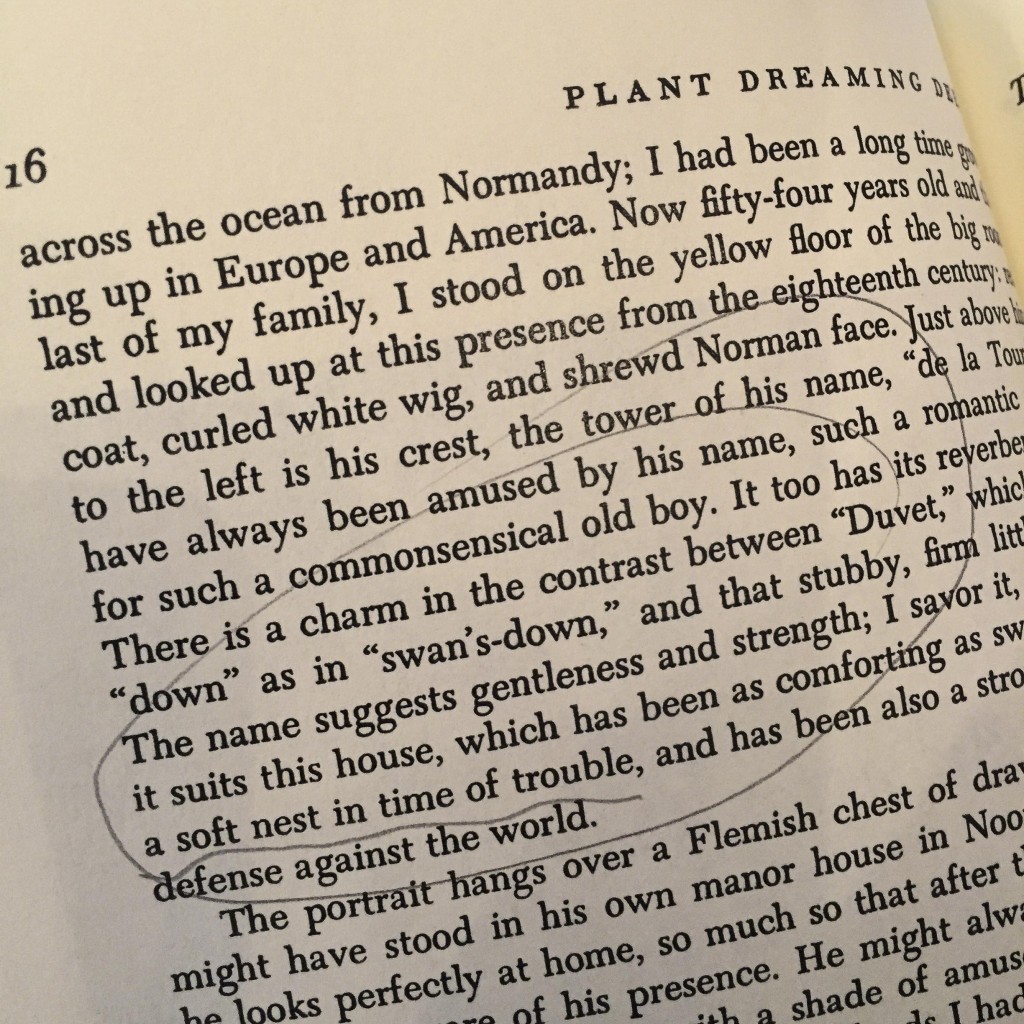 My next read is completely different… I have started 'Plant Dreaming Deep' by May Sarton…loving it deeply already.
I'll keep you on tenterhooks until next week when I will have certainly finished this slim unputdownable book!
(anything that mentions a swan within the first chapter has me hooked:)