WEEK SEVEN (february 13-19)
The week was almost a straightforward one. I have many weeks to come that will be interrupted by appointments of all sorts but my mindset is now to not put chores off as I've found that these pesky things rarely go away of their own accord.
So first to the pesky but with joyous photos spread throughout.
The Physio gives me the much-needed relief, and the advice that I expected – go back to the regular weekly Pilates session that I cancelled because of all the dog walking I took on mid last year with the arrival of old man Riley. I make the booking on my return home and now have an 8am Monday permanent booking – much better than the 'break up the day' 11am of many years. TICK
I pick up the new tap for the studio and get the plumber back to install. TICK. TICK
The printer repairs are also complete – though the hefty cost of repair is dominated by the price tag of all the new ink cartridges that had to be replaced. Hefty equals close to $900.
I look forward to firing it up and lining up fabric to print on again as a regular chore/delight. Luckily those ink tanks are large. Project after project are now lined up on my noggin and on paper. So a TICK here too.
The strata gardener arrives – sort of unexpectedly –  Walter is a lovely bloke, as is his ever-changing crew. I always give them morning tea on the verandah and this week the three of them demolish two pots of coffee, three apples, a big bowl of chocolate wafers, (a Xmas hamper inclusion that we won't eat), and three hefty slices of a plum loaf that I (luckily) had in the freezer. All demolished except for one apple:).
They work hard and are very appreciative….as am I of them. TICK.
My studio priority time was spent this week continuing on with organising my textile collection photos. All had been initially placed in their freshly labelled boxes and computer files but there was still an enormous amount of cross-referencing/checking to do.
Nearing the end I am keen to get it done but I feel like there must be more photos of my old american quilts somewhere else????
I work on this further the next day and discovered many of those missing photos, errantly lumped in other files. Photos and boxed objects are now aligned!
TICK.
I am also building another pile for the next photo shoot. No hurry for this though!!!!
I have my first studio class for the year, on Thursday. Only three attendees but, as always, a lovely day where healthy forward moves were made.
With plenty of space available I invited Nettie to join us – I had an ulterior motive – the Salvage Selvedge signature quilt back is from Addis Ababa where it has had pride of place in Principal Yared's office.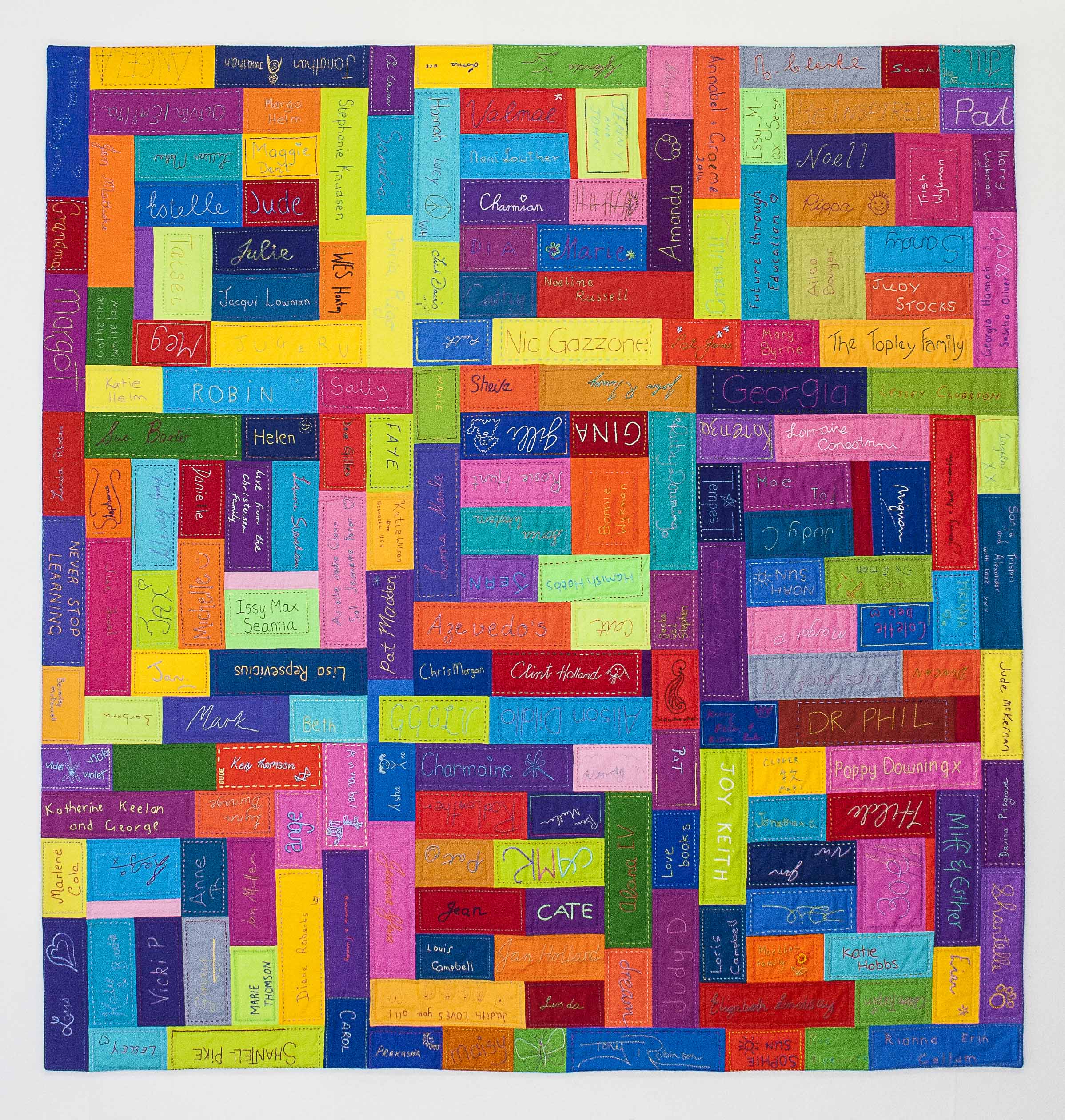 It has been returned for a repair because there are two rusty nail holes where it had been hammered onto the wall. Nettie worked on many of the signatures and her embroidery skills are way better than mine. Having her join us was lovely and of course she did a great job. The quilt will go back in May with hanging instructions on how to use the rod pocket this time…. TICK thanks to Nettie!
Friday, which was once Esther day is now Flick day and was to include Flick's first train outing with me to Freo, and to the exhibition to the Maritime Museum. Plans soured early. On the morning dog walk the inwieldy inherited pusher seized up and I had to push/lift it home whilst also trying to wrangle the always errant Riley.
Tools could not wrest the jammed up wheel so I headed straight up to the pram repair man in Osborne Park. My perfect result was achieved as I donated the jammed/horrible pusher as spare parts to him and purchased a secondhand, lightweight, good looking, functional pusher for $175. TICK. TICK.
So with all the pesky cleared, even though many were only slightly pesky, we turn to the JOY;
I hold a sweet view in my mind of Esther mimicking my variety of silly waves and gestures through her open car window as she waves to Flick and I and heads off to daycare. Gorgeous. Simply gorgeous.
This is the sort of JOY these little bods thrill me with. The long days and sore back and lack of 'achievements' disappear with little things like this mimicry.
I really should draw these things to keep that picture…but even I know there is no chance of that.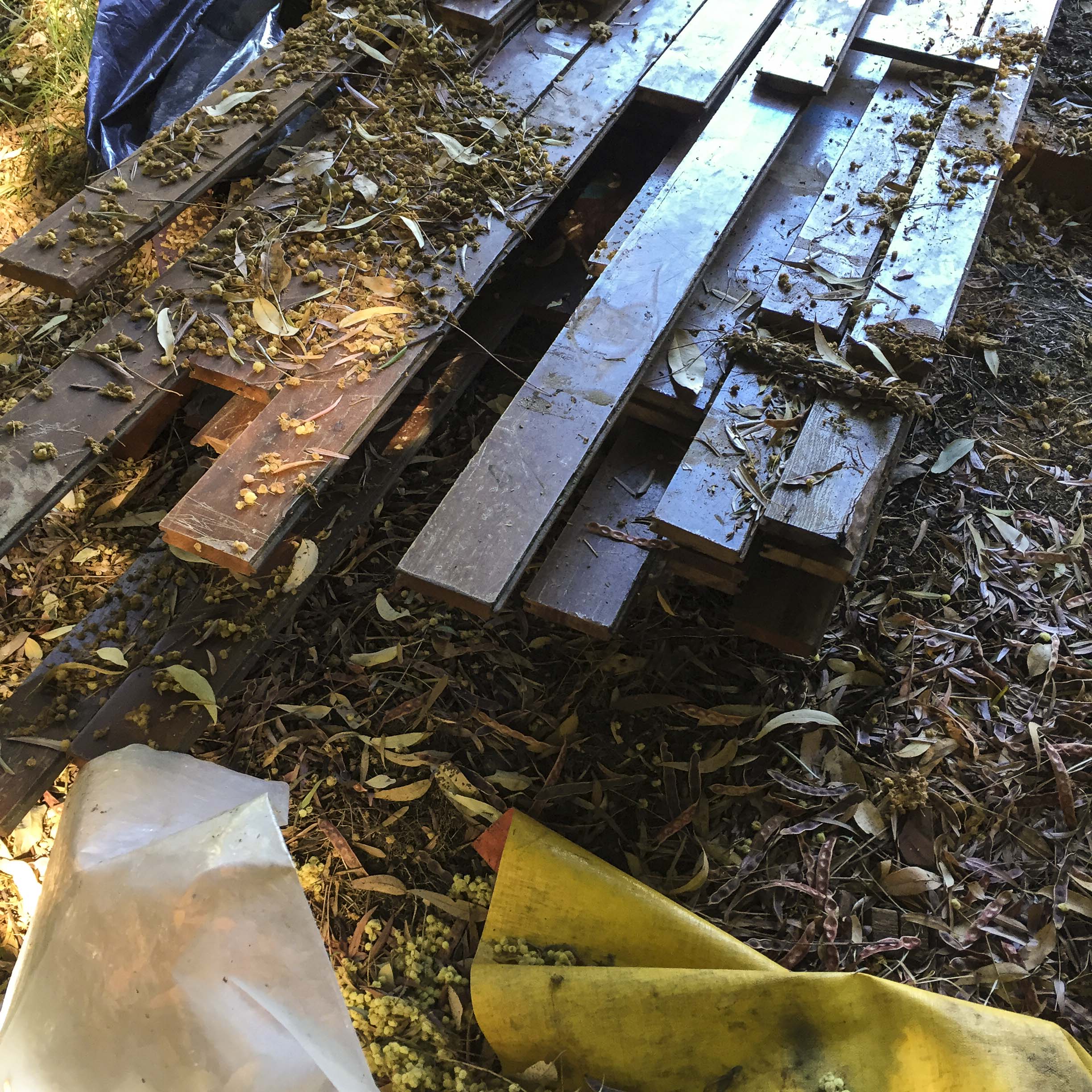 Off to our little house on Friday night where my current project is to continue the grind/cleaning off the 'bitumen/glue/gunk' out of the basketball court/girls shed flooring. After I get set up and into the rhythm it is a physical and very dirty process, but not at all an unpleasant job. In fact I really enjoy bringing the clogged up boards up under the jarrah trees where I am working, stacking them, and one by one giving them the cleaning grind.
I particularly like the blue markings which we will try to keep intact – looking at the hieroglyphic markings is a treat.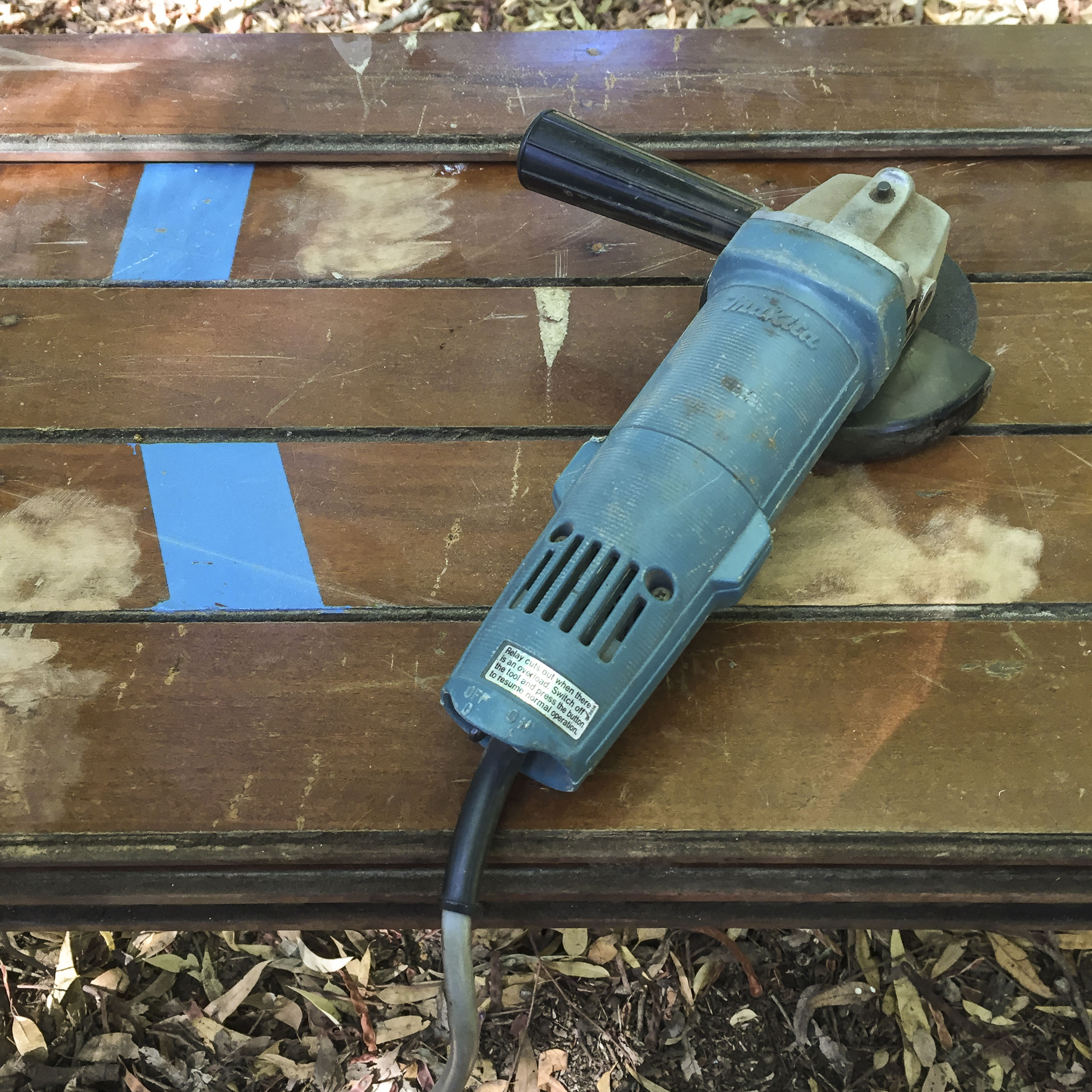 Surprisingly there is JOY in the doing as well as the results.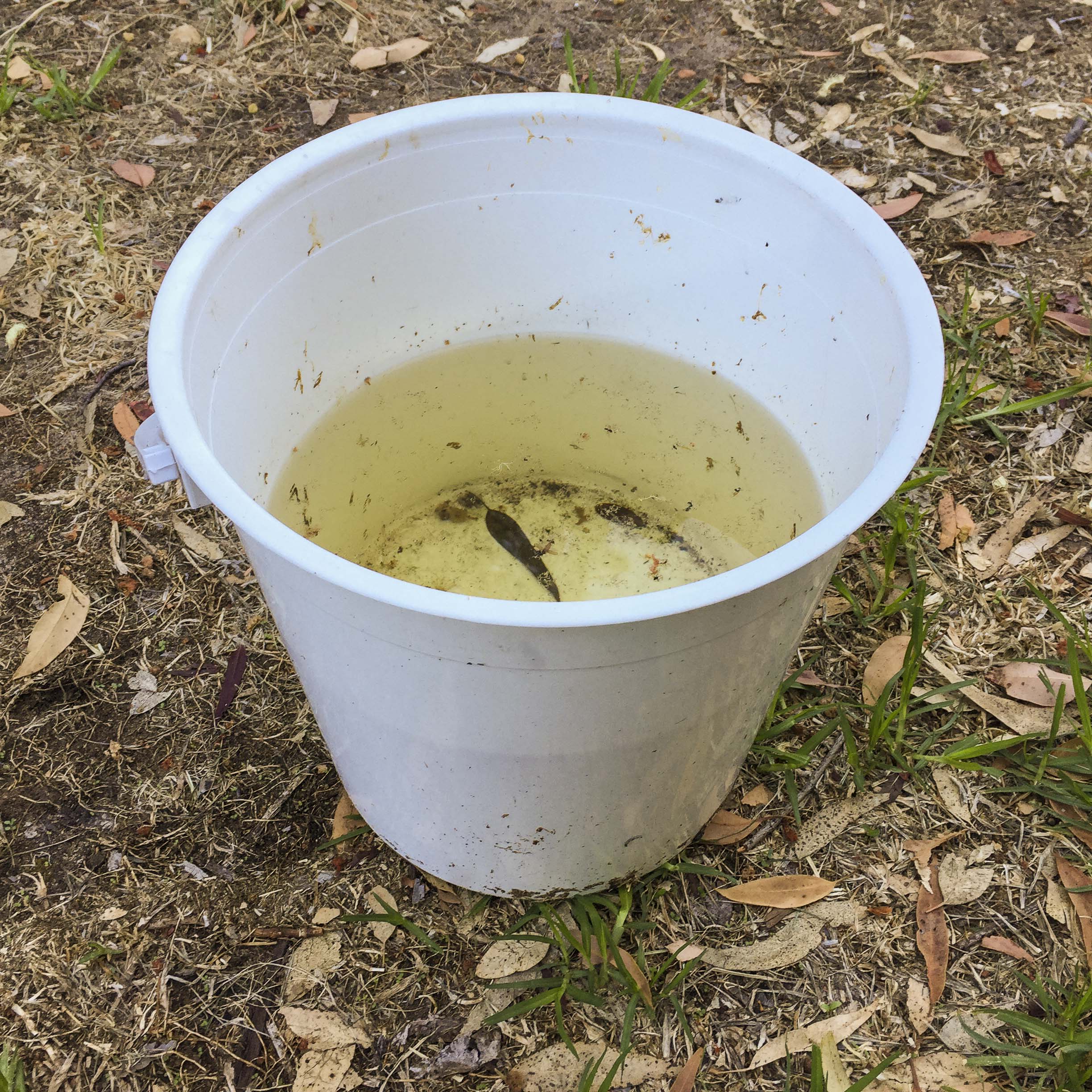 We check our 'rain gauge' – a bucket – as there was a lot of water down here last week. Our grass is spring green, not summer dull, and despite our yard being mowed on Thursday, by the end of the weekend, with beautiful sunny days, the verdant greenery needs another haircut. The birds are having a lovely time of it – there is obviously plenty of bird tucker available that is not usually on their February diet list.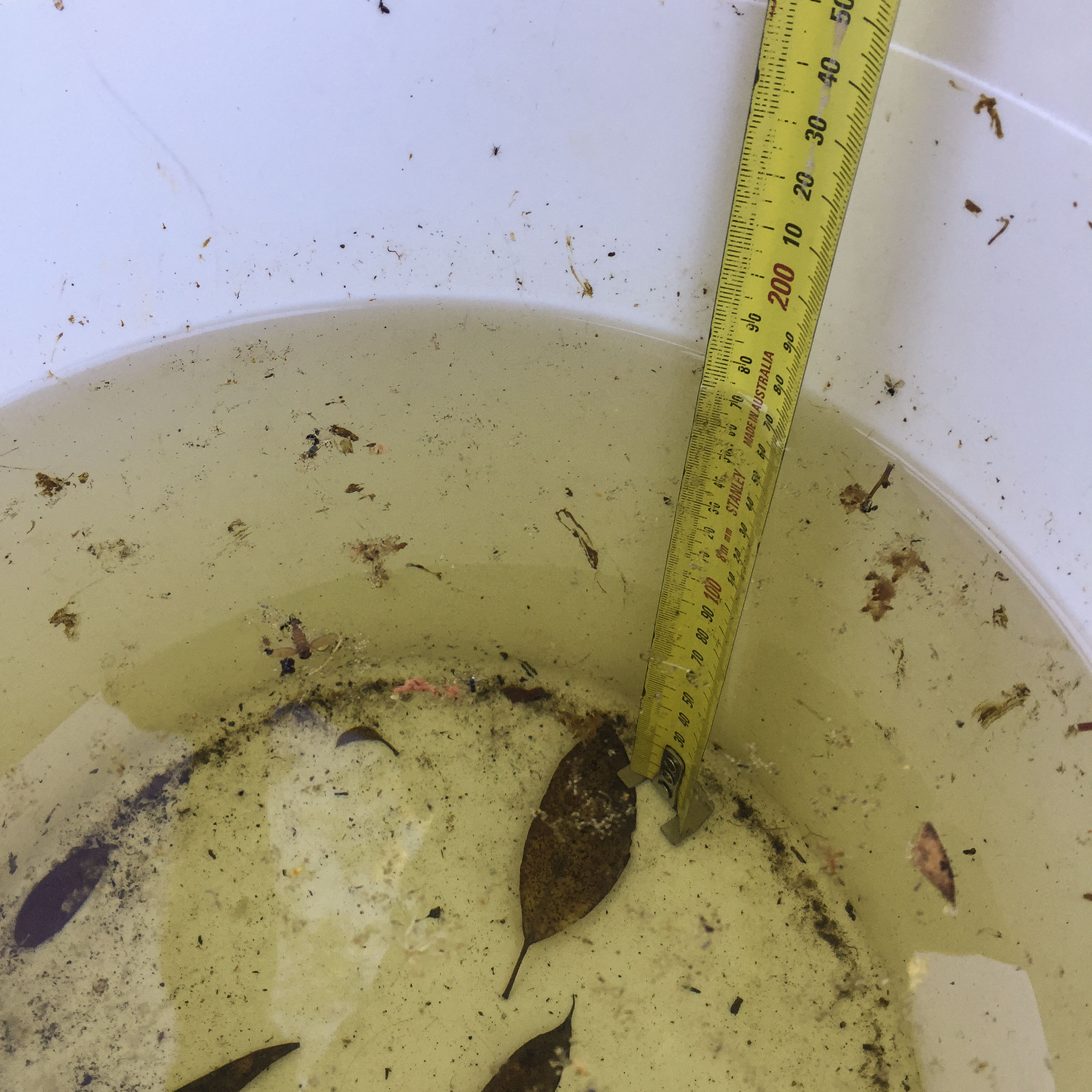 At lunchtime we head to the Log Chop and then straight to the CWA where we fill our bags with preserves, a couple of bags of Roma tomatoes, and also grab a CWA sandwich for lunch.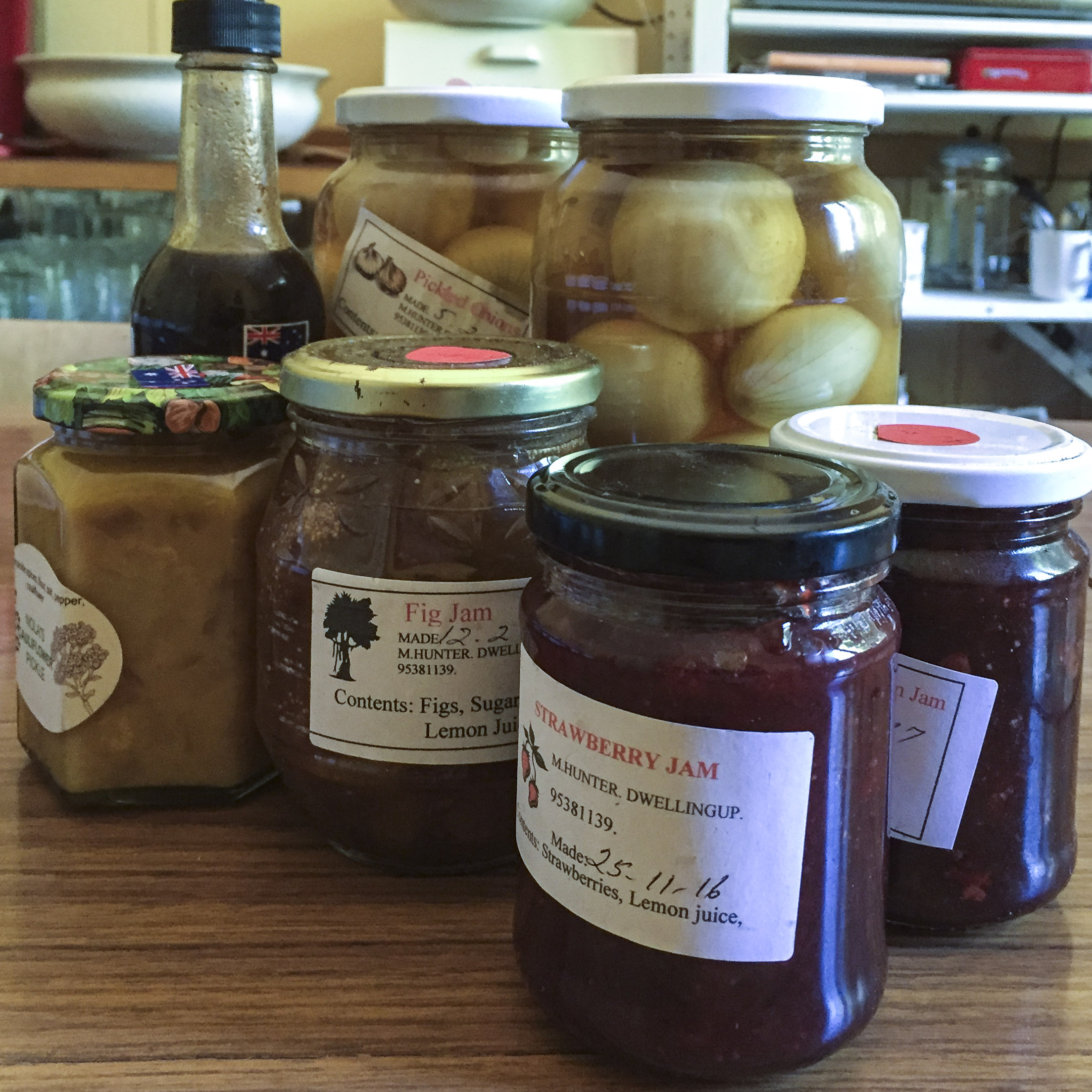 I love to support these ladies, in fact I tried to join last year but was discouraged by the president as the group is well aged. I may still join one day if only to give them another membership but instead we support them by buying as much produce/product as we can.
Their 'clubhouse' is gorgeous and I do dream of hiring it to spend a week of making there, with friends. It is good to dream.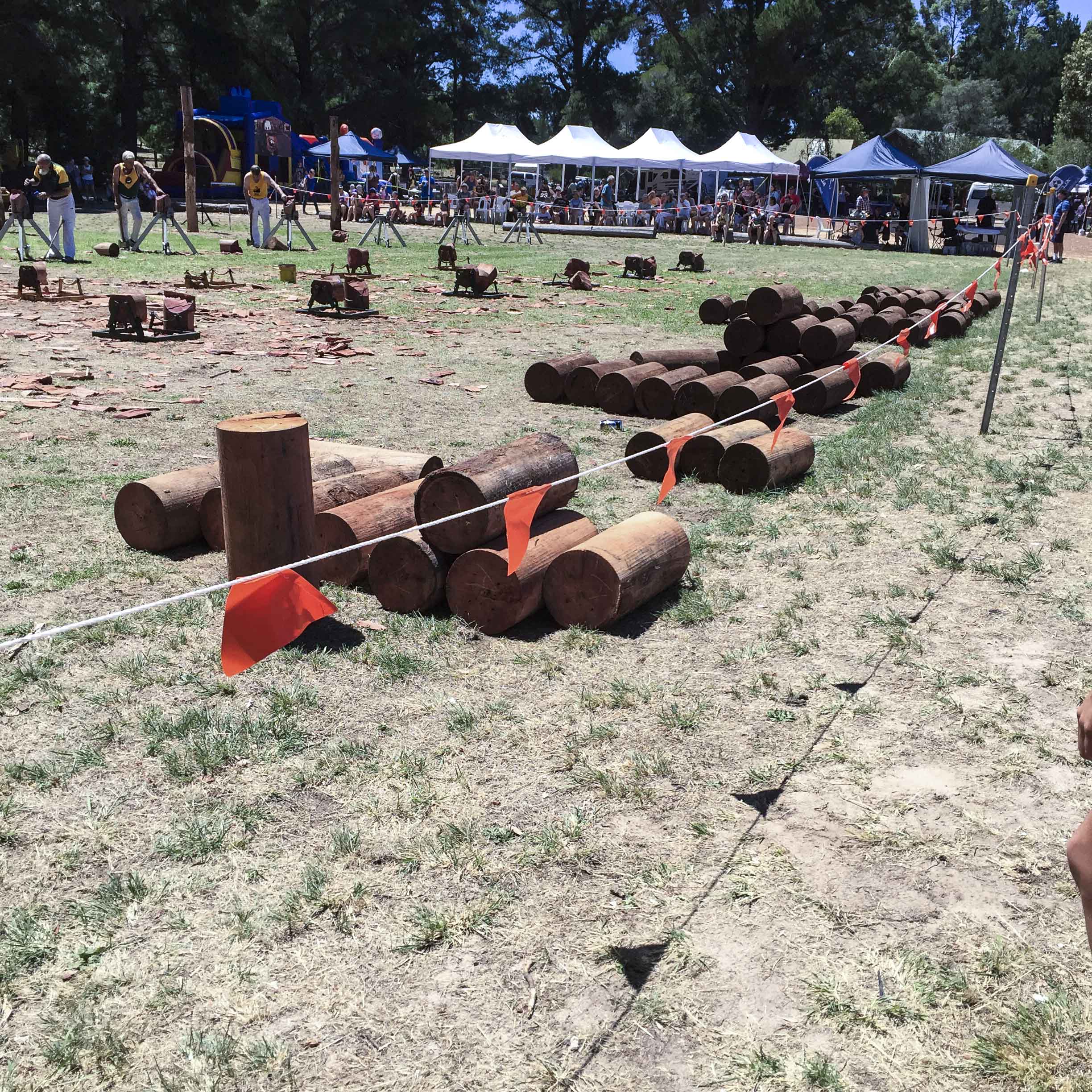 We watch the chop for just one event….the sun is hot and we have things to do.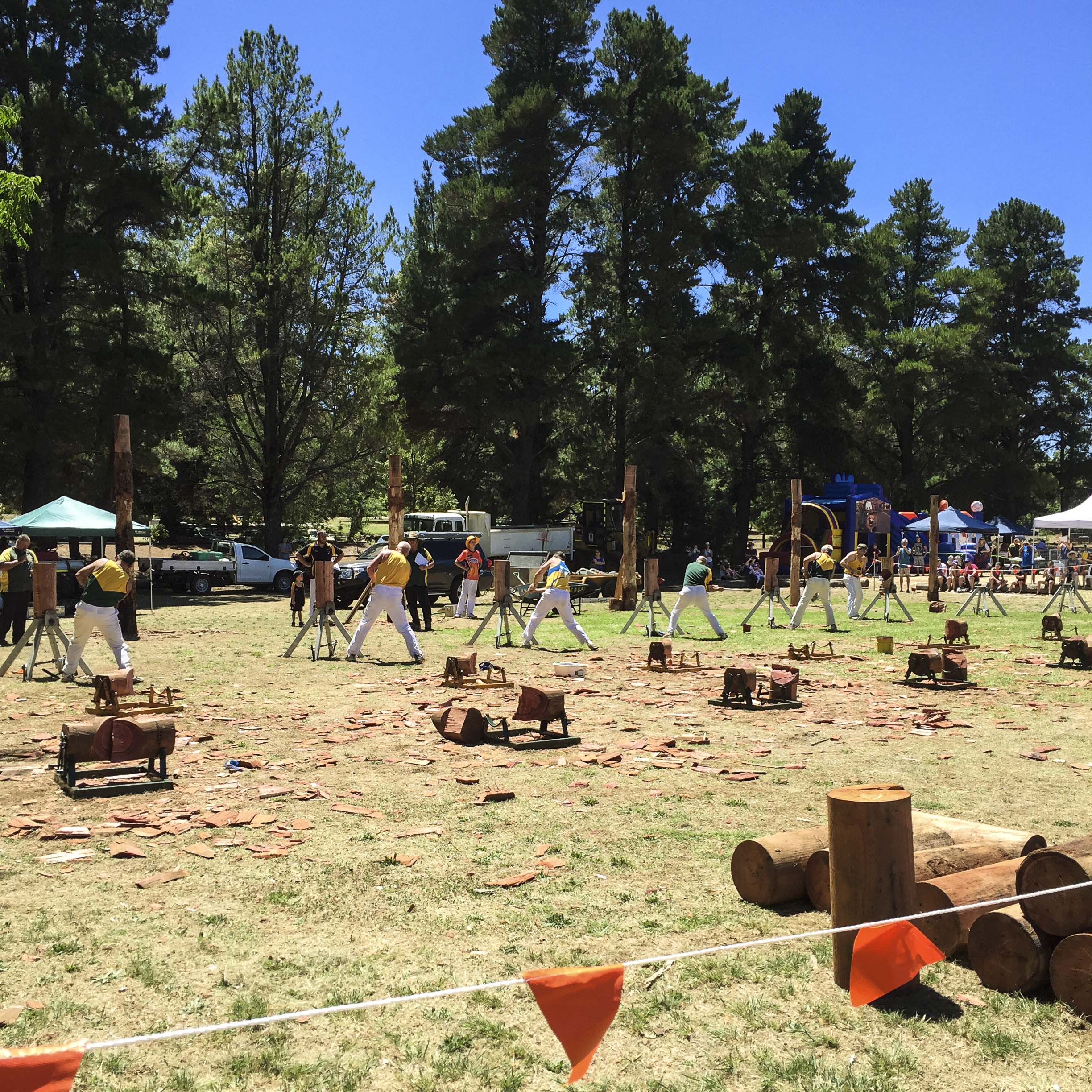 Off next to another regular stall – Gran & Pops – to fill another bag with the rest of the years supply of jams and pickles. This is a lovely local family business and they are also grateful for our large purchase – whilst we genuinely appreciate their variety of homemade yumminess that I do not have the time to make.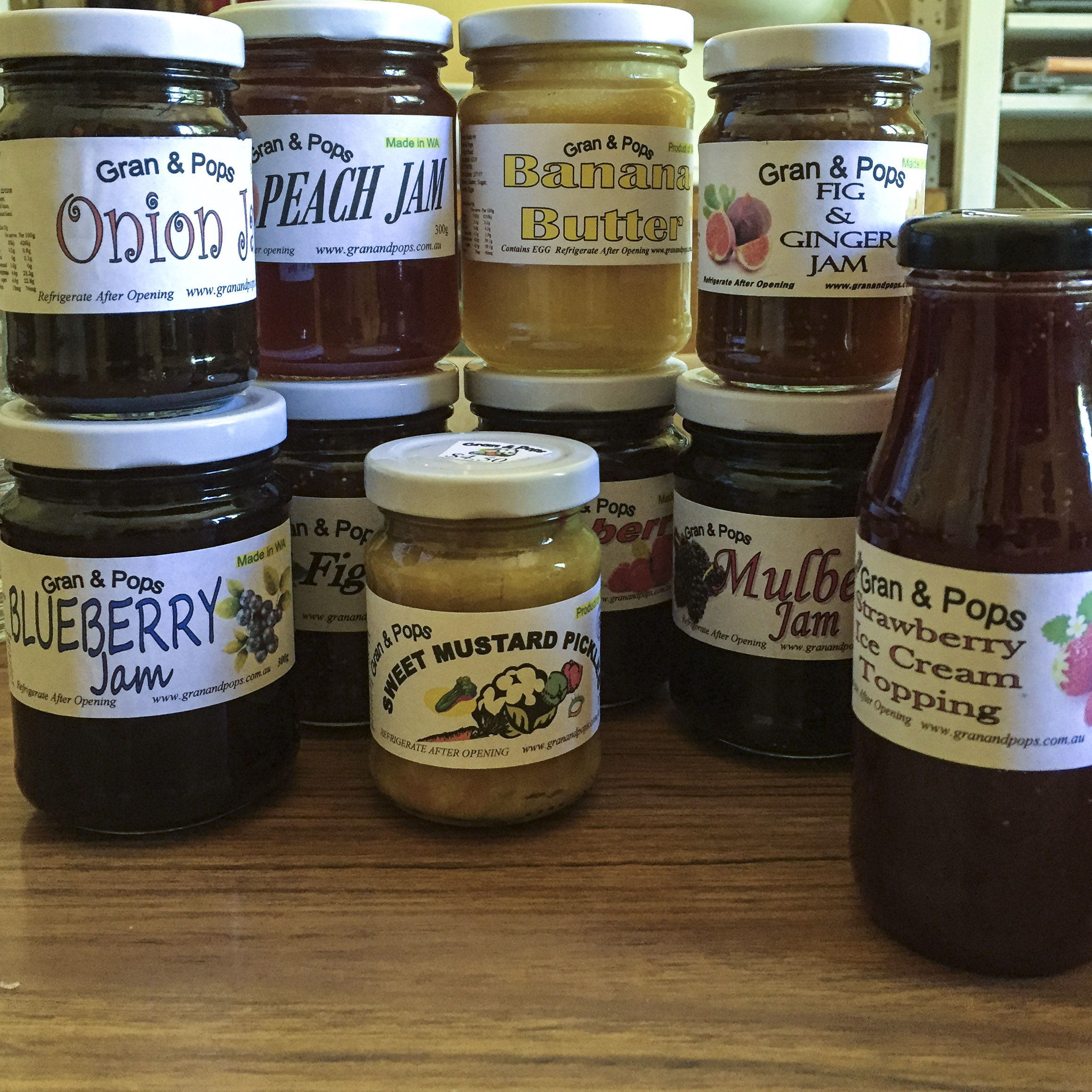 On the way out we pass 'Steve's' truck – he is the local bloke that sliced our felled dangerous gum tree a couple of years ago – so the blokes have a natter.
I had spied the side of a little white dresser on the way in and on the way out it was mine for $45. Ideally it is 'a bit of old' for the girls' shed but it could perhaps be good in the new kitchen/bathroom that we will get to designing when the sheds are completed?
This sweet little dresser needs a bit of work but has nice details.
My Dwelly future has a load of furniture reconditioning in it….JOY?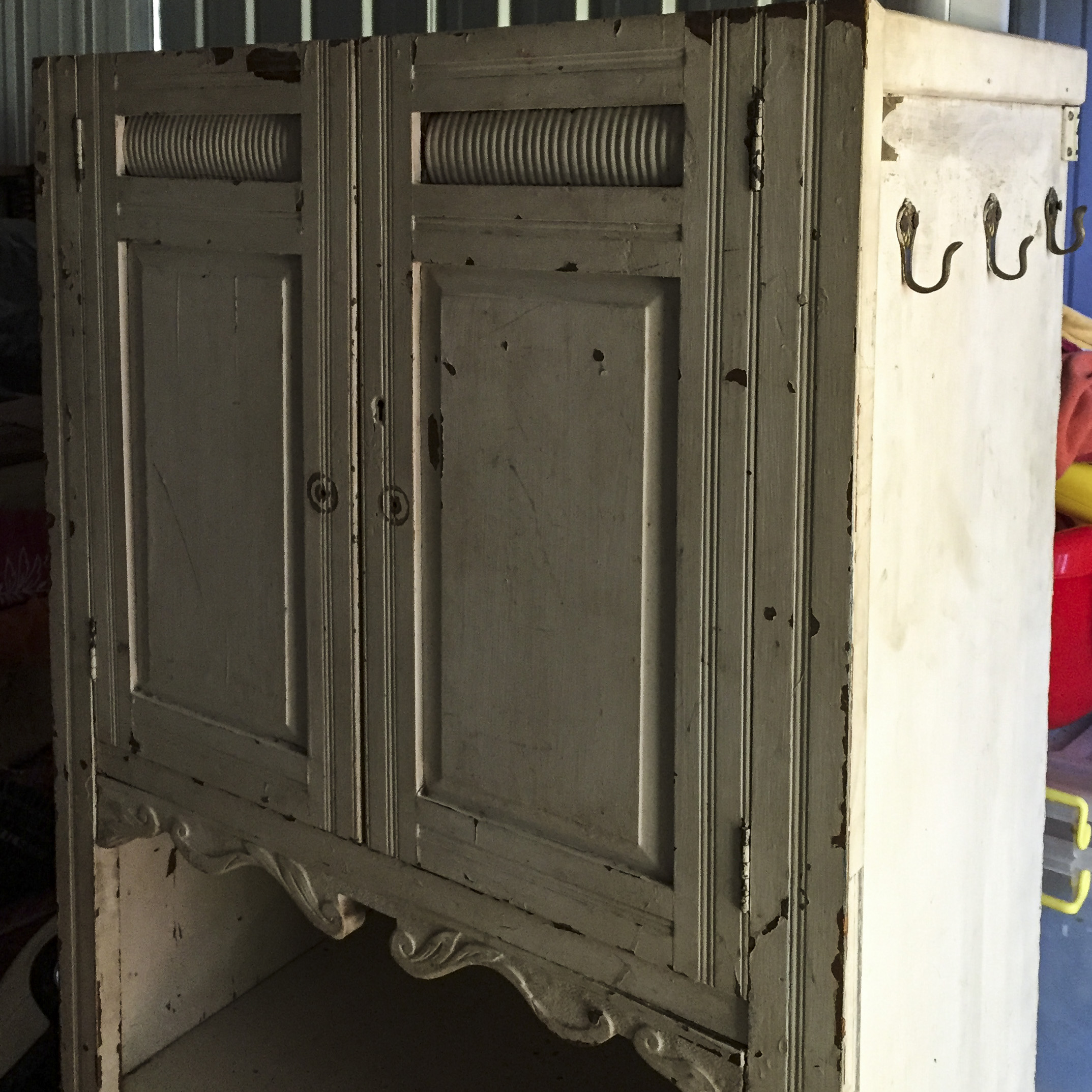 Then on a balmy and still Saturday night we lay out the back on old mattresses facing east with a skyline of our jarrah trees framing the perfectly clear night sky. Our task here is not only to soak up the serenity but there is competition involved!
The yearly tally of satellite and shooting star spotting needs restarting.
The tally was three each. Fair.
The feeling engendered was TOTAL JOY.
Save
Save
Save
Save
Save
Save
Save