WEEK TWELVE (march 20-26)
After a big empty of my head and heart here last week, I start the new week with a few tiny specks of change in motion as, realistically, expectations for real change take time and inspiration and thought and luck.

I know that I need to quietly exit some things from my life, and also to not take on anything else that is not necessary….though perhaps the difficultly in defining necessary is also part of the problem?
So far I have shelved various things – with no guilt attached – including two membership subscriptions that will not be renewed, two magazine subscriptions and an irregular 'passing on' of local information newsletter that I send out.
Whilst that doesn't seem much, what I aim for here is less chatter and fewer distractions though I must admit that I have done this before, assessing what I was not excited by only to find myself looking for stimulation and knowledge within another iteration of the same.
It is but a tiny, tiny start.
So when/why does keeping up and awareness of other artists and exhibitions and good bits of the world become a problem?
Right now I don't think that it is a big problem but rather a distraction.
Perhaps I shouldn't seek to keep up at all?
Instead bury myself a bit more?
Close the door to explore what I have?
Be MORE determined to forge MY path?
That does not address the time needed in action-ing my colossal plans for artistic making,  also known as pie in the sky dreaming, but fewer distractions and less head chatter could help?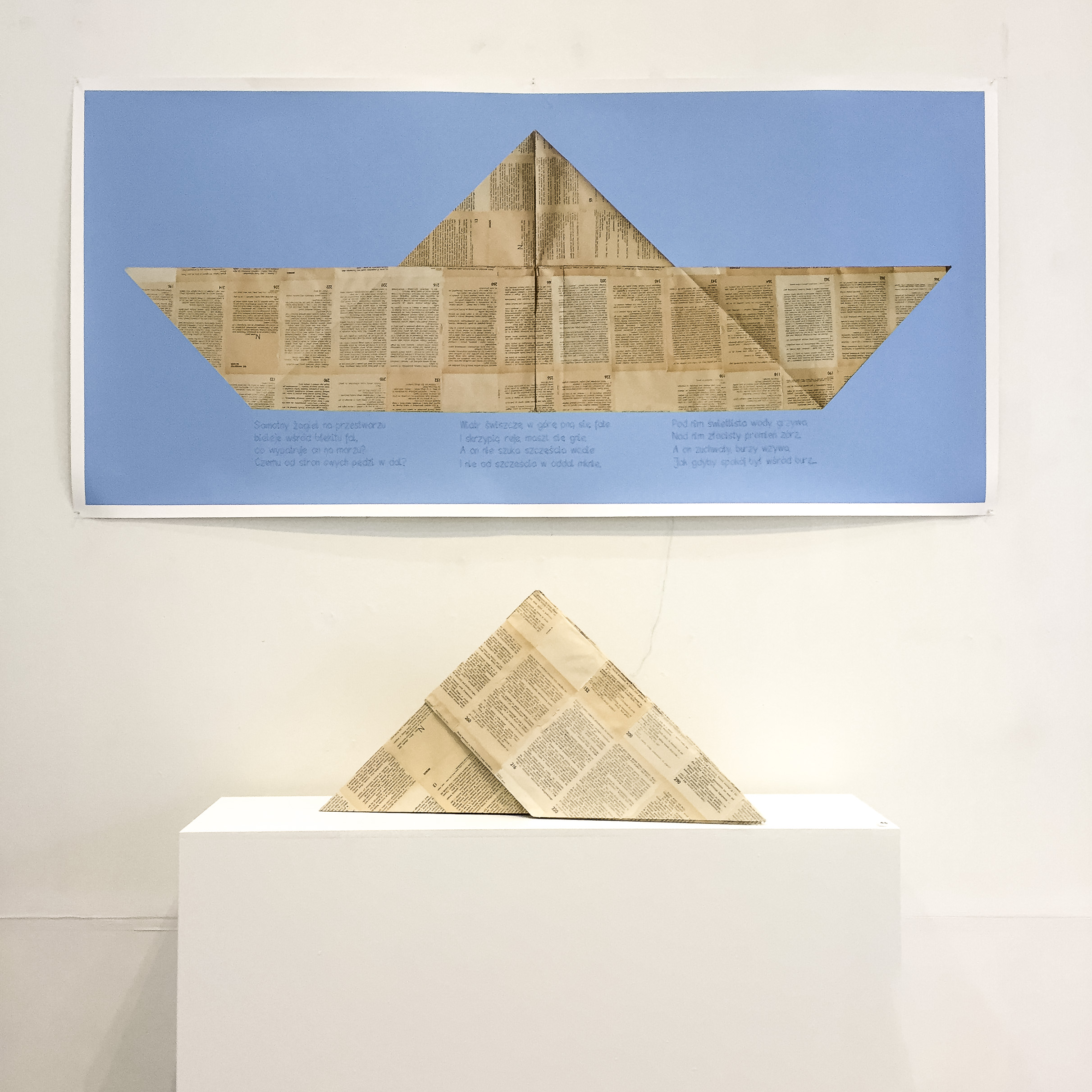 Last weeks post was quite cathartic for me…in both writing, and particularly in sending that post. I knew that I was opening my artistic life up 'to the world' and that sort of honesty will always have the upsides and the down but I feel quite empowered by this problem, this searching for more clarification, a more structured path and achievable goals with the hope that clarity will help? I suppose I seek a resetting of my dreams?
As soon as I pressed 'post' I flipped over to my emails and who should be perched there but a very good friend suggesting we team up to exhibit.
Spooky is definitely the word
….ask and you shall be given?
….open yourself to the world and be astounded by its reply?
I still cannot quite comprehend the timing of this but I don't doubt it.

Obviously I, we, will try to get a project up and running, we have lightly talked about it over the years but perhaps we are now both in the space where it could or should happen?
Interestingly, whilst seeking personal clarification, this timely connection of past and distance is not what I thought would be 'delivered'.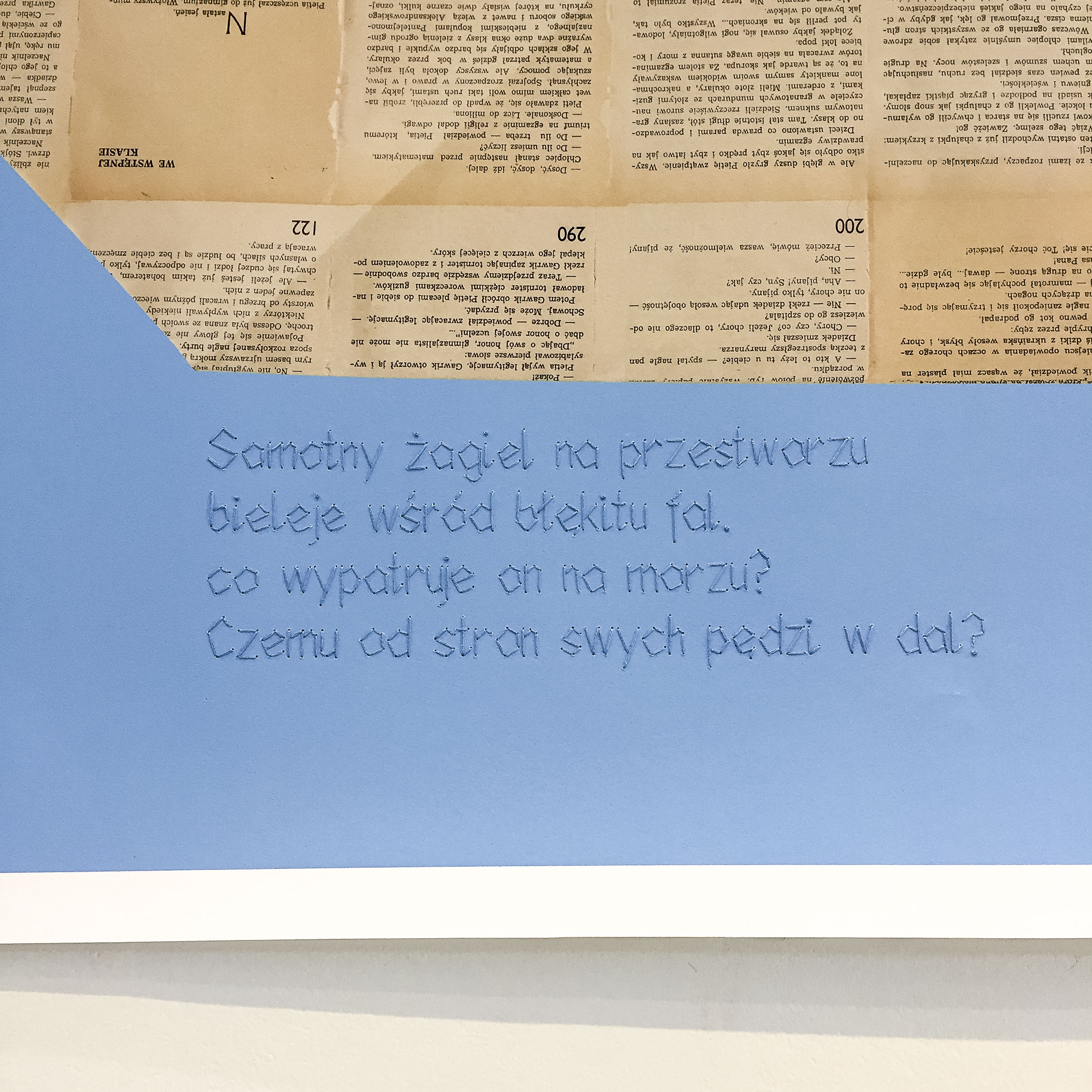 Meanwhile I am trying to concentrate on K1P1 as there is a deadline to finish it – though I need to concentrate on it whether I make the deadline or not. I have it as the week's priority and, as always happens when I set my mind to it and lose all the excuses as to why I should be doing something more important I just love the making process.
The week was full again of playing with images on the computer in Photoshop and then Indesign, all the while trying to learn, refine and document the processes so that next time I won't have such a hard time.
I have refined the images on K1P1 and deleted a half the story. I was 'saying' more than was necessary and I was still spending too much time searching though both the computer and my many storage boxes…I should have photos of this?…does someone in the family have that? should I search the web for something like this? should I draw instead of using photographs? blah, blah, blah went the conversation in my head.
During the many hours searching and refining images I again come back to the ARCHIVIST part of me, back to the "I should prioritise photographing and organising my family 'archive'".
I should ask my siblings and my cousins about the things they still have and photograph them. They are increasingly important to me.
I should perhaps do that first before I birth more great ideas that force me backwards?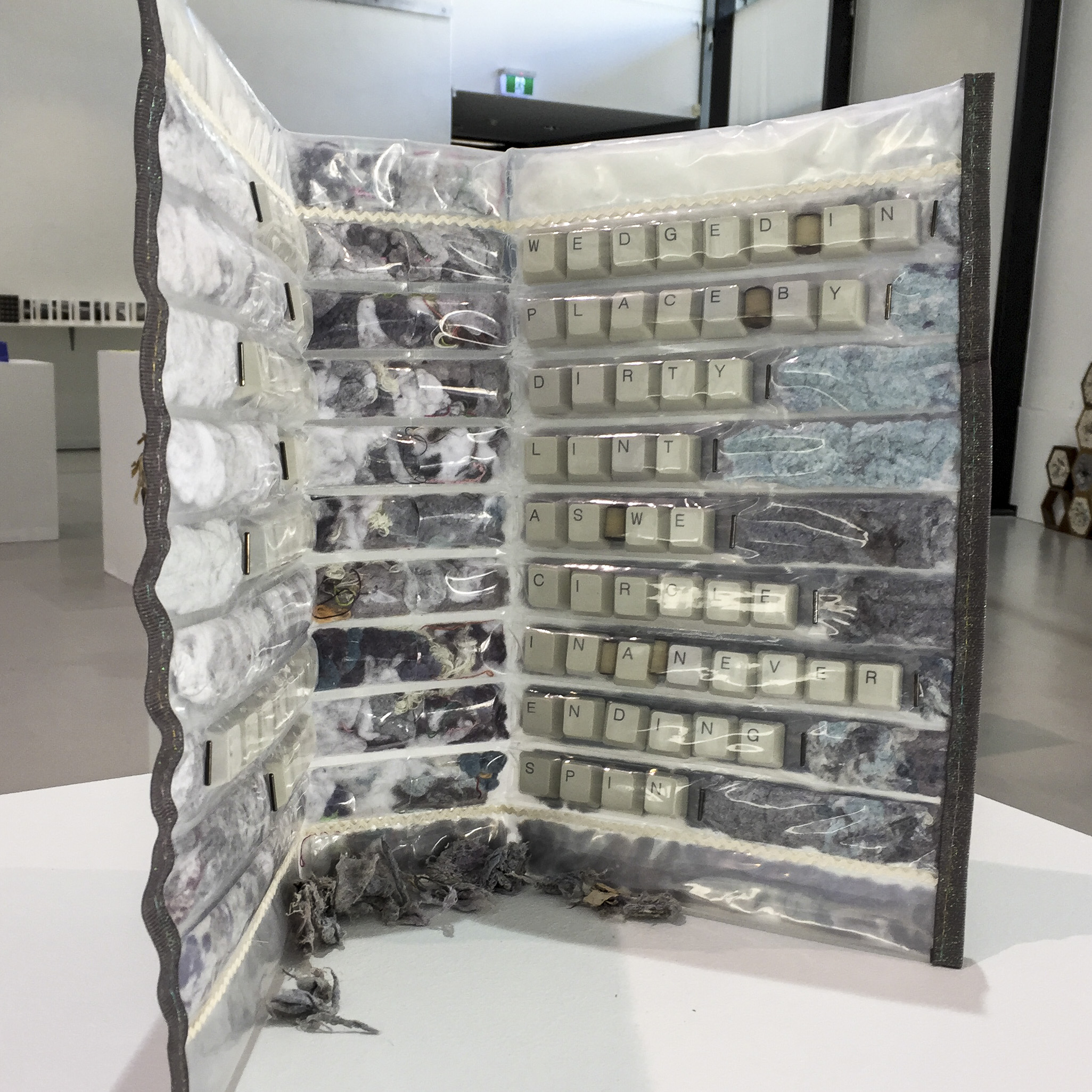 If you are a regular reader you may remember that I now hold my family's photos harking back generations on my Mum's side, brought back from Melbourne in January. I have yet to start scanning these, but I can tell you exactly where those promised Wednesday nights disappeared to.
I did a quick rifle through these boxes this week in my image search….such time-wasting, such side-tracking distraction that I cannot afford.
So another question is when am I going to get those nights or days free to start this project which I need sorted right now?
Can I draw up a concrete priority list to stick to because this is not the only project not completed in a timely manner?
Then the head chatter brings me back to drawing – as a way of trying to get these items out of my head. Do I need the object present? Should I simply rough sketch these 'head' screen shots to hold them? If so, when am I going to be able to fit this into my timetable?
What has to give to allow this to happen?
Do I simply stop what I am doing to record these visions?

By the end of the working week I had sorted my images and printed out multiples of each. There is still doubt in my mind about the colour saturation of some but in theory I have excess to work with.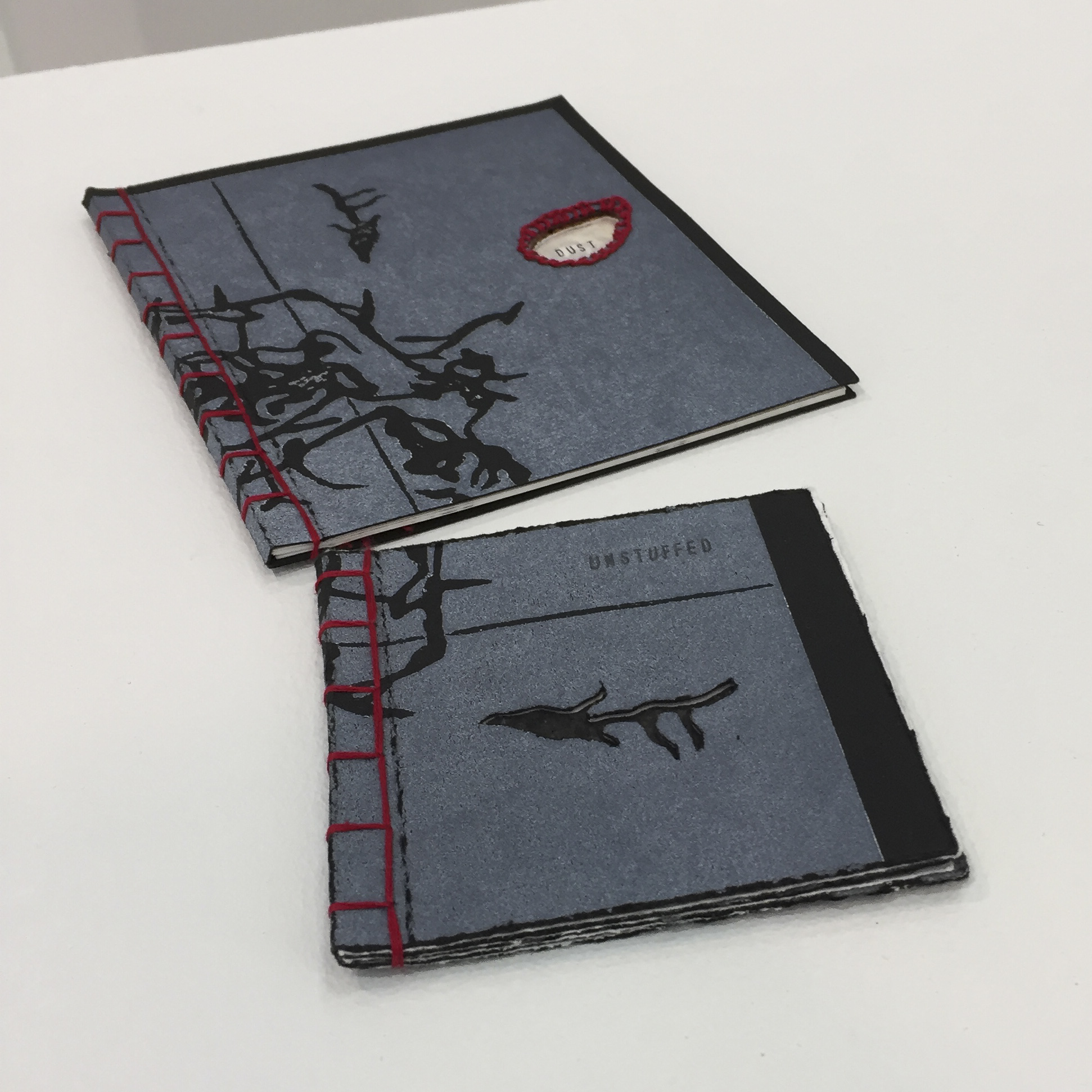 Probably lucky for me that Flick day arrived and we went to Central gallery to view Between the Sheets – I could stop thinking about me and delight in Flick testing out the acoustics of the gallery with strong-voiced pre-speech 'uuuuhs'. Luckily there was no one else present to be distracted by this call and response echo she set up.
I liked some of the artworks but many left me cold – despite taking the book genre into wonderfully weird /unrecognisable realm. You see few photos spread here…..and I must say that I am NOT stalking Elisa Markes-Young but I can't help but appreciate her inventive entries as well as her aesthetic.
The bloke and I traveled to our little house separately this weekend. I needed to be there on Monday for the Electricians to install power to both the boys' shed and the girls' shed. He needed to return on Sunday to watch his footy team lose.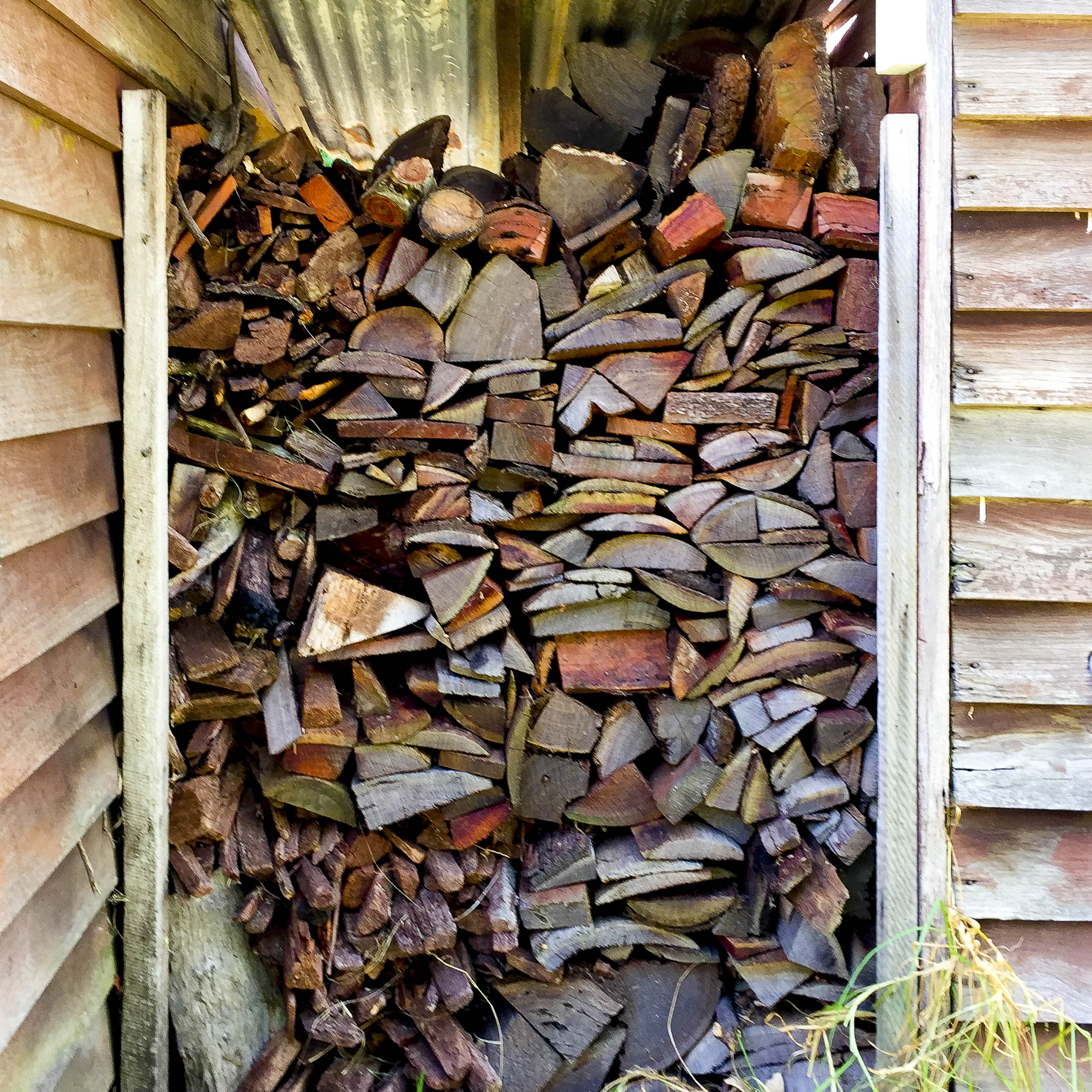 My weekend task was to restock the woodpile.
We have wood storage along a fence line – both 'proper' firewood and our prunings from the last three-plus years.
I needed to fill our little 'chook house wood stack' near our back door – under cover and accessible on wet winter nights – one side hefty and the other kindling. We won't make it through this winter without another delivery so another truckload will arrive in the coming weeks to be stacked back along the fence line.
I like this work, lifting and stacking in a neat fitting pile/pattern. A nice challenge and one that keeps the bloke working in the Girls shed where I want him!!!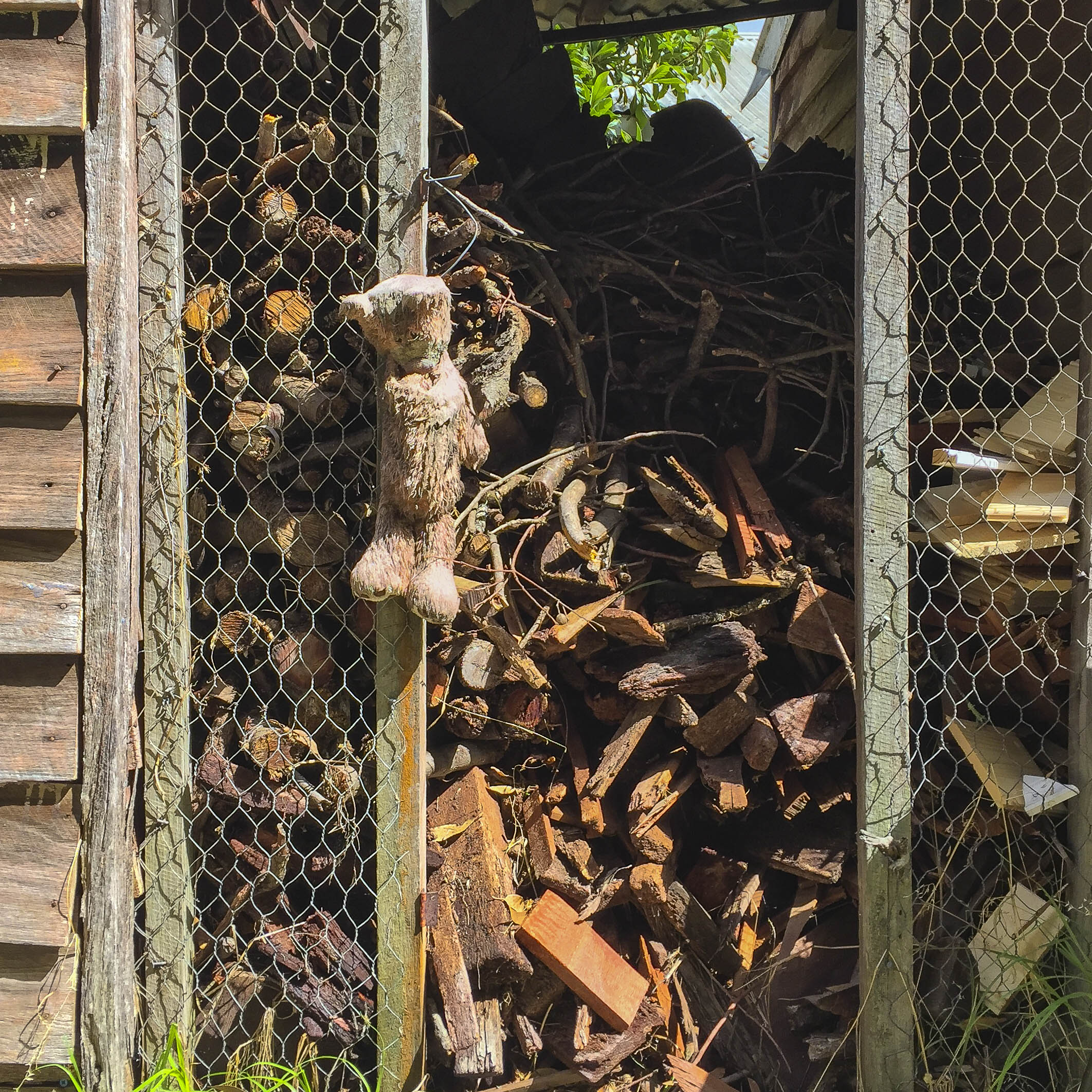 After he exits I swap both clobber and task and get back to preparing more sections of K1P1 whilst I listen to Richard Fidler's conversations – some for the second time!
The week ends with me snuggled up in bed with the electric blanket warming me and the heavy mohair quilt left on top weighing me down beautifully. No angsty thoughts to keep me awake.
Winter is on its way here well before time.
Save
Save
Save