WEEK TWENTY SIX (june 26- july 2)
This week was one of gently moving forward…
The monthly class day that is held here in my studio toddles along beautifully but I, and the current regulars, want more! The 'more' means dedicated two day sessions but placed a bit further apart. The more also means that I want to extend their scope. They/we need to be pushing further…
So yes, I'm feeling pushy, and the regular gals are on par.
What we do in these sessions is not earth shattering – that sort of stuff is a once off thing that cannot be sustained. Instead we simply make progress each time we meet.  Sometimes that progress is two steps forward one back. Sometimes it is joyously obvious and speedy. Occasionally, rarely, we may need to say…nope, we need to go back to the start on this or let it mature on it's own in its box…
To illustrate the diversity of the work we do I'll show you quick (and not good) pics of three projects nearing completion…I should be taking loads more photos…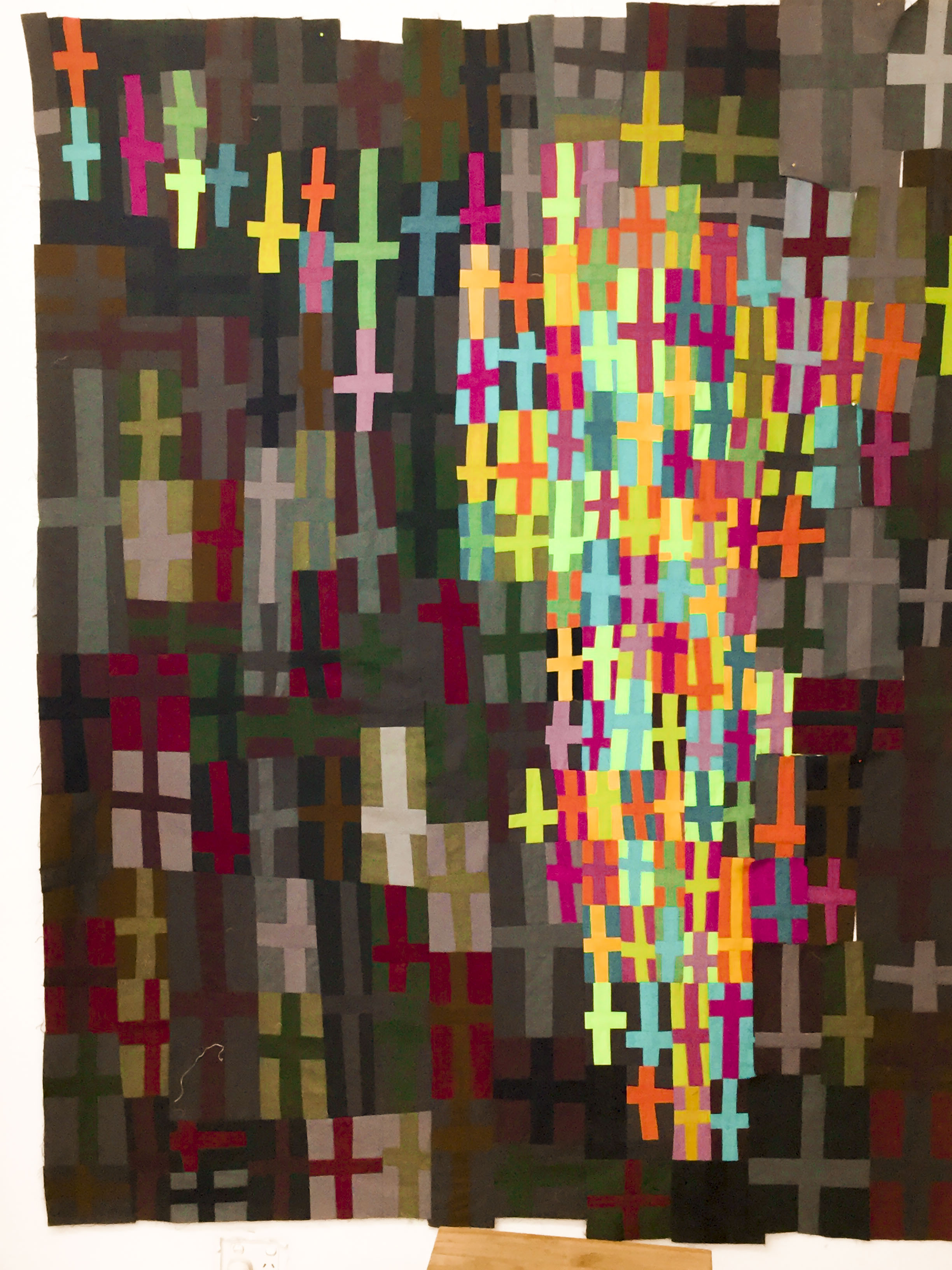 More tricky blocks are working/worked into this freeform one-block quilt where the fine detail is not only with colour but also the scale and placement of each and every unique block. It is edging very close to a completed whole but the photo above doesn't do it justice – the colours are not true – sorry.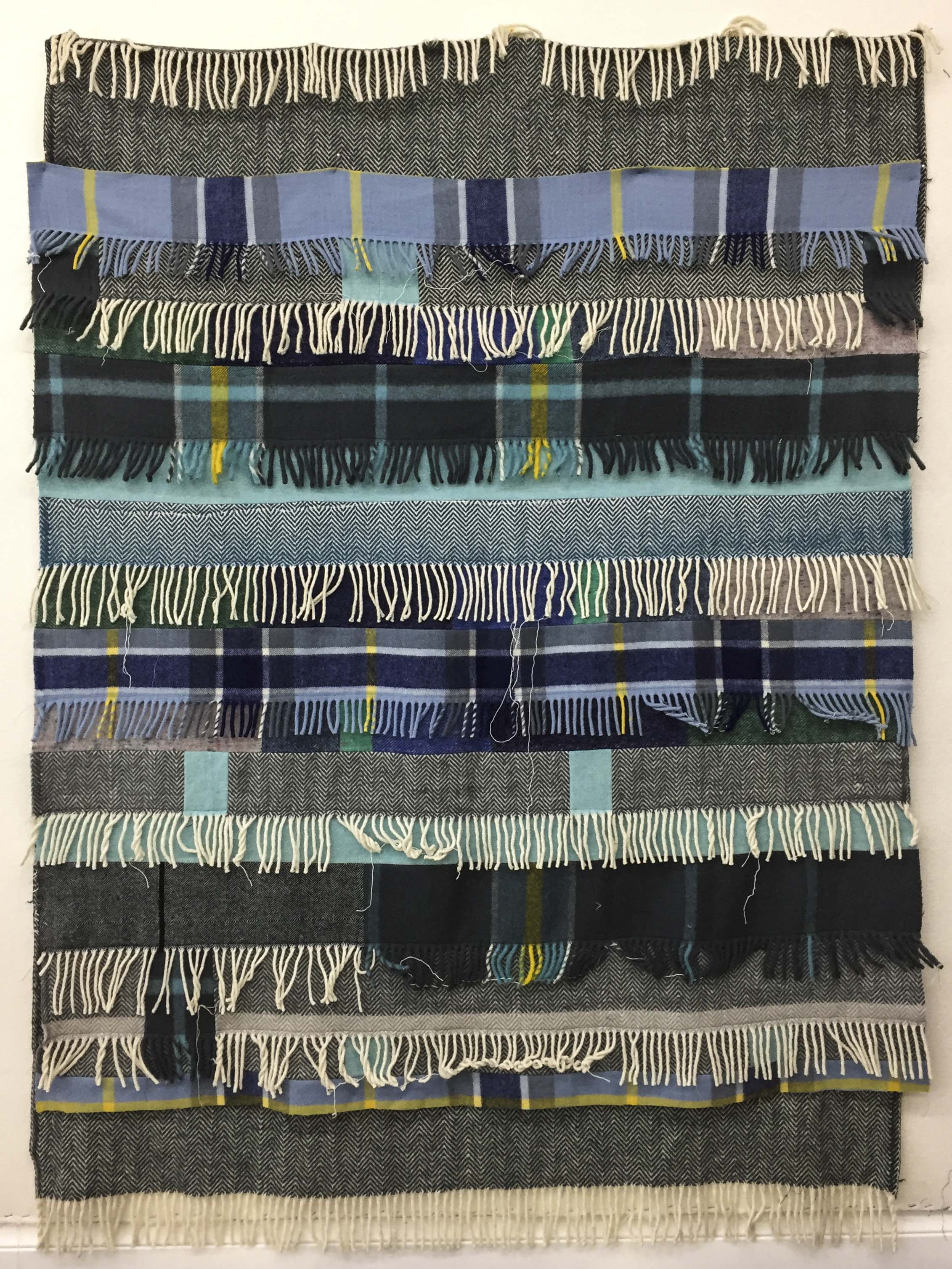 There are choices of stitch, colour and thread being made as a finishing detail on a creatively made but gentle rug made from blanket ends.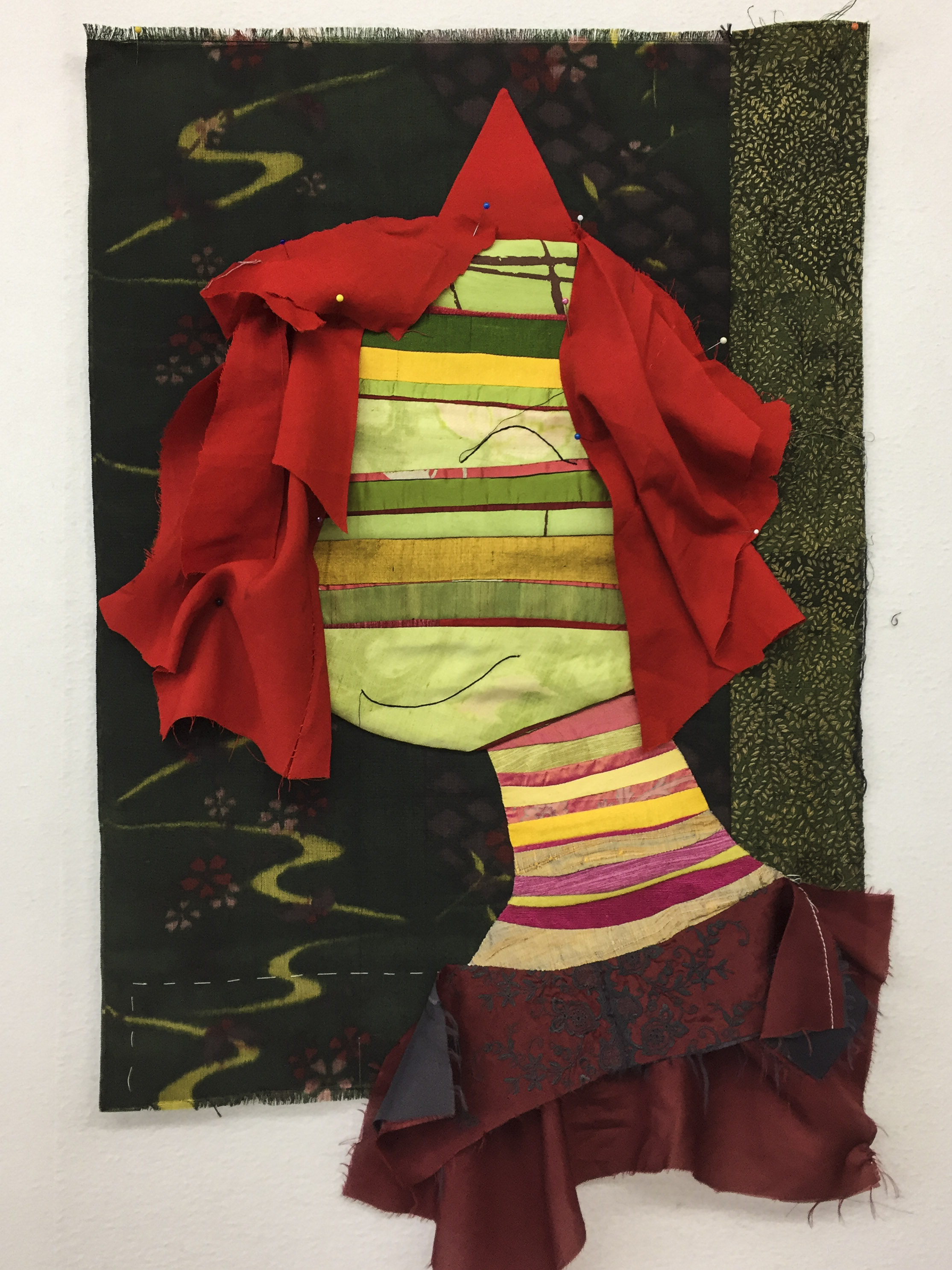 Finally we are down to final details of hair styling on the stripey lady –  inspired by a Paul Klee painting. This piece has moved forward and backward until the this red head made her presence known. She will be mounted on a stretcher.
I love these classes and a big part of that is community. Solving problems together in the studio and then changing tack over lunch to really catch up with each other.
If you are interested in joining in, look at the dates on the blog heading above – I, we, would love to have you join in either regularly or occasionally.
This week was also about not moving, or moving in reverse…
My washing machine died in a plume of rubber-smelling smoke. It has been with us here for ten years and I don't know how many years before that in out last house. It owed us nothing but it is always a pain to have to replace something that one is happy with.
My newly serviced Bernina 'workhorse' developed a problem….buttons that will not respond. The prognosis is a failed mother board so this bad mother will be replaced…grrrr.
As I am not really superstitious I am not looking for the third major machine problem…
I'd rather get back into forward gear, so…
I've finally ordered some woollen fabric, co-incidently from the lovely company that employed me – Marcus Brothers via XLN Fabrics. There as some very good colours too.
I have ordered some locally, and after my 'hopeful' shopping/work trip to Melbourne in a few weeks I may look further afield at some of the other great links sent to me.
On the weekend our trip to our little house was planned around the weather. It was to rain, rain, rain. It was also to be cold, cold, cold. The bloke was set to continue on with the flooring in the 'girls shed' but the weather did not allow me to work outside as has been my task of late. Instead I loaded up the car with the overlocker and boxes of a project that had been started down there years ago.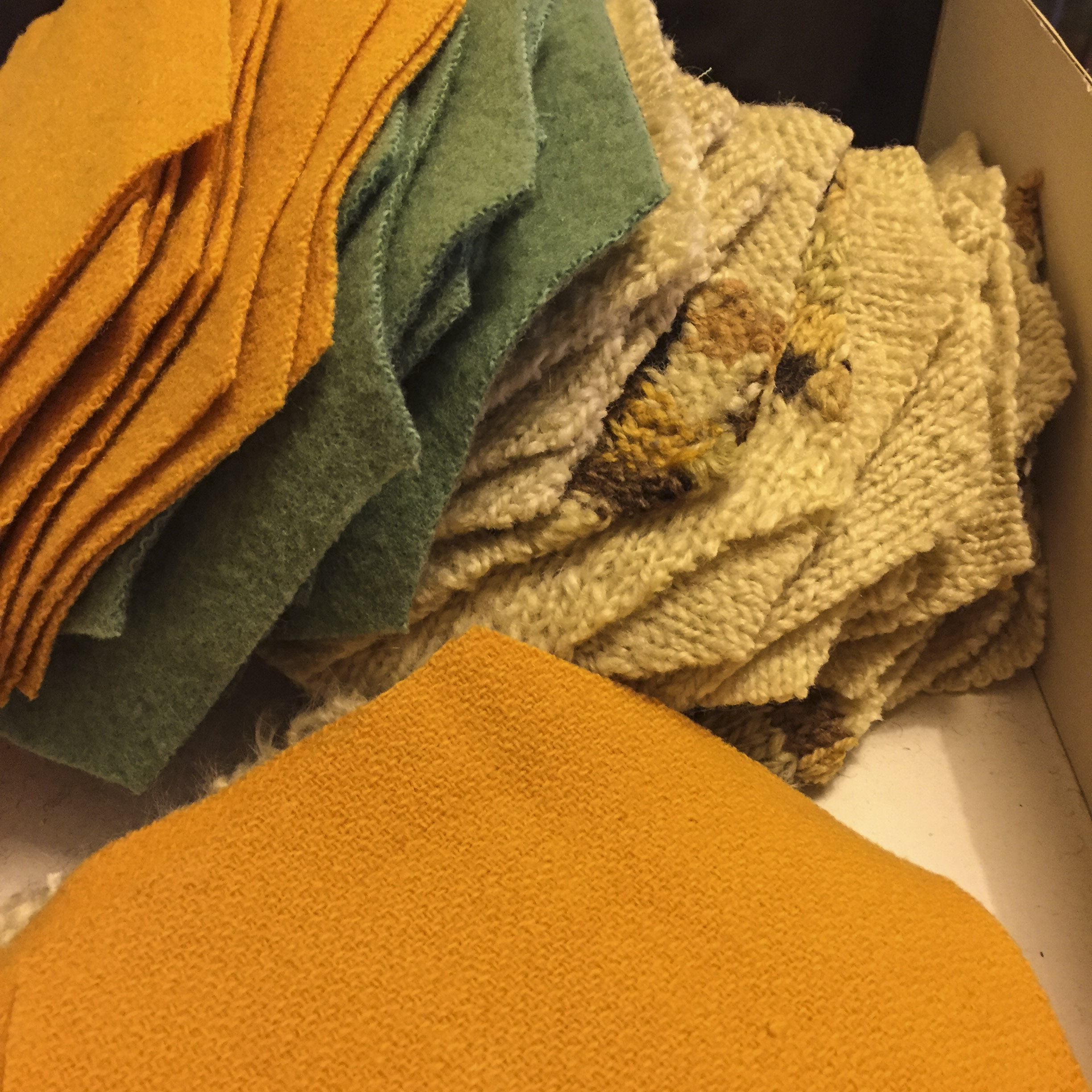 This 'One Block Wonders' rug is cut from knitted garments – all handspun, some with wool from our backyard sheep Jedda, some from naturally died homespun.
There are jumpers from my mum, my bloke, my kiddos and some are mine.
Backed by blankets, it is going to be a lumpy, hefty, monster but it will be cosy warm and glowing with memories.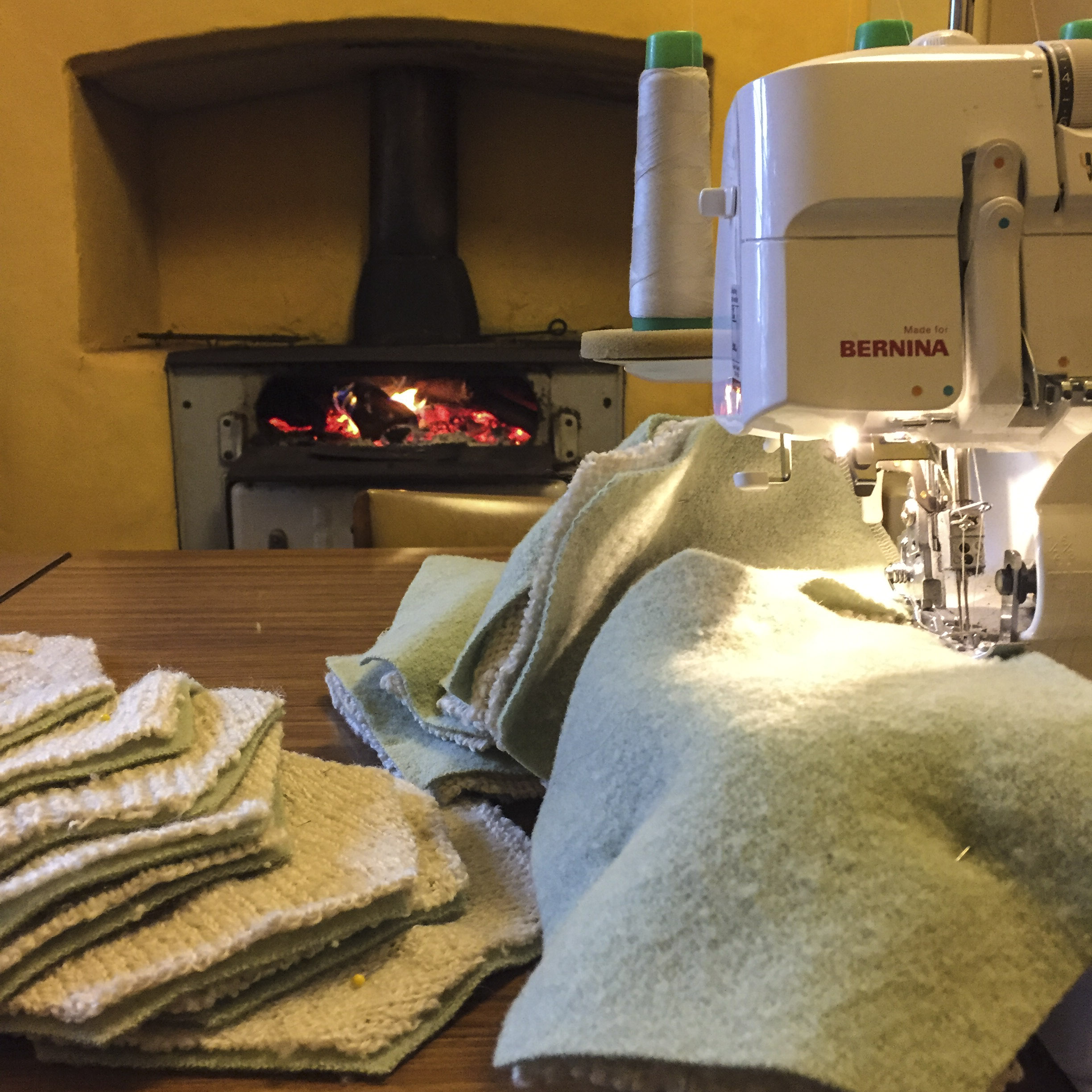 I overlocked the large hexagon pairings on Saturday and have since arranged the remaining small link blocks, triangles, that will extend the size and use up the tiny scraps.
I'm hoping for more wintery weekends – at least two please – to get this finished.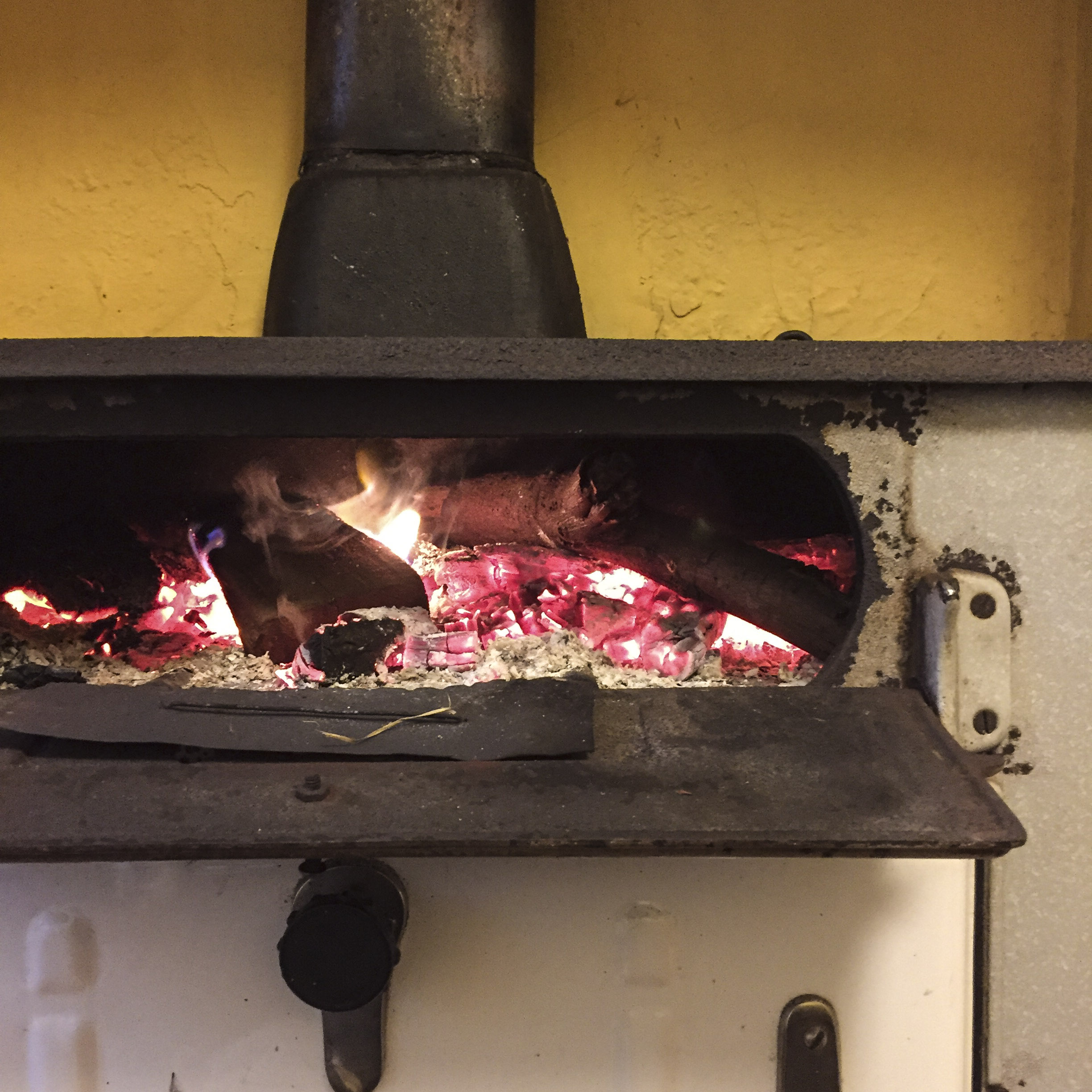 It was also total luxury to be sitting snugly facing the kitchen fire whilst constructing a rug that will be used here on cold days such as these.
What was to be the first project for the new girls shed will hopefully race to the finish line before it was due….and that's a rare, rare thing.
Below is one of the other three versions of this 'rug' – all made from old woollen jumpers.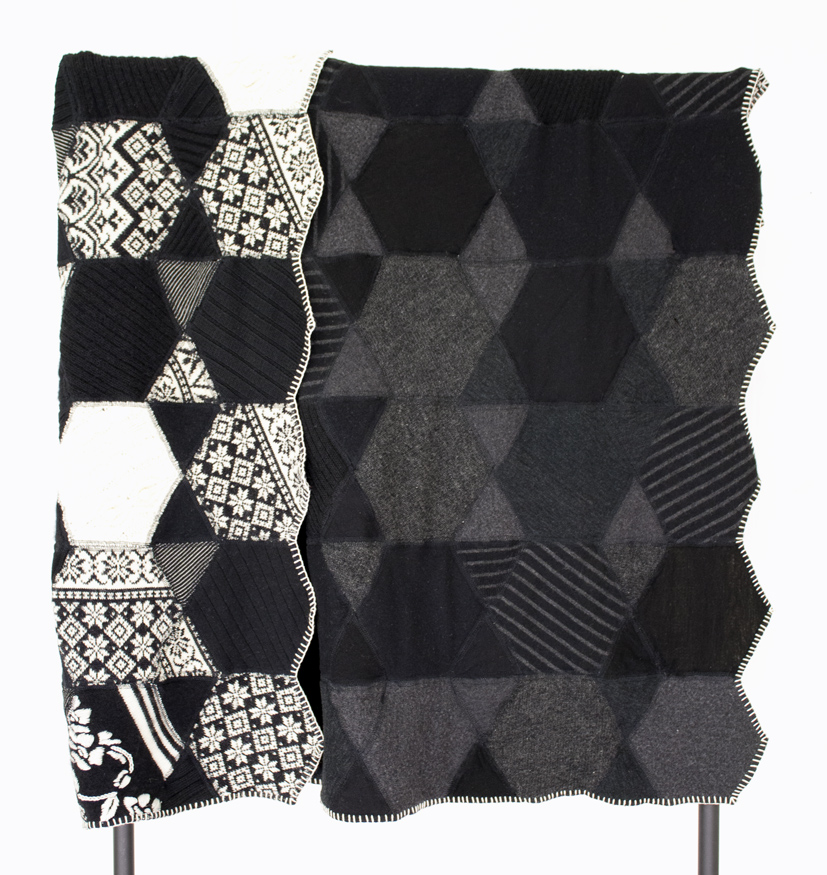 I've been plodding through May Sarton's Journals – I am finding those of her latter years a bit difficult. I put the fifth one aside, chose to reach for a change in diet, and I raced through His Bloody Project which I would happily read it again straight away.
It was set in a small…nay tiny village, in the far reaches of Scotland, in times of yore.
Community living, horrific standards of…everything. Hard to imagine having to live like that.
Just like Hanna Kent's Irish story of The Good People reading about the plight of young Roddy Macrae was totally fascinating – and yes, a bit bloody.
Amongst all that is distracting me at the moment K1P1#3 is slowly moving along. A row of each fabric is now waiting to be quilted and then I will decide on how many of each will be needed. I feel this one will be knitted with uneven stripes but I'll wait to say what it says to me. Hopefully I'll be able to get back to it soon…
Save
Save