WEEK TWENTY FIVE (june 19-25)
The week started poorly. I'd caught the bug that I could not  avoid. That's what happens when parents are flattened and the little one, the deliverer of the bug, has recovered/bounced back quickly. Help was desperately needed but being the help can have it's downsides.
Luckily my dose was minimal but as I had witnessed it's horrible potential I decided to cancel all the good things for the week, a class, catch up with interstate friends, babysitting, and a WAFTA meeting that I did not want to miss.
Then my pain-savers of swimming, pilates and walking were let go, one by one.
My back protested in bold.
Pain vs feeling miserable. Equal winners.
Despite my general malaise I got started on K1P1#3 and it's little story about books – Enid Blyton books in particular. I have a quarter of the family collection, my siblings the rest. We had to divide them – such was our love for these well-read stories. Regular library visits were our norm and owning books was a real treat.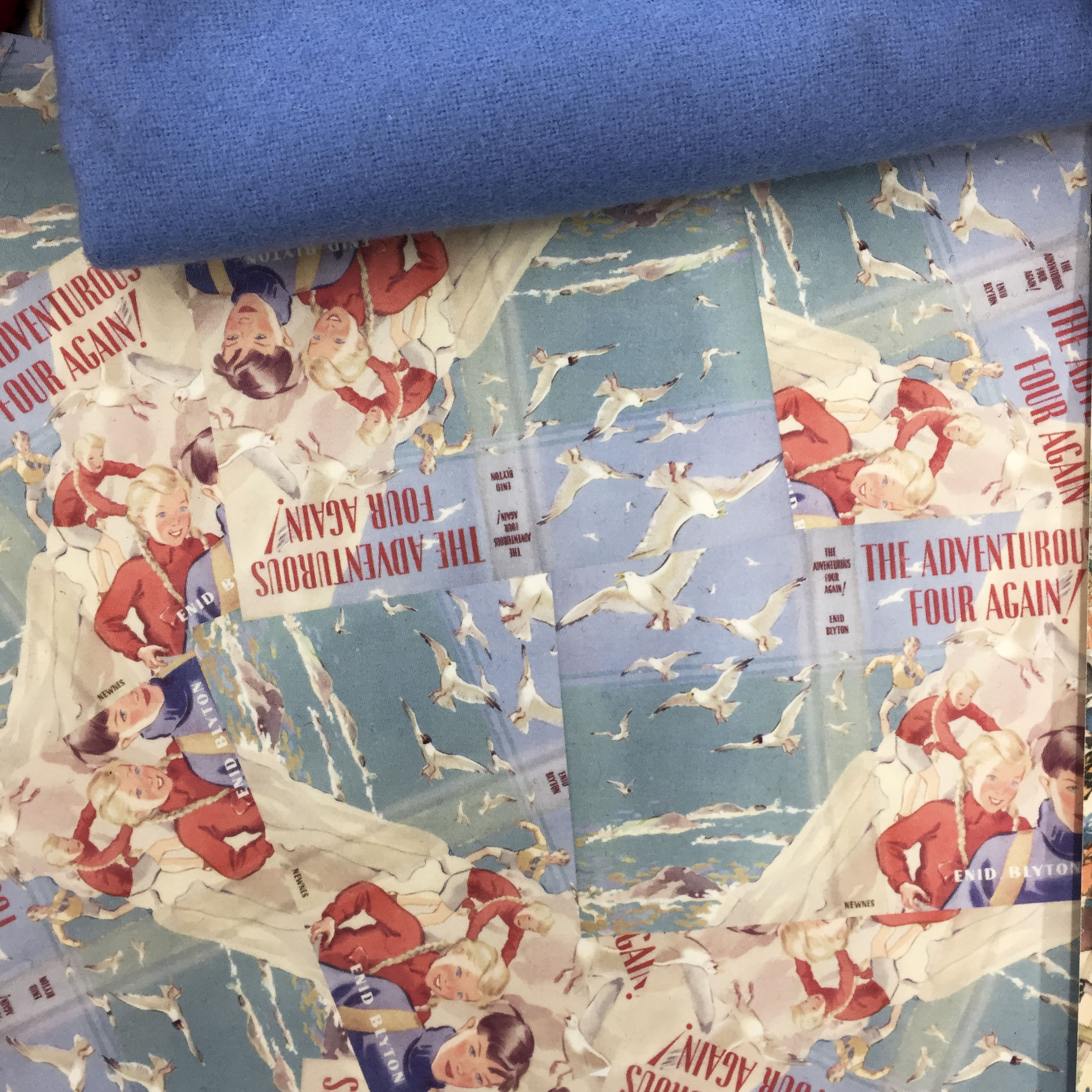 I spent quite a bit of time working out the correct approach to the artwork of the fabric I needed to design. How should the fabric tell the story? Do I draw interpretations of the books, photograph those that I own, chase my siblings to photograph theirs? Do I use text or covers or illustrations?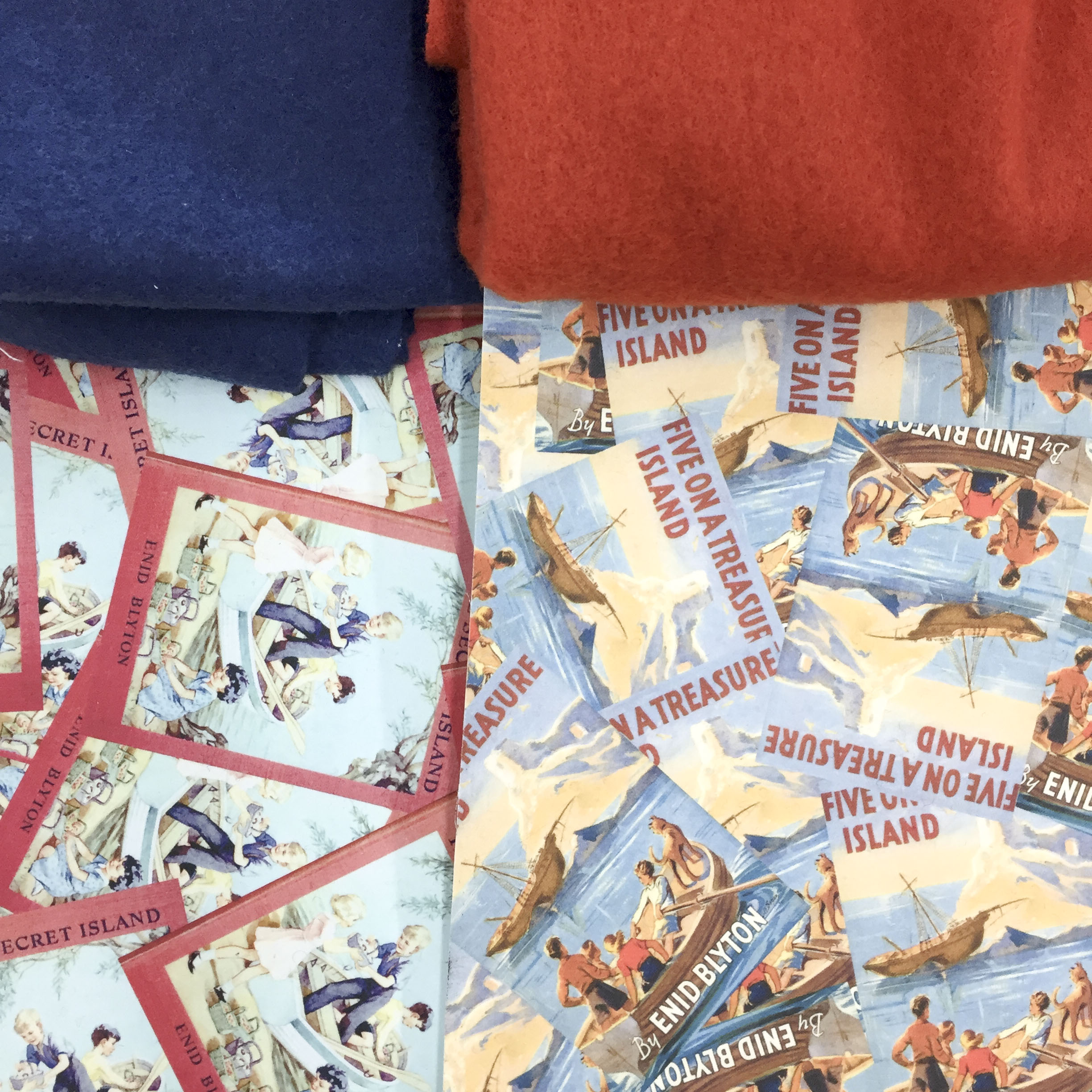 How should it feel? Primary (school) colours? Vintage old, faded yet gay (in the word usage of the Blyton era of course.)
I then had to chose the fabric to print on…linen, vintage coloured cotton or cotton sateen?
I've gone for the sateen, the smooth feel of it is closest to the hardback covers.
I kept in mind that my woollen palette is limited and to get working now I need to see if I can make what I have here work.
The tartan selection could work?
Faded – I don't have enough.
Ditto brights.
In the end I think I do have enough 'odds and sods' to give a bit of 'reminiscing/vintage' colouration – a bit of bright, a bit of dull, using various parts of the spectrum. Certainly not a crisp clean look – rather like the spines of old books muddled together on a shelf?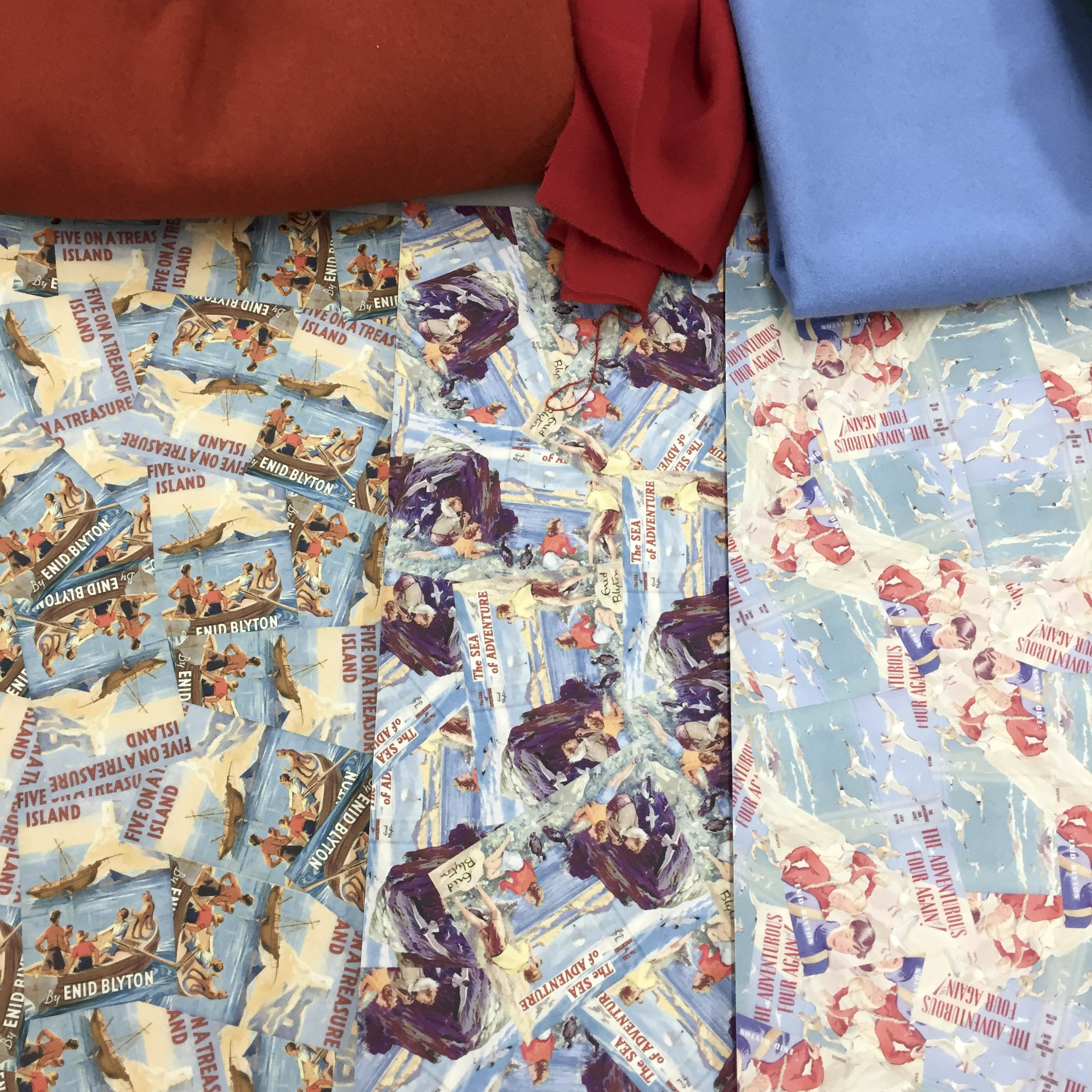 By the end of the week I have a selection of eleven woollen fabrics each linked to an Enid Blyton series. From the Famous Five and Secret Seven through to St Clares and my favourite The Magic Faraway Tree – a total of eleven favourite series.
I pulled tiny jpegs of cover artwork that appealed from the Enid Blyton website and formed them into eleven fabrics. I did have plenty of choices but some weren't team players. All week I tweaked and printed and played with colour stories. I haven't made a sample yet but I expect no problems.
Next step is to construct one row of each print- eleven rows – and then work out how many of each to print.
I anticipate moving easily to full printing then the slower construction phase.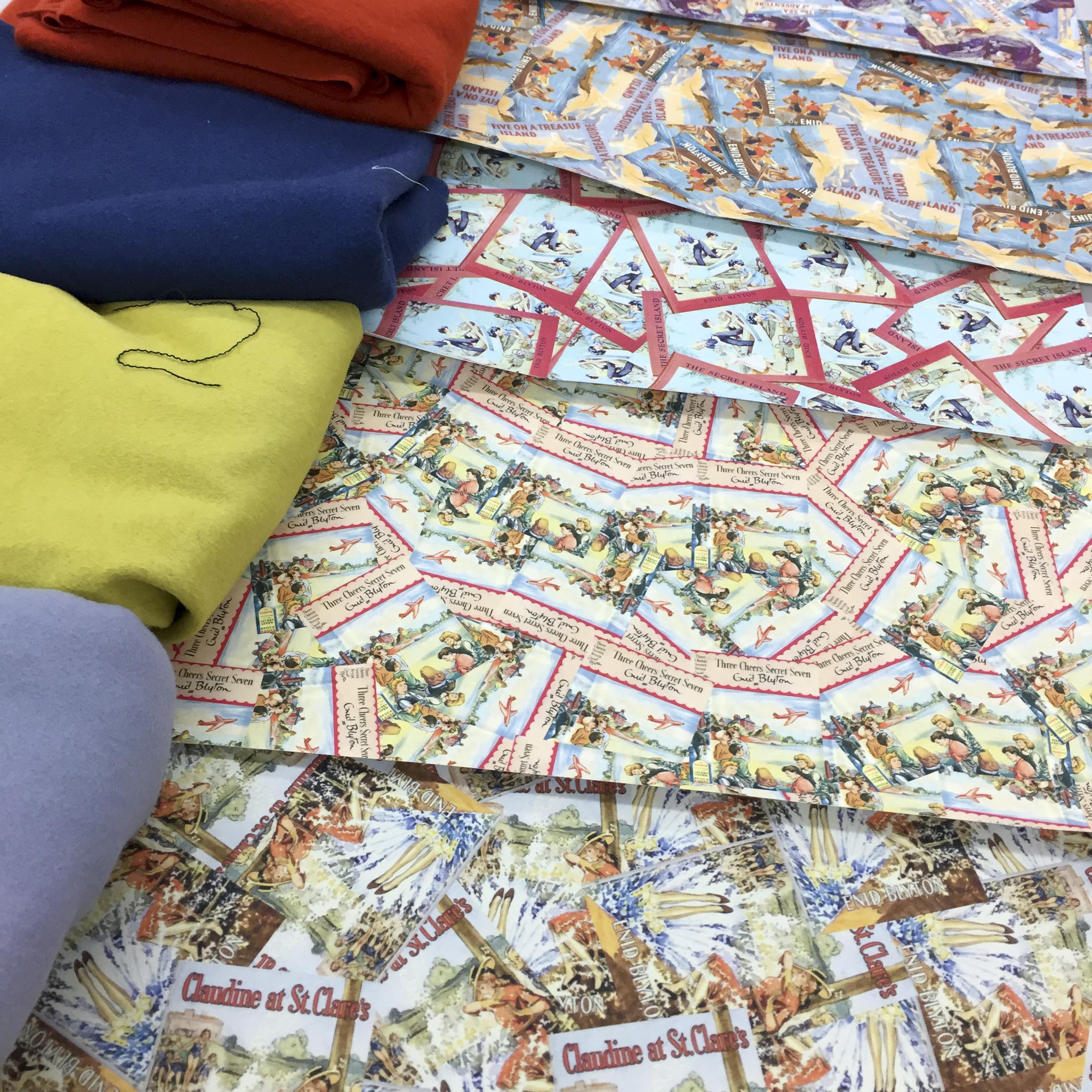 The first two K1P1 quilts are neat and ordered but with this one I am aiming for a primary school feel with the colours off key.
Garter stitch is also my preferred option at the moment as it is the usual start for a young knitter. I am not planning on dropped stitches but I am planning for the piece to be a bit garish and ad hoc? We'll see what develops in the coming weeks.
Throughout the week I returned continually to the pastel paint chip boards – they gave me thinking time – and by the end of the week the first eight are in tweaking mode only.
The more I work on them the more subtle they are as a group… think vintage lingerie, I suppose, instead of baby pastels?
I certainly enjoy making them but these little devils surely suck up time.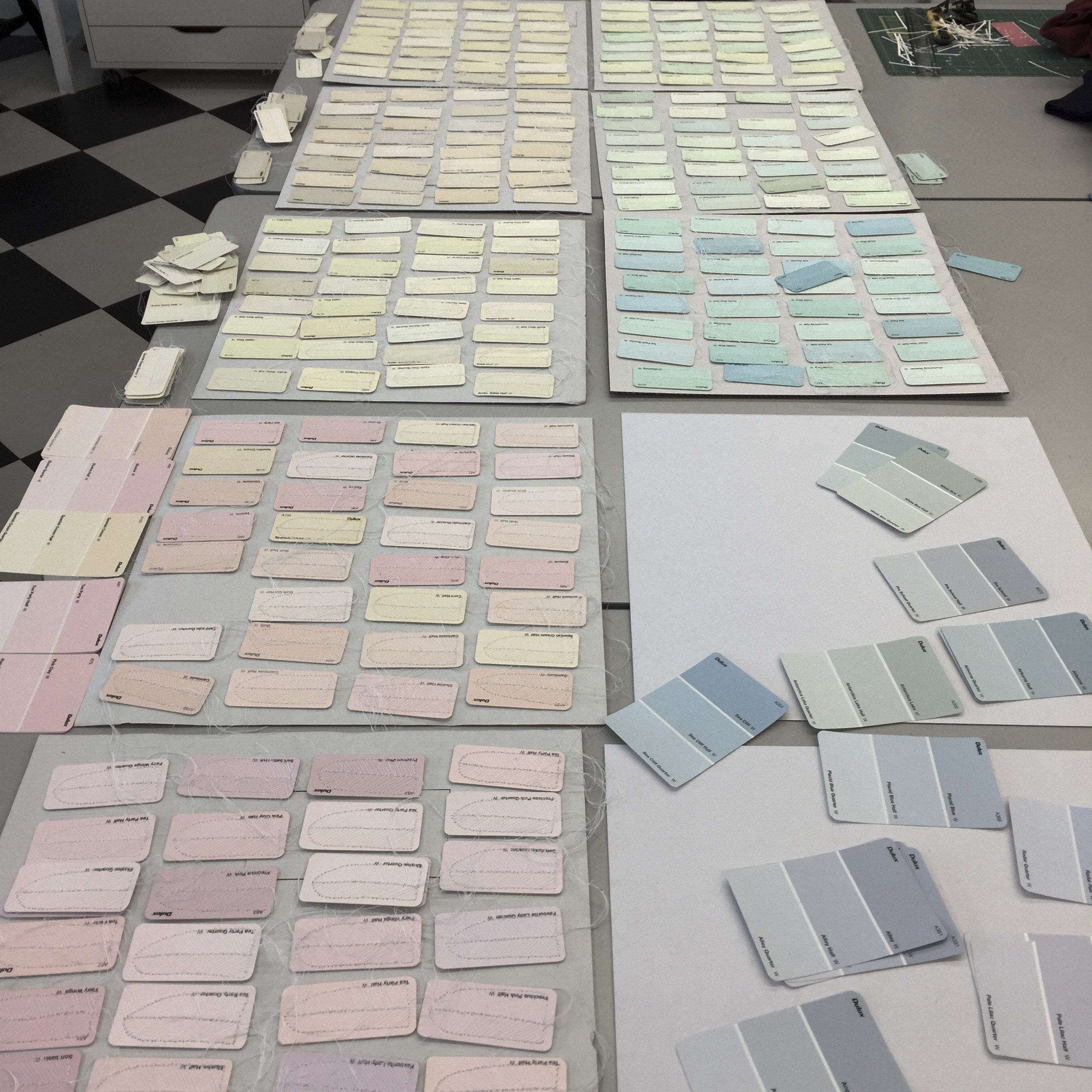 Friday was not Flick day – though Thursday arvo was Bran arvo.
Instead I need to shop and cook and prep meals then pack for the weekend at our little house with our 'middle family' – who are rarely able to make that escape on weekends.
Highlights were getting the fire pit roaring on Saturday night – a whole family effort – and two days of trains for George and Ellie.
First a Saturday ride on the 'Forest Ranger' and then on Sunday morn we crossed the oval to see off the Steam train. This Iron Horse/Steam Dragon is living history and a delight to see in action, especially through young eyes. The noise, the steam, the tooting, the waving, the photos taken in front of the engine by the tourists (not us:) – all adding to wonder of it.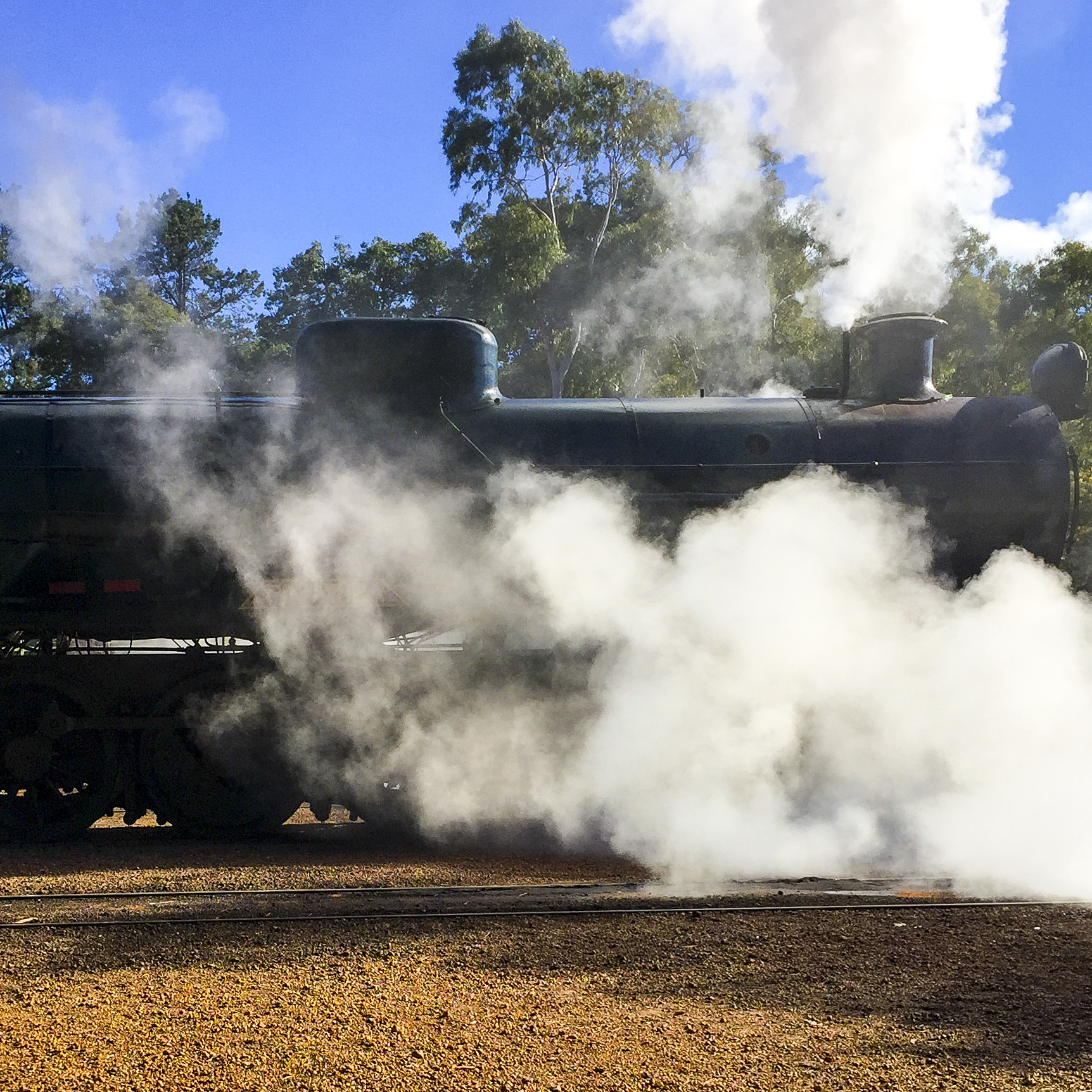 And a birthday weekend for Katherine that started on Friday night after the babes were a-bed continued till the second round of cake and pressies on Sunday night at home amidst much more joyous chaos.
My work with K1P1#3 is about the childhood delight of reading. It is probably little co-incidence that my artwork at the moment is drawing from my young past, such is the mash up of my current reality. My childhood, those of my children and now the passing on/adding to our personal and family experience via our children's children.
Save
Save