WEEK FORTY – (october  5-11)
The weeks of the year are ticking by…forty weeks into this blog and I haven't nearly as much to show for it, output wise, as I expected.
This week though, in a few tentative forays, my thoughts have been directed downstairs.
I still have to sign off on the rewritten, re-compiled Salvage/Selvedge talk that I will  present soon at OZQUILT's  Art Quilt Australia conference. It is edit down time – to take out some visuals and words to make it smaller/more succinct.
I'm still a bit concerned as I do want to be very specific when I talk and fear that without my usual "off-the-cuff conversation backed by visuals" style it may be stilted….though I still have another week to reorganise if necessary.
Back to downstairs.….. this week my task is to make a small piece for the silent auction held during the OZQUILT gala dinner.
I'm usually very tentative in starting new work – I assume that this is quite normal for many of us – though I suppose I am not generally gung-ho about much in life?…considered is much more my style.
I could offer up something made previously but I want to make a fresh piece. Interestingly, rather than go forward with the swan study right now, I am looking backward to a series titled "Can you keep a secret" of which I made five pieces over the course of a few years.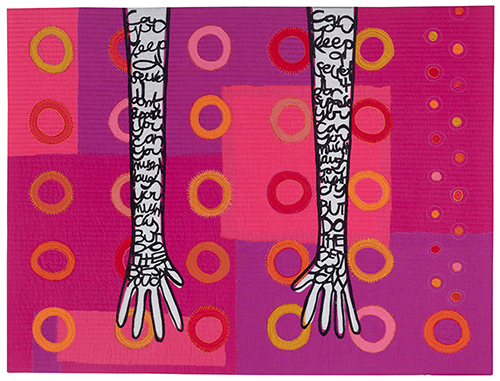 These pieces are based on the childhood verse that was 'given' to me by my maternal grandmother and reiterated by my mother. It is a tradition that I have, in turn, passed on to my children.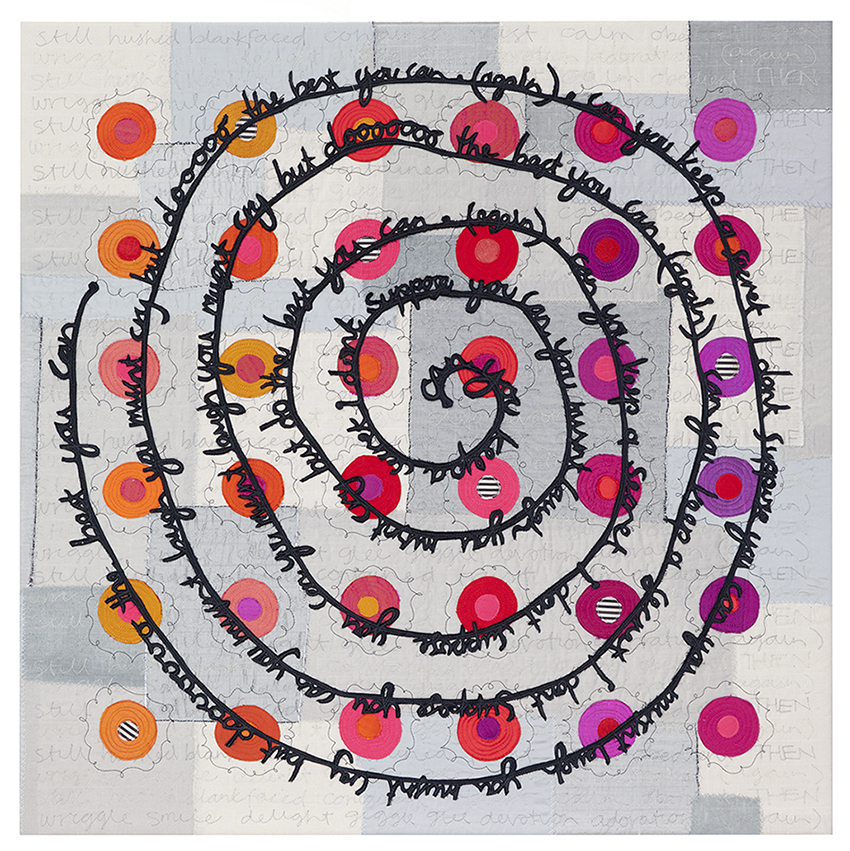 The verse, similar to 'round and round the garden ran the teddy bear' was also accompanied by the same hand-holding, the same intense suspense and the same delicious wriggling and giggling. I've met few who know this version, perhaps it was a very localised little 'song'….."Can you keep a secret, I don't suppose you can, you mustn't laugh, you mustn't cry but do the best you can".
I spent two weeks in December 2011 drawing, brainstorming, working out formats, colour stories and fabric selections. There are plenty of recorded ideas still to act upon…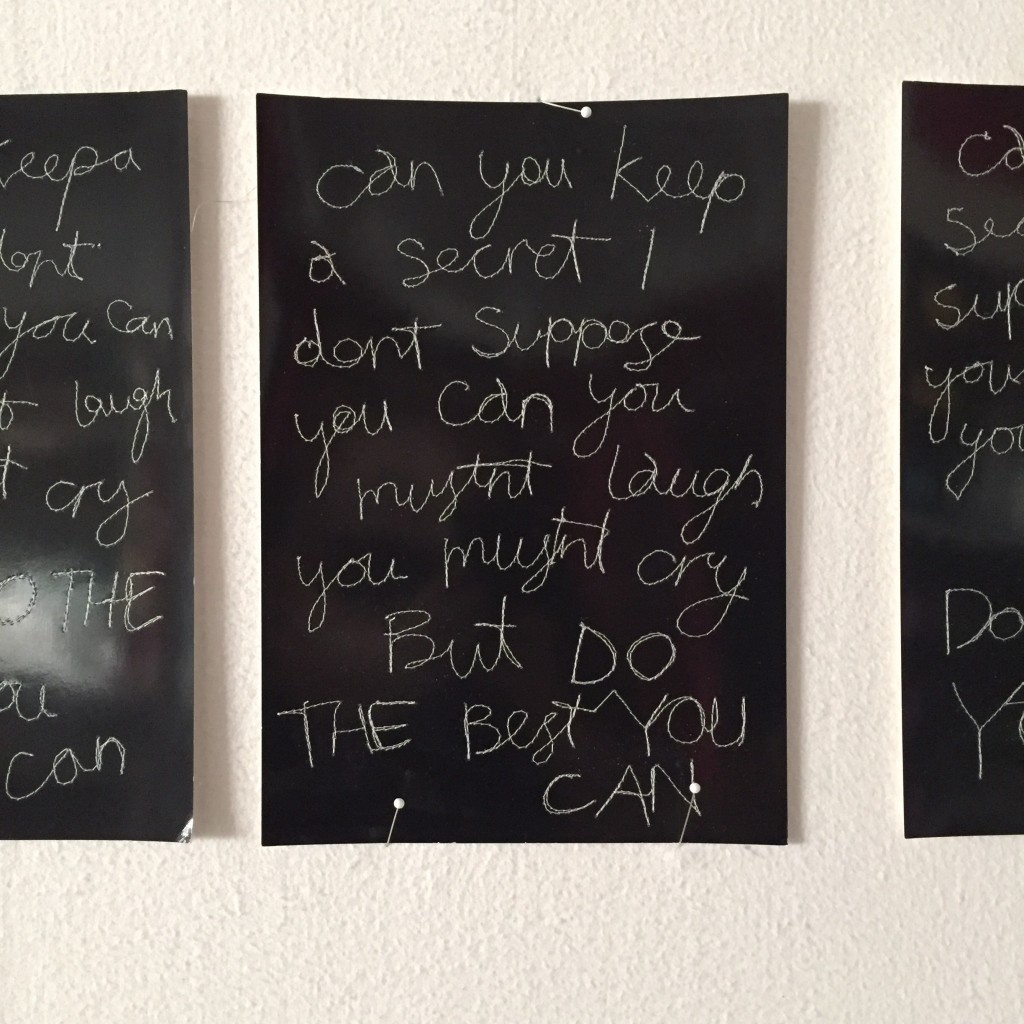 In clearing out some drawing supplies – to move some down south –  I lined up some gloss black A4 card next to the sewing machine. I have stitched on card before and quite like the effect. So my first downstairs task was to stitch freehand and simply blurt out the chant.
I had five pieces of card. I stitched the chant five times. I loved doing it.
I love the effect and of course, as usual, my love of multiples, repeat block, quilt-making aesthetic encourages me to do more….perhaps one day…
Anyway, that was merely an introduction to my next task, done in a few stages with thinking time in between.
I sliced some grey linen and stitched folds of red linen in between, sandwiched, 'quilt/stitched' and bagged it out to bind.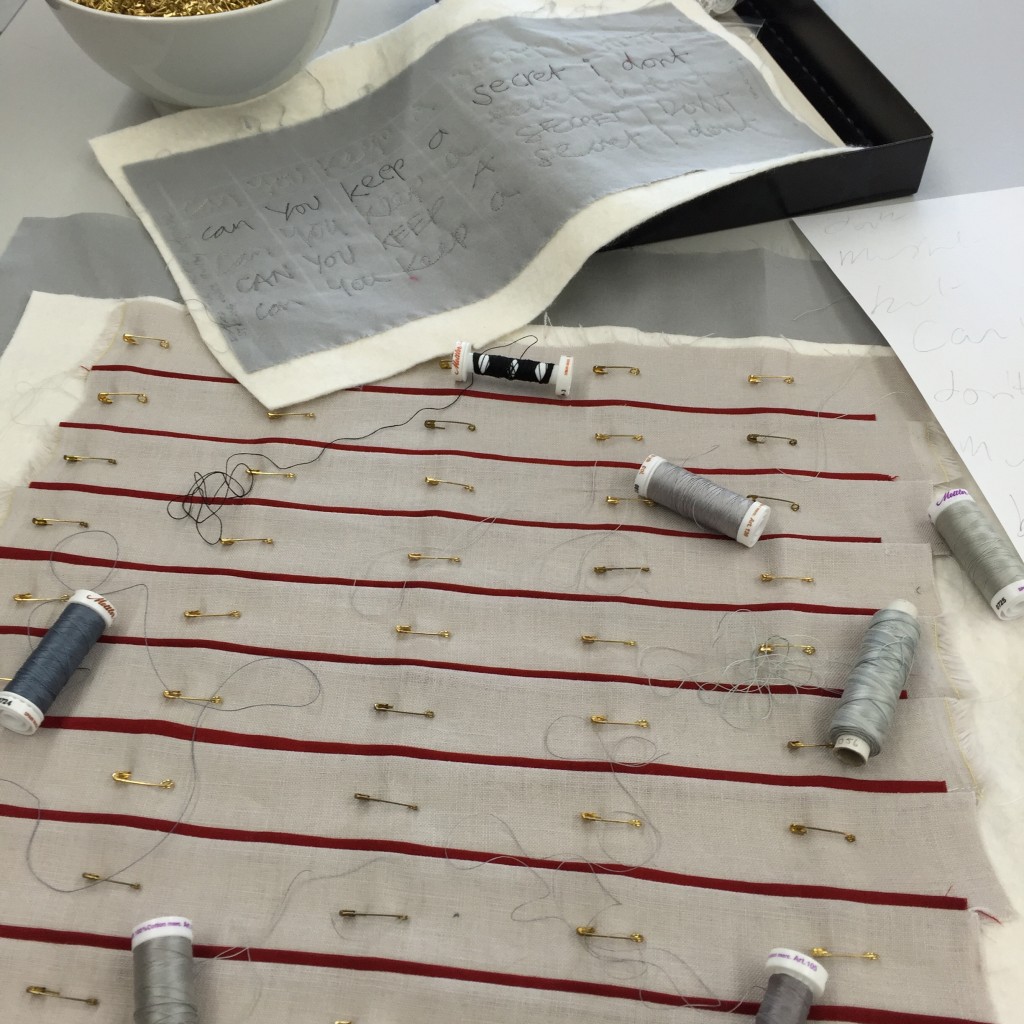 Even though it was a simple task I stretched it out. I was, as I have already said, quite tentative. I worked through, process by process over the course of two days.
I needed to let it brew.
I listened to it.
I let myself rest with it.
The unrushed result was a free-form edge….not quite the torn out page that, in hindsight, I think I may have been chasing, but a nice start.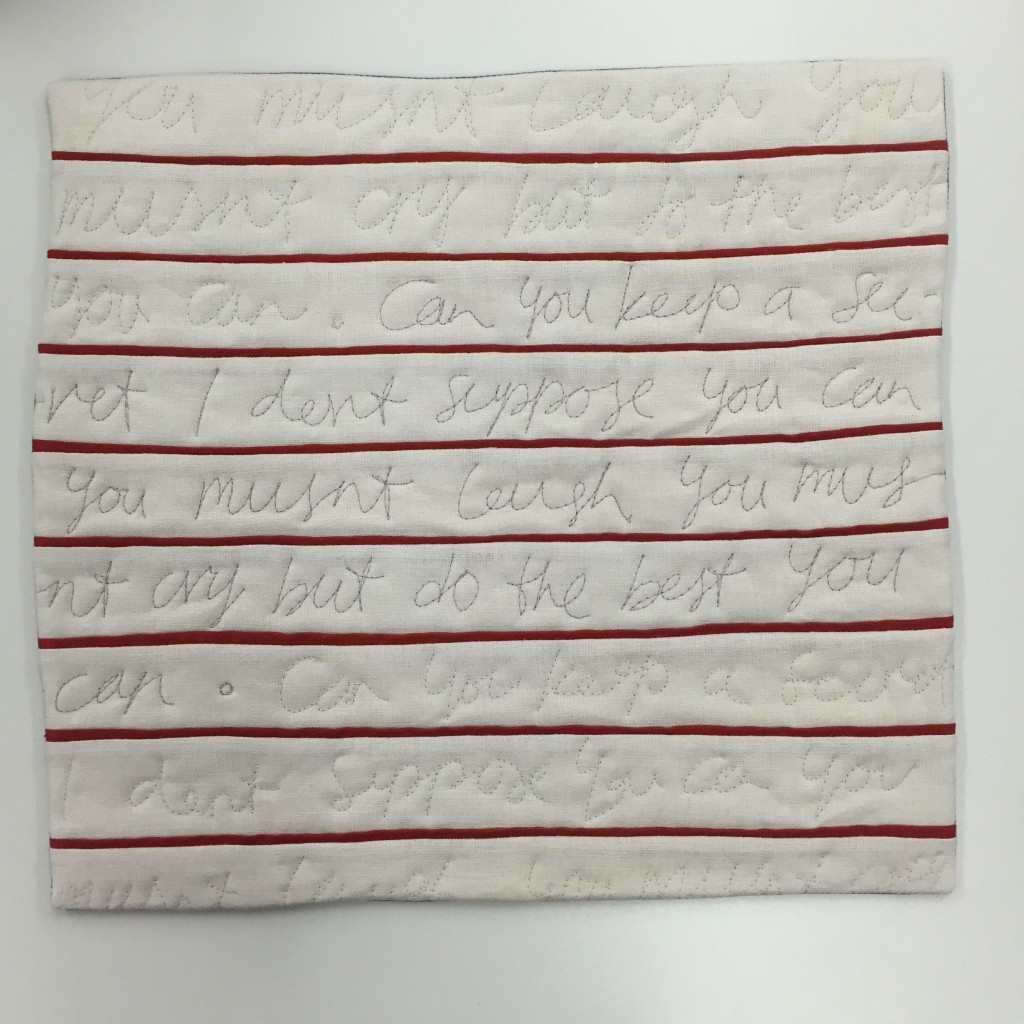 It is still a little quilt and little quilts don't generally excite me. Still, I am pleased with it.
Simple. Quick. Satisfying.
A nice way to exercise my stitching muscles.
I hope to do a few more in the coming weeks….
I think working small will ease me into the big work I need to do in the coming months.