WEEK FORTY-ONE (october 12-18)
I am off to Geelong next week and therefore I am in countdown mode.
I have finally called it quits on my 'lecture' at Art Quilt Australia. I have read it a zillion times and have played a little with the visuals but really I needed to give myself a deadline. Done. Printed. Placed on my ipad. Sucked up into a USB for safekeeping. All cords and connectors are placed with the hardcopy.
So….done and off the list.
I have been making packing noises and various packing piles.
Packing does need to be started early as I am an inveterate inner & outer (into the suitcase/out of the suitcase).
Things remain in the fluid stage but by Thursday night all decisions must and were made because….
Friday is Estherday, again at the Zoo also again with grandie #1 George.
Friday night is the trip down south and up the hill with finishing touches of paint and another furniture shuffle. Two rooms now have floors sanded, one to go for now.
Home on Sunday to cook for the weekly family dinner (and increasingly chaotic play:)
…then….. after a tucked up night I'll depart for 'over east'.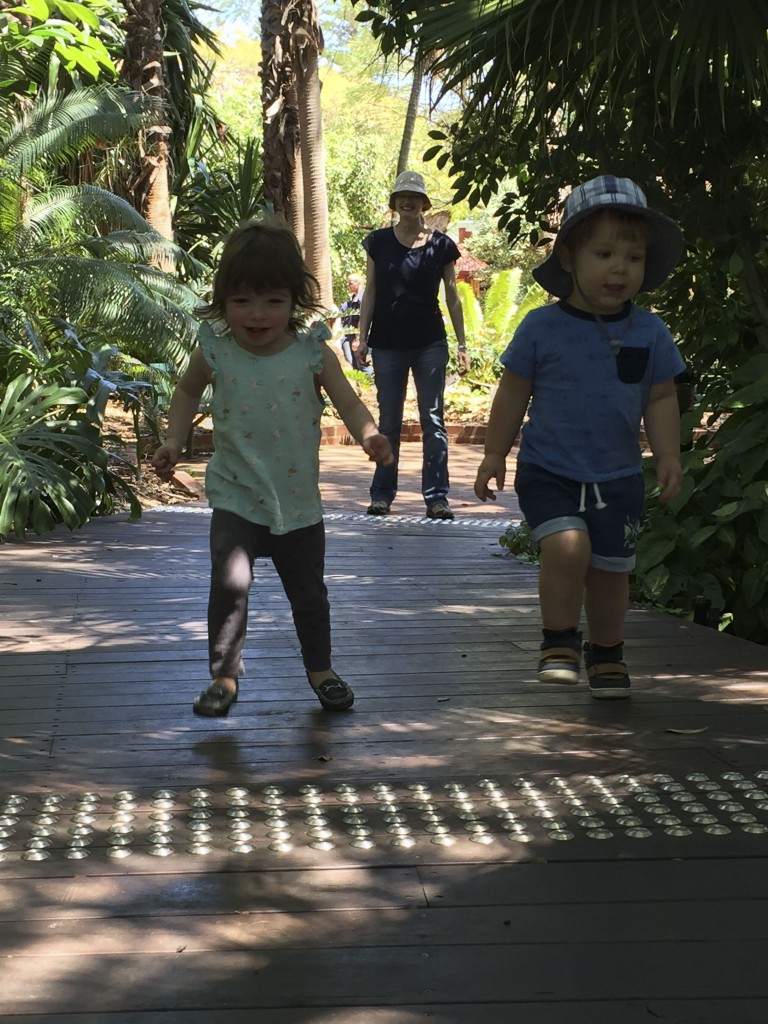 One of my preflight behaviours is that I try to finish up as much as possible. I pay all bills.
I try to clear my inbox. I try to clear my worktable. I book appointments for my return.
One thing I don't do is to have the fridge full of meals.
The bloke can wallow in blokey heaven whilst I'm around……as long as the bikkie tin is full – which it is thanks to our new oven down south (one which works:).
Amongst all my preparation angst I have managed to fiddle downstairs AND I have completed another "Can you Keep a secret" 'exercise'.
This time I used a wonkier fabric for the red line and cut the paper, (linen fabric), a little rougher. I spray basted some pellon to the back of the piece before quilting – I am chasing work that is less filled, less quilty. I do like the length and the slight wonkiness of it all.
BUT I need to do another to move it on again, on my return. Next it will be fused to a backing to make it stiff and unyeilding.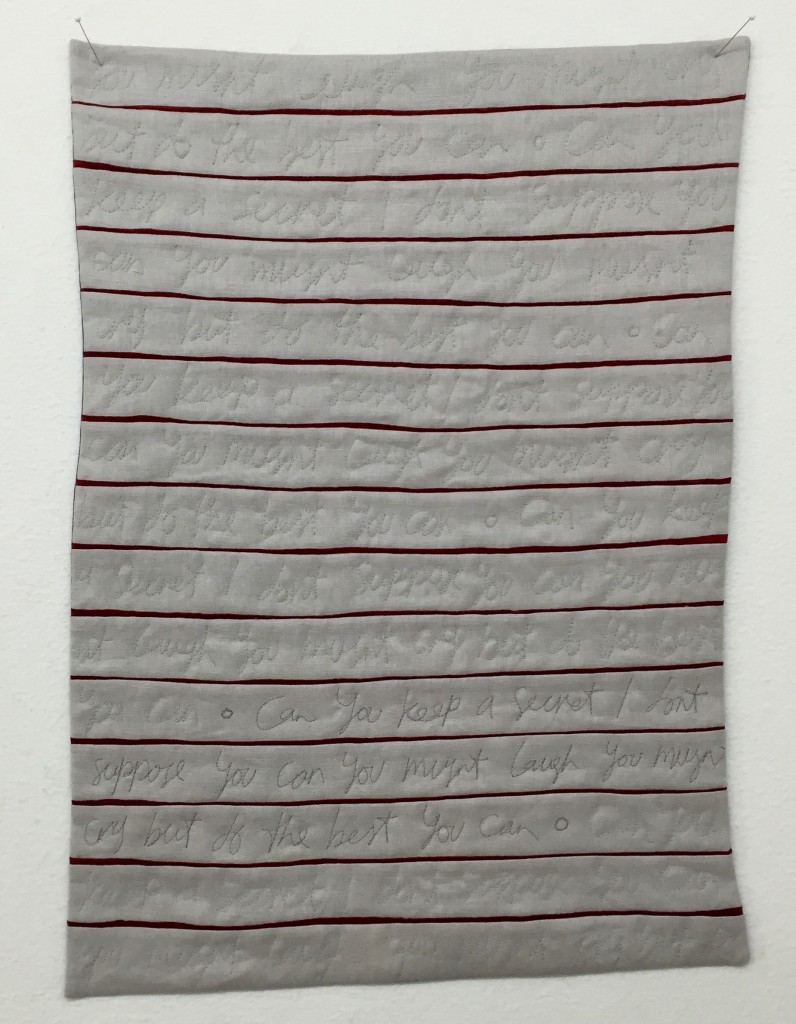 Meantime I spray basted some cartridge paper (already painted black) to some card and I painted lines and the chant roughly on canvas. Just fiddling really….getting my brain into downstairs mode.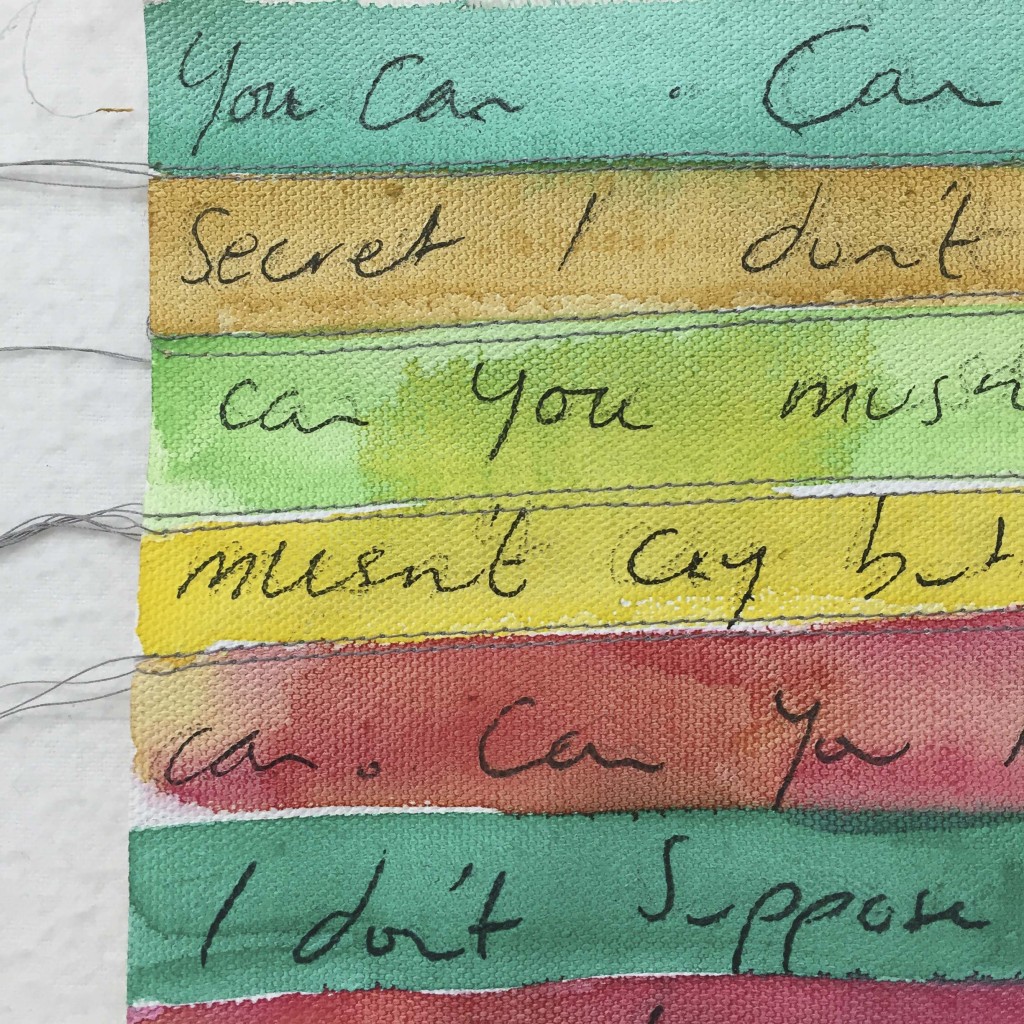 I haven't mentioned my reading for a while though I am happily immersed in a one way flow.
Years ago I was given a book, Pinkertons Sister by Peter Rushworth. I couldn't read it –
it was so full of references to classic books I had not read that I found myself stumbling continually.
For many years I have kept this book on the reading pile and delved into it for my next Classic literary read with the thought that I would eventually be full bottle on every referenced character and this mammoth book itself would make sense.
One of the early mentions was The Barchester Chronicles by Anthony Trollope.
I purchased it second hand but realised that it was #3 in the series…so back to #1, then #2, #3, #4….I think I am on 4 of 6….and I am loving it.
Beautiful language, gorgeous observations, quirky offside author remarks and of course classic characters….hence it's inclusion in Pinkertons Sister.
I have the new Salman Rushdie and the latest Sebastian Faulks lined up but they can wait as I'm loving racing through this 'olde world idyll'.