WEEK TWENTY (may 16-22)
Photo Day took place on Tuesday and I was happy to have a piece ready for AW5 – whether it gets selected actually is not too important to me at the moment.
What it has done, the big positive, is to move my thoughts into offshoot mode, yet again I might add, but this time I have a finished, resolved piece as proof of my ideas.
The piece is physically a fusion of a fabric/quilt and paper collage. I have worked with quilt/stitch/paper in the past but I was hesitant with this piece for reasons almost forgotten. Perhaps simply because it is in the quilt genre whilst I am trying to produce works that are not restricted by terminology.
However it is successful enough to have a label attached…..it can have it's own life now.
What Photo Day does for me is another thing…. and it struck me incisively on Tuesday.
Although I can take photos of my work there are enormous benefits from working with a professional photographer and I have worked with Bewley Shaylor forever.
It took a rejection letter for this quilt , 'Scratching Back to my Beginnings', (1997), that made me realise that I needed an expert.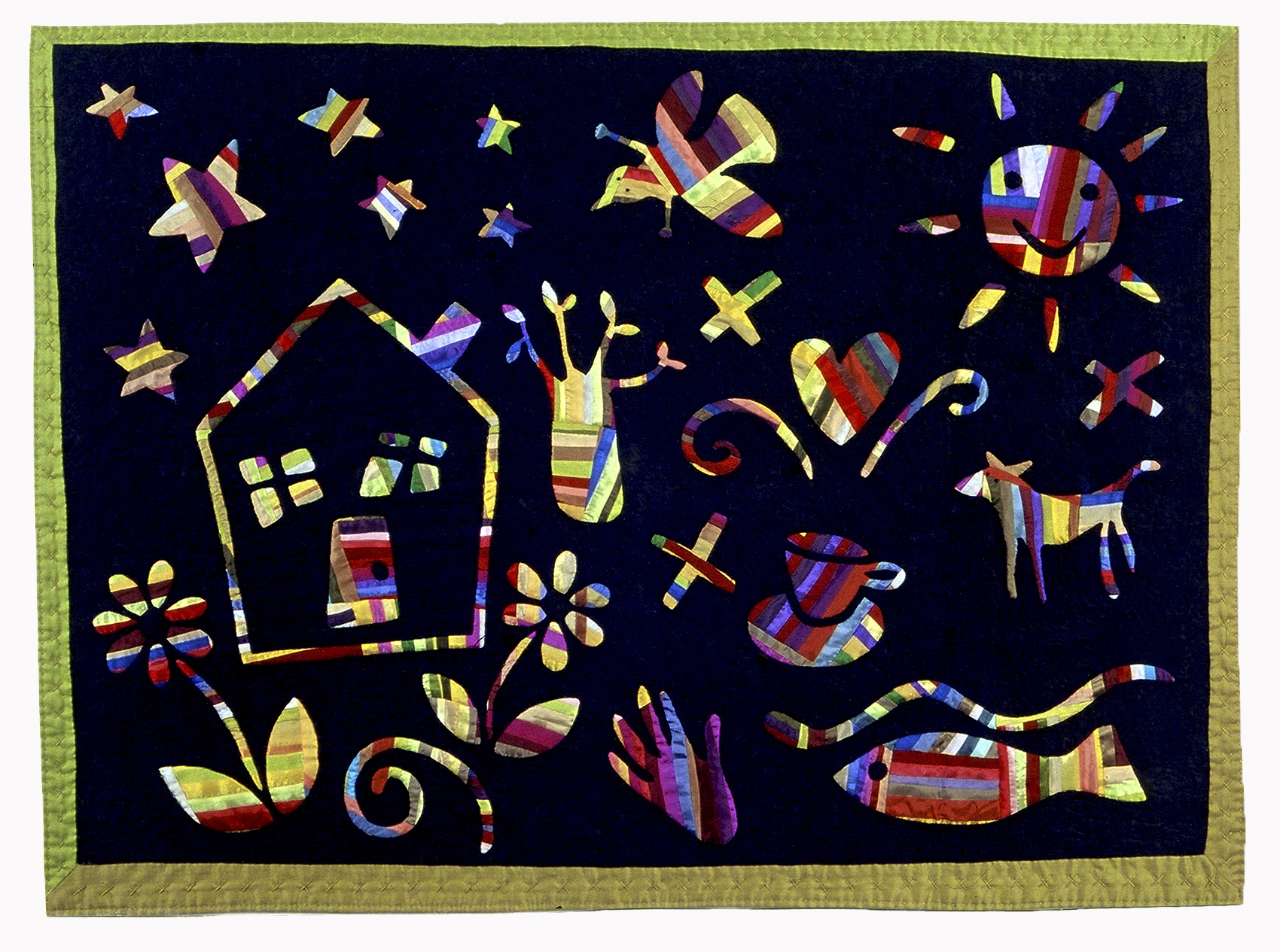 When Bewley did photograph the quilt years later – the rejected quilt became fuel for my second book – he was as challenged as my bloke and I were.
The problem was lighting it – the opaque surface fabric turned transparent when lit and it did not represent what the eye saw…..
When I needed quilts photographed for my first book, rather than send the quilts to my publisher C&T in California they allowed me to employ Bewley. We have worked together ever since. We get on SO well that for a few years we were in business together.
That was a bucket of fun but it didn't last long as the selling was not as exciting as playing with props. Still our 'Running with a Sandwich' cards got to travel the world – even if they didn't take us with them.
The other reason for loving photo day, and the reason that I mention it here, is that it really, really tests me.
Taking a full shot of a piece is basically about playing with lights.
Taking the details is where the interest lies for me and it has become my role in the process. It is akin to excavation…what is in this art work/ vase/ quilt that I want to highlight/focus on/ spell out?  Sometimes it is obvious, sometimes very difficult. I love it though.
Throughout the set up and then during processing it is fascinating what we discover about the work…
The colour dissection is incredibily minute and I am now very confident in describing colour as I see it and helping to correct it on screen.
Exploring the minute details of the artwork that, once viewed, seem to be so glorious as to need recording –  which then, once recorded, need viewing in the flesh!
The continual problem solving that tests us…putting the digital jigsaw puzzle together from the piece in front of us is absorbing.
These sessions grow me artistically. They are a delightful slog. I love it.
I hold no desire to be a photographer though!!!!!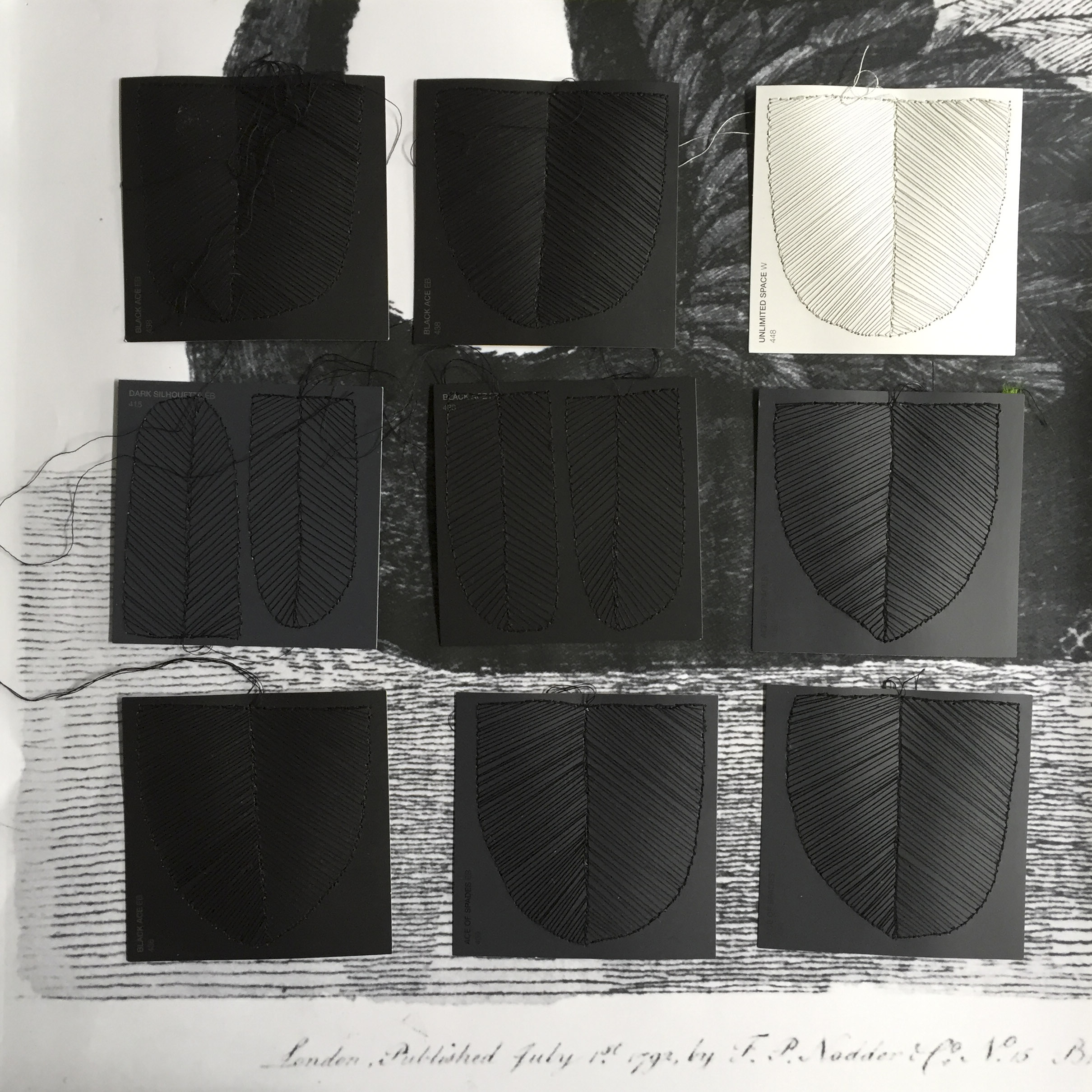 Very late in the week, surrounded by computer tasks, and with family visits intermittent, my itchy fingers and task-abused brain needed creative release.
I picked another image to print and rationalised that maybe there is just enough time to finish another AW5 piece if I want to push it.
This time I return to one of the nine images I worked on in Week Seventeen.
I fiddled with the image, then printed it out on linen in black and white with the idea that I could add colour.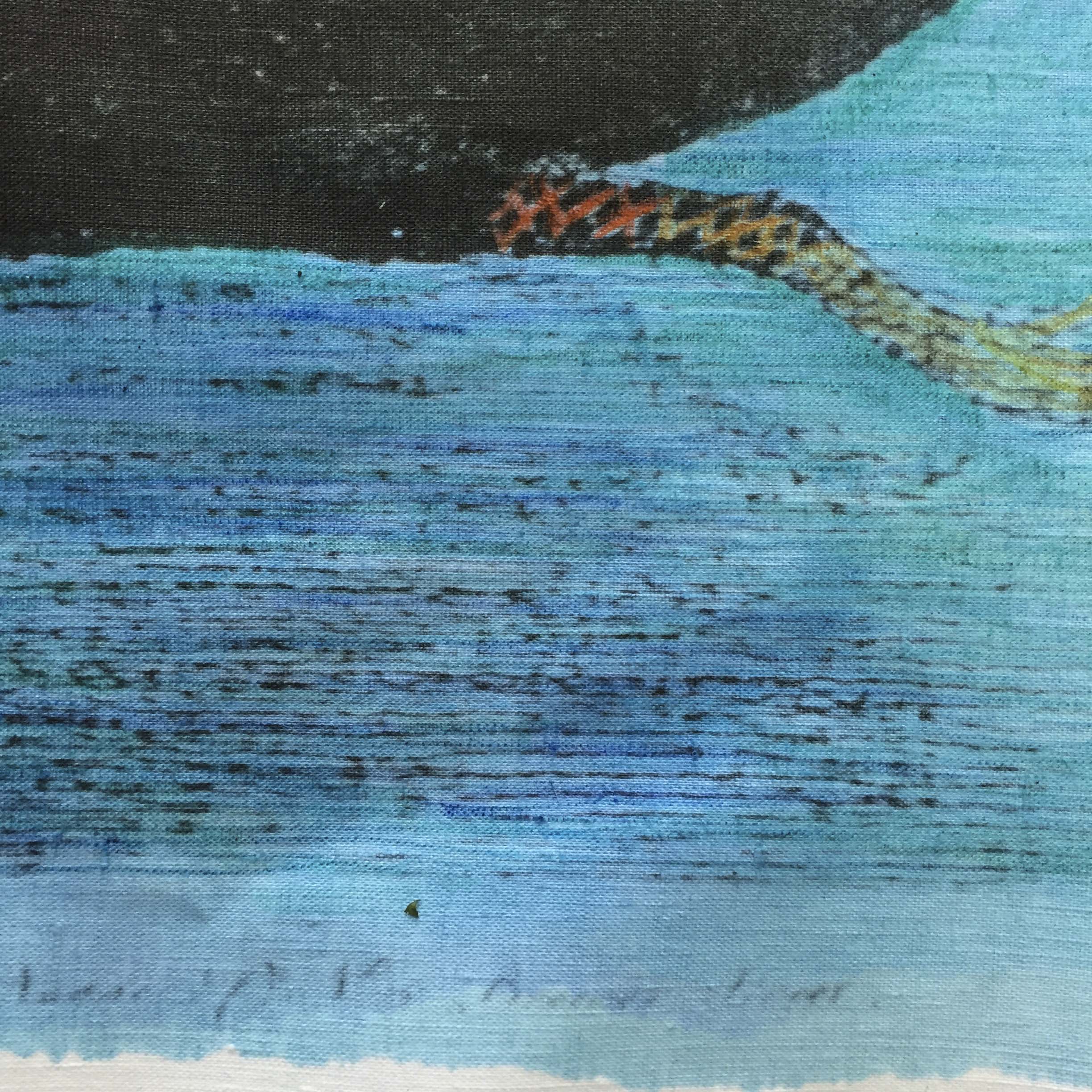 On Saturday within a tiny window of opportunity I took to the print with Inktense Watercolour pencils. My original thought was to simply and subtely use the quilting thread to add a tiny bit of colour and I started gently.
A Sunday fiddle has intensified the colour but it is probably not what I am seeking…I need thinking time and play time…. it may end up failing to fly but the next few forays downstairs in the coming week will inform me. Realistically the week is already task full so it is not a week for anything but a clear creative road that I need. It's okay though. I am happy to have one entry.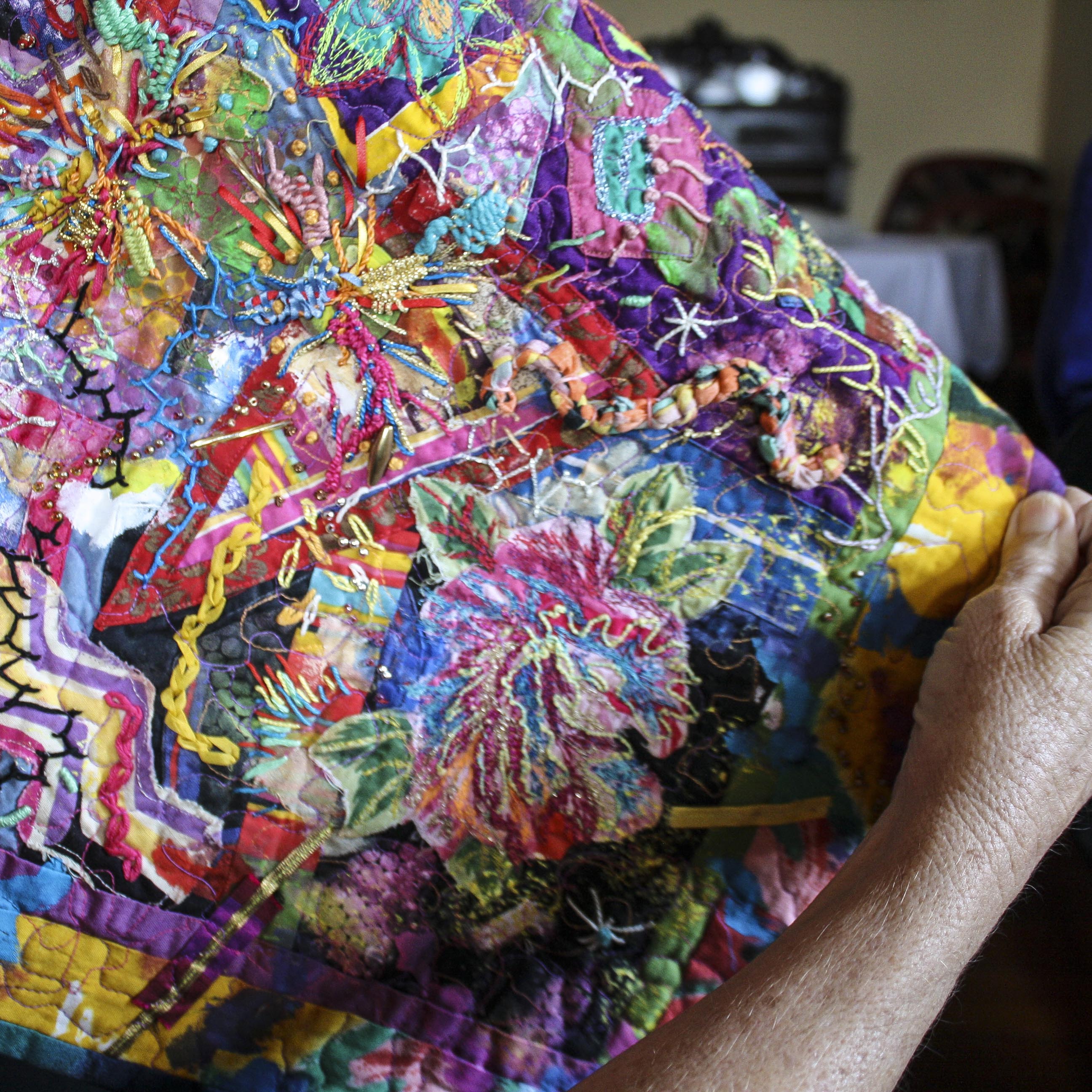 The big outing for the week was the Quilt & Textile Study Group of WA 's session with
Cynthia Harvey-Baker. Cynthia, the founder of QTSGWA, has about 50 treasured pieces in her textile collection.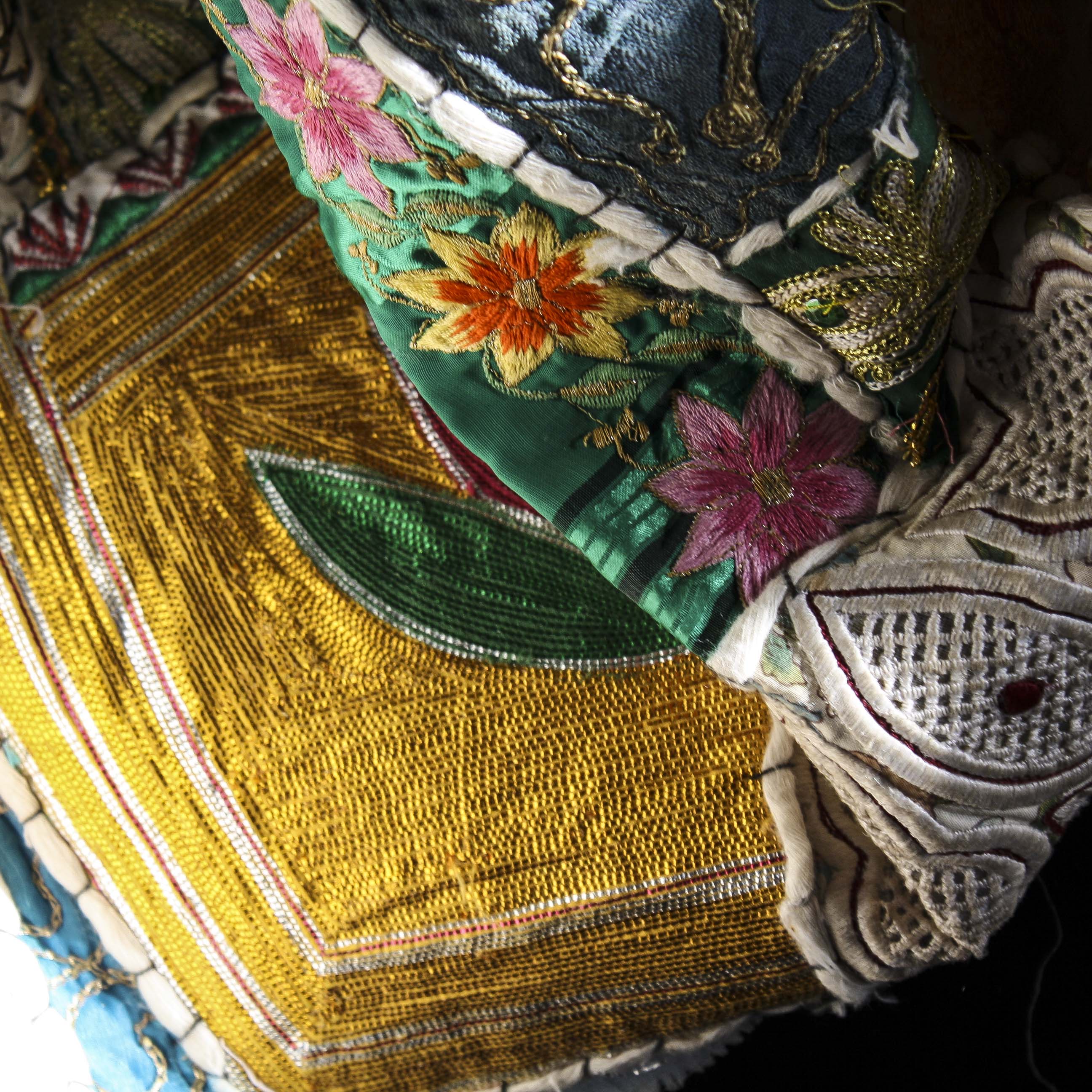 The items are from India, Indonesia, China, Japan and South Africa collected by her along with knowledge and stories. Many are quilts but most are smaller pieces of print, weave or stitch.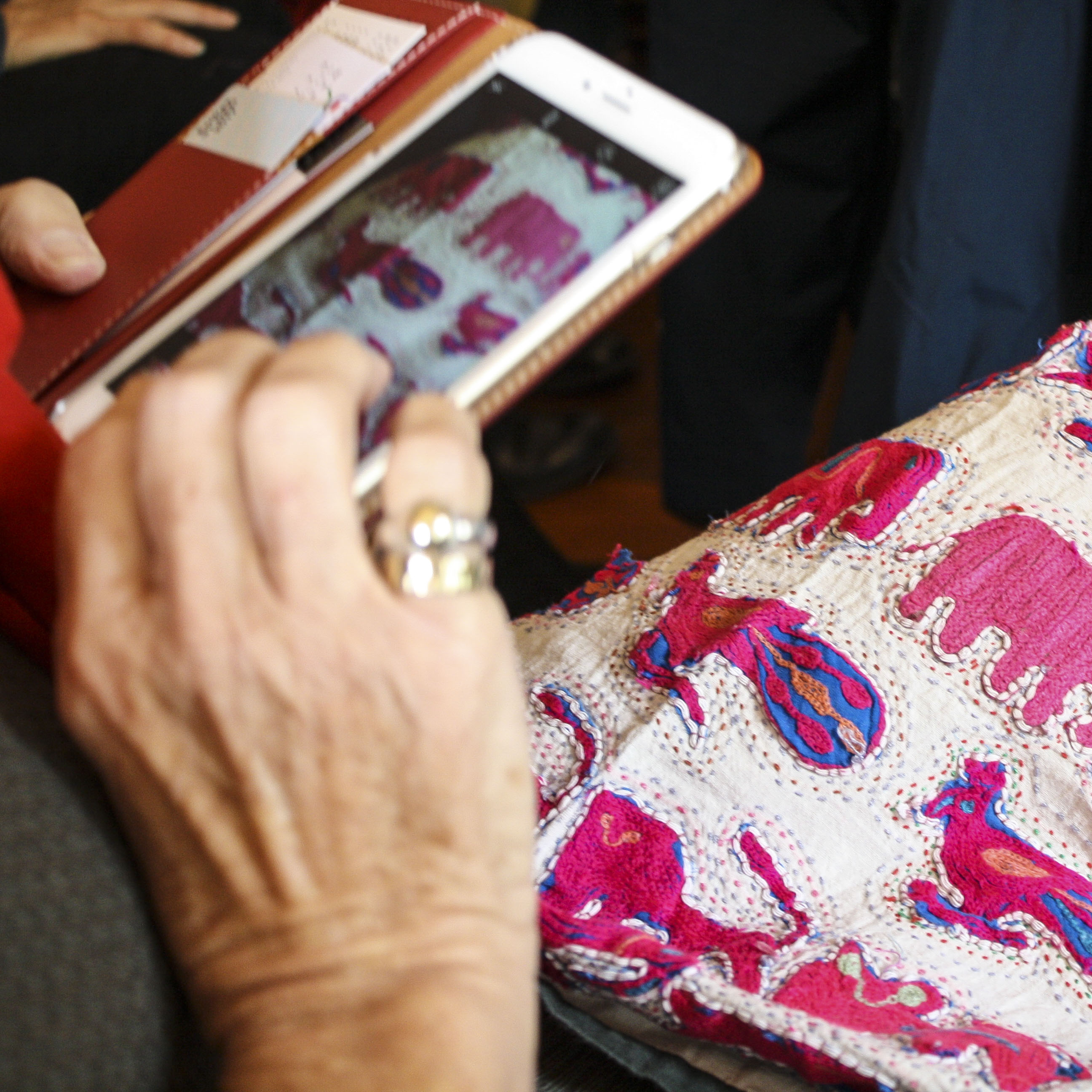 Like many of us she sees textiles as things to be touched to be appreciated. and does not regard her pieces as "sacred items"- great for our total appreciation as they were handed around the room and we touched and explored and photographed the constant textile parade that appeared on our laps.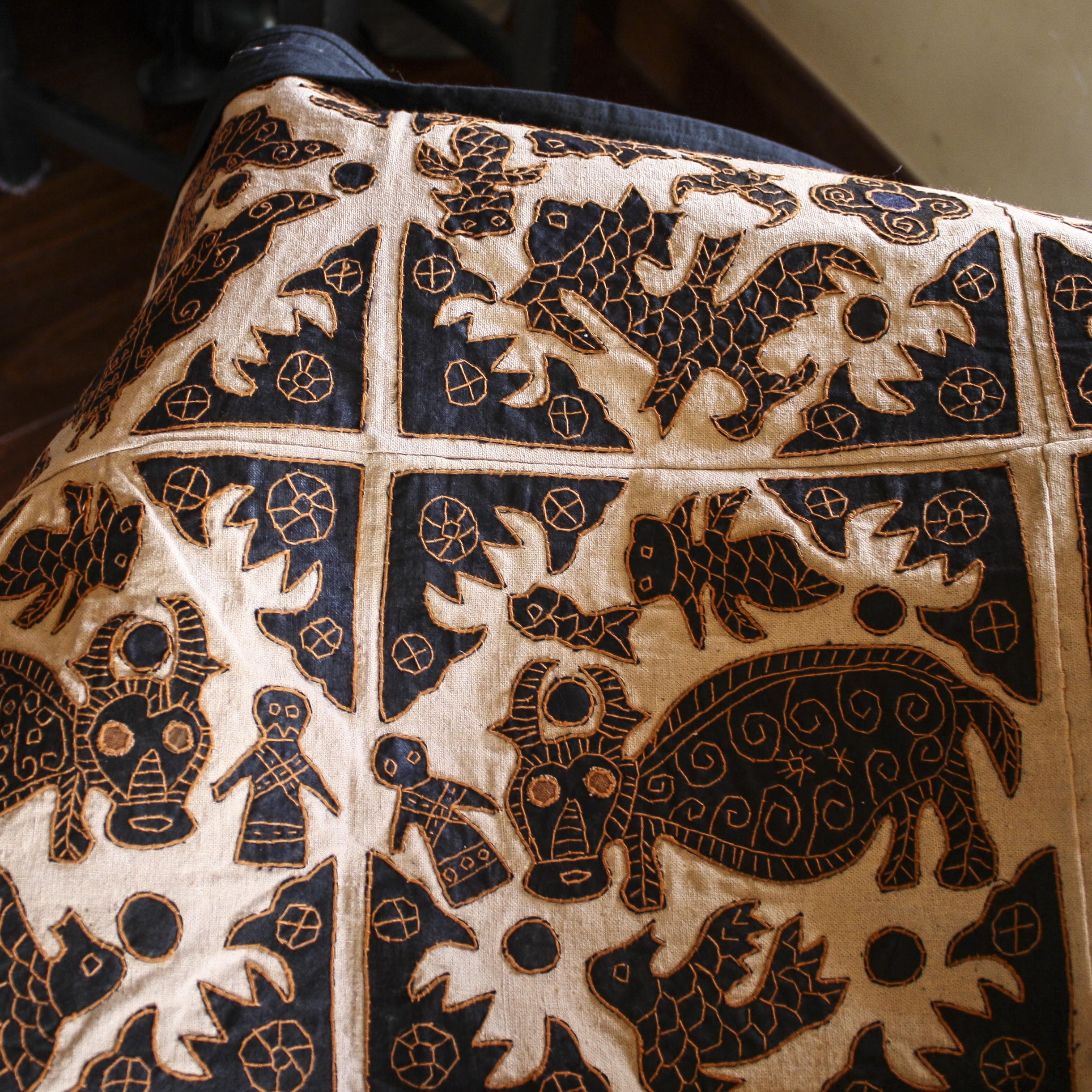 Cynthia is also a prolific textile writer – having just written her hundredth article.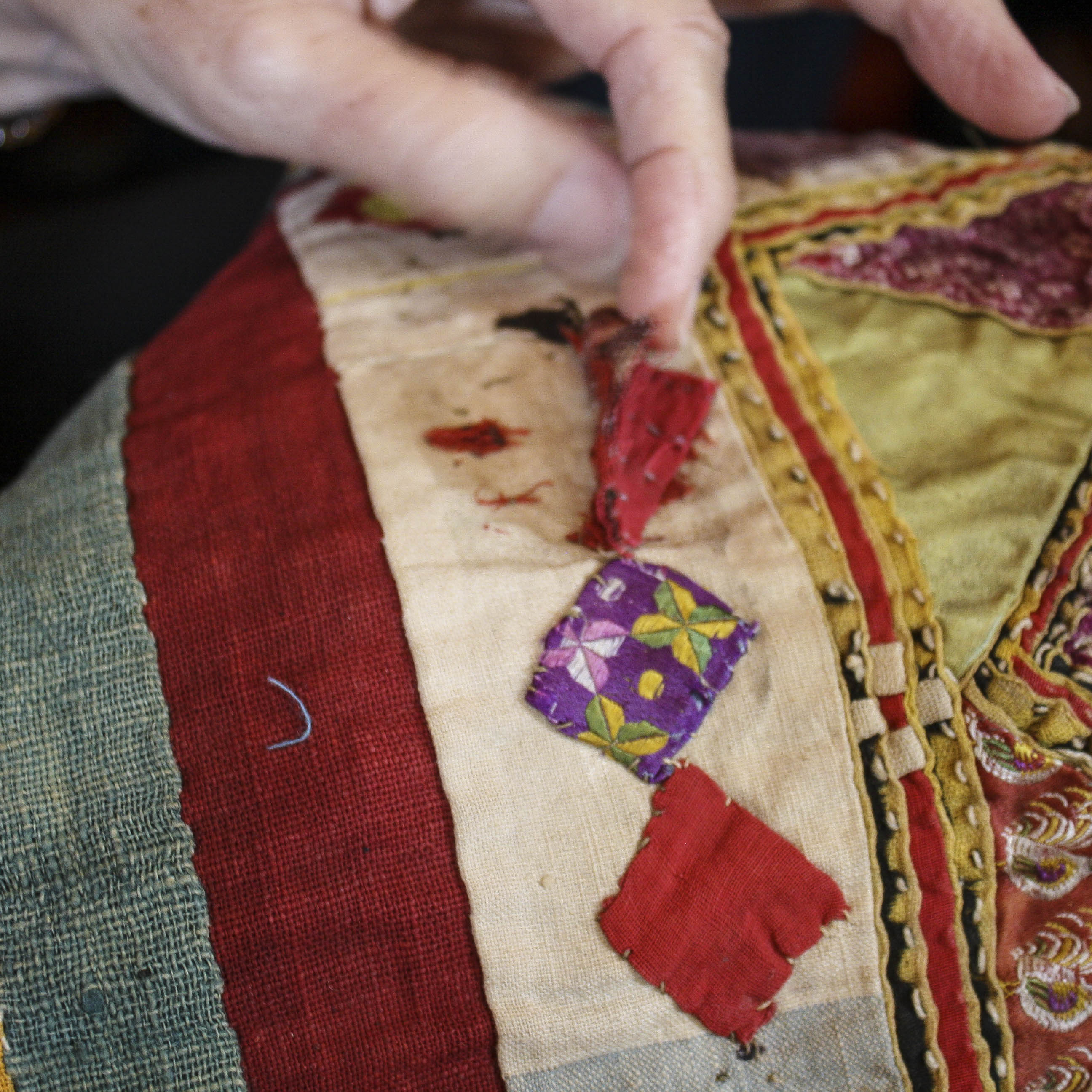 She recalls where she acquired each piece and revels in the connection of the stories and memories that viewing and touching reignites.
It was a wonderfully generous session.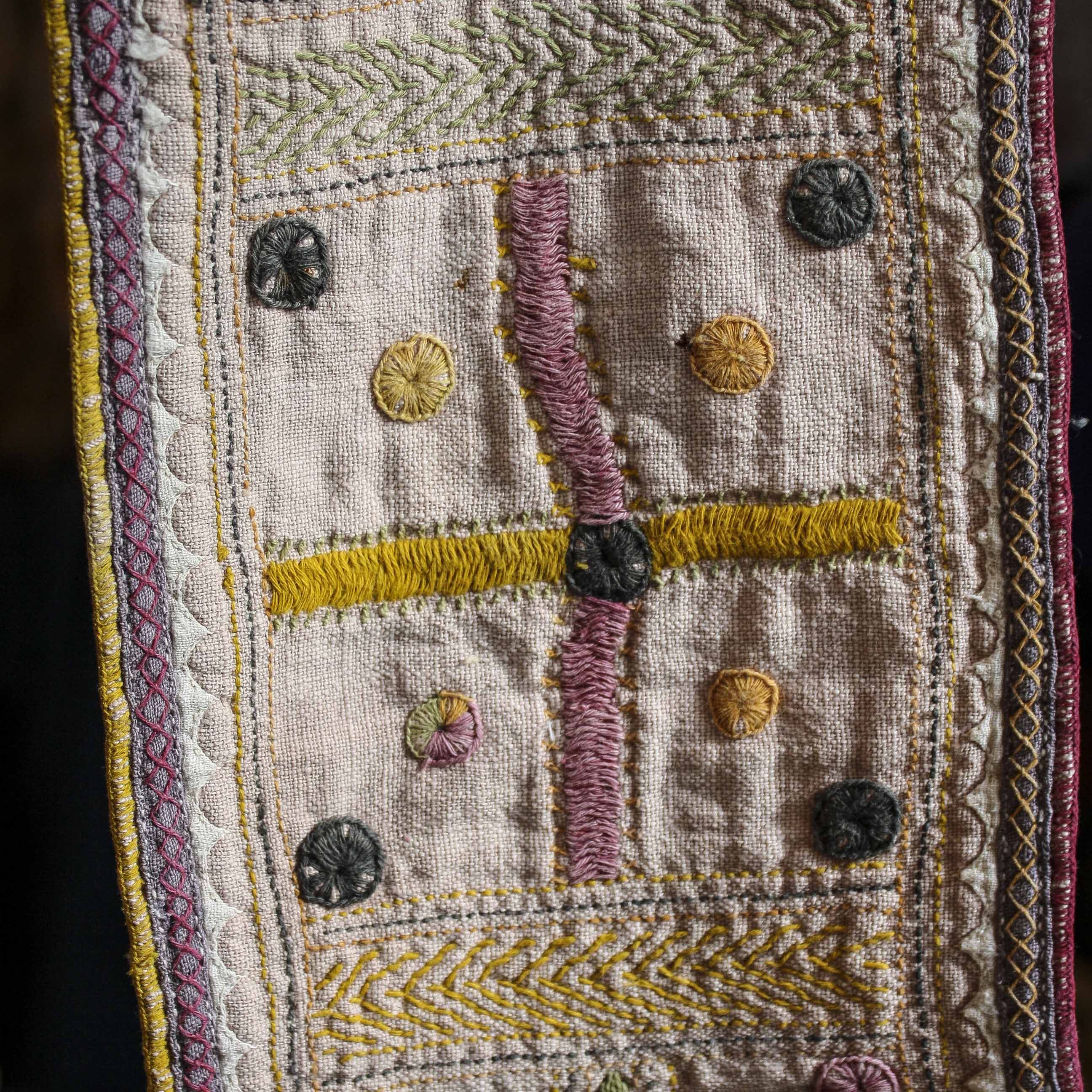 I'll end with a correction….
Last week my naivety got the better of me and though I was quietly embarrassed I am pleased to be corrected on my mistake….
The plant which last week thrilled me artistically, now, this week, horrifies the sensibly green Aussie part of me.
Turns out this beautiful shocker is Narrow Leaf Cotton Bush (Gomphocarpus fruticosus).
The beautiful silk that I would like to gather actually holds the seeds that will fly off on their evil task of multiplication. Those seeds were already distributed when I beheld them as there was little evidence of seed heads.
Their evil placement in our bush doesn't stop me thinking that they are less than beautiful but the next time I encounter one I will do my little bit to reverse their spread.