WEEK TWENTY-FOUR (june 13-19)
The week starts with vim and vigour. I am off early for a swim then gather myself and my bits to head off to Spectrum Project Space, ECU, Mt Lawley. Finally it is setup week and I am both excited and nervous.
The artworks are delivered and we slowly unravel the twentyONE+ story.
We have a week to change the space, to install the artworks, to light them beautiful and finally to welcome in the artists, their families, friends, WAFTA members and the interested masses.
No pressure….
We are working with a curator, Alison Hayles. Hiring a specialist for this job could be seen as an indulgence. It certainly wasn't, we took heed of great advice and it has been a very worthwhile investment. Alison has helped us in a manner of ways throughout the last couple of months, and this week, despite wearing the big Curatorial hat, she allowed our little team to shine alongside her.
We all had ideas, we all work VERY well together, we did not feel anything other than self imposed pressure, so slowly the pieces were arranged, and rearranged, and tweaked continually until the jigsaw puzzle came together.
Teamwork is often simply a buzzword.
For the length of our time together our little team has been cohesive and supportive. We have also had the backing of a very supportive President and General Committee which should not be underrated.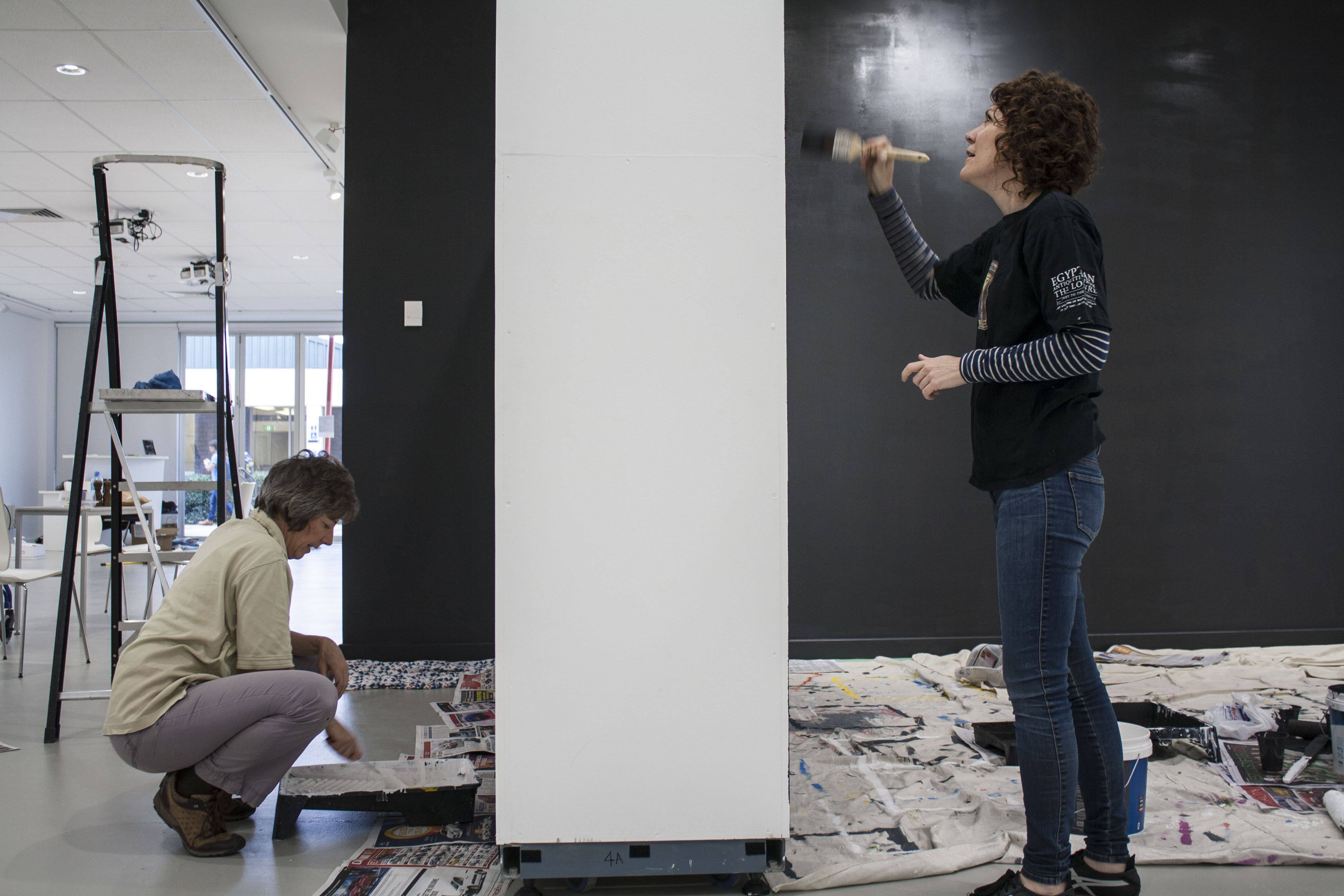 Having Alison on board did not change our team.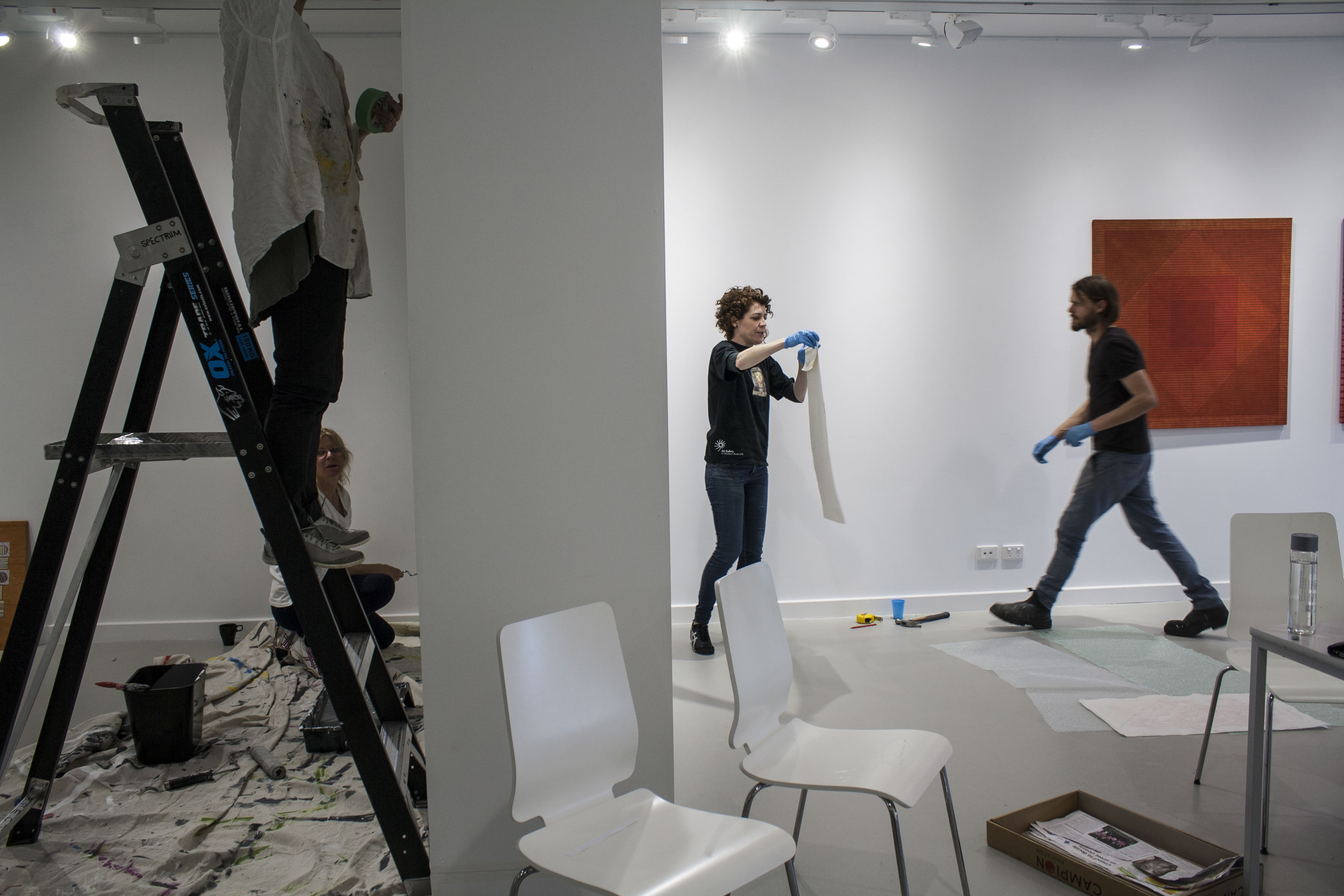 Working with the team at SPS did not change our team.
Luck?
Nope….simply good people with diverse knowledge and skills invested in doing whatever it takes – with openness and lack of ego.
Glorious teamwork.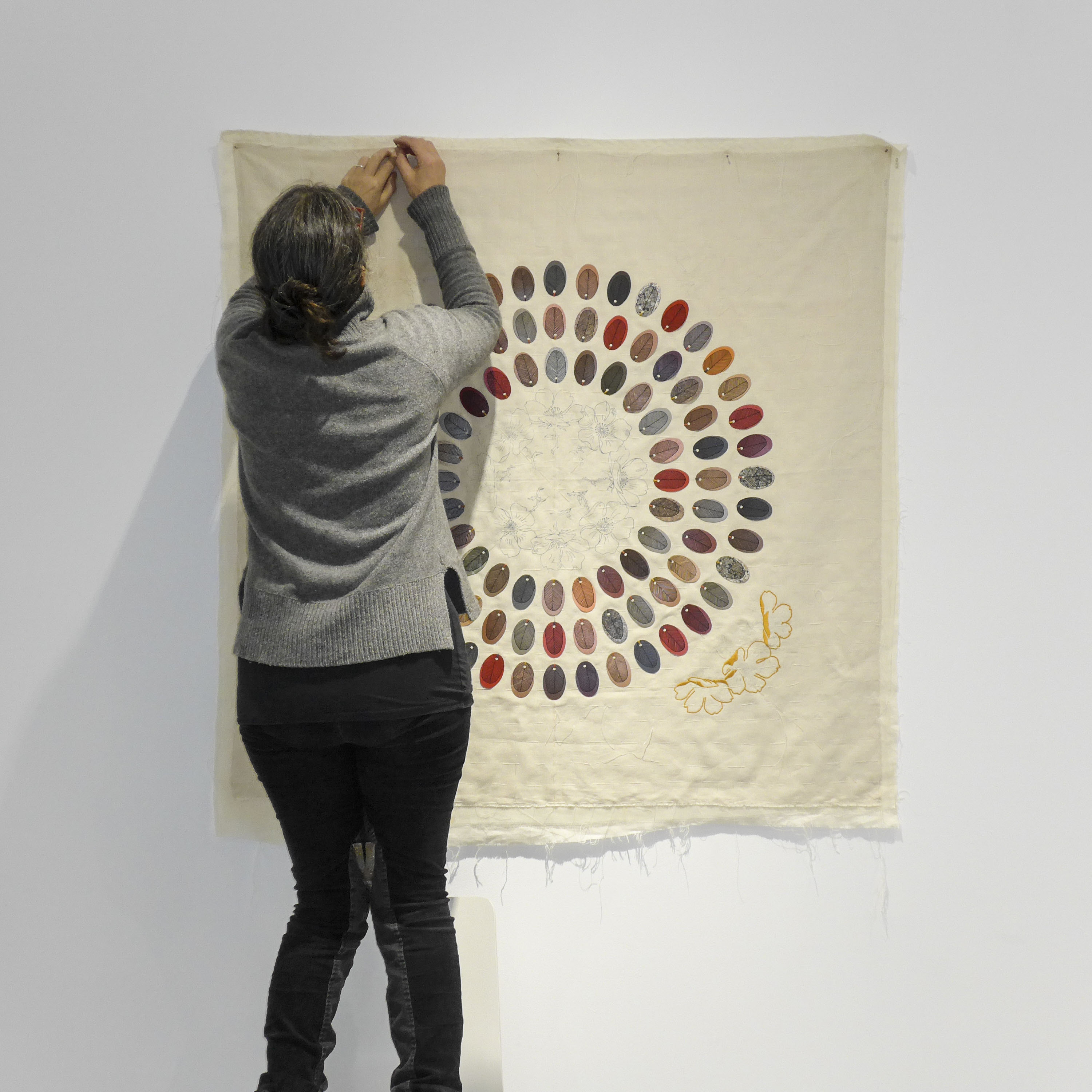 Setting up an textile exhibition is much more challenging than hanging quilts or paintings. The nature of textiles – with a big variety of techniques, materials, sizes, and display requirements – was the problem…
We needed to find the links between the artworks.
We needed to fit them into these initially flexible spaces.
We needed to work out how best to highlight each artwork.
AND
We needed to forge relationships between artworks who had never met before!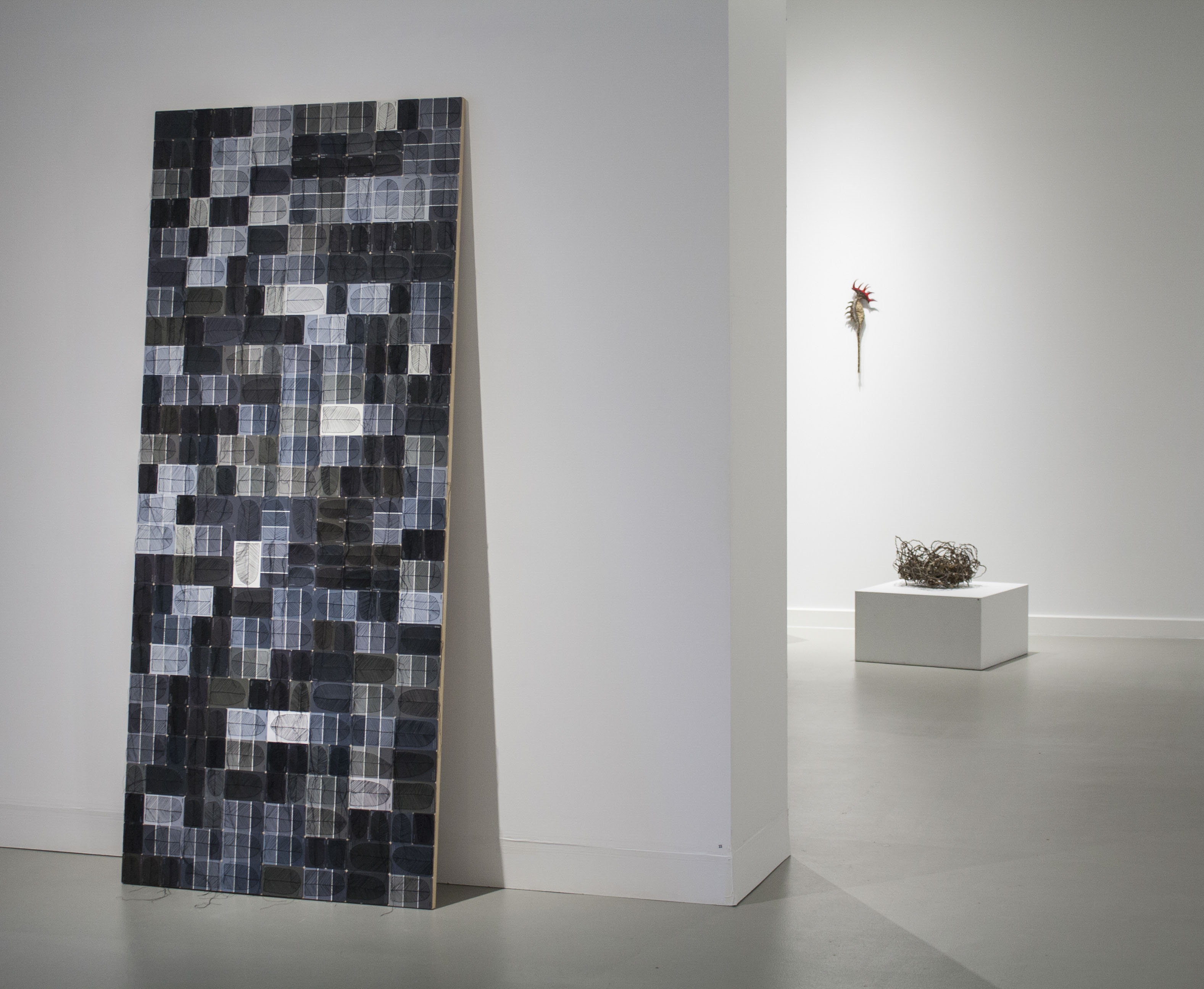 So we started with the big things. Setting the spaces. We had the use of two moveable walls and move them we did.
We were able to paint the walls and, for the first time at Spectrum Project Space, some of the walls were painted. Dark. Very Dark. Luckily one of my entries contained dark paint chips so we did not need to search far for the perfect colour!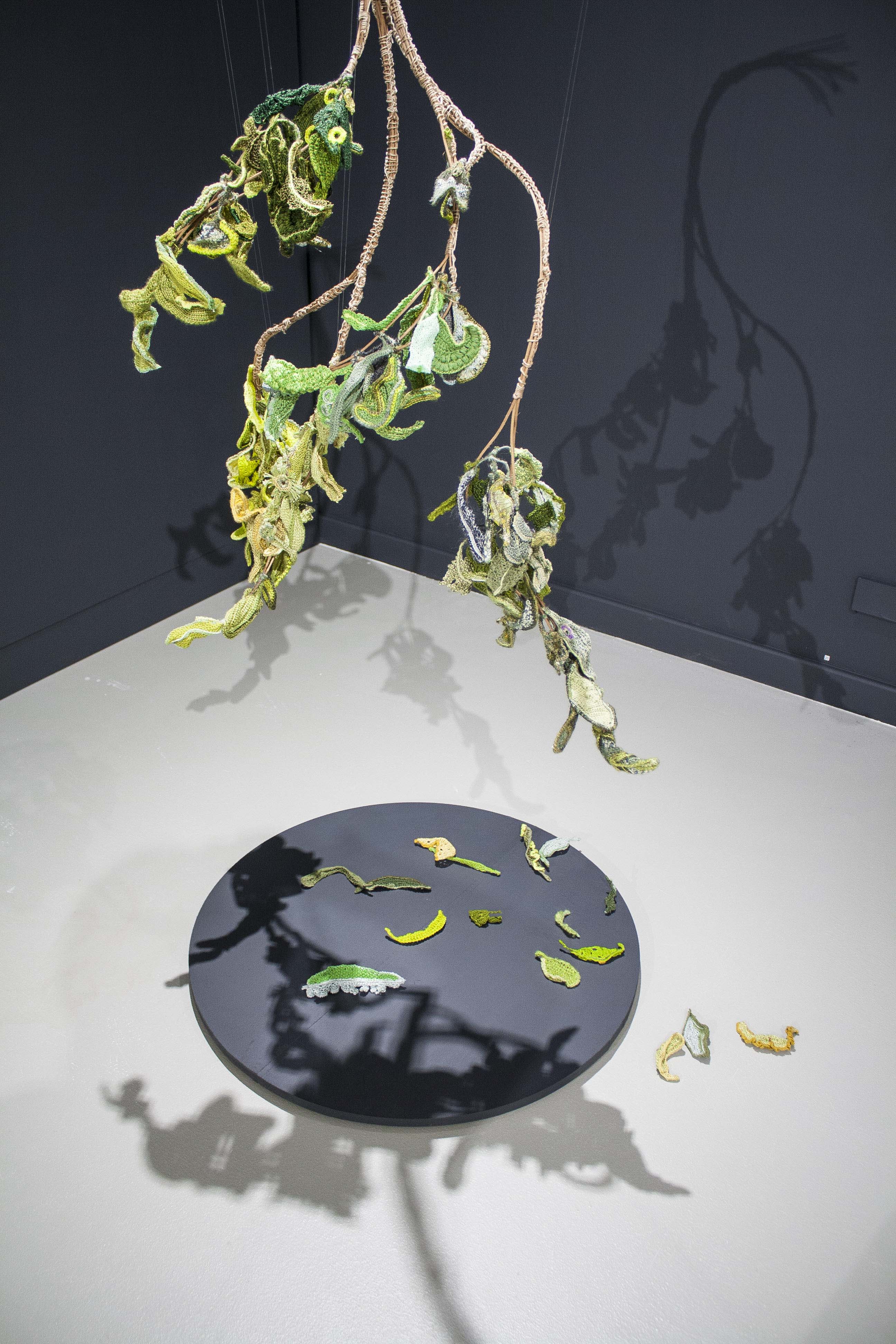 I had taken in some props as alternatives to wall displays. A round of wood, specially constructed by my bloke that was a possibility for showcasing one of my pieces was commandeered and repainted to define the space and to ground another's work.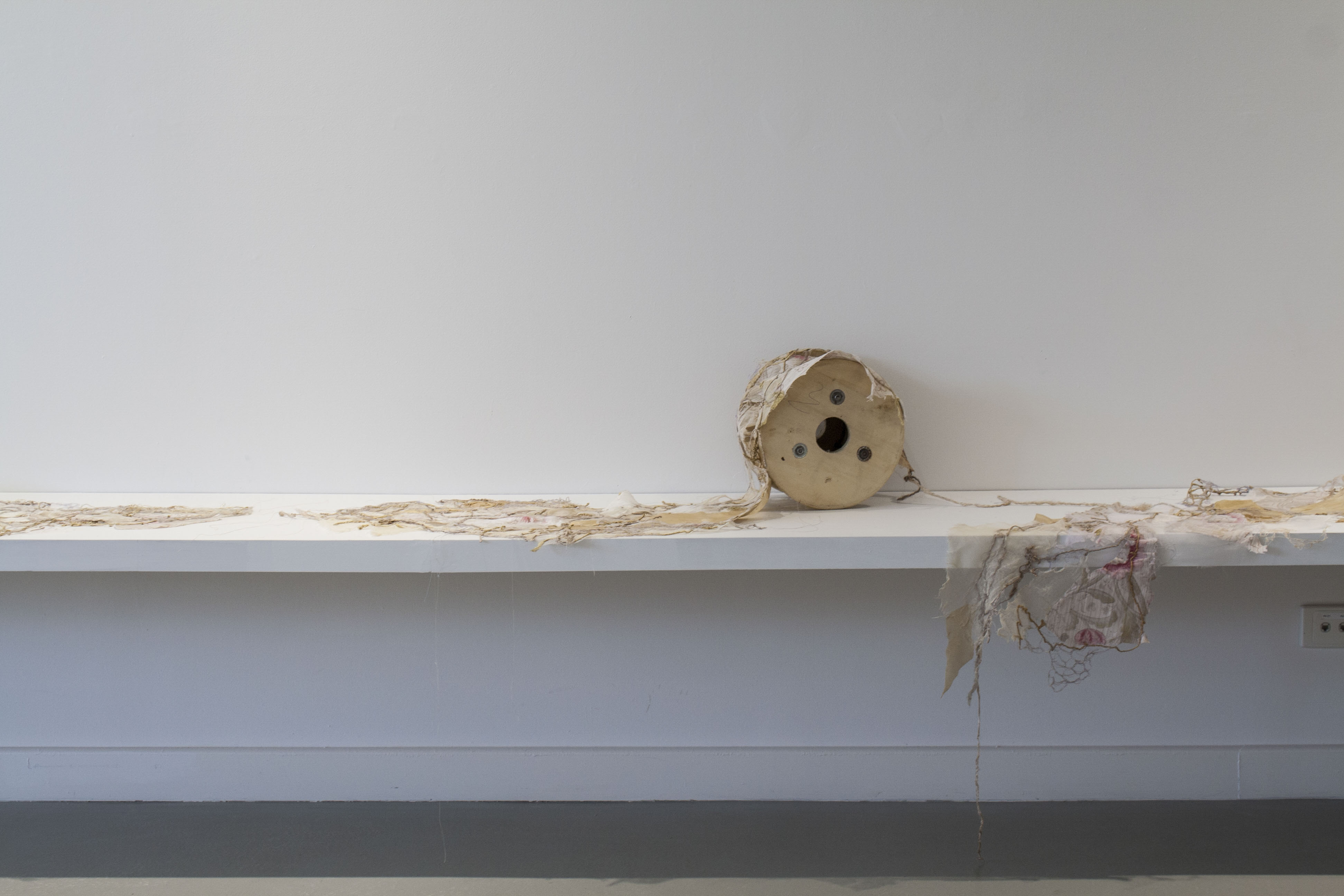 An empty cable spool – also a possibility for supporting other artworks – was the missing link in displaying Annie Shelley's beautifully ethereal pieces.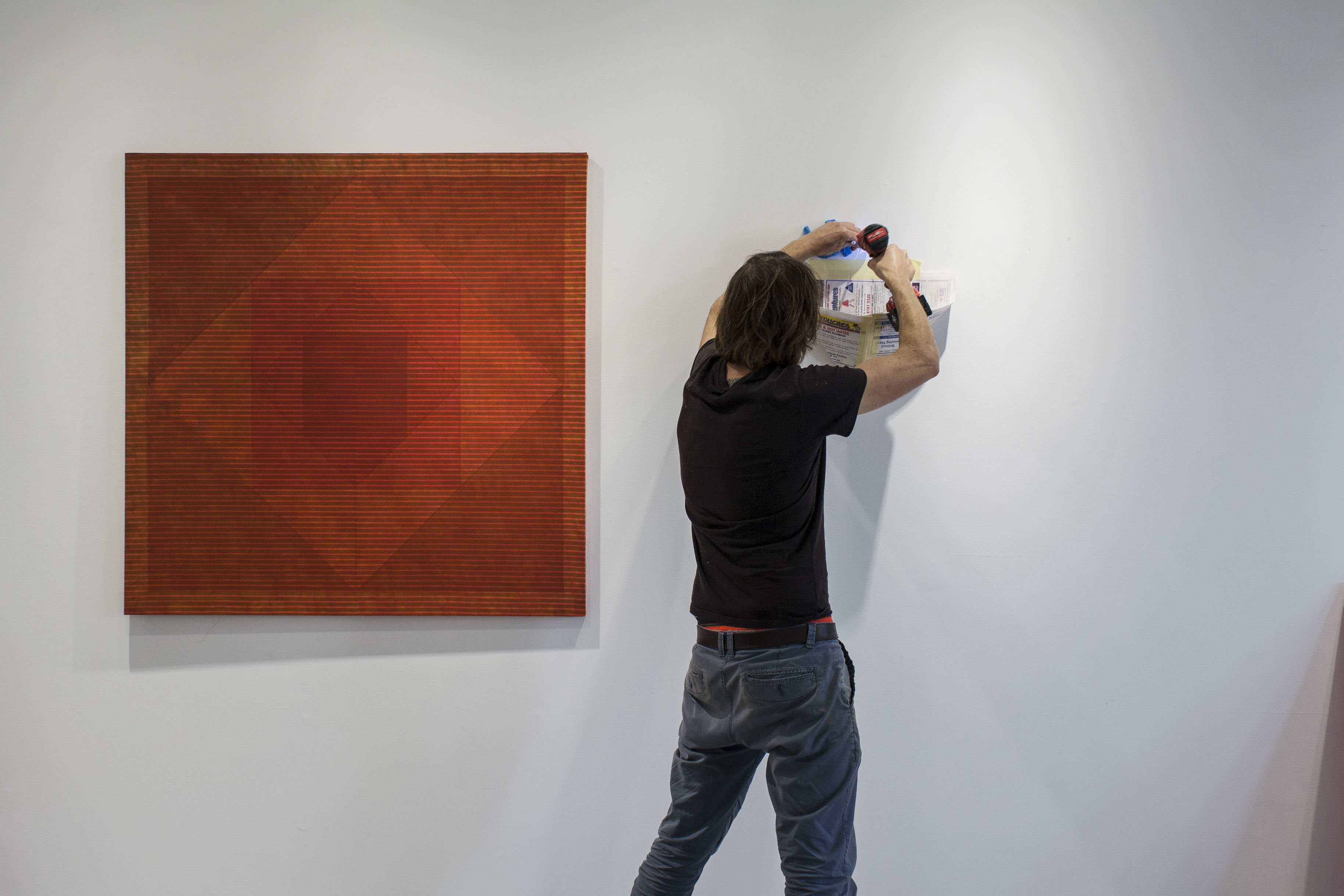 And we had SPS 'staff' that constructed and hung and lit whilst we all split tasks, and rejoined, and quietly went about bringing it together.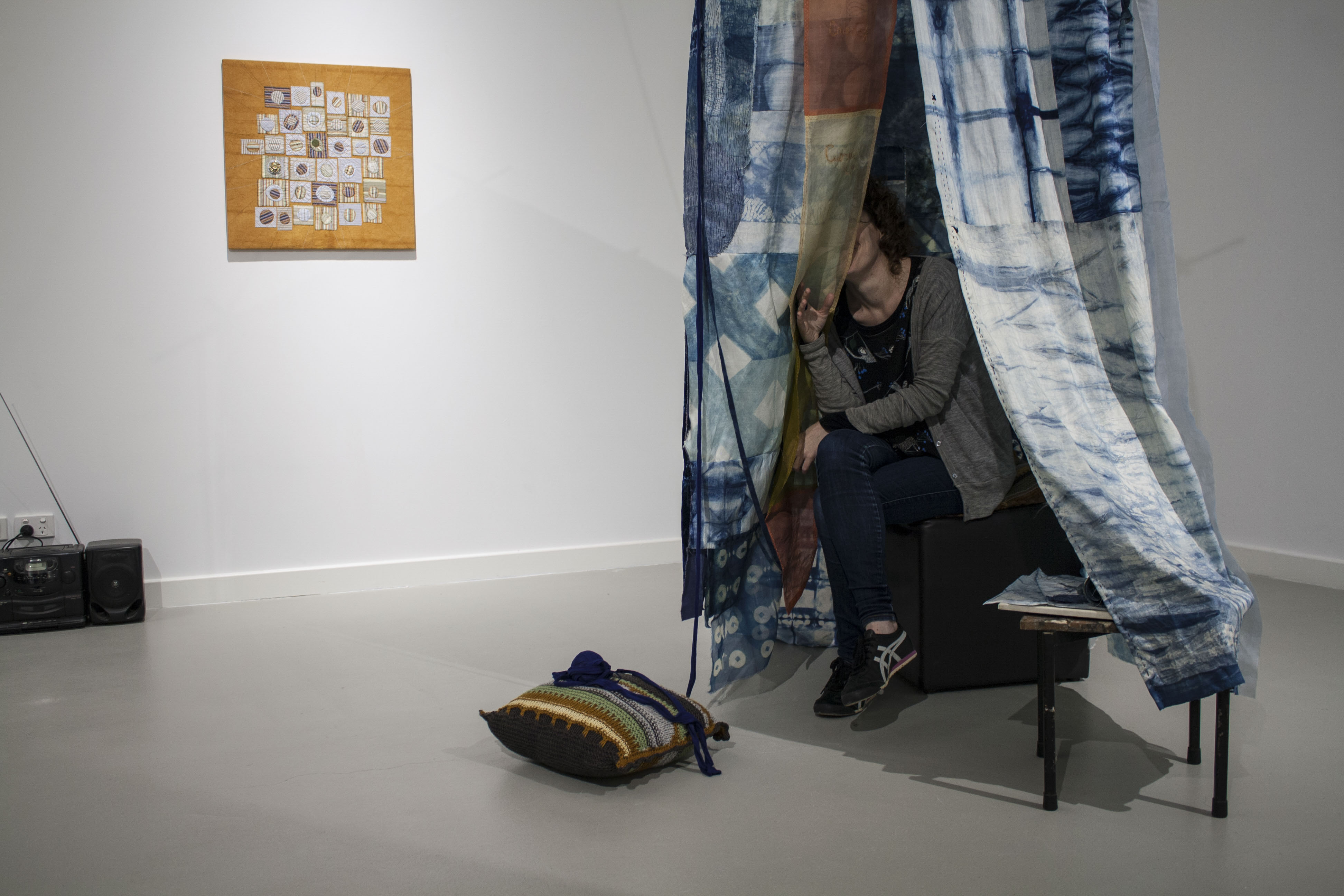 A real tonic for the tiring team was an article in the West Australian Newspaper on Wednesday. Trudi Pollard's artwork was the focus of the write up and we were/are thrilled for her….and WAFTA…and us:)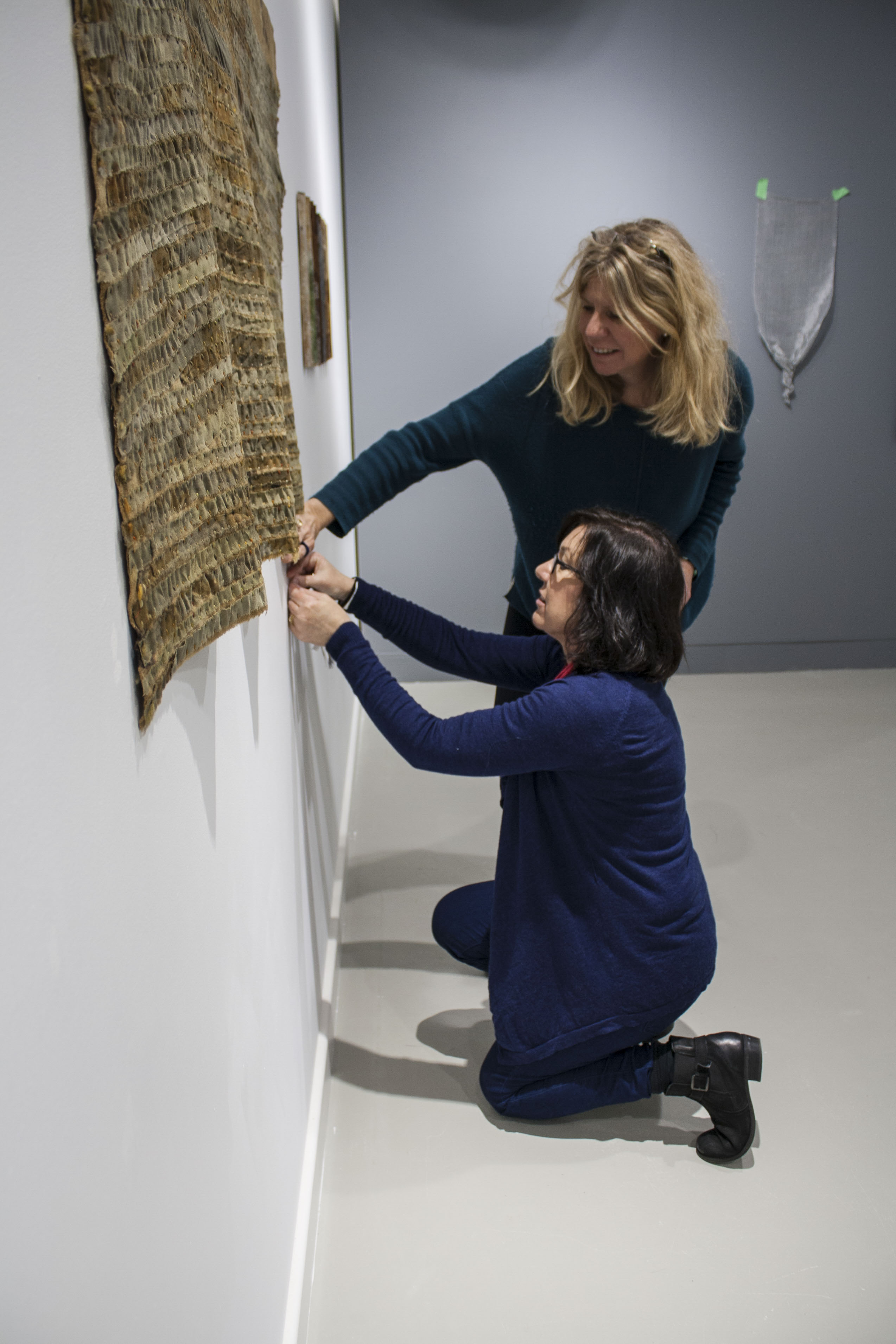 On Friday night at 6pm the open doors welcomed our guests.
It was a lovely night of conversations, of a beautiful mingling of all sorts of people around the artworks.
It was a blur to me – as these nights of a million conversations always are – but I went to sleep that night feeling peaceful. It took us eighteen months to get to this night and sometimes I wondered whether it would come off as we had hoped and planned.
It did.
I slept the sleep of the exhausted and the relieved.
That should have been enough textiles for the week but The Quilt & Textile Study group of W.A had an outing to Mandurah, to CASM to see the Common Threads Wearable Art Exhibition. We had in our group two of the makers and we listened intently to Louise and Ngaire as well as Barb the oganiser.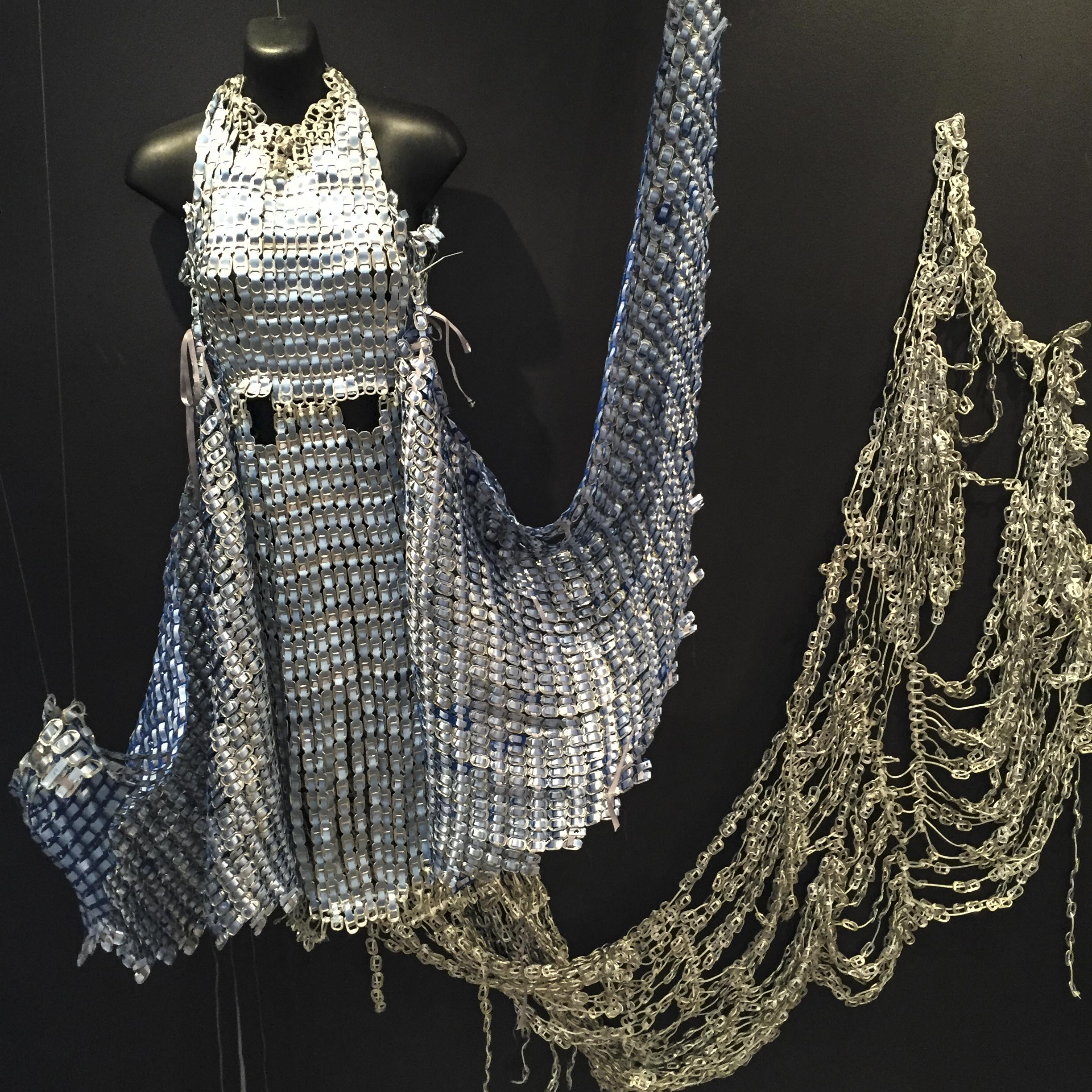 It was a lovely arvo to complete the textile soaked week.
Save