WEEK THIRTY SEVEN (september 11-17)
I have been writing this blog weekly for over two and a half years. My ultimate aim was to prioritise making art but I also wanted to work transparently.
I was keen to review how I work each week and to remind myself of how life tends to totally disregard my arty aims.
I wanted to chart a journey from vague thoughts of themes to a (hopefully) strong path.
I wanted to keep myself moving in a strong forward trajectory into the unknown.
I wanted to show how a life in art is not something isolated. Family, work, classes, trips, gallery visits and reading are all part of a creative life. I've always lived a creative life but this iteration was to be 'self' centered.
Ultimately, I wanted to present all of this in an open and truthful manner and to perhaps pass on my experiences to inform and encourage others.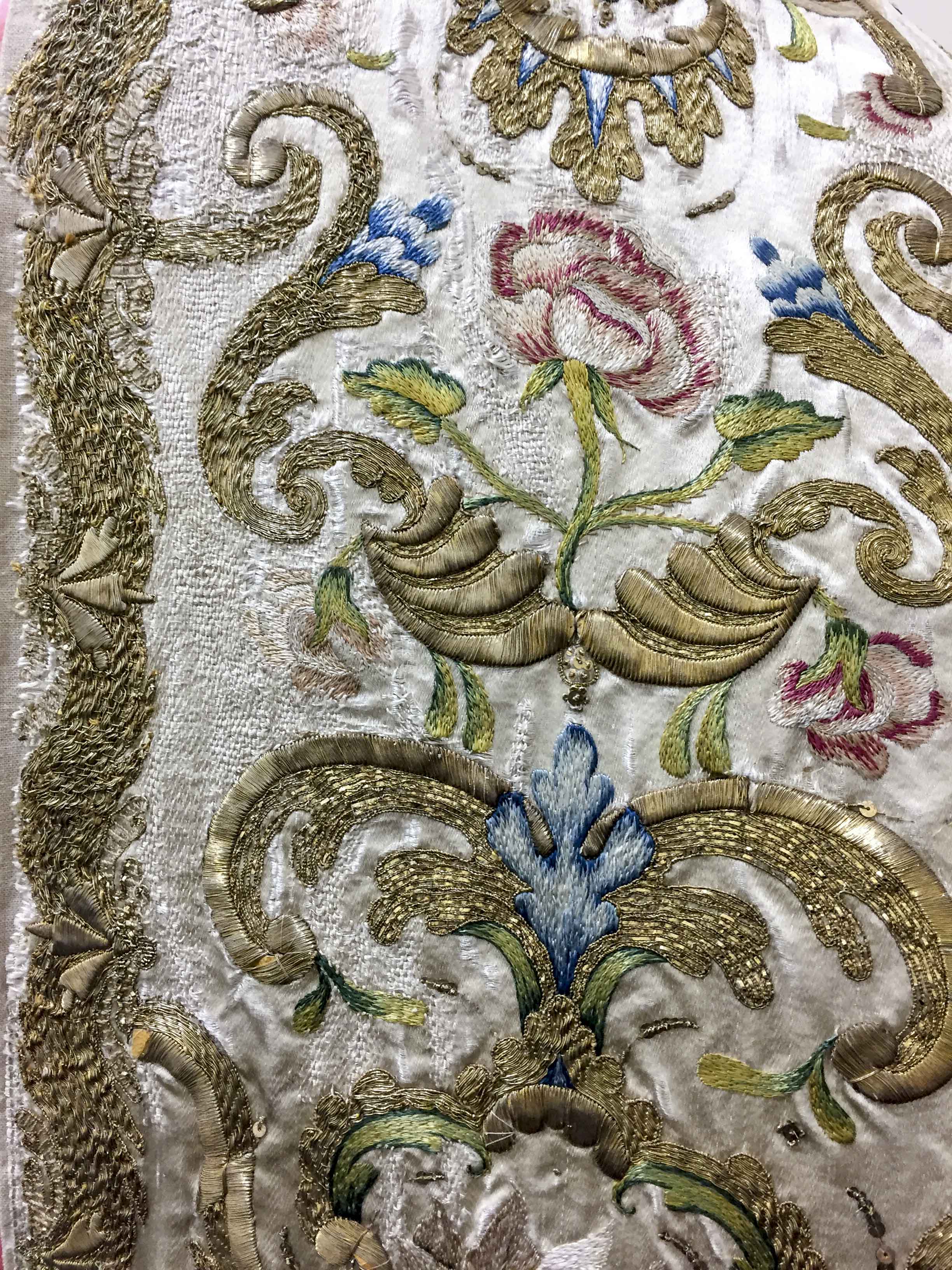 I am still on the same path started back in January 2015 but if I look at the first year's posts I can see the great inroads I have made. I know my outlook and attitude have changed since then.
If I cringe now at how I started, and I do, then the change is telling – whether others see it or not. I do feel that I have come a very long way.
BUT…..
Time taken to write and illustrate this journey has become too big a time consumer.
If I slow down my writing, (even though writing is truly my favourite way to think), I figure that I can use those hours to draw/ to read/ to document/ to make and to dream…… Although obviously I am likely dreaming right there!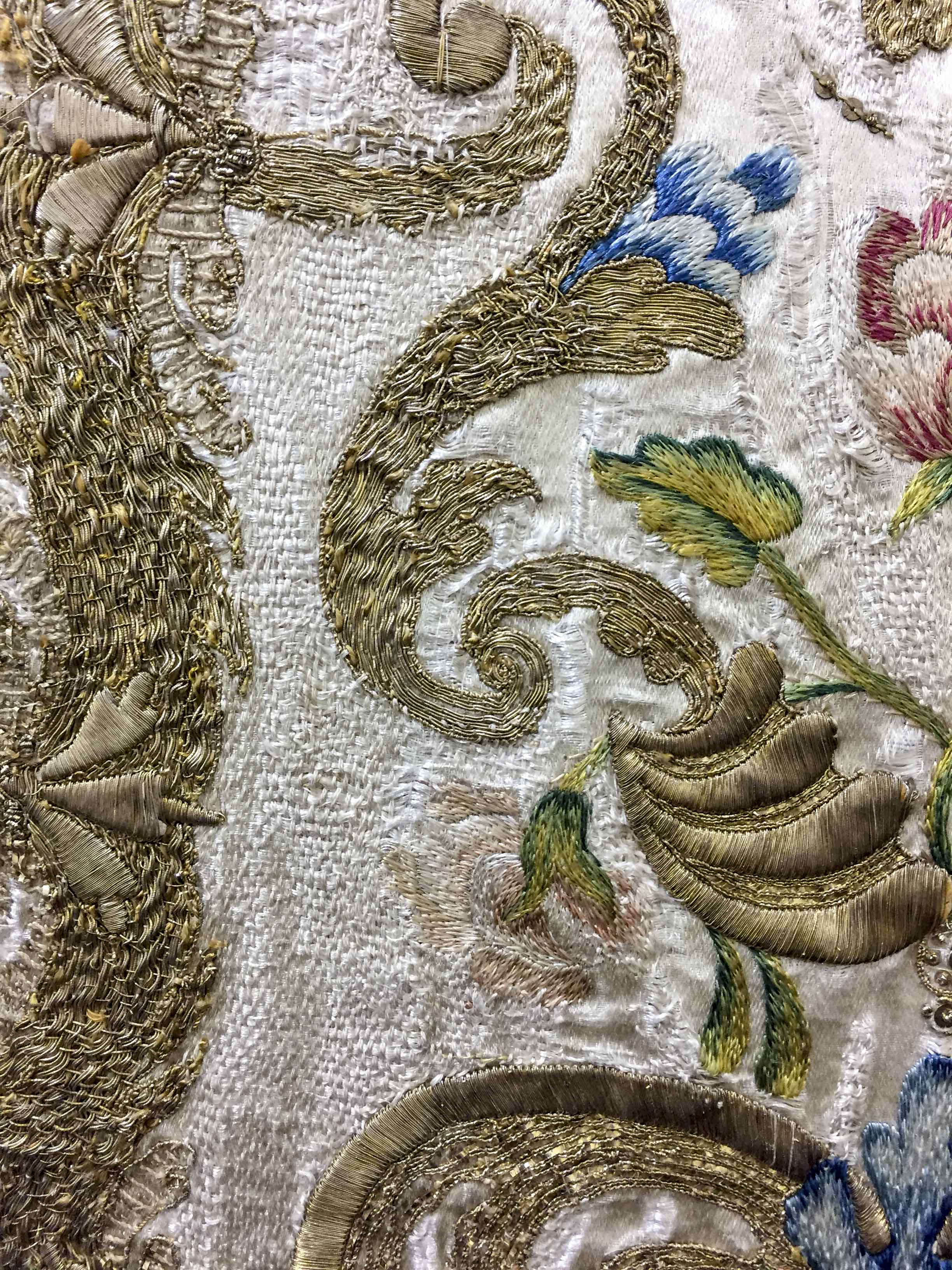 My to-do list is enormous with big dreams and little tasks overwhelming me often.
My mind maps billow into infinity likewise.
So…what to do?
Nothing earth shattering but simply a consolidation.
This blog will likely NOT be written weekly from now on.
I cannot stop yet but I will to concentrate more specifically on my art practice as originally planned, which usually takes more than a week to evolve, rather than my current tale of life and art intersecting?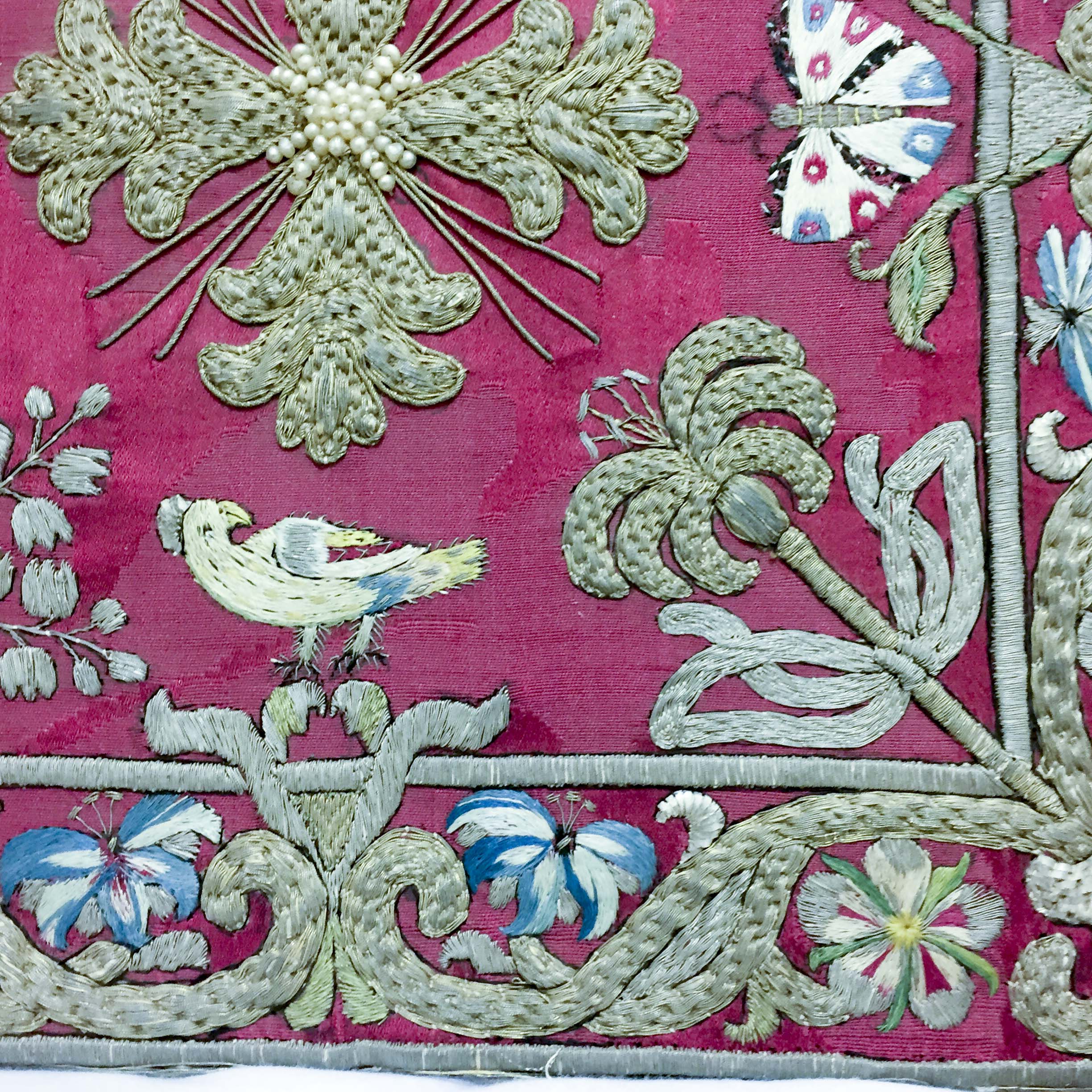 There are plenty of ways to send one's work out to the wide world.
My recent start in Instagram is one.
A fresh website – one day when I can fit it in – is another worthy task waiting in line.
I still don't do Facebook, or Twitter or, or, or… so I do save time there!!!!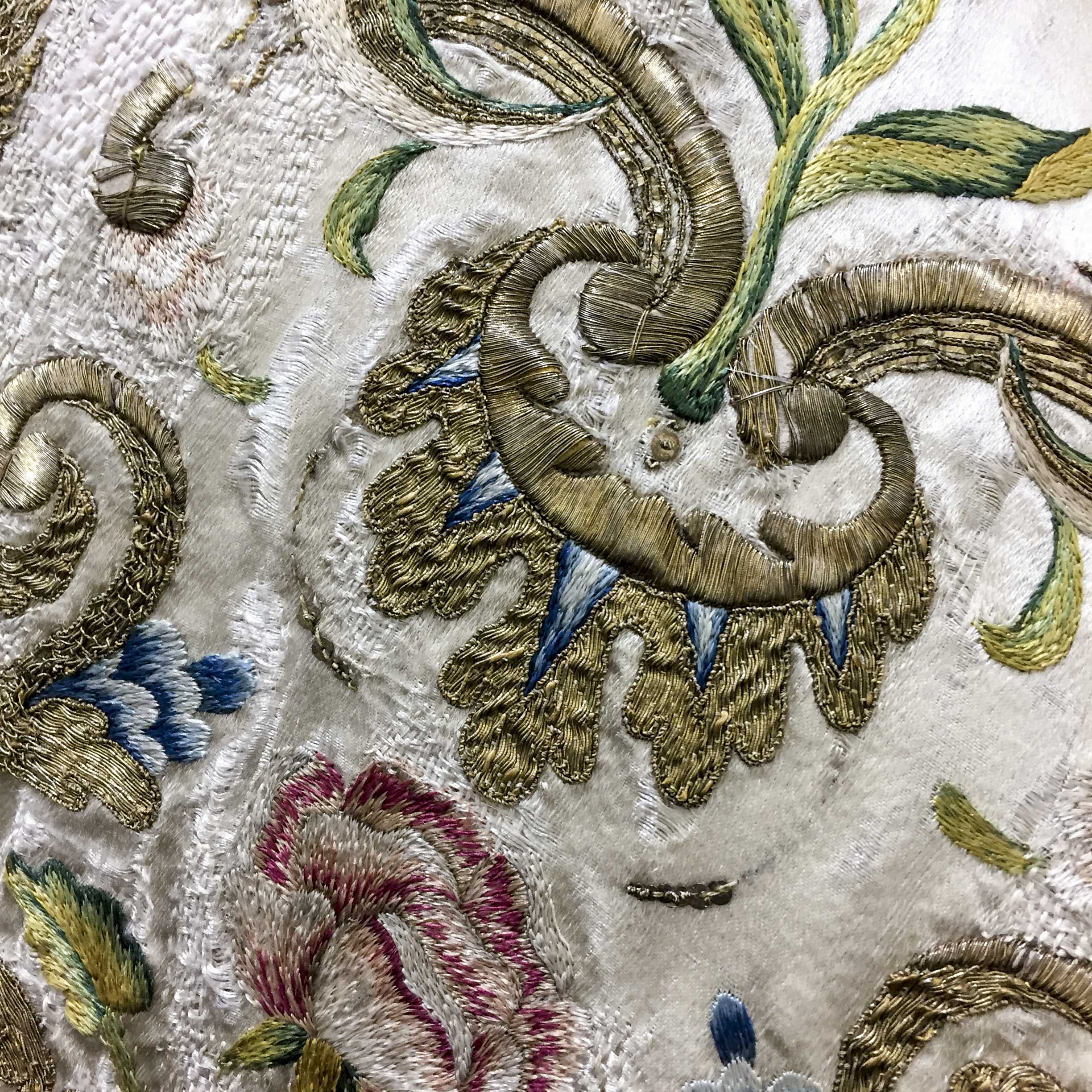 Then there is the December Gallery project which is certainly a big (and rushed) focus for this year and which, in turn, will inform a change in my subject matter next year. I see this project feeding me in all manner of ways but then I cannot predict the future, I can merely try to forge ahead.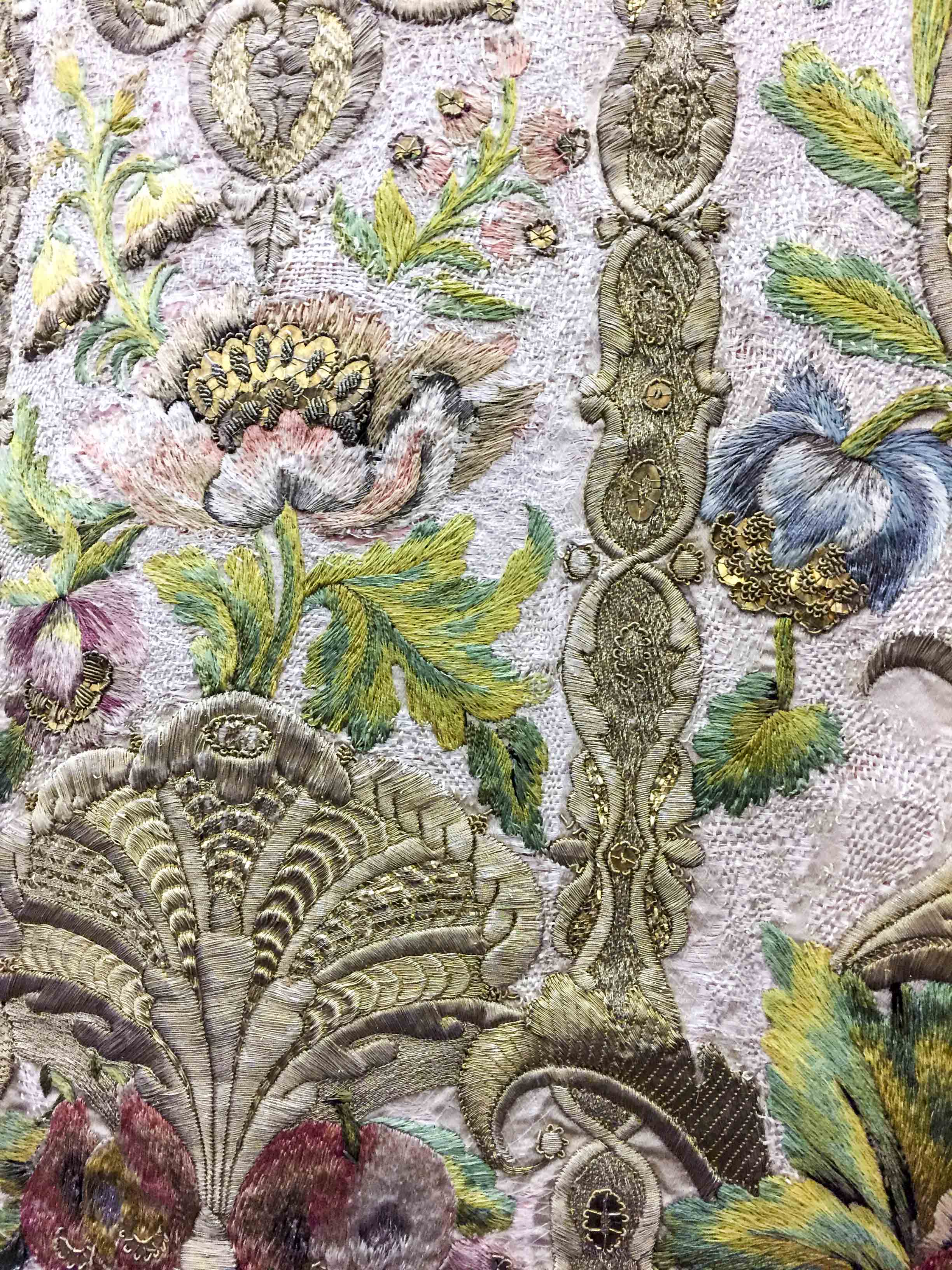 So now, with those thoughts left hanging, let me move to the end of the week, on Saturday, when The Quilt & Textile Study group of W.A hired a bus and our wonderful driver Ross drove us to the historic town of New Norcia.
I should be writing about this on the QTSGWA blog, and I will, but I haven't completed that project yet. Hmmm. Instead I'll present you with a brief overview with a teaser of pics indispersed, as usual.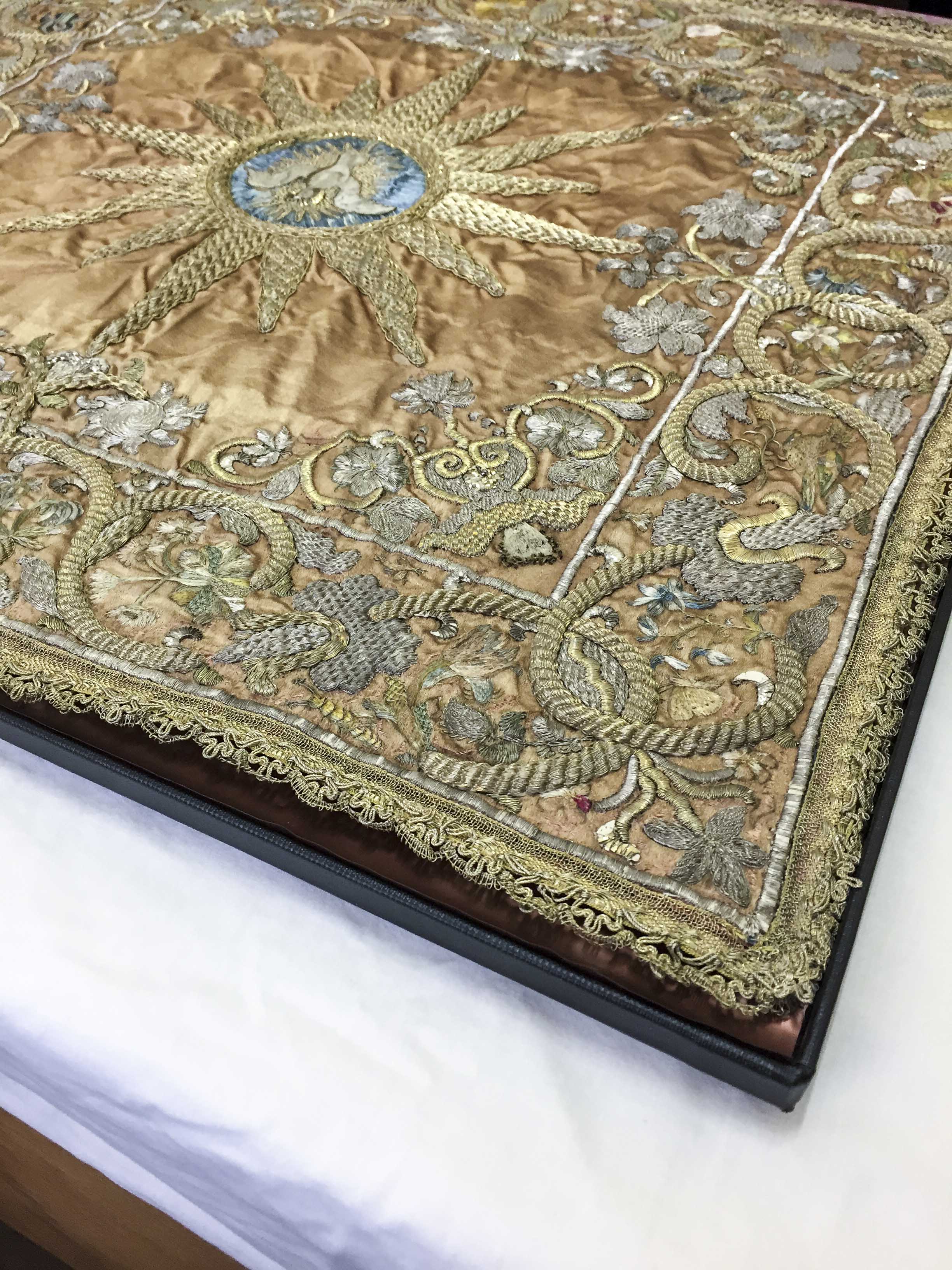 We were there specifically to meet the Collections Manager – Marina Baker.
To see the textiles on view in the museum and very importantly… to go behind the scenes to study a handful of precious pieces.
"We have renovated a suite of rooms in the old convent as the new Textile storerooms and we have relocated the conserved and most important pieces to there. These are, particularly, the so-called Spanish Vestments, c 1640, heavily embroidered in gold and silver threads, also depicting flowers and insects in vegetable-dyed silks. Some are arguably Dutch but ended up in the Spanish court and were given to the New Norcia mission by Queen Isabella II in the mid C19th."
The conservation of some articles is underway but proceed slowly when funds allow.
"New Norcia's textile collection is huge, nationally significant and desperately in need of new storage facilities."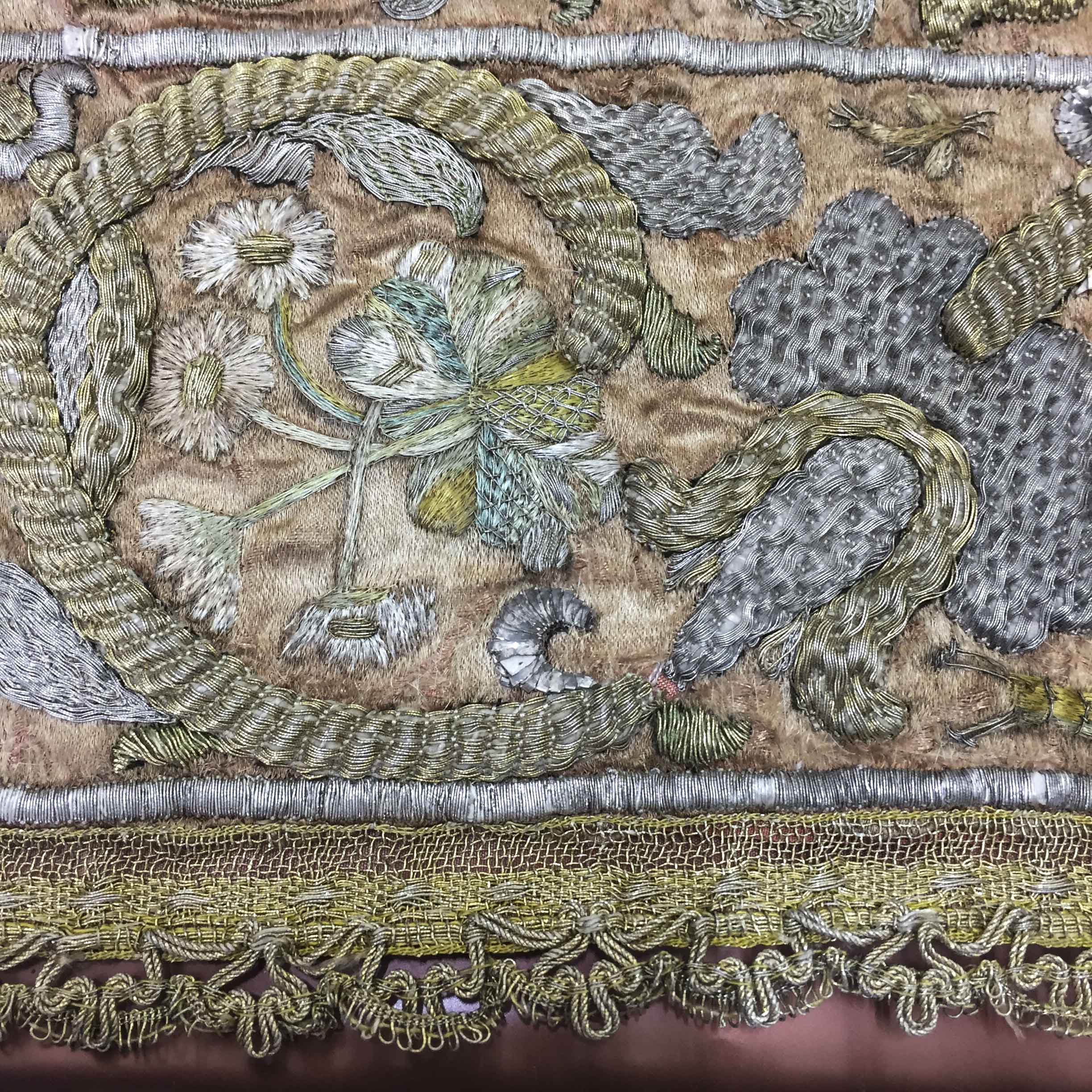 There is so much to learn about the how-to of conservation but the one thing that interested me most on the day was the use of a copper impregnated plastic/laminate to make covers for voluminous garments, and also to use as underlay in boxes. In a quick search I have had no luck in finding out more about it but it is a fascinating and beautiful 'material'. (see the edge in the photo above)
We looked in enormous detail at The Cope. The repairs, mostly on the white fabric, almost obliterated the view of the minute amounts left showing. Most of my photos are of these repairs. The human touch. Stitch with personality. Repairs varied through protocols of different times and different hands.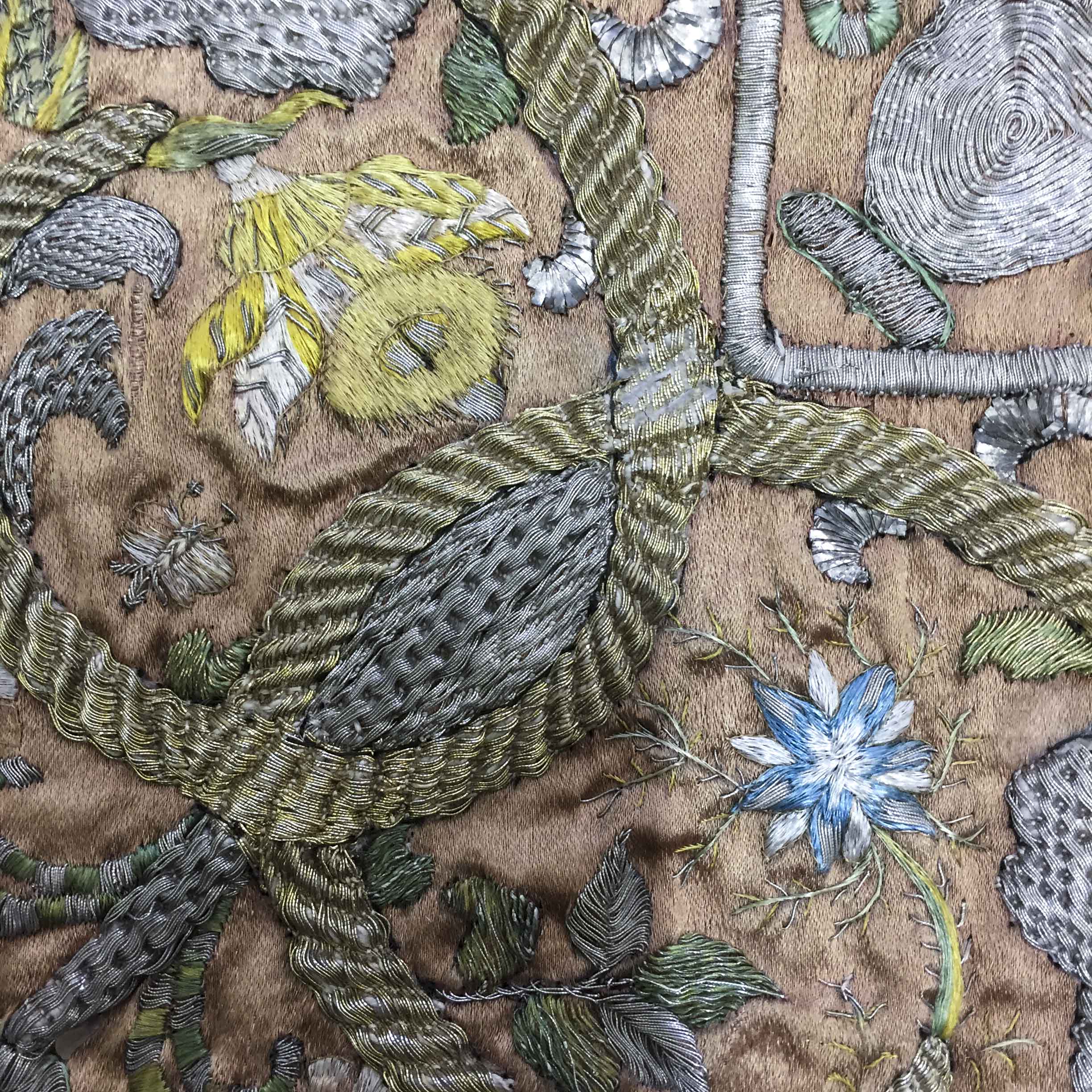 The chalice veil was very special and the imagery, this time depictions of faces, plants and birds, was always going to delight me.
The caps also, still in the drawer opened as a 'by the way' viewing delighted me. Some were folded and looked incredibly modern.  Their beautiful silk pompoms were a big temptation that I ached to touch.  The worn edges, fraying and leached of the scintillating colour. Stunning.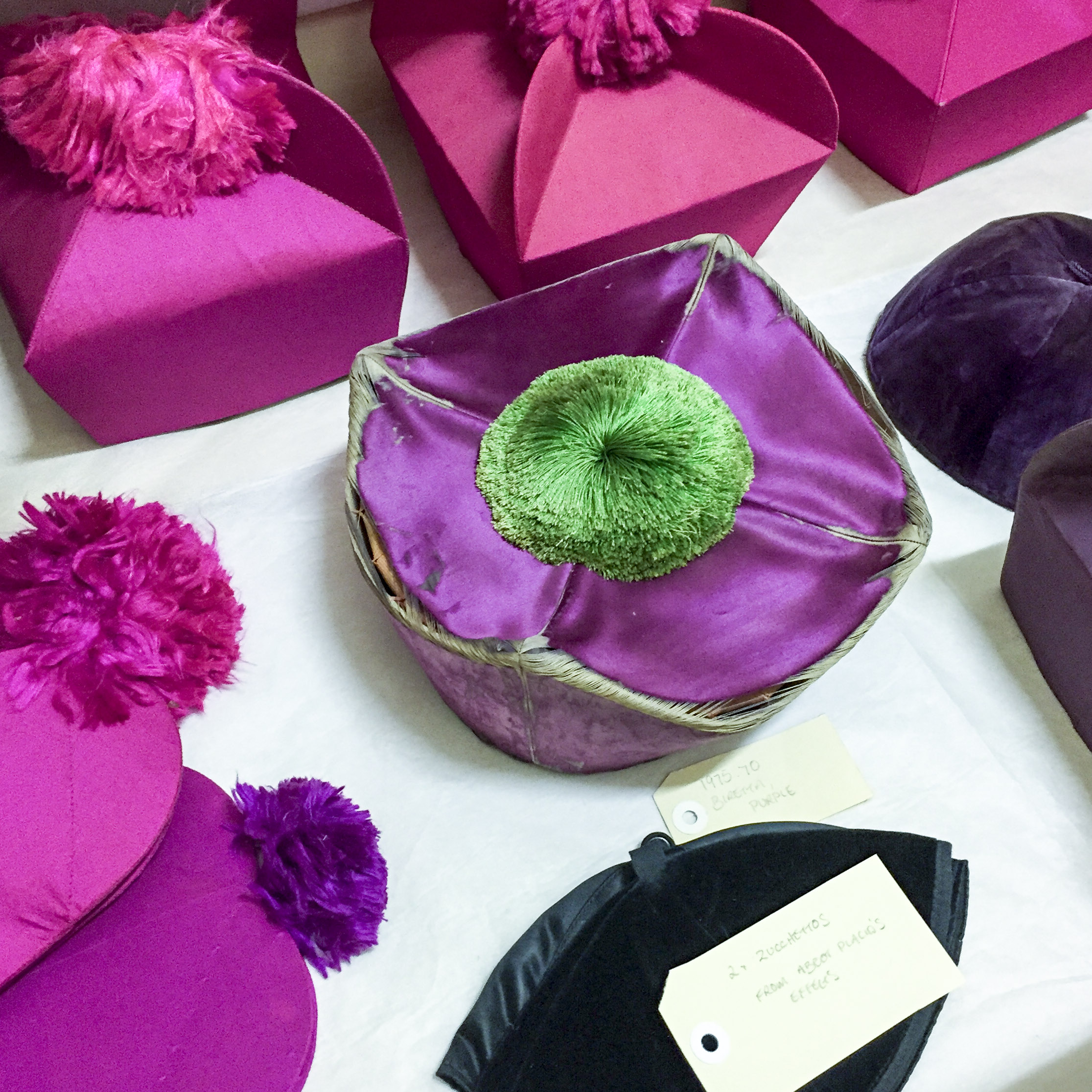 It was so worthwhile that we hope to go back for another visit in the next few years. Meanwhile I will prioritise the Quilt & Textile Study Group of W.A blog and get it online before then so you can see some of the wonderful things that we see.
Until next time…be it next week, or, or, or……
Save
Save
Save
Save
Save
Save
Save
Save
Save
Save