WEEK TEN (march 7-13)
We woke up to the new week in Bowral at a delightful B&B on the outskirts of town – Links House Hotel. Lovely brekkie, lovely staff and a change of pace from the hustle of Sydney to eating perfect Eggs Benedict overlooking the expansive greenery of a golf course.
First stop was Sturt Craft Centre in Mittagong. I've wanted to visit for a long time so it lovely to see but it was all a bit quiet…obviously better on the weekends when it would buzz.
This was a getting to know you day and we ambled up and down Mittagong in exploratory mode. It gave us the old and the interesting – in the form of antique and junk and op shops, book shops and galleries. Intermittent refuelling breaks were taken at some of the many cafes.
Wonderful.
We did make a few purchases….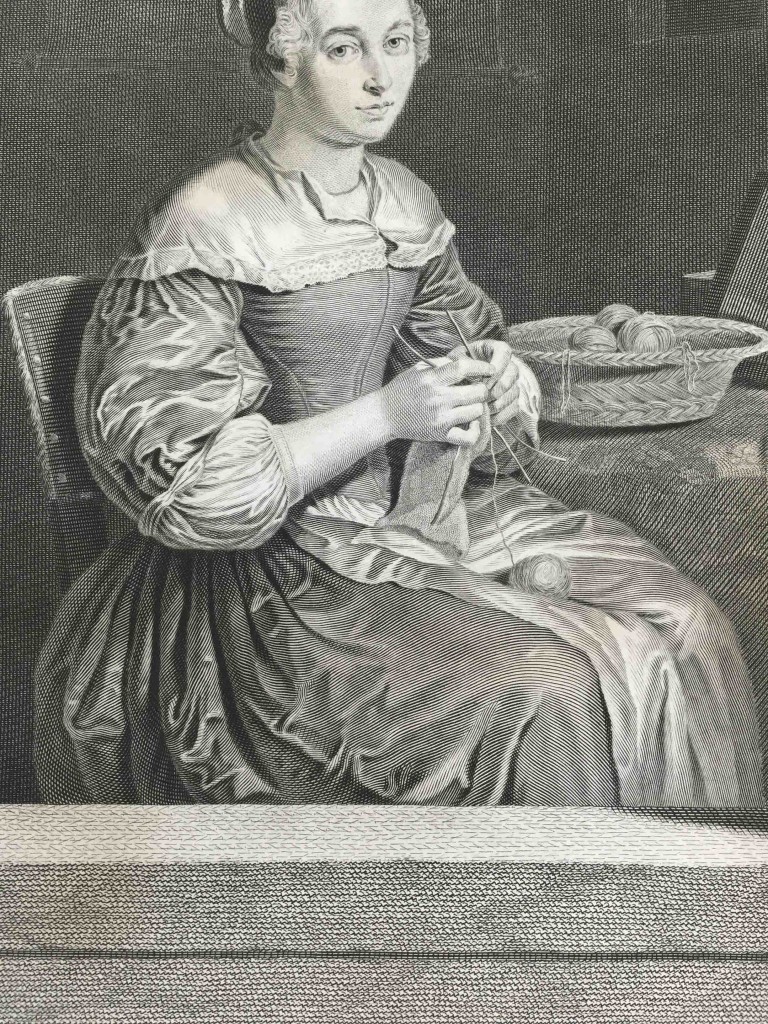 ….and I hit a personal jackpot grabbing an engraving of a knitter!!!
Monday night was, as always, movie night and the lovely old Empire Theatre had a viewing of Hail Caesar.
We love the anarchy, the humour, the inventiveness, the characters and the wonderful visuals of all Coen Brothers movies. This one still has me smiling as I think about George Clooney as Caesar……not his usual suave self by any means.
The next morn the bloke went off for a round of golf with an old friend who lives locally.
I hit the road with my back pack filled with cameras and a sketch book. My plan was to walk into town, to explore further than we had on Monday and to get into a quiet and alert space to focus on both the external and internal.
One of the major joys of travel for me is to revisit that internal 'space' that is often inspired by the external surroundings – to enter a different zone mentally as well as physically.
I relied heavily on that 'space' when I traveled regularly for work all those years ago in Stargazey days.
It was always a memorable part of the trip.
It is a treat to inhabit this space.
There were unexpected treats to be found plodding along…..as you can see, the Bowral birds were very kind to me.
Mid afternoon we drove around the district exploring the landscape and the towns.
Berrima is a lovely little gem that we could spend more time at but we were spent – both physically and mentally. Driving and overviews were sufficient.
Dinner was at the local and lovely Italian. Friendly, good service and lovely food.
Back at 'home' we took the remains of a bottle of local wine into the garden and relaxed and absorbed the lovely, balmy, final evening.
Wednesday was back to hustle bustle.
Pack, exit and make our slow way back to the Airport.
We chose the long road that took us through the farms and the hills to the coast, from Bowral through Robertson and Jamberoo to Kiama. A stunning area that we would happily revisit.
It had us reminiscing about when we spent three months in our baby blue Kombi touring Australia. It was 1982 and was three months pregnant with our first….. perhaps when all the grandies are at school we might take off again?
Home in Freo by evening and straight back into the inbox and the ToDo list the next morn.
I wanted to process my photos, to get back to stitching feathers, to spend the day downstairs with my filled and fresh and inspired brain…..
200 plus emails will knock those dreamy thoughts out of one's noggin pretty quickly – so it was back upstairs as usual to tap, tap, tap…..
A twentyONE+ meeting was scheduled to review the entries we had received and to make sure that we had enough of sufficient quality to form the exhibition we hope for.
Relief and  excitement….now it will be up to the jurors and the curator to help us put together a great show.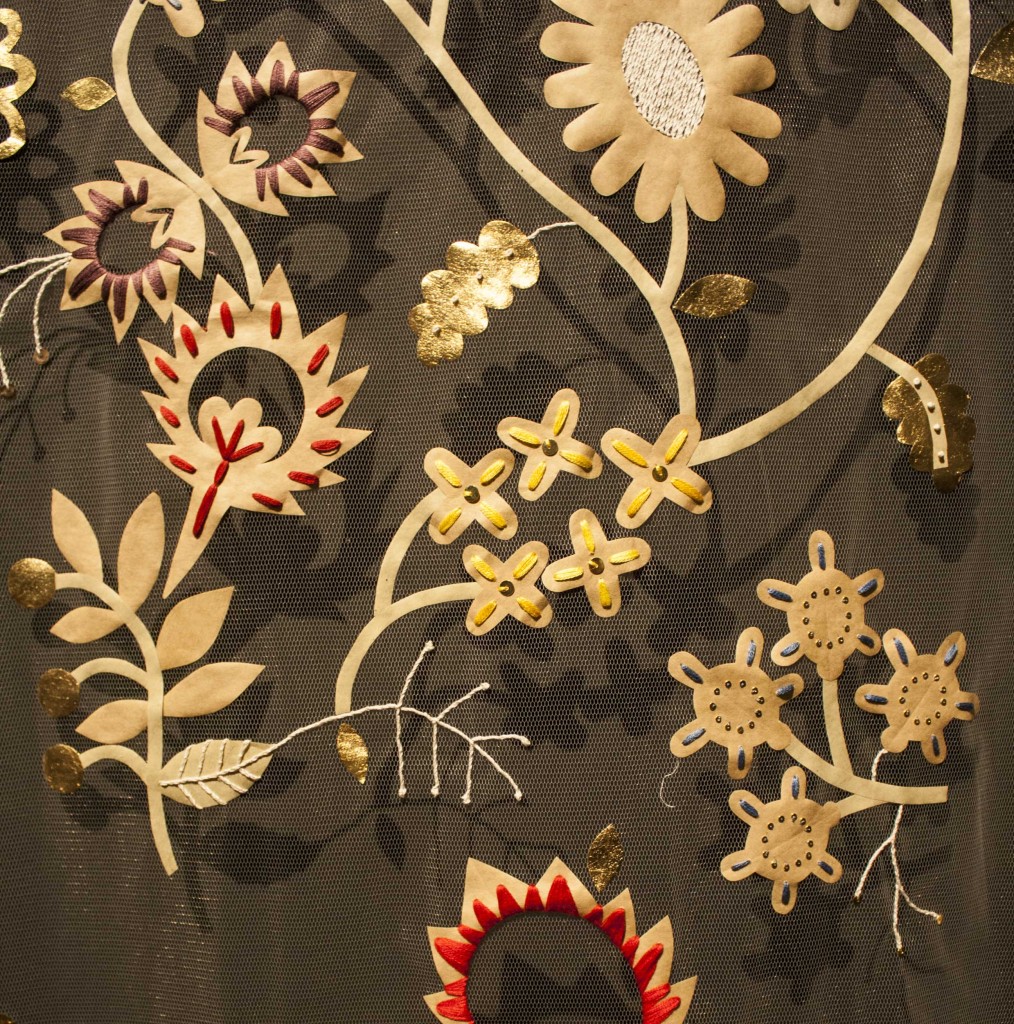 On Saturday the QTSGWA held its first meeting for the year at Heathcote Gallery.
We viewed Elisa Markes-Young's and Christopher Young's exhibition Improbable Returns.
Elisa gave us the background on her new body of work – this latest show works her regular themes of place/identity/memory but this time she has moved on from the the beautiful neatly framed embroideries to things that are esoteric yet folk based – I have visuals of the most beautiful paper cuts popping into my mind as I write.
As there were so many people to catch up with I will be revisiting this on my own to take it in carefully.
The bustle of Saturday that started in a shopping/cooking fest before 7am continued until it was time to leave for our Movie Club Academy Awards, (who's moniker is Leon – named after the worst film we have seen together – the memorable Leon the Pig Farmer:).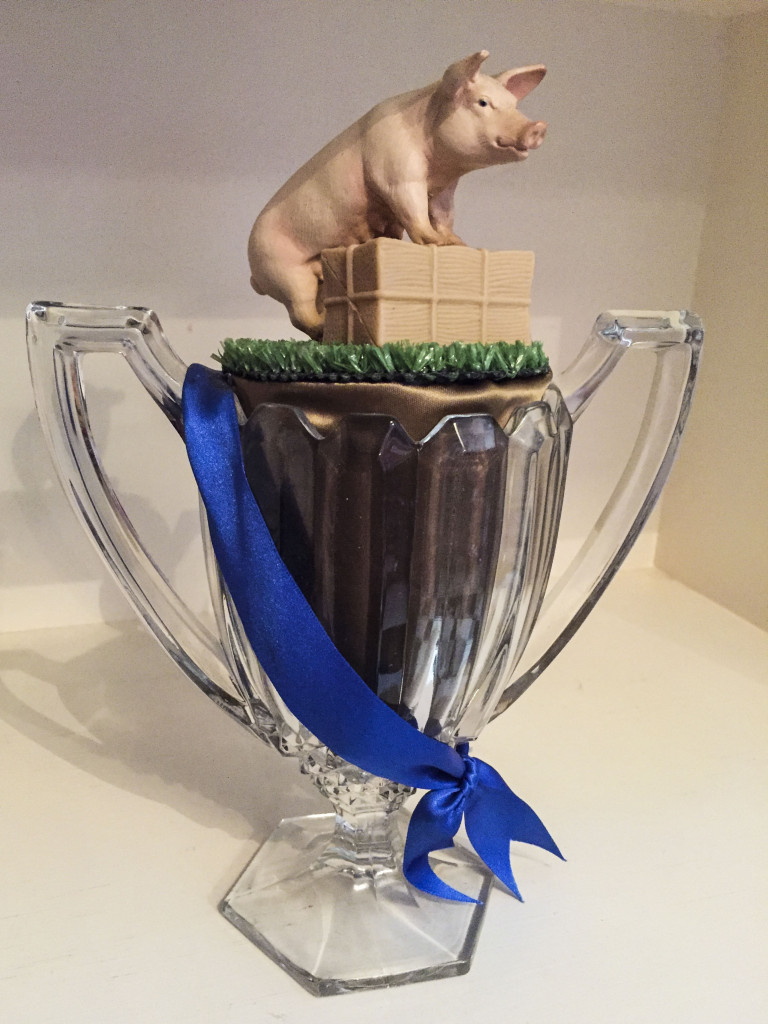 There are 13 of us in the group and we each pick a movie and all vote for the best and worst..
We have been together since our youngsters were in primary school…24 years ish.
We feast, we view shorts of the movies and eagerly, or with dread, wait to see who will take home the coveted Grand Leon or the dreaded Spam Leon.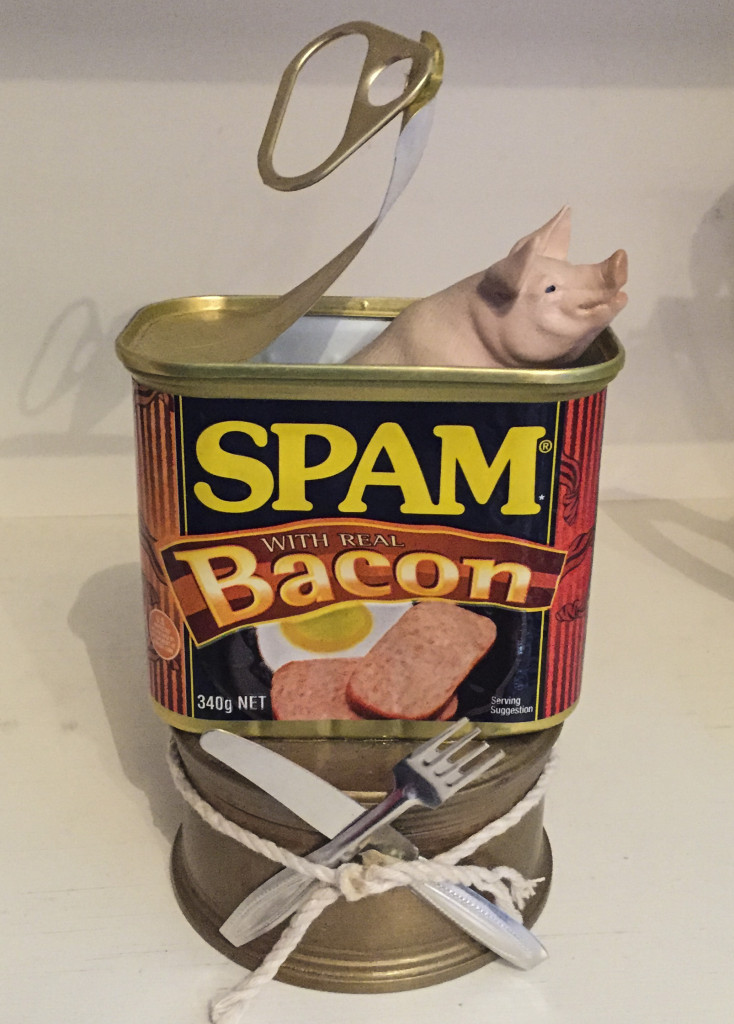 As our interests vary widely there are often formulas inserted by the mathematically inclined to make it more interesting.
By the way, The Grand Leon went to Spotlight and resides for another year with us thanks to the blokes wonderful choice and the Spam Leon went to the film Amy in case you really wanted to know?